Tons of fun ideas for the best stocking stuffers for kids, everything from card games and bubbles to binoculars and play doh. Get great ideas for both classic and creative additions to your holiday stockings!
Stockings have been the highlight of my Christmas for years now.
I love making them for my kids and I love opening mine.
My mom always made stockings really special. They were filled, overflowing in fact, when I was a kid and digging through them to find every last hidden treasure was so much fun.
When I was older, especially in college and just after, my mom started JUST doing stockings for our Christmas present.
But instead of being filled with candy and small toys, they were filled with gift cards, pretty soaps, toiletries and a new scarf or pair of slippers.
And get this: She wrapped every single thing in the stocking. Even the chapstick. Even the kleenex packs for my purse. All of it was wrapped in wrapping paper.
She said it was so we could take our time and enjoy Christmas morning and still feel like we were opening presents.
Yup, my mom is the best!
And to my delight, my husband now will wrap all of the things in my stocking. OK, maybe not the chapstick, but pretty much everything else. Yup, he's the best too. ❤️
I've tried to make stockings as special for my kids (now 6 and 8 years old) as they always have been for me.
On Christmas morning, they come downstairs to find massively overflowing stockings that have been propped up against a chair or sofa in the living room and immediately start rifling through them.
So I wanted to share some of the many, many ideas I've used over the years to fill up their stockings. (They both have very large stockings. I did not think that through. 😂)
This has everything from toys and games to more practical supplies (like toiletries and winter gear). This is mainly for elementary aged children on down to toddlers. (Though plenty of these would work well for pre-teens and teens as well.)
Also, I should note, I did not include any food-related stocking stuffers or candy. I didn't use things like that at all when my kids were younger and figured most of us can load up on those just fine on our own. 😉
I've included these stocking stuffer ideas in two different ways, to make browsing easier for all types:
A straight up list of ideas. Old school. Very simple. I've included some links and photos as well to be helpful.
At the very bottom of the post is a visual grid with these ideas. There are clickable links there as well.
But these stocking stuffers for kids aren't just for Christmas or the holidays. No, no.
These ideas also work great for Easter baskets, mailed camp gifts, tooth fairy gifts, and small prizes for charts or accomplishments.
Pretty much anytime you need some small gift ideas for kids, this will be a great go-to list.
So without further ado, let's get to it!
Best Stocking Stuffers for Kids
Books
Play doh - individual containers or small sets or play doh tools
Art supplies - crayons, markers, glue sticks, pencils, glitter glue, washi tape, craft supplies, etc.
Bubbles - wands or small bottles
Sidewalk chalk or chalk paint
Light up wands/necklaces/bracelets - the Dollar Store has these pretty cheap
Outdoor exploration - flashlight, magnifying glass, binoculars, small butterfly net, etc. We have a set like this and have given it as a birthday gift many, many times.
Money or a gift card - to a favorite restaurant, movie theater, ice cream shop, iTunes, Target, etc.
Small musical gifts - maraca, shaker eggs, kid toy radio, etc.
Bracelets or necklaces
Hatchimals - they can never have enough!
Shopkins - Open a pack and put the little collectibles right in the stocking
LOL balls - always a hit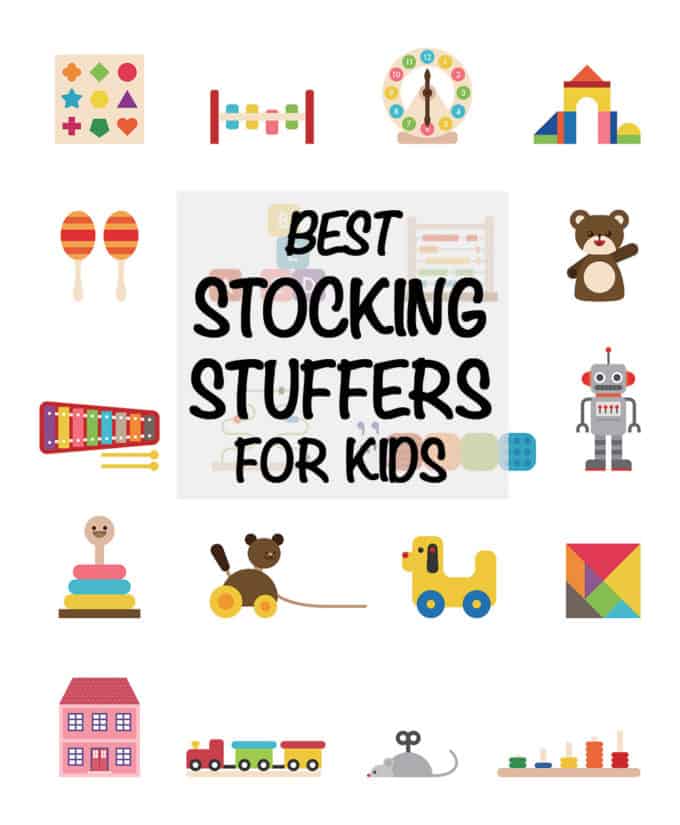 Mini lego figurines - so many to choose from, from characters to superheroes and more
Stickers - Michael's crafts store is my go-to place to get fun stickers
Bath toys or bath crayons
Toiletries - new toothbrush, fun bandaids, headbands or bows, chapstick or lip gloss, mini nail polish, etc.
Winter gear - Help refresh their winter gear with new socks, slippers, mittens/gloves, hat, scarf or snow gear
Pajamas - Roll them up and stuff them down into a stocking (or tie a ribbon around the roll and put it just beside their stocking)
Tickets to a play, show, museum, zoo or other local activity
Calculator - even before they can use it for real math, they think it's fun to punch numbers
Change purse or wallet
Counting cubes - we have and love this small, colorful set
Flashcards for learning - I got this set when my oldest was a toddler and we are still using them!
Kids cooking supplies - mixing spoons, spatulas, apron, plastic measuring utensils, kids cookbook, play food, etc.
Small stuffed animals - Beanie Boos or other small teddy bears or animals
Trading cards - baseball, football, Pokemon, superheroes, etc.
Card games - Uno, Old Maid, Go Fish, SkipBo
Activity books - coloring books, tracing books, word searches, game books, sticker books, Mad Lib Junior, etc.
Balls - bouncy balls, small foam balls, light-up balls, etc
Small racing cars, such as Matchbox cars or small trucks
Board games - Candyland, Shutes & Ladders are favorites and we also love Count Your Chickens for a collaborative (versus competitive) game - these can go beside or underneath a stocking
Matching game - play alone or with a friend! There are tons of themed varieties of this type of game, from unicorns to Sesame Street to animals. My son loves this Marvel matching game with all the superheroes.
Puzzles - mini versions or regular sized puzzles that you can put near a stocking or in a large Easter basket (my son's a huge puzzle fan and we loved these Traffic Jam and Alphabet Train floor puzzles for toddlers and younger kids)
--------------------------------------------------------------------------------------------------------------------------------------------------
I hope you found some new great ideas for kids stocking stuffers -- or any other smaller gifts for young children!
(And as mentioned, there's a visual grid below with photos and clickable links as well, in case you'd like to browse some of these ideas that way instead. 😊)
Feel free to share any of your favorite stocking stuffers in the comments below. I always love hearing new ideas!
Happy gift giving!
XO,
Kathryn
P.S. Be sure to check out my classic toys for kids 2-5 gift guide. And my cozy gifts for moms!
Favorite stocking stuffers for kids
Check out these great small gift ideas for toddlers and elementary age kids, with everything from toys and games to activity books and necessities (like toiletries and winter gear).