This grilled chicken panini with mozzarella and roasted red peppers is crusty on the outside, warm and melty on the inside, and makes a delicious lunch or light dinner that's ready in just 10 minutes!
You will forever grill extra chicken just to make this fast and easy delicious grilled chicken panini. Heh heh, that rhymes in a funny way. Sorry, I'm easily distracted by such things...
Paninis are a magical kind of sandwich. Thank you, Italy, for that.
They are warm and melty and infinitely adaptable.
Plus, they just taste special. A warm lunch with a crunchy, crusty bread? It seems a bit indulgent. And it can all be yours in a matter of 10 minutes.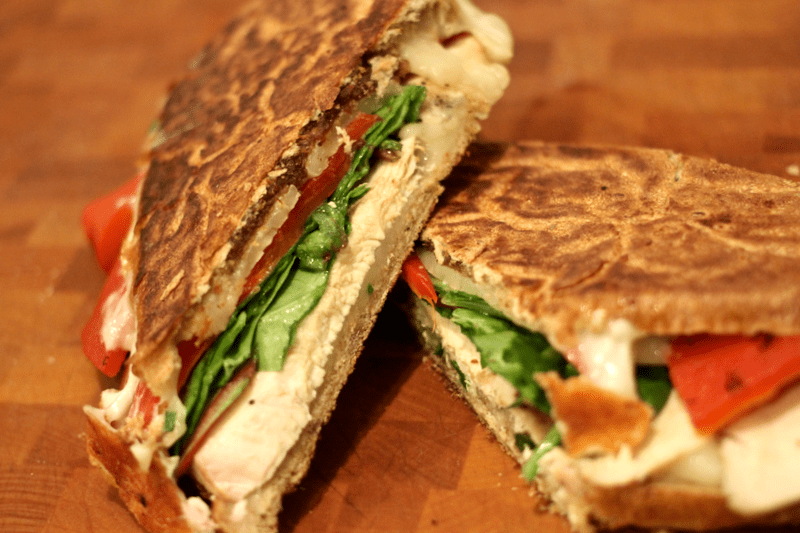 This really is very basic.
You've got some grilled chicken, lots of mozzarella cheese (I like to put it on the top and bottom of the sandwich, so it melts all over and seals everything together), a little bit of baby kale (or spinach or arugula) and roasted red peppers (I used jarred, but you could make your own.)
I also drizzled some balsamic vinegar on the whole wheat bun for a flavor boost and voila, an amazing panini, ready in under 10 minutes!
You can have this for lunch, dinner, picnics, any time!
And you don't need a panini press or fancy sandwich maker. Just a couple of pots and a heavy can (or cans) make an easy hack:
I use aluminum foil between the bread and the top pan so I don't have to clean that one, too. All about the easy clean-up.
I literally ate this standing over the cutting board. No plate, no chair needed.
I'm thankful it didn't burn my mouth because even that probably wouldn't have slowed me down. It's kinda irresistible.
So yeah, you should definitely make this grilled chicken panini soon.
Enjoy!
Yield: 1-2 servings
Grilled chicken and mozzarella panini
This grilled chicken and mozzarella panini is crusty on the outside, warm and melty on the inside, and makes a delicious lunch or light dinner that's ready in just 10 minutes!
Ingredients
1 8-inch whole wheat sub or hoagie roll
4 oz. fresh mozzarella cheese, sliced (or about 1 cup shredded mozzarella cheese)
1 (5-6 oz.) grilled chicken breast, sliced
1 small roasted red pepper, cut into 1-inch wide strips
handful of baby kale or spinach or arugula
1-2 teaspoons balsamic vinegar
Instructions
Build your panini: Cut the whole wheat bread in half and put half of the mozzarella cheese on the bottom bread. Top with chicken slices, kale/spinach, roasted red pepper and remaining mozzarella cheese. Brush the top half of the bread loaf with the balsamic vinegar and place on top of the sandwich.
Heat a nonstick skillet over medium heat. Coat with cooking spray or a teaspoon of oil or butter. (I just used cooking spray.)
Place panini in pan and cover with another pan. (Use aluminum foil if you're dirty dish-adverse like me.) Weight the top pan down with a large can - or a couple of them - to help flatten the sandwich.
Cook for 3-4 minutes on the first side, then flip the sandwich, place your extra pan and cans back on top to further flatten the panini and cook another 2-3 minutes on the second side. I usually turn the heat down a bit when I flip the panini so it doesn't cook too quickly or burn.
Once it's heated and melty and perfect, remove, slice and serve. Or just eat it standing over the cutting board because you cannot wait.
Nutrition Information:
Yield:
2
Serving Size:
1
Amount Per Serving:
Calories:

630
** Are you a panini lover?