This healthy apple cobbler is full of apple and cinnamon flavors and goes perfectly with ice cream for a delicious dessert. It's (mostly) naturally sweetened and made with whole grains for a healthier sweet treat that will surely satisfy.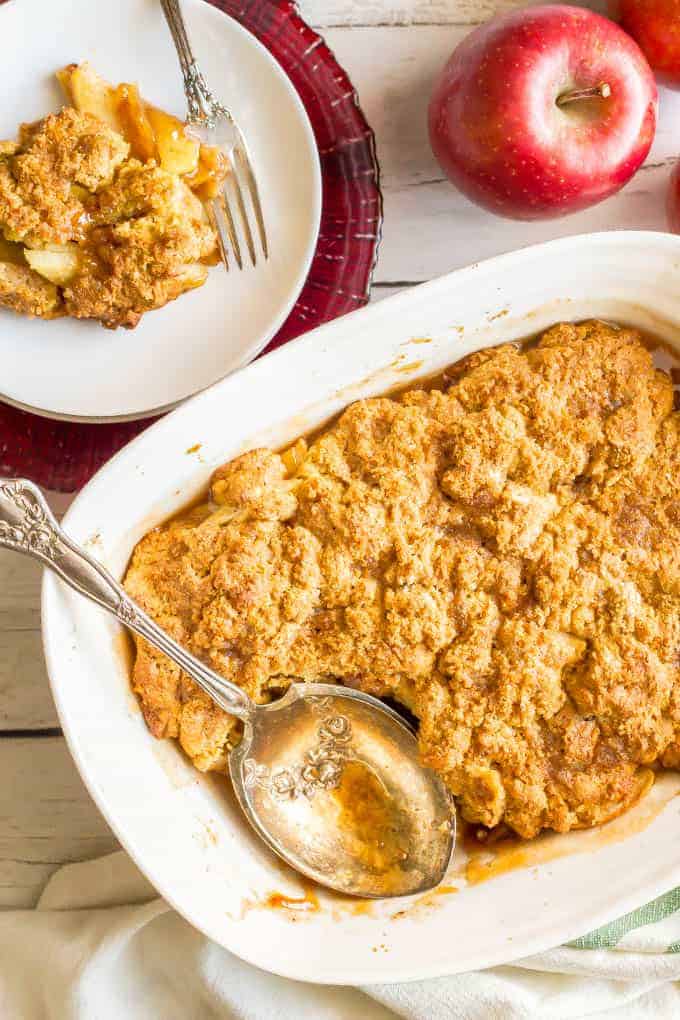 This recipe first appeared on Real Housemoms, where I am a contributor.
We are finally to Thursday!
This week has seemed unusually slow… maybe because I feel like I've been doing a ton of work and it's still only Thursday. Surely I should be finished with this week by now and yet…
Oh well, I've got a fun Charlotte food bloggers get together tonight and then tomorrow is Friday. We are really close, so let's move it right along today!
I'm not sure if you knew this, but I'm a huge apple addict. 🍎❤️
I legit eat an apple a day most days of the week. I love the crunch and natural sweetness of apples and they make such a great healthy snack.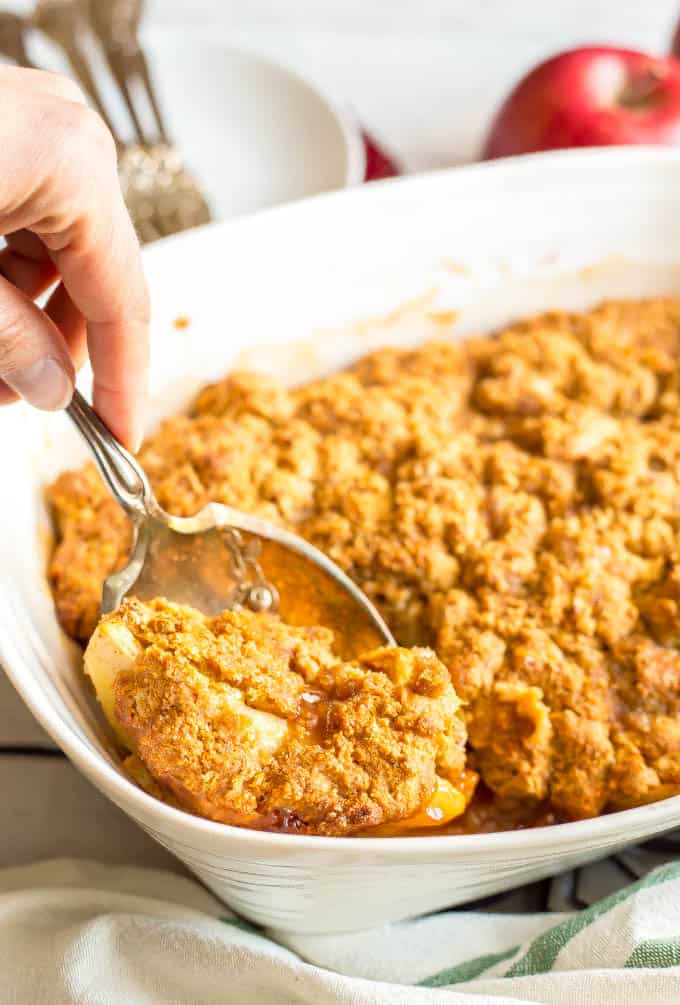 I also love cooking with apples and making apple-flavored desserts, especially warm apple crisp. Swoon!
And my whole wheat apple cinnamon breakfast cookies are a morning favorite in our house. Dessert-like foods for breakfast are pretty fun
And each fall when apples are at their peak season, I look forward to making my easy healthy apple crisp stacks, which are a lightened up and much easier version of apple pie. My slow cooker apple butter with no sugar added is another seasonal must-have!
Of course, crockpot applesauce is also a go-to and a great way to use up LOTS of apples!
Today I'm sharing my healthy apple cobbler, which is a serious favorite in our house and also so easy to make.
What is a cobbler?
It's a dessert with a fruit or savory filling that's poured into a large baking dish and covered with a batter, often biscuit-like in texture.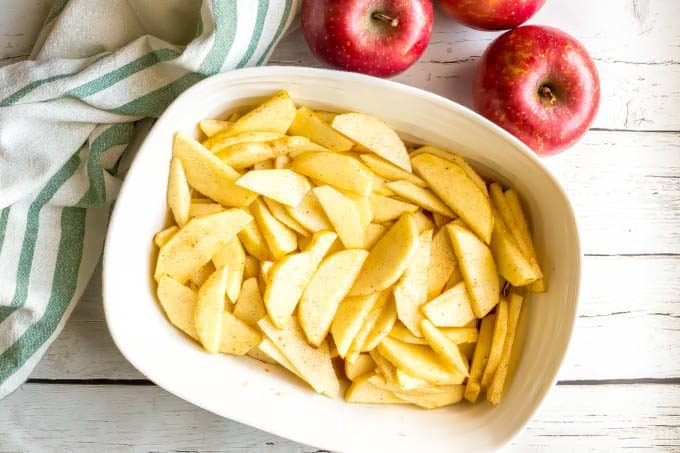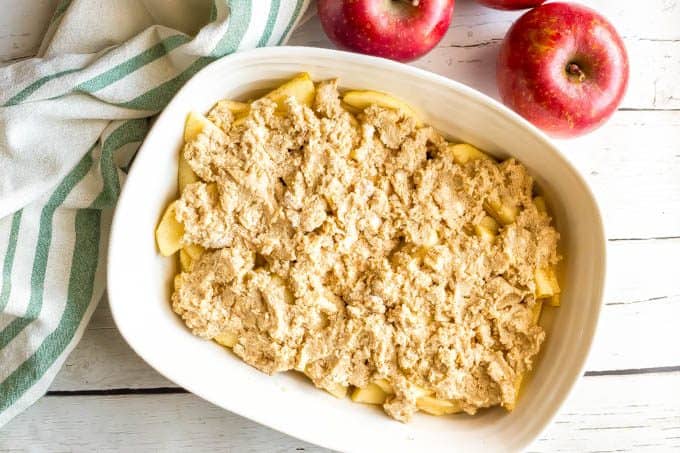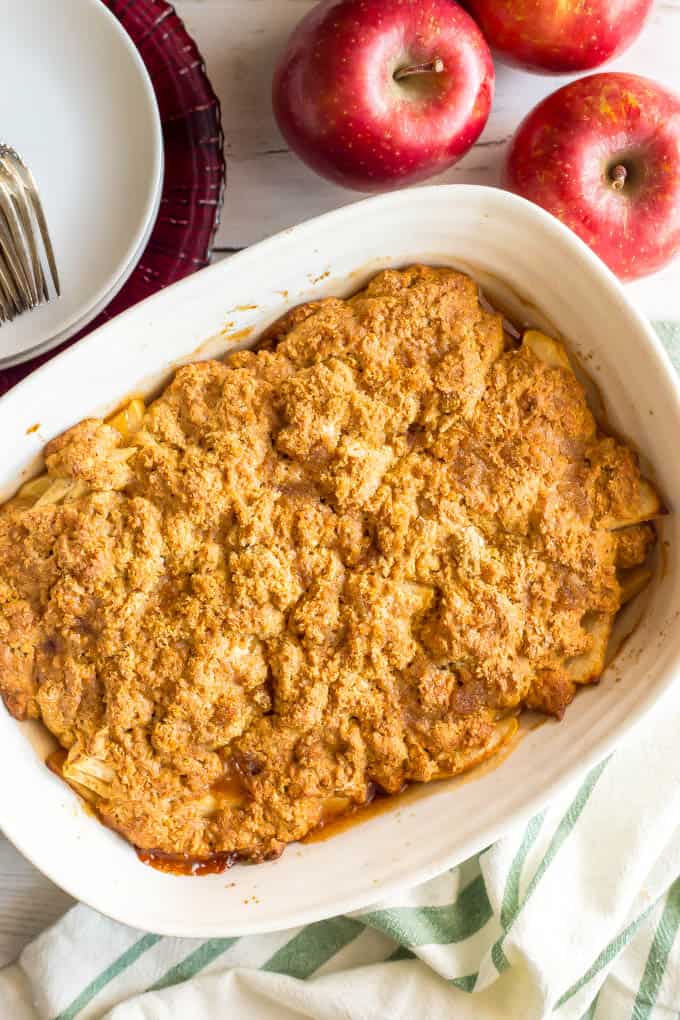 And this apple cobbler is lightened up but every bit as delicious!
It's got just a touch of butter for richness, the perfect balance of cinnamon with a hint of nutmeg and it uses mostly honey for sweetness, which adds depth to the baked cobbler. I also use a little brown sugar to sprinkle on top of the topping, which helps it caramelize in the oven. 👌
Oh and that topping! 😍
It's super thick and gets a crunchy coating on top that pairs so well with the tender, soft apples. It's also got an amazing biscuit like thickness. You'll be going back for bite after bite.
(If you love cobbler as much as I do, check out this peach cobbler for an easy summertime dessert!)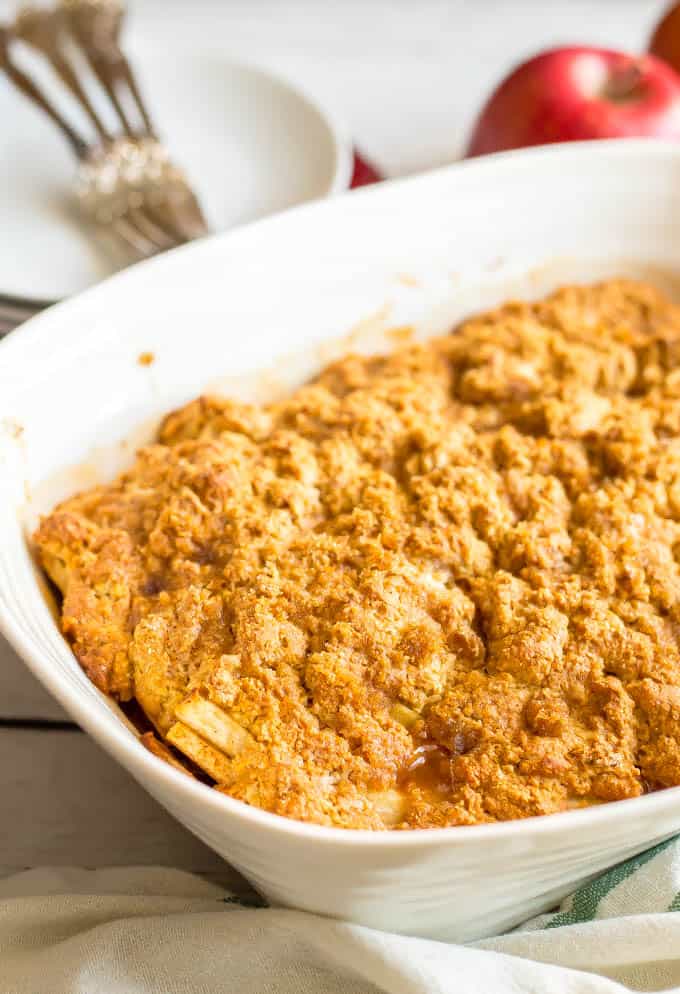 OK, let's get cooking so you can enjoy this, too.
Now, I've got some notes and tips coming up below on how to make apple cobbler. Just tryin' to be helpful.
If you want to jump on down to the recipe, simply scroll right on through the rest of the text. The recipe card is near the bottom of the page, above the comments section.
Notes on making healthy apple cobbler:
I generally use Fuji

apples for apple cobbler. Other crisp baking apples can be used as well, such as Granny Smith or Honeycrisp or Golden Delicious.
I use white whole wheat flour in my baking, but all-purpose flour or whole wheat flour would be fine here as well.
As I mentioned, the biscuit-like topping is pretty thick. You'll want to dollop it on and use your fingers to spread it out a bit. Don't worry if the entire top isn't perfectly covered. It'll spread out to cover the fruit filling while it's baking.
This is a great dessert for a crowd, but if you have leftovers, you can transfer them to small ramekins or bowls for easier reheating later. (I usually just reheat them in the microwave.)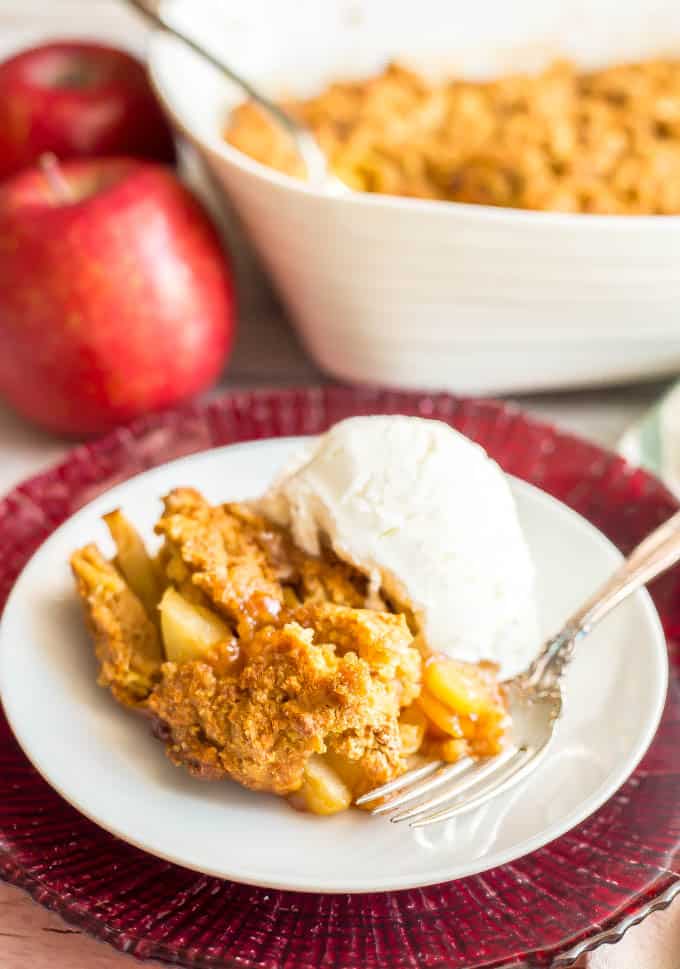 Also, you really must add a dollop of vanilla ice cream for serving this cobbler. (This 3-ingredient no churn ice cream is our go-to.) It's kind of the perfect combination. Especially when you scoop some of the sauce from the bottom of the casserole to drizzle over top. Oh swoon!
So next time you need a lighter dessert that's warm and comforting, I hope you'll give this one a try.
Enjoy!
XO,
Kathryn
P.S. Check out my whole wheat pumpkin applesauce bread and my chocolate chip apple cake for other healthy apple favorites!
Yield: 8 servings
Healthy apple cobbler
This healthy apple cobbler is full of apple and cinnamon flavors and goes perfect with ice cream for a delicious dessert!

Prep Time 15 minutes

Cook Time 30 minutes

Total Time 45 minutes
Ingredients
4 cups Fuji apples, peeled, cored and sliced about 1/4-inch thick (3-4 medium apples, see notes)
1/3 cup honey
1 tablespoon cornstarch
1/2 teaspoon cinnamon
1/4 teaspoon ground nutmeg
1 cup white whole wheat flour (or sub all-purpose flour)
2 tablespoons granulated sugar
1 teaspoon baking powder
1/4 teaspoon baking soda
1/4 teaspoon salt
3 tablespoons cold unsalted butter, cut in small pieces
1/2 cup skim milk or milk of choice
1-2 tablespoons packed brown sugar
Instructions
Preheat oven to 375.
Place sliced apples in a medium bowl. Drizzle with honey, then add cornstarch, cinnamon and nutmeg. Stir well to coat the apples.
Transfer apples to a 9x13 or 8x12 casserole dish sprayed with cooking spray.
In a separate bowl, mix flour, sugar, baking powder, baking soda and salt until well combined.
Cut in butter using a pastry cutter or two knives, until the mixture resembles small peas.
Add milk and stir until just combined. The batter will be thick.
Add the batter mixture in dollops over the apples in the casserole dish and use your fingers to spread it out a little. (It's OK if it's not covering all of the apples - it will continue to spread out while baking.) Sprinkle the brown sugar evenly over the top of the dish.
Bake at 375 for 30-35 minutes, until the topping is golden brown and set.
Remove and let sit for 10 minutes before serving.
Notes
I generally use Fuji  apples for apple cobbler. Other crisp baking apples can be used as well, such as Granny Smith or Honeycrisp or Golden Delicious.

I use white whole wheat flour in my baking, but all-purpose flour or whole wheat flour -- or a mix -- would be fine here as well.

This is a great dessert for a crowd, but if you have leftovers, you can transfer them to small ramekins or bowls for easier reheating later. (I usually just reheat them in the microwave.)
Nutrition Information:
Yield:
8
Serving Size:
1
Amount Per Serving: Calories: 214Total Fat: 5gSaturated Fat: 3gTrans Fat: 0gUnsaturated Fat: 2gCholesterol: 14mgSodium: 192mgCarbohydrates: 40gFiber: 3gSugar: 25gProtein: 4g