King Ranch chicken casserole is creamy, cheesy, hearty and seriously delicious. This family-friendly Tex-Mex dinner can be prepped ahead and is sure to please.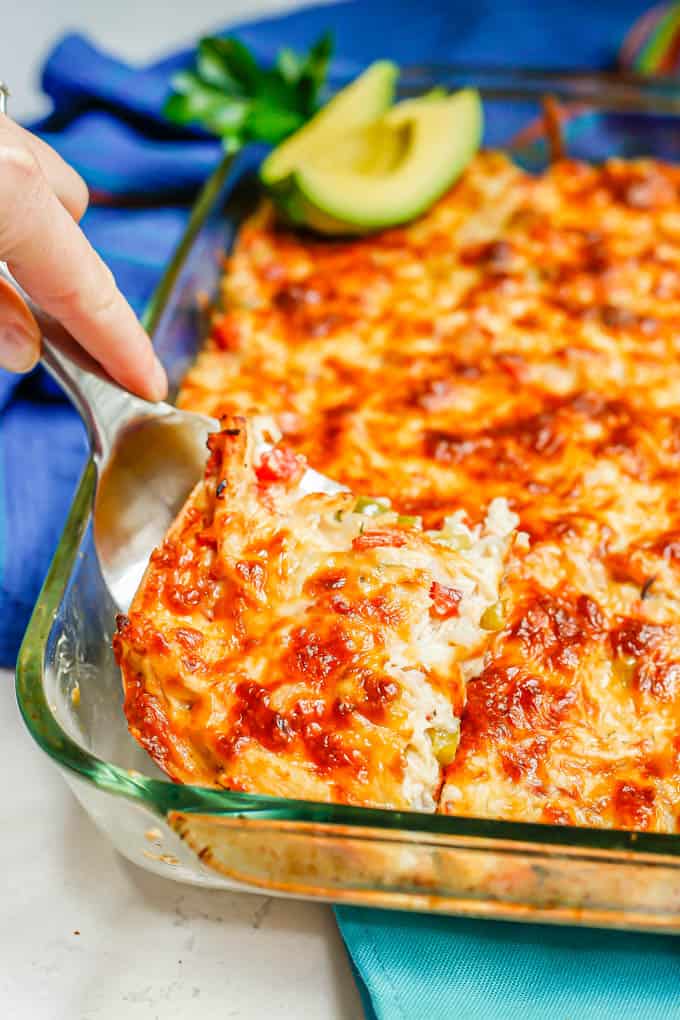 We are back from a short beach trip in South Carolina, and it was such a fun time! We had lots of beach time — including boogie boards, walks and beach bocci ball — lots of pool time and some cast net fishing on the docks after dinner each night.
It might have just been a few days, but we packed it in! Which makes coming home a little bit easier…
OK, let's move on to the food.
I'm so excited to share this King Ranch chicken casserole with you today. It's become a favorite in my house in the last year.
(When 2020 hit, I resorted to some comforting classics and this was one of them.)
This casserole is creamy and cheesy and hearty and has ALL the delicious flavors in every single bite. Oh man, that's the best isn't it?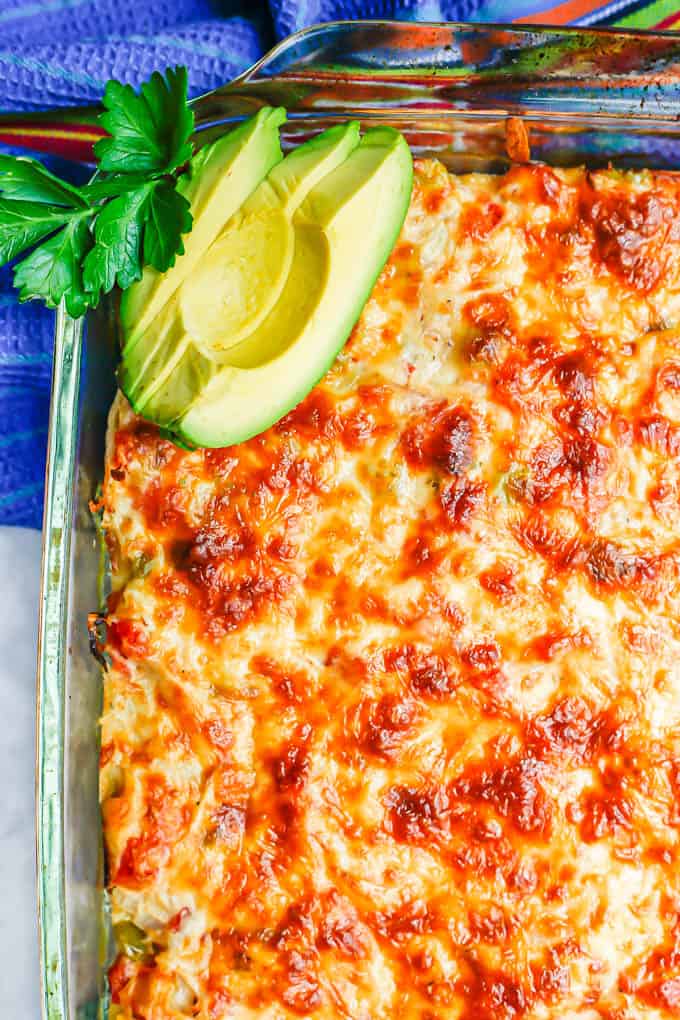 We've got shredded chicken mixed with tomatoes and green chilies, onions and green peppers and some Greek yogurt (or sour cream) to get everything coated and creamy.
It's layered with corn tortillas and plenty of shredded cheese then baked until hot and bubbly. Mmmm…
Even my kids adore this casserole. (They're 7 and 10 so finding something we all agree on is, let's say, tricky some days.)
My daughter went back for seconds and that almost never happens! 🙌
It's also a great way to use a rotisserie chicken or leftover cooked, shredded chicken. (I love having that stuff on hand – it's so versatile!)
The tortillas, chicken mixture and cheese all bake together into a beautiful layered casserole that is going to bring smiles to your dinner table.
And if you love a casserole like I do (especially because you can prep them then stick it in the oven and dinner is done!), check out these others.
Favorite chicken casseroles:
Oh, and in case you're wondering about the recipe name (cause there's no Ranch seasoning or Ranch dressing involved here), it's named after the famous King Ranch in Texas.
Although the exact origin and history of the dish is unknown. This casserole is not thought to have actually originated at that particular ranch, it's just named in honor of it.
OK, let's get cooking!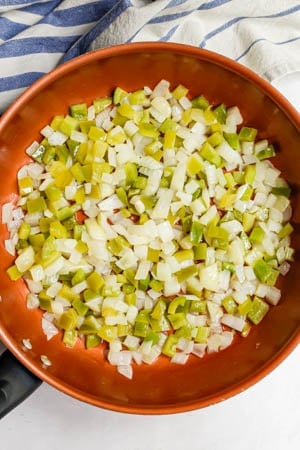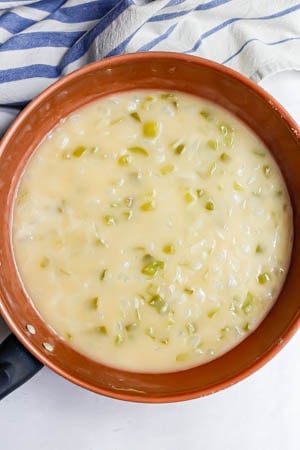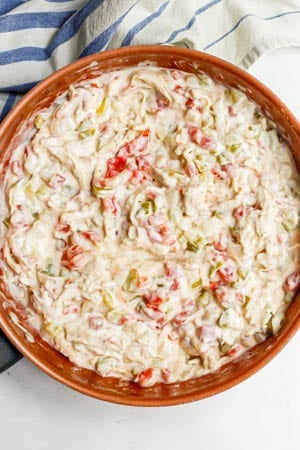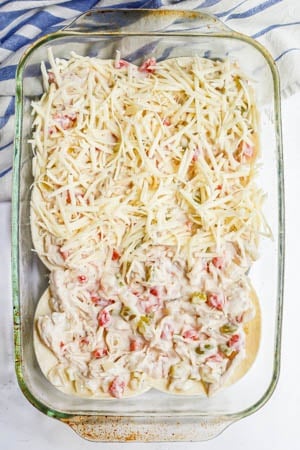 Now, I've got some notes and tips coming up below on how to make King Ranch chicken casserole. Just tryin' to be helpful.
If you want to jump on down to the recipe, simply scroll right on through the rest of the text. The recipe card is near the bottom of the page, above the comments section.
Notes on making King Ranch chicken casserole:
The chicken needs to be cooked for this recipe, so please plan accordingly. You can use a rotisserie chicken from the store, Instant Pot shredded chicken or crockpot shredded chicken, or some boiled or baked chicken that you chop or shred. You'll need 3 1/2 to 4 cups.
The can of Rotel does double duty here, but you could substitute a can of petite diced tomatoes and a small can of diced green chilies if you prefer. Make sure they are both well drained.
We always use Greek yogurt, but sour cream is fine here, too. Regular or low-fat or non-fat are all OK to use.
Monterey Jack cheese adds great flavor, but you could also use a regular or white cheddar cheese if you prefer.
Be sure to let the casserole rest for about 10 minutes after you pull it out of the oven. This helps it finish setting up.
I know it'll be hard to wait. It's just so cheesy and inviting!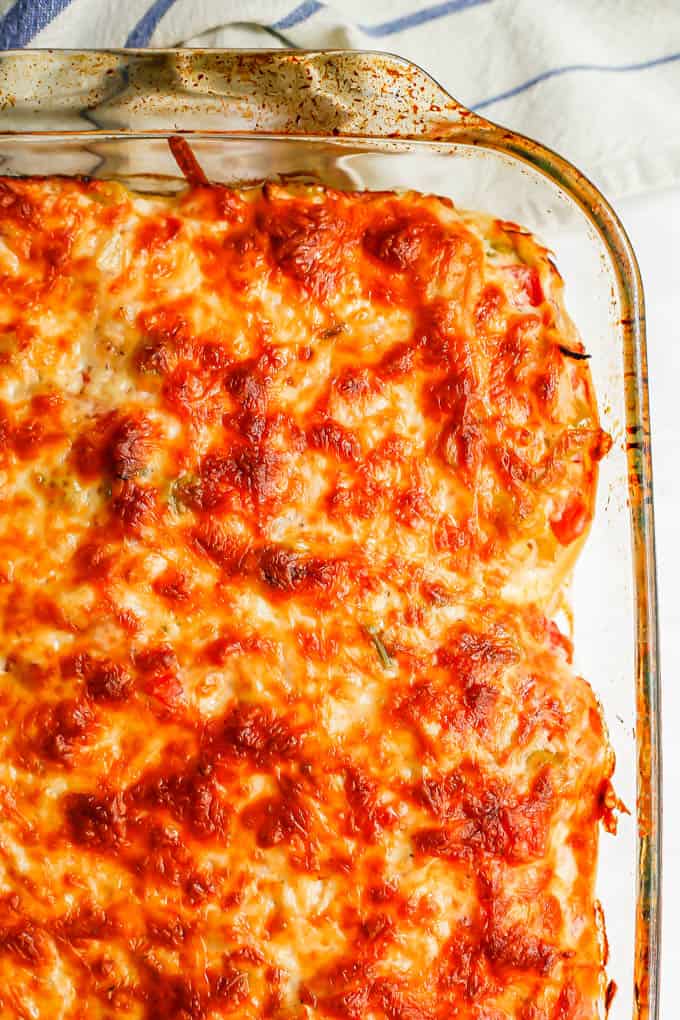 As for serving, we love this as is, but toppings can only make things better, right?
Topping ideas for King Ranch chicken casserole:
Chopped fresh cilantro
Sliced or diced avocado (or a dollop of guac)
Greek yogurt or sour cream
Diced fresh tomatoes or pico de gallo
Pickled jalapeños
Sliced green onions
Hot sauce
As for pairings, we like to serve this with a big green salad. A southwestern chopped style one is a good fit here. (You can make your own or get one of those salad kit bags from the grocery store.)
Something light and fresh, basically, to balance the cheesy goodness of the casserole.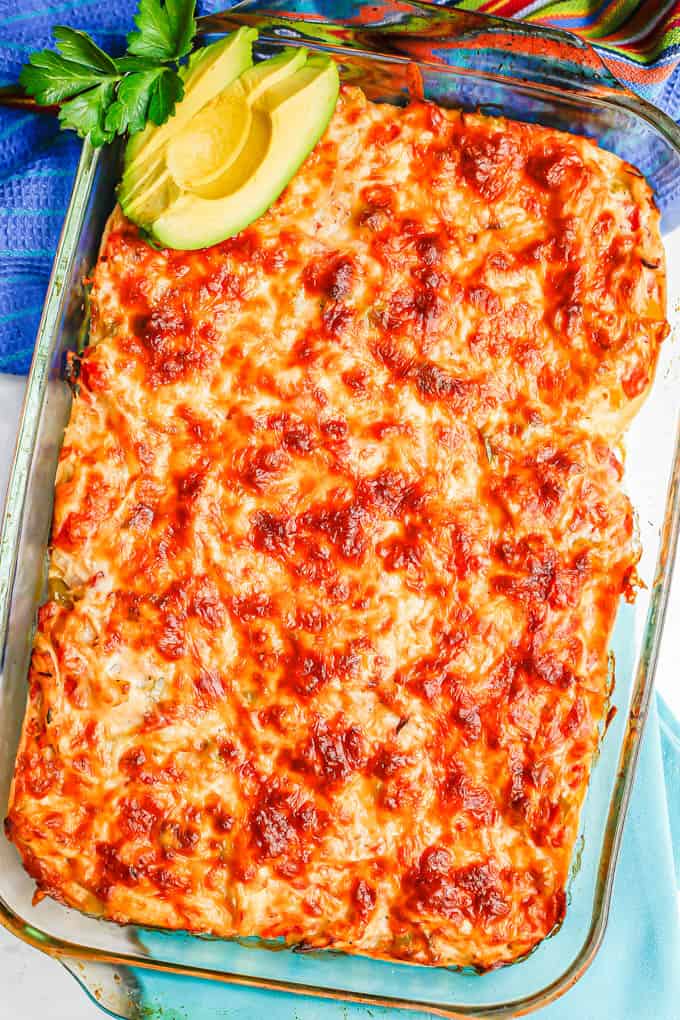 OK, since this is a great dinner for a crowd, including company, let's chat about how to prep this ahead to make life easy.
Make ahead tips for King Ranch chicken casserole:
– You can make the entire casserole in advance. Cover your casserole dish with plastic wrap and refrigerate for up to 2 days.
– When ready to bake it, remove the casserole from the fridge as you preheat the oven so it can come to room temperature.
– Bake at 375 for 45-55 minutes (so you are adding 5-10 minutes to the regular bake time), until hot and bubbly. Let rest for 10 minutes before serving.
Want to really make it in advance? Then freeze it!
This can be a good option if you are gifting this casserole to someone, whether that's new parents with a baby or someone experiencing grief, illness or a family crisis.
(If you are making this for an elderly parent or someone who lives on their own, be sure to divide up portions of the casserole so they can just pull out what they need.)
How to freeze King Ranch chicken casserole:
– Assemble the (unbaked) casserole. I recommend using a disposable casserole dish (like a foil one) so you're not keeping your casserole dish hostage in the freezer.
– Cover the casserole tightly with plastic wrap. You can add a layer of aluminum foil too, to really seal it. Freeze for up to 2 months.
– Defrost overnight in the refrigerator.
– Bake as directed, adding 10-15 minutes to the bake time.
You can also hang on to any leftovers.
They reheat great and can be used for a warm lunch later in the week or another dinner.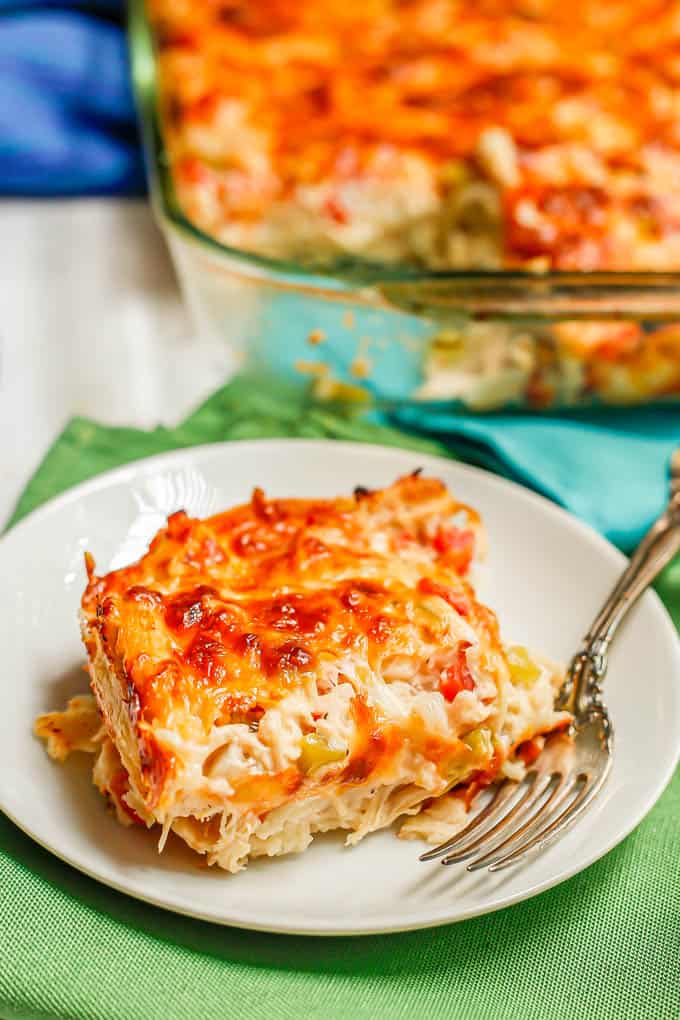 How to store and reheat leftover King Ranch chicken:
– Once cooled, store any leftovers in a covered container in the refrigerator. Leftovers will keep for up to 5 days.
– Reheat individual servings in the microwave until heated through. (I like to place the slice of casserole on a microwave safe dish, then cover the top with a damp paper towel before I microwave it to help ensure it doesn't dry out.)
Warm, hearty, family friendly and sure to have everyone digging in, this casserole is a real winner.
I hope you give it a try soon.
Enjoy!
XO,
Kathryn
Yield: 8-10 servings
King Ranch Chicken Casserole
King Ranch chicken casserole is creamy, cheesy, hearty and seriously delicious. This family-friendly Tex-Mex dinner can be prepped ahead and is sure to please.

Prep Time 20 minutes

Cook Time 40 minutes

Additional Time 10 minutes

Total Time 1 hour 10 minutes
Ingredients
1/4 cup unsalted butter
1 onion, chopped
1 green pepper, chopped
1/4 cup flour
1 1/2 cups low-sodium chicken broth
3 1/2-4 cups cooked, shredded chicken
1 (10 oz.) can Rotel, well drained
3/4 cup nonfat Greek yogurt (or sour cream)
12 corn tortillas
2-3 cups shredded Monterey Jack cheese
Optional toppings:
Chopped fresh cilantro, sliced or diced avocado (or a dollop of guac), Greek yogurt or sour cream, diced fresh tomatoes or pico de gallo, pickled jalapeños, sliced green onions, hot sauce
Instructions
Preheat the oven to 375.
Melt butter in a large skillet over medium heat. Add onion and pepper and sauté until softened, about 5 minutes.
Sprinkle the flour over the veggies. Stir and cook for 1-2 minutes to remove the raw flour taste and until the flour is slightly browning.
Add the broth and stir well to combine into a smooth sauce. Bring to a simmer and cook for 2-3 minutes, to let the mixture thicken, then turn off the heat.
Stir in the shredded chicken, can of Rotel and Greek yogurt. Mix well.
Spray the bottom of a 9x13 casserole dish. Spoon 1/2 cup of the chicken mixture into the bottom of the casserole dish and spread out. (It won't cover the entire casserole dish and that's fine.) Top with 6 tortillas followed by half of the remaining chicken mixture and half of the shredded cheese.
Repeat with the remaining 6 tortillas then the remaining chicken mixture and remaining cheese.
Bake at 375 for 40-45 minutes, until hot and bubbly.
Remove from the oven and let stand for 10 minutes for slicing and serving to allow the casserole to set up.
Notes
Chicken: The chicken needs to be cooked for this recipe, so please plan accordingly. You can use a rotisserie chicken from the store, Instant Pot shredded chicken or crockpot shredded chicken, or some boiled or baked chicken breasts you chop up. You'll need 3 1/2-4 cups.

Tomatoes: The can of Rotel does double duty here, but you could substitute a can of petite diced tomatoes and a small can of diced green chilies if you prefer. Make sure they are both well drained.

Greek yogurt: We always use Greek yogurt, but sour cream is fine here, too. Regular or low-fat or non-fat are all fine to use.

Cheese: Monterey Jack cheese adds great flavor, but you could also use a regular or white cheddar cheese if you prefer.

Rest time: Be sure to let the casserole rest for about 10 minutes after you pull it out of the oven. This helps it finish setting up.

Make ahead tips: You can make the entire casserole in advance. Cover your casserole dish with plastic wrap and refrigerate for up to 2 days.

When ready to bake it, remove the casserole from the fridge as you preheat the oven so it can come to room temperature.

Bake at 375 for 45-55 minutes (adding 5-10 minutes to the regular bake time), until hot and bubbly. Let rest for 10 minutes before serving. Or...

Make ahead and freeze: Assemble the casserole. I recommend using a disposable casserole dish (like a foil one) so you're not keeping your casserole dish hostage in the freezer. Cover the casserole tightly with plastic wrap. You can also add aluminum foil, to really seal it. Freeze for up to 2 months.

Defrost overnight in the refrigerator. Bake as directed, adding 10-15 minutes to the bake time.

Storing and reheating leftovers: Once cooled, store any leftovers in a covered container in the refrigerator. Leftovers will keep for up to 5 days.

Reheat individual servings in the microwave until heated through. (I like to place the slice of casserole on a microwave safe dish, then cover the top with a damp paper towel before I microwave it to help ensure it doesn't dry out.)
Nutrition Information:
Yield:
10
Serving Size:
1
Amount Per Serving: Calories: 717Total Fat: 39gSaturated Fat: 19gTrans Fat: 0gUnsaturated Fat: 16gCholesterol: 215mgSodium: 744mgCarbohydrates: 21gFiber: 2gSugar: 3gProtein: 68g