The ultimate leftover Thanksgiving turkey sandwich has mixed greens, cream cheese, cranberry sauce and plenty of sliced turkey. It makes for such a delicious lunch!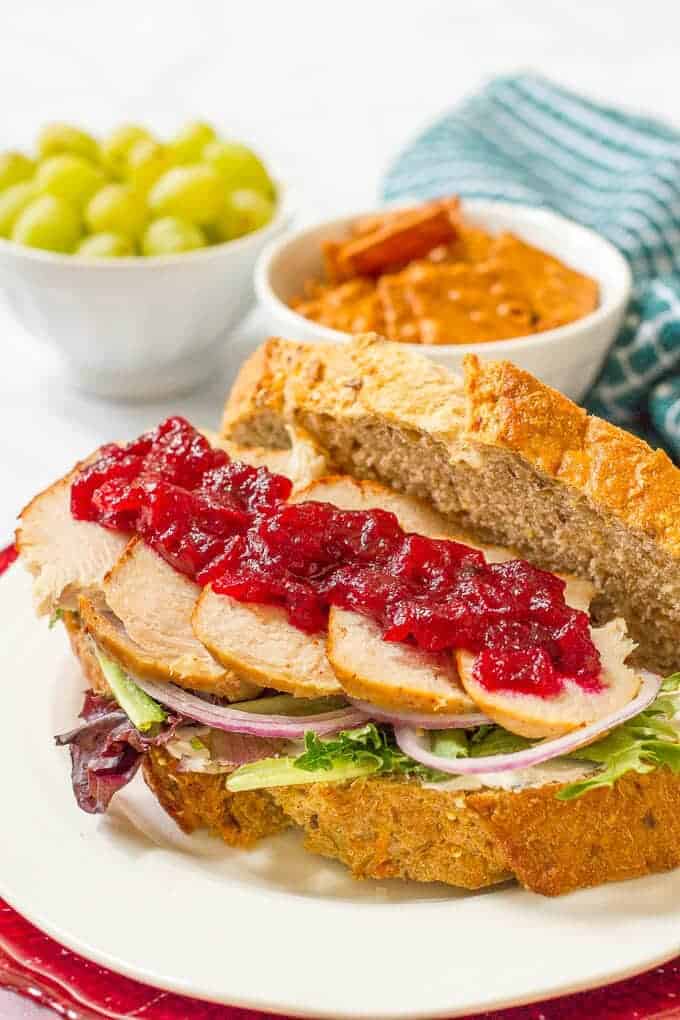 Happy Friday and T minus 6 days until Thanksgiving!
What do you have planned?! A big festive meal with family? A friend or neighborhood gathering? A quiet dinner in or out with just a few people? Do tell!
We will be with my parents doing our usual turkey trot to start the day, followed by all the cooking and chatting. And some Bloody Mary's and mimosas. And later, maybe a bourbon cocktail. You know me and my bourbon 😉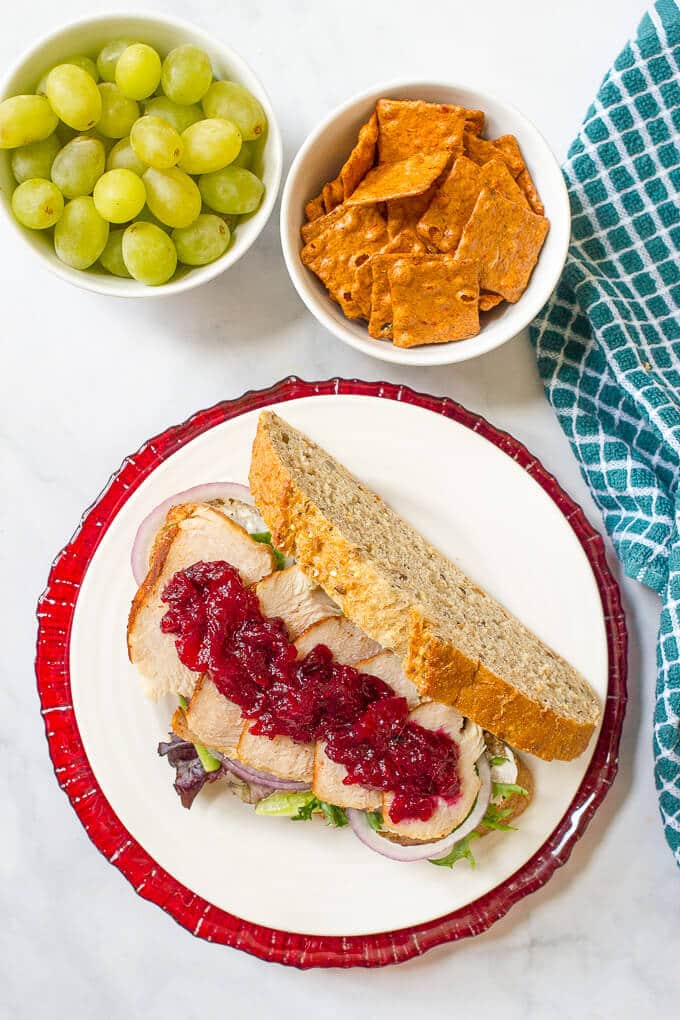 Here we are to the end of leftover Thanksgiving turkey week. I hope you've enjoyed it as much as me! Here's our run-down:
Today's recipe: a delicious leftover Thanksgiving turkey sandwich with cream cheese and cranberry sauce!
I love, love, love some leftover Thanksgiving turkey sandwiches. Can't get enough.
One year, we were visiting my in-laws and I was pregnant. Regular turkey sandwiches with deli turkey were a no-no, so I was excited to have some awesome leftovers for sandwiches to feast on.
Especially because my father-in-law makes a mean turkey at Thanksgiving. And Christmas. And sometimes just whenever we visit because he's amazing and knows how much we love it. 💕
My mother-in-law also knows how much I love her white turkey chili. We eat it ALL year long, doesn't matter the temperature. It's so easy and so, so good.
So she made it for dinner while we were there and I gobbled it up. But she had to use the rest of the turkey and I was a little disappointed the next day because I wanted MORE, MORE, MORE sandwiches.
(The next year we made sure to save some just for that purpose. 😉)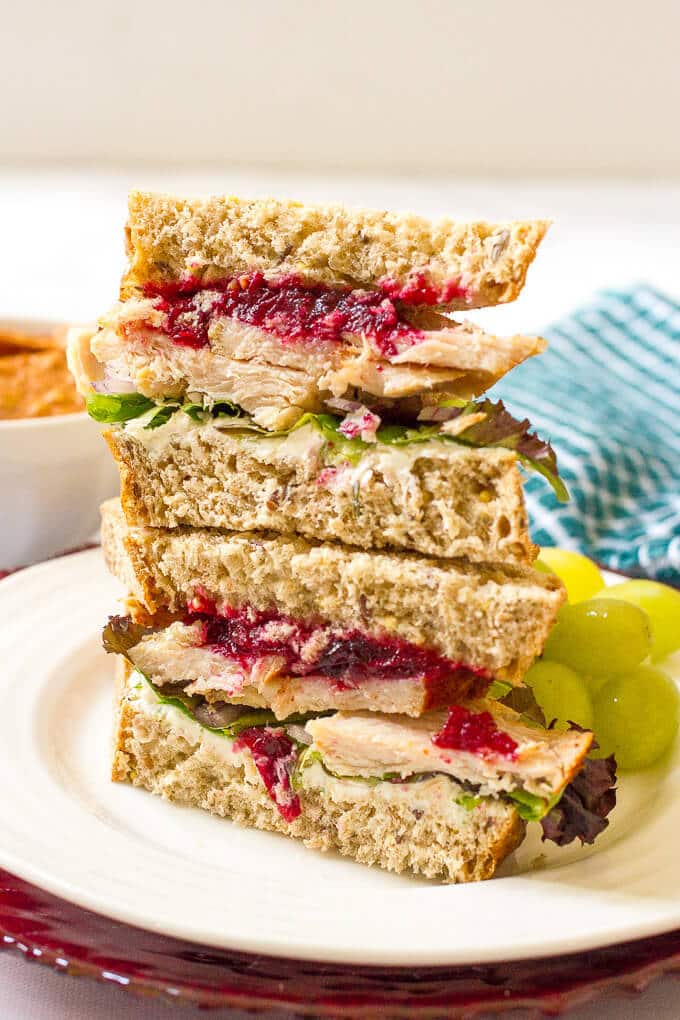 And this year? I've been eating these on repeat and we haven't even had Thanksgiving yet. 😳
The turkey + cranberry sauce + cream cheese makes a seriously delicious combination. I keep making my 15-minute easy cranberry sauce and my slow cooker turkey breasts so I can keep making these sandwiches!
So you should definitely file this away as a MUST HAVE post-holiday. 👍
(It's one of those leftover dishes that I start looking forward to about a week before we even get to the holiday!)

Notes on making a leftover Thanksgiving turkey sandwich:
You can use bakery bread or sandwich bread or use a roll, wrap, croissant, biscuit - whatever you like for the bread!
Plain cream cheese, chive-and-onion flavored or any other savory variety will do. My homemade veggie cream cheese would be delicious here as well.
Baby spring greens are a great choice, but you could use spinach, arugula or your favorite lettuce.
Pile up the turkey as high as you like! And slice it thin or thick, depending on your preference.
I like adding some salt and pepper and a drizzle of balsamic vinegar to the sandwich. Gives it a little oomph. You do you.
Oh, and while I wrote the recipe below for two sandwiches, but you can obviously adjust the amounts and make just one or as many as you like.
You could also make these on slider buns and have them as little snackable bites for watching football all weekend. (Or the new special release episodes of Gilmore Girls, which is what I'll be glued to the TV for.) Who wouldn't want to gobble these up?!
Hoping you all have a wonderful Thanksgiving! (And don't worry, I'm here next week bring you some more yummy recipes, they just won't involve leftover Thanksgiving turkey. That's a little sad, isn't it?)
Enjoy!
XO,
Kathryn
P.S. If you want another quick and easy lunch with leftover turkey, check out these open-faced cheesy turkey spinach mushroom melts. So warm and delicious!
Yield: 2 sandwiches
Leftover Thanksgiving turkey sandwich
Leftover Thanksgiving turkey sandwiches with cream cheese, cranberry sauce, greens and red onion - delicious!
Ingredients
4 slices whole wheat bread
¼ cup cream cheese (plain or a savory flavor)
¼ cup cranberry sauce
¼ cup greens (mixed greens, spinach or another lettuce)
¼ cup thinly sliced red onion
4-6 slices cooked turkey
Instructions
Spread 2 tablespoons of cream cheese on two pieces of bread for the bottom of the sandwich.
Top with greens, red onion and turkey.
Sprinkle with salt and pepper or drizzle with balsamic vinegar, if desired, and top each sandwich with 2 tablespoons cranberry sauce and other slice of bread.
Serve and enjoy!
Notes
You can use bakery bread or sandwich bread or substitute a roll or wrap. You can also make these as sliders for an appetizer or game day eats.
Plain cream cheese, or a savory cream cheese like veggie or chive-and-onion, work well here.
Baby spring greens, spinach, arugula or your favorite lettuce will work for the greens on the sandwich.
Pile up as much turkey as you like! And slice it as thin or thick as you prefer.
Nutrition Information:
Yield:
2
Serving Size:
1 sandwich
Amount Per Serving:
Calories:

499
Total Fat:

19g
Saturated Fat:

8g
Trans Fat:

0g
Unsaturated Fat:

9g
Cholesterol:

122mg
Sodium:

476mg
Carbohydrates:

47g
Fiber:

6g
Sugar:

16g
Protein:

35g