This super easy paprika chicken recipe uses on-hand ingredients and is ready in just 15 minutes! It's perfect for a quick weeknight dinner with big flavor.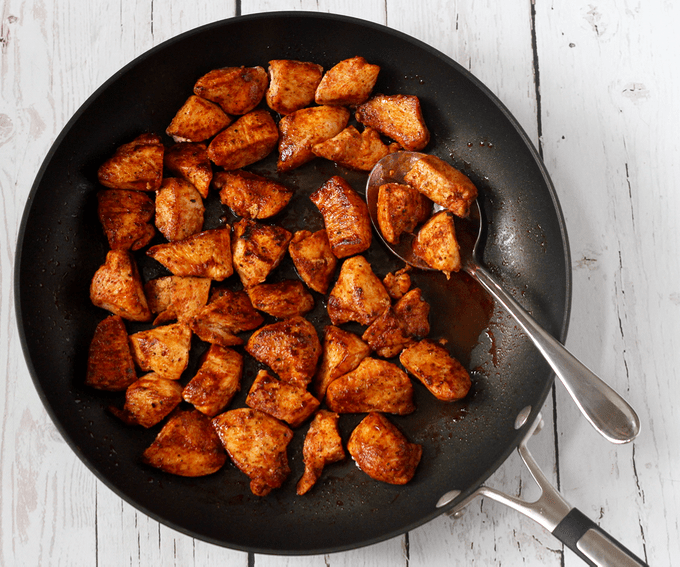 Can I just tell you how funny it is to hear a 2-year-old say paprika?
J has been a late talker, compared to M who was very verbal, very early. He's taking his time and I'm not the least bit concerned, but man, it makes for some hilarity.
(And also confusion. Sometimes I have no idea what he's saying!)
Paprika is one cute example.
Another is my mom's favorite phrase to make her grandchildren say: "purple turtle." I know, not very useful since turtles aren't purple, but my niece said it in the cutest way when she was little, so we've tried to force all the grandchildren that followed to do the same. And it really is precious when they stumble over those words. "Per-ple tur-tel."
As is paprika in the mouth of my little boy. "Preeka!" "Pap-park!" "Prpka!" 😂
However you say it though, this easy paprika chicken is a weeknight dinner winner!
I love this recipe for the big flavor that comes from so few ingredients. And they are ones that are easy to keep on hand so you can throw this together any ole night of the week.
And here's my secret tip for cooking chicken on the stove: cut it up!
I think it's way easier to cook chicken strips or pieces than whole breasts. It's faster and more even cooking and you don't have to risk having a big chicken that's not cooked all the way through. #nofun
Also, I think it stretches the chicken to cut it up.
You can't serve someone half of a chicken breast (at least not without insulting them) but once you've cut it up, you can easily get away with using 3 chicken breasts for 4 people.
I do love when easy and budget-friendly get together for a delicious dinner party at my table. ❤️
(Check out this easy chicken piccata for another go-to quick dinner. Or honey mustard chicken for another 15-minute skillet dinner that's very family-friendly.)
Here's a couple of ways to serve this easy paprika chicken:
We love to serve it over steamed brown rice or cauliflower rice. Be sure to drizzle any extra pan juices over top!
You could also serve this alongside some microwave baked potatoes or with some roasted potatoes.
Add your favorite veggie side. We often go with steamed broccoli or my super simple spinach salad. It'd be great with sautéed spinach and leeks or steamed lemon butter asparagus.
Sometimes I even throw some diced zucchini, peppers or mushrooms into the pan with the chicken to use up whatever's in my veggie bin in the fridge. This recipe is very adaptable and very forgiving. 👍
I also use a version of this chicken to make my chicken hummus bowls, which are so flavorful and delicious!
This chicken paprika has been a dinner favorite of ours for years. I hope you give it a try and enjoy it as much as we do.
Happy cooking!
XO,
Kathryn
Yield: 4 servings
Paprika Chicken
A 15-minute paprika chicken recipe that uses on-hand ingredients for big flavor!
Ingredients
1 ½ lbs. boneless, skinless chicken breasts, cubed in ½-inch pieces
2 teaspoons paprika
1 teaspoon poultry seasoning
1 teaspoon kosher salt
½ teaspoon black pepper
1 tablespoon olive oil
1 tablespoon fresh lemon juice
Instructions
Mix paprika, poultry seasoning, salt and pepper in a small bowl.
Sprinkle the seasoning over the cubed chicken and toss to get it coated on all sides.
Heat olive oil in a large saute pan over medium-high heat. Add chicken and saute for 5-6 minutes.
Stir and turn the chicken pieces over and cook for another 3-4 minutes, until cooked through.
Squeeze the fresh lemon juice over the chicken and serve!
Notes
You can also substitute boneless, skinless chicken thighs if you prefer.
I like to serve this paprika chicken over steamed brown rice and drizzle the extra pan juices over everything.
Nutrition Information:
Yield:
4
Serving Size:
1
Amount Per Serving:
Calories:

316
Total Fat:

10g
Saturated Fat:

2g
Trans Fat:

0g
Unsaturated Fat:

6g
Cholesterol:

145mg
Sodium:

656mg
Carbohydrates:

1g
Fiber:

1g
Sugar:

0g
Protein:

53g