This quick and easy smoothie bowl with peaches, raspberries and spinach makes for a healthy breakfast or snack.
Are you guys on board with the smoothie bowl phenomenon?
I kinda love it. I mean, I definitely love a smoothie. But there's something about sucking it down through a straw and being done in 0.8 seconds that leaves me a little less than satisfied.
I like to eat my food, not drink it. (So you won't see any juicing from me anytime soon.)
But a smoothie bowl? Loaded up with toppings? I'm totally in for that.
As are my kiddos. They love a smoothie in any form but they think these peach, raspberry and spinach smoothie bowls are especially fun.
J kept saying, "Raberries swim in my bowl." Tee hee. We're currently in swim lessons so this seems especially fitting. M liked the "sprinkles" — aka, chia seeds that I sprinkled on top.
And I love that it's a super nutritious, wholesome bowl for them to enjoy at breakfast or for a morning or afternoon snack.
And super fast. Just throw everything into the blender and away you go! It even looks gorgeous in the blender, doesn't it?
Speaking of kids and healthy eating, I'm thrilled to help support a campaign by Produce for Kids® with Publix that launched last week and runs through June 29. It will raise funds for local Feeding America® food banks and offer Publix shoppers healthy meal solutions, recipes and tips.
The campaign encourages people to add more fruits and vegetables to their carts this month to support healthy kids. You know I'm all about that! Just shop at Publix this month and buy produce from the participating sponsors to help raise money for those in need.
Here are the 13 fruit and veggie suppliers supporting the campaign: Avocados from Mexico, Driscoll's, Fresh Express Salads, Del Monte, Wonderful Pistachios, BUDDY FRUITS, Crunch Pak, Coast Tropical Florida, HMC Farms, Brandt Farms, Marie's Dressing, Shuman Produce and J&D Produce "Little Bear."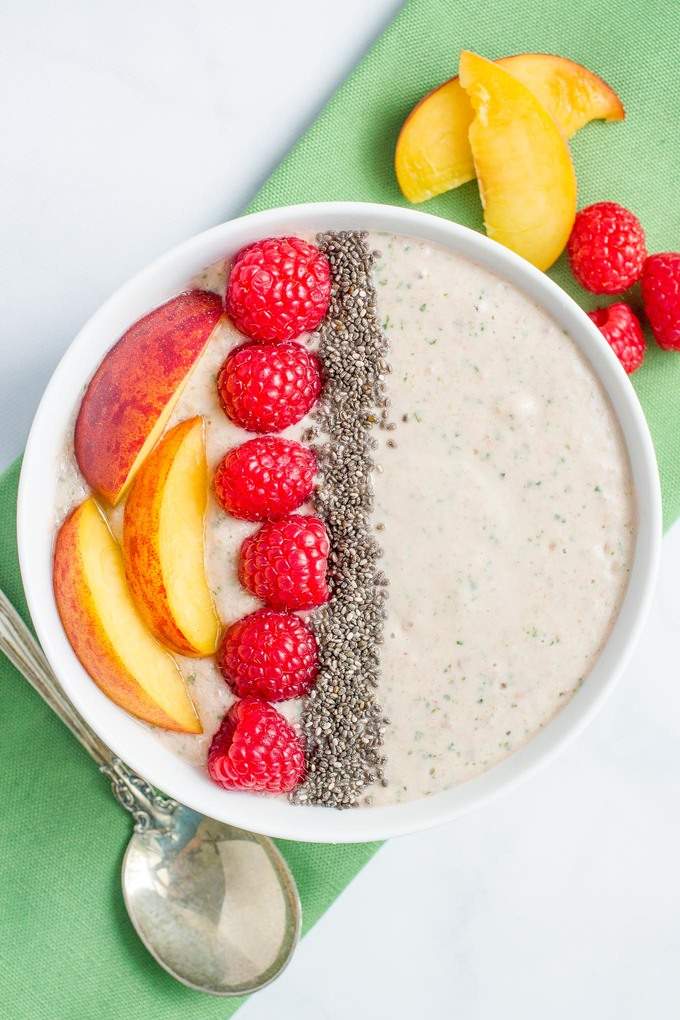 Plenty of great fruits and veggies to choose from!
Last year, the campaign raised more than $206,000, which provided 2,275,295 meals to families in need through Feeding America. Very impressive.
Visit ProduceForKids.com/Publix for more information on how to support the campaign and follow Produce for Kids on Facebook, Twitter, Instagram and Pinterest for more recipe ideas and healthy eating tips.
And then whip up a smoothie bowl and dig in to the taste of summer.
Enjoy -- and have a great start to the week!
Yield: 2-4 smoothie bowls (see notes)
Peach, raspberry + spinach smoothie bowl
This easy fruit and greens smoothie bowl makes a healthy breakfast or snack!
Ingredients
2 ripe peaches, pit removed and roughly chopped
2 ripe bananas, peeled and broken into chunks
6 oz. package raspberries
1 big handful fresh spinach leaves
1 ½ cups plain Greek yogurt (I use non-fat)
⅓-2/3 cup milk (see notes)
1 teaspoon vanilla
1-2 teaspoons honey (optional/as needed, see notes)
Topping ideas: sliced banana, sliced peaches, raspberries, chia seeds, granola, shredded coconut, crushed cereal
Instructions
Place all ingredients (except the toppings) in a blender, starting with just ⅓ cup milk. Blend well. Add extra milk as needed to get it to your desired consistency.
Pour smoothie into a bowl, add desired toppings and serve!
Notes
I use soy or regular (2% or skim) milk for our smoothie bowls, because that's what I keep on hand. You could certainly use almond milk as well.

If your bananas and peaches are very ripe and sweet, you probably won't need any honey. Blend everything together, taste your smoothie and then add honey, a teaspoon at a time, if you want it a bit sweeter. (Also, honey is not recommended for babies under 1 year old, so leave it out if yours are that young.)

This made enough for 4 smoothies for my kids, but they are young. If older kids or adults are eating these, it would be enough for 2-3 large smoothie bowls.

Extras of the smoothie may be kept, covered, in the refrigerator for up to 3 days.
Nutrition Information:
Yield:
4
Serving Size:
1
Amount Per Serving:
Calories:

463
Total Fat:

14g
Saturated Fat:

7g
Trans Fat:

0g
Unsaturated Fat:

5g
Cholesterol:

9mg
Sodium:

174mg
Carbohydrates:

73g
Fiber:

13g
Sugar:

41g
Protein:

18g
I was compensated for participating in this campaign, but the content and opinions here are my own.