Peanut butter and veggie spaghetti is an easy, 20-minute vegetarian meal!
I originally came up with this for my kids. They love peanut butter. I'm so thankful it's a source of healthy fats and tons of protein because they eat it almost daily. We buy the Trader Joe's kind that's just peanuts and salt. They are addicted.
Vegetables on the other hand are hit or miss. Overall, they are both excellent eaters in their own right, but having a veggie-crazy mama means I'm always looking for ways to get them to eat more. Peanut butter and pasta to the rescue!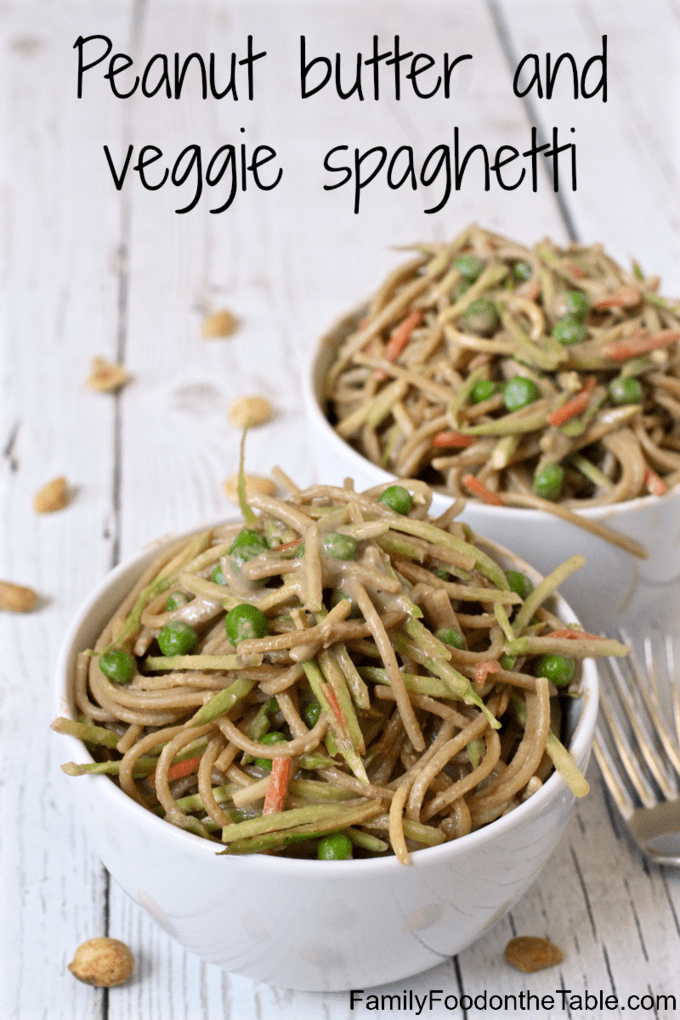 And guys? This stuff is seriously good. I supposedly make it for them, but I love having this for lunch! J, who's 2, thinks it's funny to offer me his food and so he'll manage to get a forkful of this and giggle as it holds it up for mama. I always lean in for the bite, which cracks him up. He'll do it again and again until I have to remind myself him that it's his food, at which point he'll return to eating it. But if there's any left? Yum, mama uses a baby fork and chows down while I'm cleaning up.
This peanut butter spaghetti is good warm or cold, which is how I eat it for lunch the next day, straight from the fridge.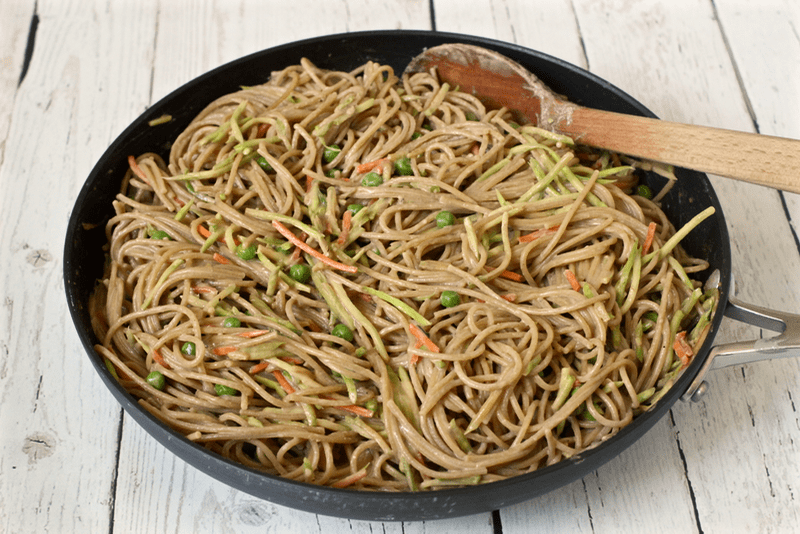 You can also substitute other vegetables here. Broccoli, cauliflower, carrots, snow peas and peppers would all work great. Use your favorites!
You also could add in some cooked, shredded or diced chicken (leftover or from a rotisserie chicken) if you want to bulk this up even more. I'd recommend doubling the sauce ingredients though so everything gets nicely coated. Cause that peanut butter sauce is what makes this dish!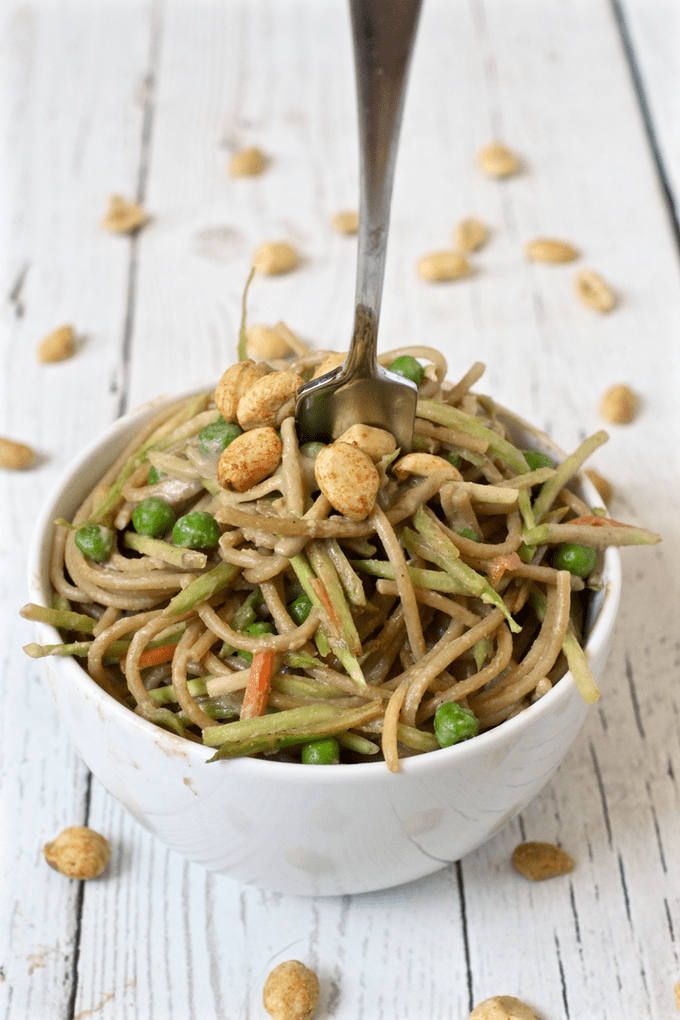 Whether for your kids or you, I hope you enjoy this peanut butter and veggie spaghetti!
Yield: 4-6 servings
Peanut butter spaghetti with veggies
Peanut butter and veggie spaghetti is an easy, 20-minute vegetarian meal!
Ingredients
1 pound whole wheat spaghetti
1 teaspoon olive oil
2 cloves garlic, minced
1 tablespoon grated fresh ginger (or 1 teaspoon ground ginger)
¼ cup peanut butter (I eyeball it)
3 tablespoons soy sauce
2 tablespoons tahini
¾ cup milk (whole, 2%, skim or soy are all fine), divided
1 12oz. package broccoli slaw
1 cup frozen peas
salt and pepper, to taste
Chopped roasted peanuts, for garnish (optional)
Instructions
Cook spaghetti according to package directions. Be sure to reserve at least ½ cup of the cooking liquid when you drain it.

Meanwhile, heat a large saute pan over medium heat and add olive oil. Add garlic and fresh ginger and saute for 30 seconds.

Add peanut butter and ½ cup of the milk and stir well to combine and melt the peanut butter.

Add broccoli slaw and stir to get it well coated. Reduce the heat to low and let it simmer for 3-4 minutes, until the broccoli slaw is softened.

Add the frozen peas and remaining ingredients: soy sauce, tahini and the remaining ¼ cup milk. Stir well to combine. Let simmer for another 2 to 3 minutes.

Add the spaghetti to the pan once it's cooked and use some reserved cooking water to loosen the mixture and help the sauce adhere to the noodles. I start with ¼ cup of reserved cooking water and add more if needed.

Serve warm or let cool, refrigerate and enjoy it cold!
Nutrition Information:
Yield:
4
Serving Size:
1
Amount Per Serving:
Calories:

413
Total Fat:

16g
Saturated Fat:

3g
Trans Fat:

0g
Unsaturated Fat:

11g
Cholesterol:

4mg
Sodium:

901mg
Carbohydrates:

55g
Fiber:

10g
Sugar:

6g
Protein:

18g