A light, veggie-packed skinny Italian chicken bake dinner with crispy chicken tenders!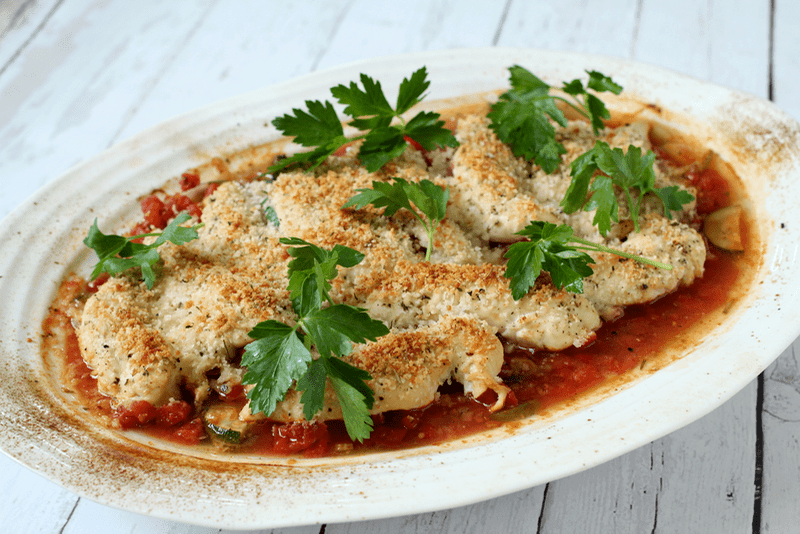 I started paying attention to my food choices more in college, and especially after college, and started to seek out healthier options. I thought for a long time that eating healthy meant staying away from Italian food. All that pasta. All that pizza. All those heavy cream sauces. I hated going to Italian restaurants cause there was rarely anything I wanted.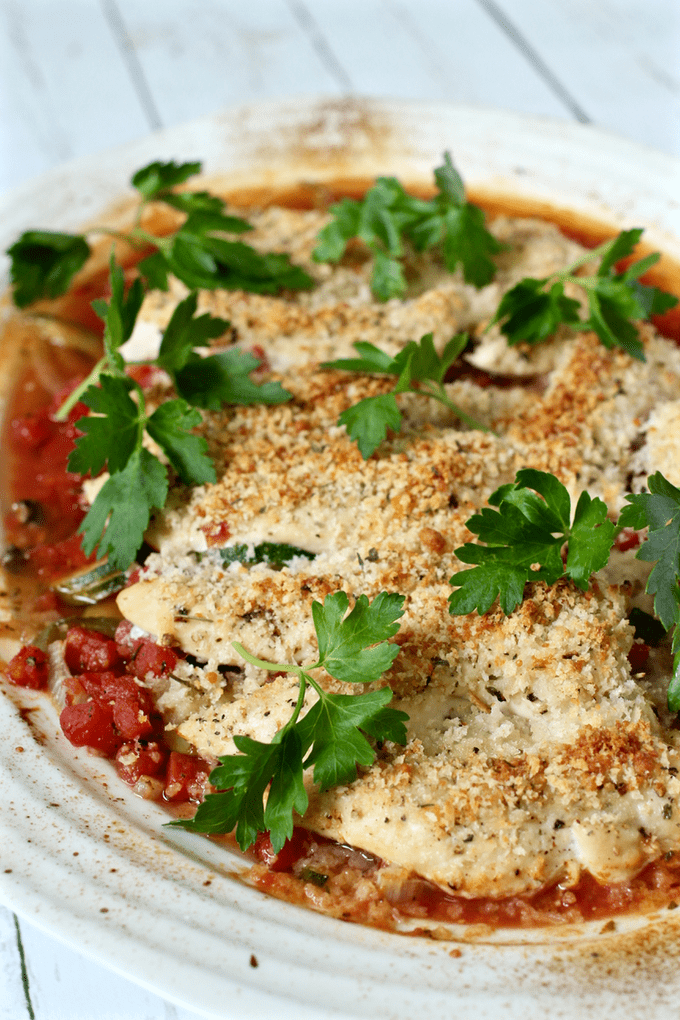 Then I visited Italy. I went with my family right after I graduated - literally flew from Chicago (I went to Northwestern - Go Wildcats!) to Rome that weekend. And sure, there was lots of pasta and pizza on the menus. But also so much fresh seafood, so many vegetables and of course, fresh tomato sauces.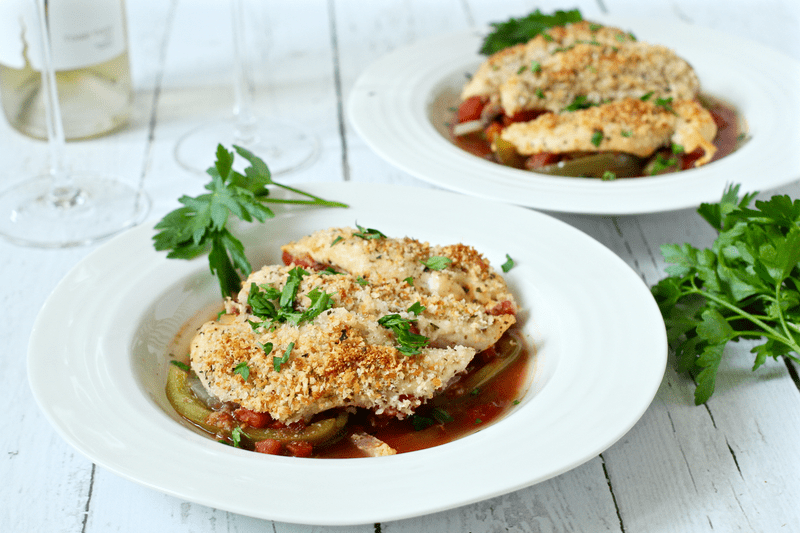 It wasn't Italian food after all. It was some blips of Americanized Italian food done poorly.
So to right that wrong, I present this skinny Italian chicken bake. Just lots of veggies, an easy tomato sauce and crispy chicken cutlets that are super simple to throw together.
No, really. I was too lazy for even a proper dredging station. I just put the chicken tenders on top of the veggies and sauce and sprinkle them with the Panko-Parmesan mix. They get perfectly crunchy and golden brown.
(Though if you're looking for some classic chicken fingers, check out my crunchy baked chicken tenders. A family favorite!)
As for serving, you can use whole wheat spaghetti or couscous or polenta or just serve it with a chunk of crusty bread. Or you can go low-carb and eat it as is. (Or with some chick peas or cannellini beans mixed in - that's good, too.)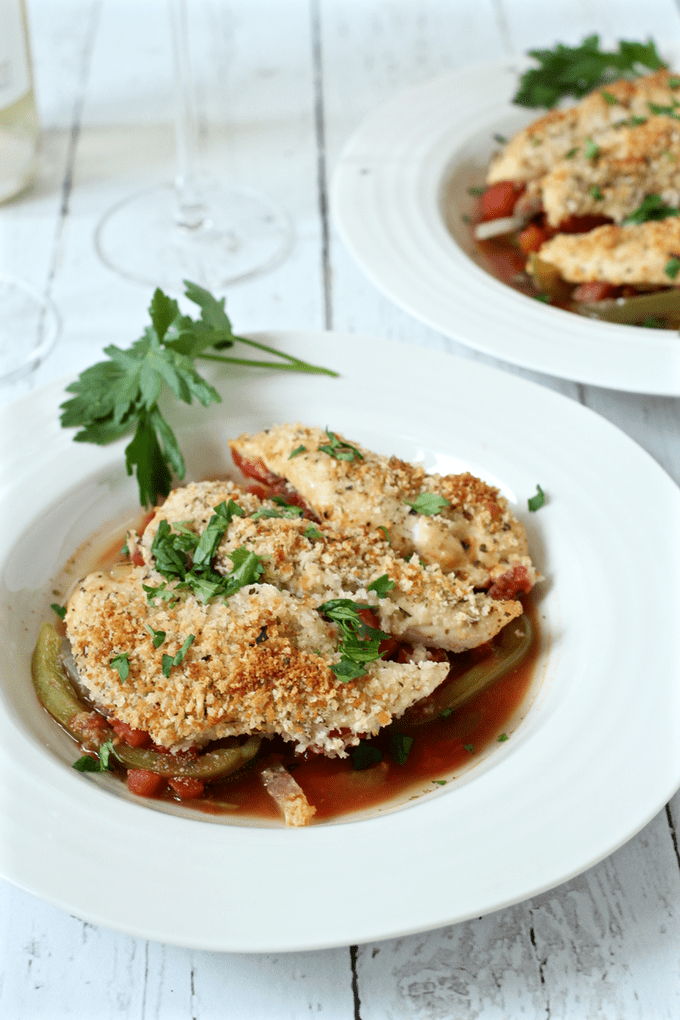 However you serve it, it's light, it's healthy, it's Italian. Glad we cleared that up. 🙂
Yield: 4 servings
Skinny Italian chicken bake
A light, veggie-packed Italian dinner with crispy chicken tenders!
Ingredients
For the veggies and sauce:
½ cup thinly sliced onion
1 green bell pepper, thinly sliced
1 zucchini, cut in half lengthwise and sliced into moons
½ 8-oz package white button mushrooms, sliced
1 28 oz. can diced tomatoes, slightly drained
¼ cup red wine vinegar
2 cloves garlic, minced
2 teaspoons Italian seasoning
¾ teaspoon kosher salt
½ - 1 teaspoon crushed red pepper flakes (adjust to your heat liking, or omit)
¼ teaspoon freshly cracked black pepper
For the chicken tenders:
1 ½ pounds chicken tenders (or chicken breasts sliced into strips)
salt and pepper
¼ cup Panko breadcrumbs
¼ cup Parmesan cheese
½ teaspoon Italian seasoning
¼ teaspoon black pepper
Optional toppings:
¼ cup parsley, finely chopped
extra Parmesan cheese
Instructions
Preheat oven to 400.

Spray an 8x11 or 3-quart baking dish with cooking spray.

Put the chopped veggies in the bottom of the dish.

Mix tomatoes, white wine vinegar, garlic and sauce seasonings together in a medium bowl. Pour over the veggies in the baking dish.

Place chicken tenders or strips on top of sauce mixture. Season with salt and pepper.

Cover dish with aluminum foil and bake at 400 for 25 minutes.

Meanwhile, mix breadcrumbs, Parmesan cheese, Italian seasoning and black pepper in a small bowl.

After 25 minutes, remove the aluminum foil and sprinkle the chicken tenders with Panko-Parmesan mixture.

Increase oven temperature to 425. Return dish to oven and bake, uncovered, for an additional 20 minutes, until golden brown and cooked through.

Sprinkle with parsley and extra Parmesan cheese, if desired.

Serve alone or over whole wheat noodles or polenta or couscous or with whole wheat bread to sop up the extra juices. You can also add in chick peas or cannelini beans and skip the pasta, polenta or bread.
Nutrition Information:
Yield:
4
Serving Size:
1
Amount Per Serving:
Calories:

651
Total Fat:

32g
Saturated Fat:

6g
Trans Fat:

0g
Unsaturated Fat:

22g
Cholesterol:

85mg
Sodium:

2252mg
Carbohydrates:

55g
Fiber:

8g
Sugar:

10g
Protein:

39g