A very hands-off and healthy alternative to store-bought deli turkey, these slow cooker turkey breasts come out beautiful every time!
I make turkey breasts every other week or so to use for lunches, instead of buying the processed stuff. It started when I was pregnant with M. You're not supposed to eat deli turkey when you're pregnant and as a health and nutrition editor, I also knew about the concern over nitrates and nitrites. (More recently, the World Health Organization has said that red and processed meats are a carcinogen -- they contribute to an increased risk of cancer.)
I was on a serious turkey sandwich kick at the time and didn't want to give it up. So I found a way to make healthy turkey, deli-style, at home. And it couldn't be easier!
I use frozen boneless turkey breasts, stick them in the slow cooker, sprinkle the tops with a delicious homemade seasoning mix and voila, beautifully moist and flavorful turkey. No basting. No oven going for hours at a time. No fuss. You don't even need liquid; they cook up just fine in a dry slow cooker.
I always double up and do two turkey breasts. I figure, while I'm at it… and I like cooking them while still partially frozen. They hold up better so that you can slice them thin or thick, however you prefer. If your turkey breasts are completely thawed, they will still work, too - it just falls about more once cooked. You end up with strips of turkey more than slices. Still completely delicious.
(Also, see above? It looks like I've got 4 turkey breasts. Nope, just 2 that each fell apart in the middle when I unpacked them. That usually happens. Sometimes they stay together whole but more often, they split in two. No worries, they cook up perfectly and make large beautiful slices for your sandwich needs.)
By the way, this method is so easy and so fool-proof, I've perfected making our Thanksgiving turkey the same way with this bone-in slow cooker turkey breast. Stress-free cooking is so my style for the holidays!
OK, back to the deli turkey at hand. Once these have cooked and cooled, I pack up some of the turkey for the fridge to use for sandwiches for the week. Or wraps. Or salads. Sometimes even paninis or quesadillas or soups. It's so nice having protein ready to go.
And the rest of the turkey I put into freezer bags, label, and pop in the freezer so that we're stocked for a few weeks at a time.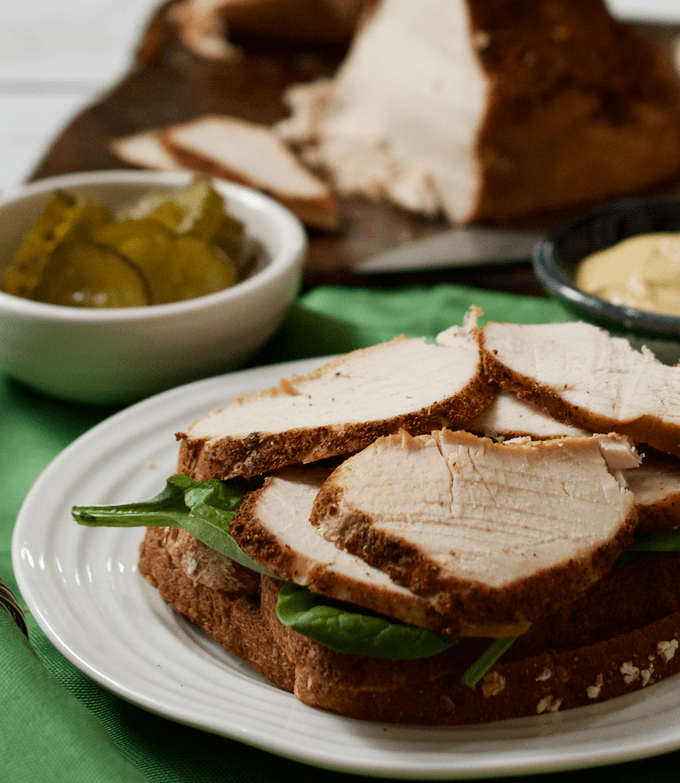 Simple. Healthy. Delicious.
Go on, get your turkey on. Enjoy!
XO,
Kathryn
(And if you want to see me talk about and prep this recipe, check out my Facebook Live video!)
Yield: Lots - probably 14-16 sandwiches worth or 8 cups chopped
Slow cooker turkey breasts
Easy, hands-off, healthy homemade deli turkey - ditch the processed stuff!
Total Time
4 hours
10 minutes
Ingredients
2 frozen boneless turkey breasts (about 3 pounds each), slightly defrosted
1 ½ to 2 tablespoons preferred seasoning mix (homemade or store bought)
Instructions
Prepare the turkey breasts. Remove from all packaging (discarding the gravy mix) and use a knife to remove the layer of skin and fat. Place turkey breasts into slow cooker.

Sprinkle seasoning all over the tops of the turkey breasts in the slow cooker.

Cover with the lid and turn the slow cooker on. Cook on high for 4 to 4 ½ hours.

Remove the cooked turkey and let cool before slicing and storing.
Notes
I buy frozen Butterball turkey breasts. I place the frozen turkey breasts in the fridge for 1 ½ to 2 days before cooking them. They are usually still a tad bit frozen and cook up perfectly and hold together for slicing.

I use a homemade Cajun seasoning mix (Emeril's recipe) but you can use any seasoning you like: southwestern, Italian, a simple mix of salt, pepper and garlic powder. Sky is the limit - change it up and never be bored!