These veggie-packed super healthy veggie burgers are loaded with wholesome ingredients and TONS of veggies, including edamame, carrots, zucchini, mushrooms, peppers, corn and peas. They are perfect for lunch or dinner and great for prepping ahead!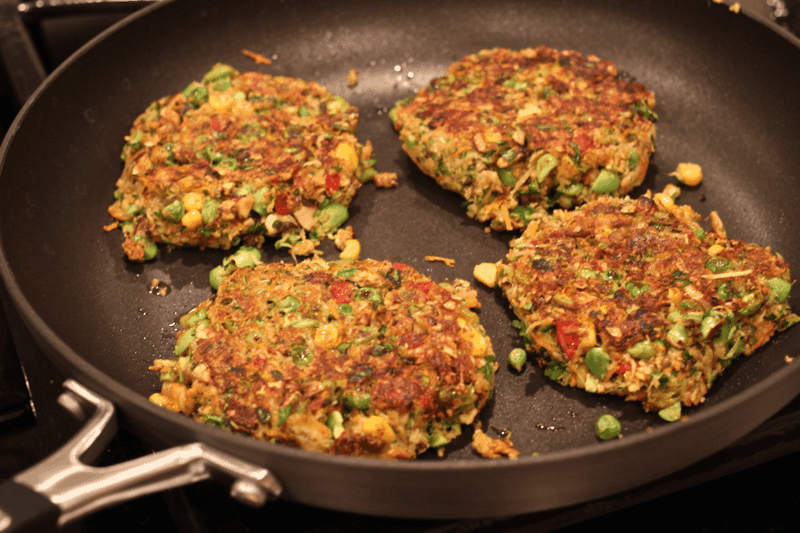 Veggie burgers are kinda my thing. 💚🍔
I adore them. I eat them ALL the time for lunch and love to make them for dinner, too. Bring on the veggie burgers!
Plus, there are endless options of flavors and combinations and toppings.
So many possibilities, so little time. I'll just have to find a way to get more veggie burgers in my life...
These here are stuffed full of veggies. Making them extra super healthy veggie burgers. ✨
I may have gone a little overboard actually. I just kept adding more veggies. 😳
Couldn't help myself!
But be glad I did, because this melding of flavors is seriously tasty.
And I love that you can see all the different veggies. It's not pureed up and there's not a bunch of other filler. Just the good stuff here!
I use a nifty little trick to shape mine.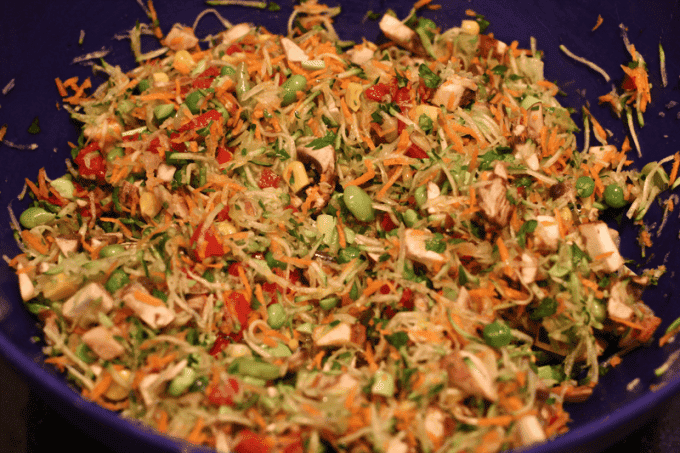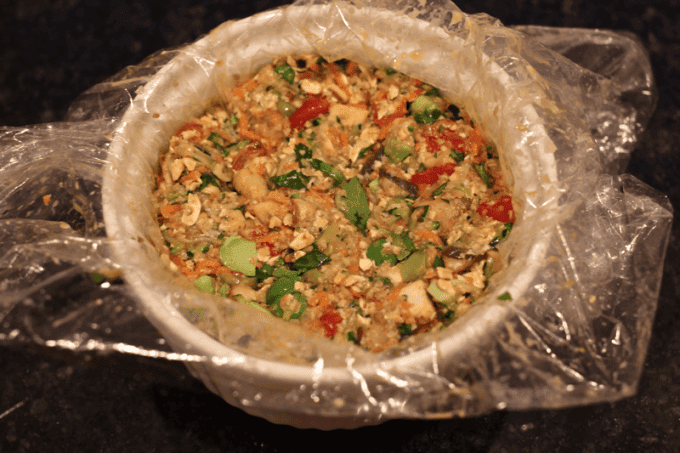 How to shape your super healthy veggie burgers:
Line a ramekin with plastic wrap and press down so it's covering the bottom and edges.
Put ¼ of your veggie mixture in the ramekin and cover it with the extra/overhang plastic wrap.
Press down to really pack in the burger ingredients and get the patty even.
Repeat with remaining burger mixture to make 4 total patties.
Ta-da, you have perfectly sized burgers!
Now, I must admit, these involve a little bit of advanced work and are probably best made ahead of time.
You've got to cook the edamame (though you can buy pre-cooked at the store), grate the carrots, zucchini and onion, and chop up everything else.
After you mix it all together and form the patties, they need to go in the freezer for 10-15 minutes or the fridge for at least an hour.
This step also helps them firm up and stay together in the skillet. 👍
Cause nobody wants to flip a burger and have it fall to pieces. That's just sad.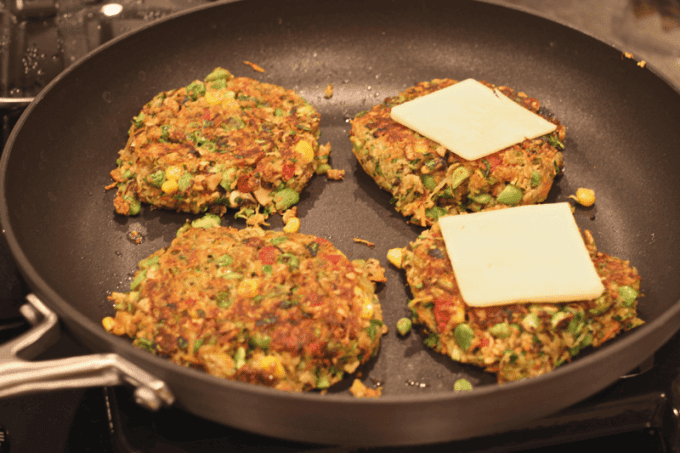 The extra prep work will be so worth it when you get these super healthy veggie burgers served up on your plate. You don't even need cheese or toppings; they are great all by themselves.
(But you know I love me some toppings so feel free to load yours up! I've got a ton of ideas listed in the recipe card below.)
I served these veggie burgers with roasted sweet potatoes and steamed broccoli. You mean I can have veggies on the side of my veggies? Oh heavens. 😍
I nearly licked the plate. So much veggie fantasticness going on with this dinner. I may need a moment.
(Sigh of happiness...)
And now I may need to go do this all over again tomorrow.
XO,
Kathryn
P.S. I've also got my simplified veggie burgers with just 3 ingredients and seasonings. And my veggie burger scramble is perfect for lazy nights when you can't even be bothered to make patties!
Yield: 4 servings
Veggie-packed veggie burgers
A loaded up veggie burger that is super duper delicious!
Ingredients
½ cup edamame, cooked and roughly chopped
2-3 carrots grated
1 medium zucchini, grated and squeezed (about 1 cup before squeezing, ½ cup after)
¼ onion, grated
¾ cup mushrooms, finely chopped (white button or cremini mushrooms work great here)
⅓ cup roasted red pepper, finely chopped
¼ cup frozen corn, thawed
¼ cup frozen peas, thawed
½ cup oat flour
¼ cup wheat germ (or another ¼ cup oat flour)
¼ cup parsley, minced
1 tablespoon Worcestershire sauce
1 teaspoon salt
½ teaspoon black pepper
1 tablespoon olive oil
Toppings: lettuce, tomato, cheese, sliced jalapenos, ketchup, mustard - whatever you like!
Instructions
Get all of your ingredients ready: cook the edamame, grate the carrots, zucchini and onion; make oat flour if you don't have any on hand (just grind the oats in a food processor or blender for a minute or so).

Combine all of the ingredients in a large bowl and mix well. Taste and adjust the seasoning. (There's no egg so you're safe to actually taste it.)

Form your patties. Use your hands (wet them so it doesn't stick) or use a ramekin lined with cling wrap to press them together really well.

Place the patties on a plate and pop it in the freezer for 10-15 minutes or in the fridge for an hour (or all day) to let them firm up.

Heat the olive oil in a large skillet over medium heat.

Add the patties and cook 4-5 minutes on each side, until well-browned.

(If you want to add cheese, put it on after you turn them, so it can melt while the burger finishes browning.)

Serve on a whole wheat bun or in a lettuce wrap and top with your favorite burger toppings.

Prepare to go to veggie burger heaven.
Nutrition Information:
Yield:
4
Serving Size:
1
Amount Per Serving:
Calories:

236
Total Fat:

10g
Saturated Fat:

2g
Trans Fat:

0g
Unsaturated Fat:

6g
Cholesterol:

7mg
Sodium:

709mg
Carbohydrates:

30g
Fiber:

7g
Sugar:

8g
Protein:

11g
* What's your favorite kind of burger? *