Whole wheat orange cranberry bread can be made as mini loaves or a large loaf. It smells amazing, is full of holiday flavors and works great for gifts or a holiday brunch!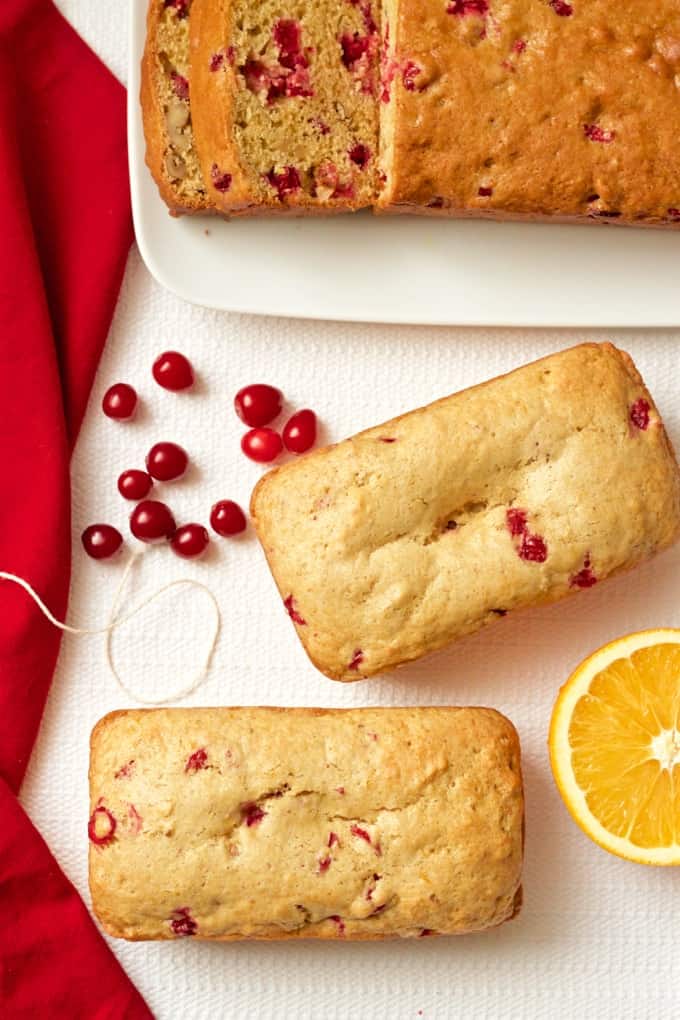 I'm seriously addicted to this soft, buttery bread…
I love the mingling of the sweet orange and tart fresh cranberry flavors, plus a little texture from the walnuts.
I keep making more loaves. Big and small.
I tell myself it's for more gifts for people. Tis the season for sharing, right?
But honestly, I wouldn't need to make so many batches if I didn't keep stealing loaves for myself!
They're too good! Especially when you add the easy citrus glaze. I'll drizzle that all day long. 😍
Also, it's WAY fun to chop cranberries. 😂
They have such a satisfying little burst when you run your knife through them. You'll have them flying and rolling all over your kitchen, but it's so worth it.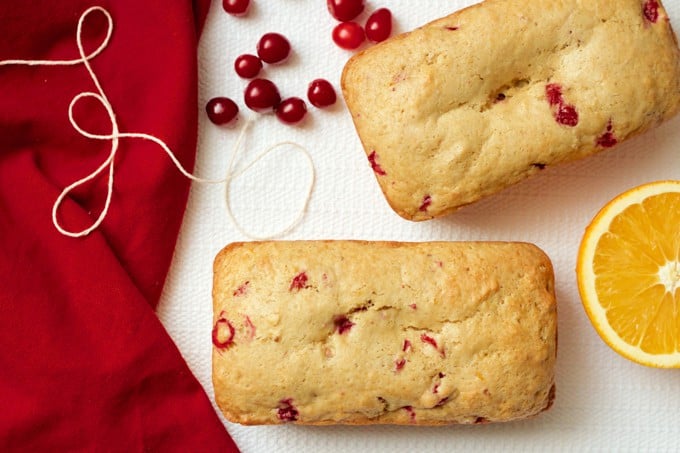 I did manage to take some mini loaves of this bread for the holiday bake sale at my kids' preschool.
They have a family dinner every December, with crafts and of course, a visit from Santa. All the parents drop off baked goods that morning and that's the dessert, with the proceeds going back to the school.
Both kids said they were excited about Santa.
I knew M would love it (especially the candy cane she gets at the end) but I was curious to see what J would do. He's just 2 and that's a tricky age for these sorts of things. But he assured me every time I asked that he was excited to see Santa, to sit on his lap, to say "ho ho ho" with him, to tell Santa his Christmas wishes.
Wanna guess what happened?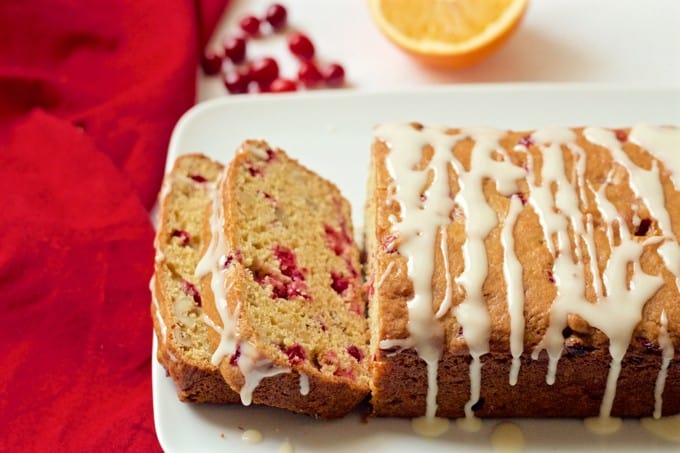 Yup, we waited in line till it was our turn and as soon as we got to the front and J saw Santa sitting there in his chair, he latched onto my leg and started crying.
Poor little guy. I told him he didn't have to do it but he wouldn't stop crying. Big scared tears.
I had to pick him up and walk away with him - a little distance calmed him down.
So no pictures of J with Santa this year.
Or, at least not yet! We've got other Santa visits coming up... but he did enjoy coloring some Christmas trees at the crafts table that night and both kids had bright eyes looking at all the lights on the way home.
It's pretty spectacular to experience the holidays through the eyes of a child. The magic, the wonder, the purity really comes back.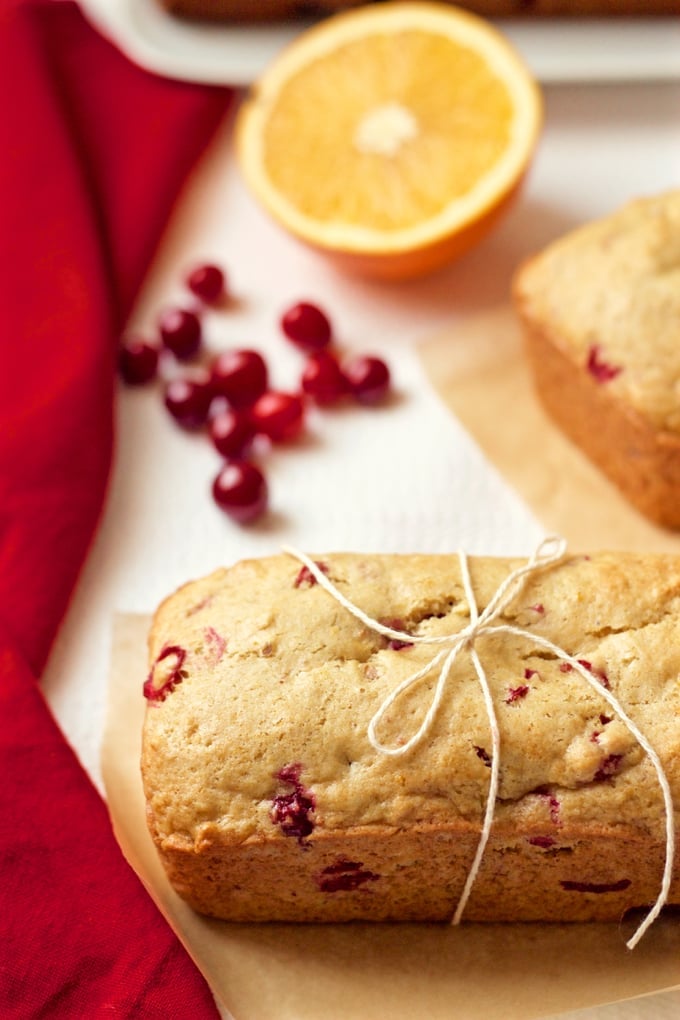 Wishing you all a little magic in your lives this month! And wishing you multiple batches of this orange cranberry bread to share and to savor.
Enjoy!
XO,
Kathryn
P.S. Anyone else think the batter is the best part of baking?!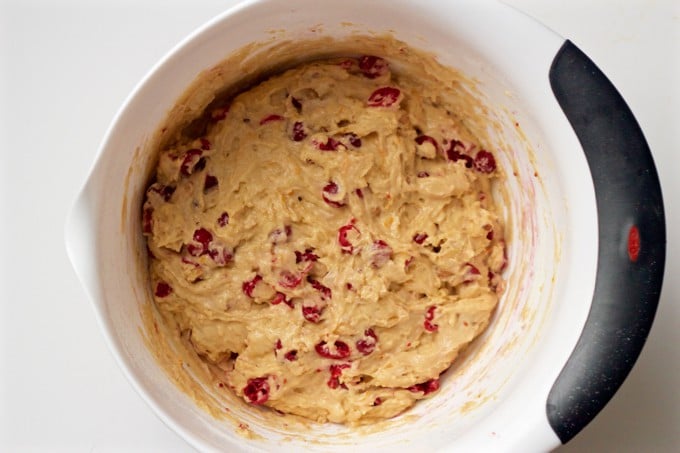 Yield: 1 large loaf or 3 mini loaves
Whole wheat orange cranberry bread
Whole wheat orange cranberry bread can be made as mini loaves or a large loaf!
Ingredients
¾ cup granulated sugar
¼ cup unsalted butter, melted
1 large egg
1 teaspoon grated orange zest
¾ cup orange juice
1 teaspoon vanilla
1 ¾ cups white whole wheat flour
2 teaspoons baking powder
½ teaspoon baking soda
½ teaspoon salt
1 heaping cup fresh cranberries, rinsed and chopped
½ cup walnuts, chopped (optional)
For the glaze (optional):
⅔ cup powdered sugar
1-2 tablespoons orange juice
Instructions
Preheat the oven to 350.

In a medium bowl, cream together the butter and sugar using a stand mixer or hand mixer. (You can also just beat it really well with a fork.)

Add the egg and mix well. Add the orange zest and juice and the vanilla and mix well.

In a separate, large bowl, combine the flour, baking powder, baking soda and salt and mix well.

Add the wet ingredients to the bowl with the dry ingredients and stir, by hand, just until combined.

Fold in the chopped cranberries and walnuts.

Pour the batter into a well-greased 9x5 pan, smoothing the top with the back of your spoon or spatula so it's even. Bake at 350 for 45-50 minutes, until a toothpick inserted in the center comes out clean. Or use 3 mini pans (each 5.75x3) and bake for about 22-25 minutes.

To make the glaze: Place the powdered sugar in a small bowl. Add 2 teaspoons orange juice and stir to combine. Continue to add orange juice, a teaspoon at a time, until the glaze reaches a good drizzling consistency.

Drizzle with glaze, if desired, and enjoy!
Nutrition Information:
Yield:
12
Serving Size:
1
Amount Per Serving:
Calories:

218
Total Fat:

8g
Saturated Fat:

3g
Trans Fat:

0g
Unsaturated Fat:

5g
Cholesterol:

26mg
Sodium:

229mg
Carbohydrates:

35g
Fiber:

3g
Sugar:

21g
Protein:

4g