A quick and healthy zucchini and squash saute, seasoned with thyme!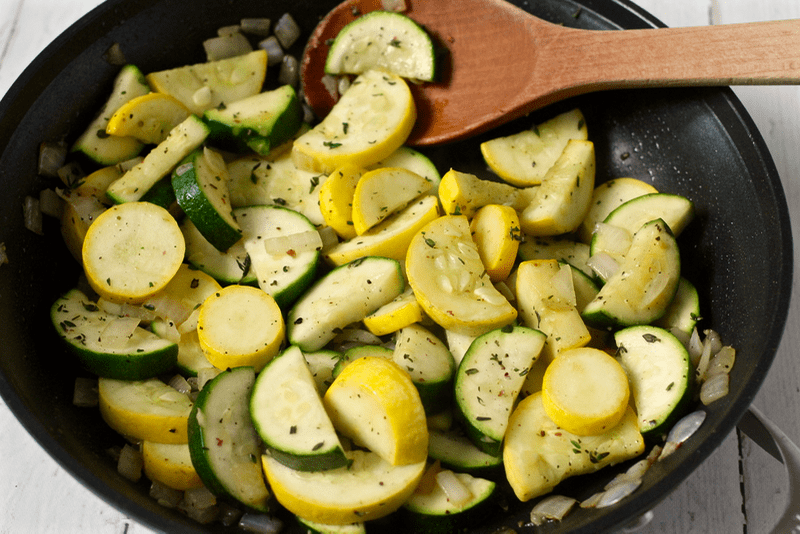 I didn't cook much in college. I had a few basic recipes my mom had sent me off with - family favorites of mine - but I just didn't have the interest or inclination to get in the kitchen. That came later (and I made up for lost time!)
One of the few things I did make in college was zucchini. It was cheap, it was easy and it was healthy. I would slice it, add it to a pan with some water, flip it over at some point and just wait until it seemed tender. I didn't even use oil. Just some salt and pepper at the end. I can't remember what on earth I ate with the zucchini, but I have specific memories of frequently cooking it in our apartment. Very plain, very boring zucchini. No wonder I didn't cook more!
And at the time, I never could have fathomed that I'd be making zucchini for my baby girl in the years to come. With a little squash and thyme for good measure. Cause I learned a few things along the way.
M takes after her mom's love for zucchini and would plow through this. When she was very little, I would puree this recipe (and omit the salt) and spoon-feed it to her. Once she was a bit bigger, I offered it as a finger food - nice, soft, tender vegetables. She gobbled it down. Today she picks at it a bit more than she used to, taking just a few bites, but she knows it was one of her favorites as a baby and loves to talk about that. I'll roll with it until she comes back around to gobbling it down (like her younger brother does).
This zucchini and squash saute is still one of my favorite, easy, go-to veggie sides. It cooks up quickly and turns out delicious. If I could, I'd go back and tell my college self to tweak the zucchini-in-water idea to take this veggie side to the next level, with so little effort. Live and learn, right?
Enjoy!
Yield: 4 servings
Zucchini and squash saute with thyme
A quick and healthy zucchini and squash saute, seasoned with thyme!
Ingredients
2 teaspoons olive oil
½ onion, diced (about ½ to ¾ cup worth)
2 zucchini, cut in half lengthwise and sliced into ¼-inch moons
2 squash, cut in half lengthwise and sliced into ¼-inch moons
¾ teaspoon salt
¼ teaspoon black pepper
1 tablespoon fresh thyme, roughly chopped (see notes) - from 5-6 small sprigs
Instructions
Heat olive oil in a large saute pan over medium heat.
Add onion and saute for 2-3 minutes, until softened.
Add sliced zucchini and squash. Season with salt and pepper and saute for 5-6 minutes, until slightly tender.
Sprinkle with fresh thyme. Stir to combine and saute for another minute.
Remove from heat and serve hot.
Notes
You can substitute dried thyme instead of using fresh thyme. Use 1 teaspoon of dried thyme and add it when you season the zucchini and squash with salt and pepper.
Nutrition Information:
Yield:
4
Serving Size:
1
Amount Per Serving:
Calories:

63
Total Fat:

3g
Saturated Fat:

0g
Trans Fat:

0g
Unsaturated Fat:

2g
Cholesterol:

0mg
Sodium:

401mg
Carbohydrates:

8g
Fiber:

2g
Sugar:

5g
Protein:

2g
** Did you cook in college? When did you start cooking regularly?