These 3 easy cute Christmas treats for kids include reindeer brownies, marshmallow snowmen and Santa Claus Rice Krispies for some fun, but simple, holiday food crafts.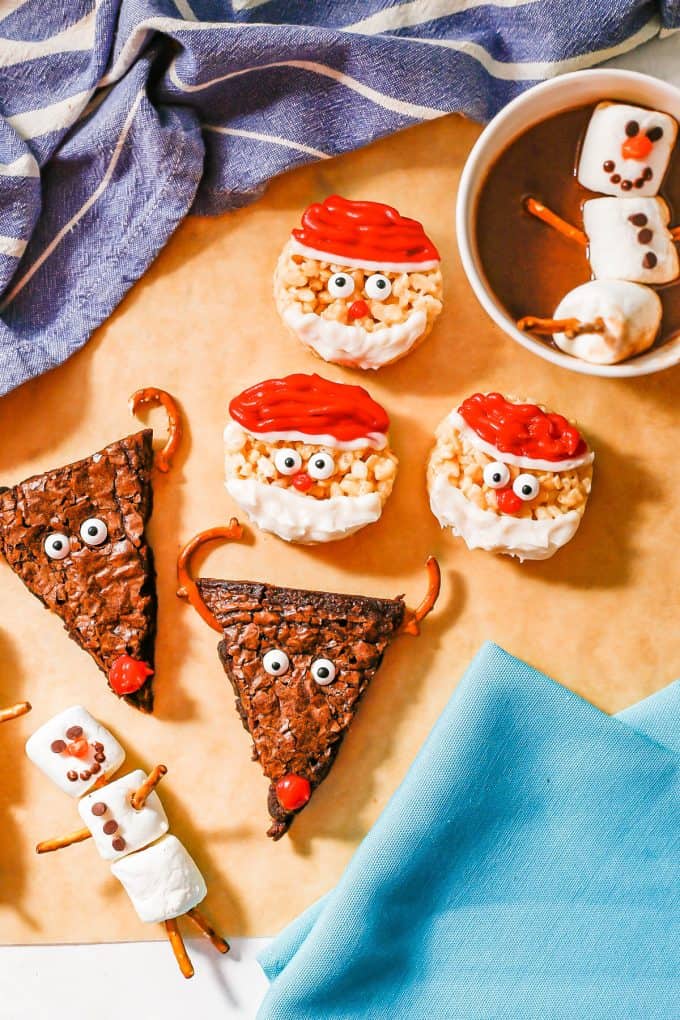 Today's post is dedicated to all my fellow moms out there who are creatively challenged.
I love a cute, festive holiday treat. I love an adorable kids costume. All the moms who can rock crazy hair day and their child doesn't just look disheveled and possibly unwell, I applaud you.
Me, I know my limits. And perfectly decorated cookies and cakes are not my strong suit.
So today I'm sharing 3 easy, cute Christmas treats for kids that any one of us can make.
These don't require special skills or even much patience. That's kinda why they are right up my alley.
In fact, even the kiddos can make these themselves. (They'd probably do a better job than me, let's be honest.)
But these are perfect for whipping up some fun on a cold day in December when you just want to celebrate the season without any fuss or stress.
The holidays bring enough of that on their own. Our treats and baking projects don't need to pile it on.
So let's delve into these 3 Christmas treats, and I'll show you how easy they are to make!
3 easy, cute Christmas treats for kids
Reindeer Brownies - You'll cut triangle shaped brownies and decorate with red icing (or a red hot) for a nose, pretzels (regular or yogurt covered) for ears at the top and buy candy eyes or dot some on with icing.
Marshmallow Snowmen - Attach 3 marshmallows for the snowman's body, add stick pretzels for arms and legs, use mini chocolate chips or icing for buttons as well as for the eyes and use a piece of candy corn (or other candy) for a little snowman nose. You can also dot on a mouth using a dark colored icing or melted chocolate.
Santa Claus Rice Krispies - Cut regular Rice Krispies into circles, then use red icing at the top to make a hat. Use a little white underneath the hat for Santa's hair peeking out, more white at the bottom for his beard, and make eyes and a nose using icing or candies.
And to keep it extra easy, the Rudolph brownies can be made using a store-bought mix. Or go with your favorite homemade recipe, whatever you like.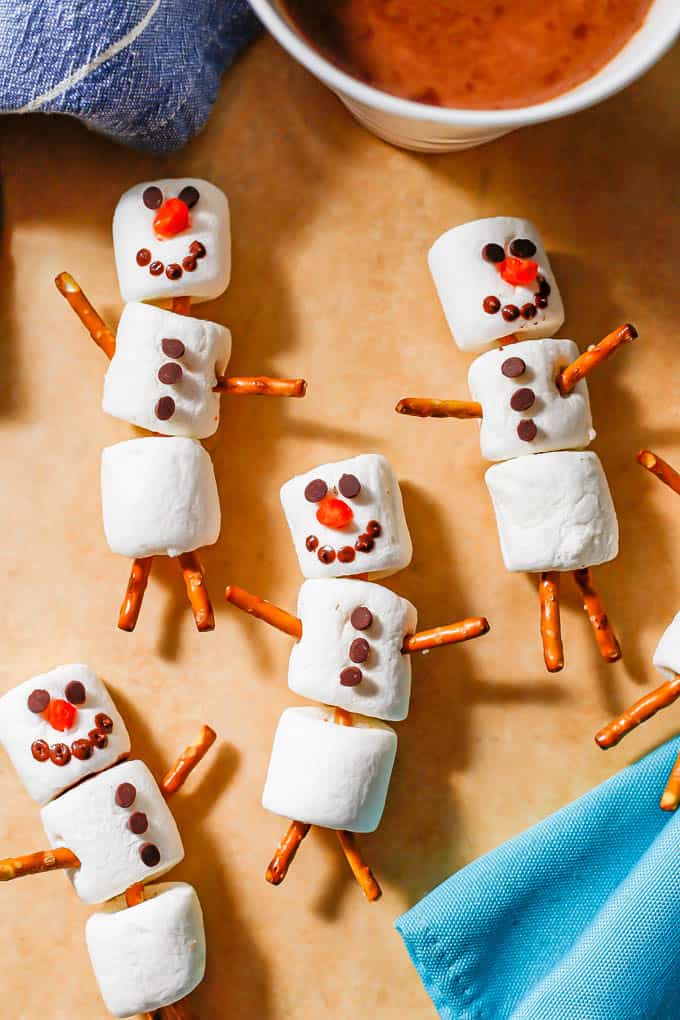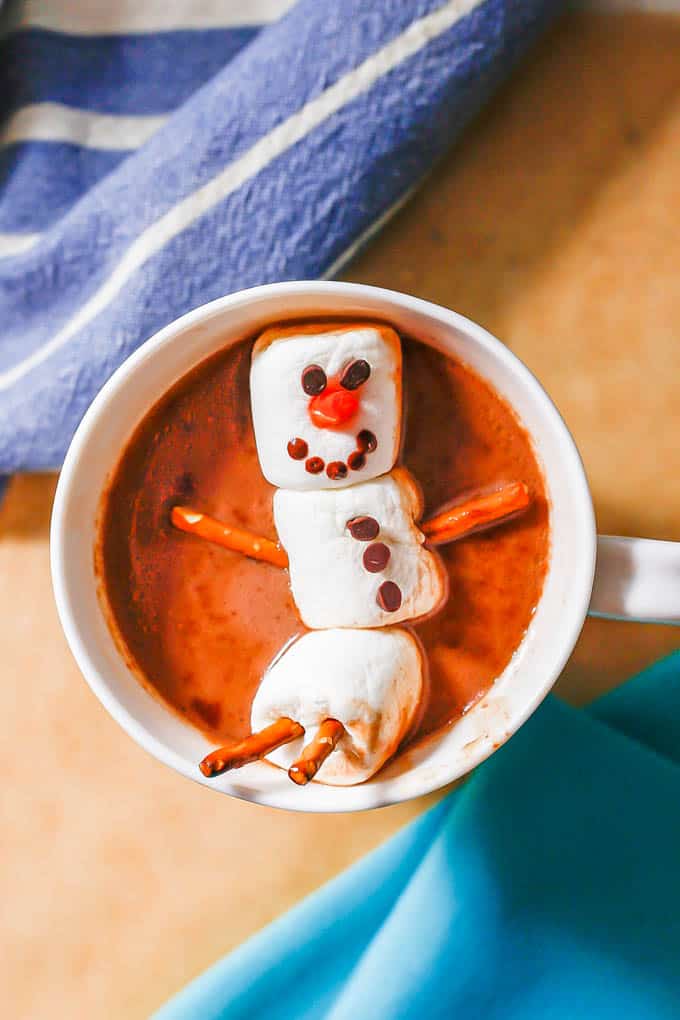 The snowman of course require nothing but assembly, and they are the perfect accompaniment to a nice warm mug of hot chocolate. This crockpot hot chocolate is especially rich and creamy and delicious!
(For all the Frozen fans out there, you could definitely name your snowman Olaf!)
The Rice Krispies are also more about decorating than anything else. Just make a regular batch of Rice Krispies, use a cookie cutter or biscuit cutter to make the circle shapes and create your Santa.
You should also check out my Rice Krispie Christmas wreaths that I've been making since I was a kid. Or these cute Rice Krispie Christmas trees that are as much fun to decorate as they are to eat!
Oh and reindeer chow is always a huge hit at the holidays for an addictive snack.
As for today's ideas, don't worry, I've got specific details in the recipe card below on how to make these.
I don't know about you, but sometimes I need a little hand holding to get through even the simplest of food crafts. 😂
So I got you on that! Read on below.
As for storing the leftovers of these cute Christmas treats, they will keep in a covered container at room temperature for up to a week.
I actually put all of mine together in a large rectangular Tupperware, with wax paper in between layers, and that worked just fine.
You could also arrange these on a big pretty platter to set out for guests or at a kids party.
And they'd make a fabulous addition to a kids classroom celebration or a holiday bake sale event. Package each one up individually and watch everyone flock to snatch them up.
Ha, we almost look like we know what we're doing!
Cheers to a happy holiday season!
XO,
Kathryn
Yield: 8 brownies, 8 snowmen, 12 Santa Rice Krispies
Easy, Cute Christmas Treats
These 3 easy cute Christmas treats for kids include reindeer brownies, marshmallow snowmen and Santa Claus Rice Krispies for some fun, but simple, holiday food crafts.
Ingredients
For the reindeer brownies:
1 (18 oz) boxed brownie mix, baked according to package directions (or your favorite homemade brownies)
8-10 pretzel shaped pretzels (regular or yogurt covered) for antlers
8 sets candy eyes for eyes (or white icing)
8 red hots for nose (or red icing)
For the marshmallow snowmen:
24 regular sized marshmallows
32 thin stick pretzels, for arms and legs
24 mini chocolate chips, for buttons
16 mini chocolate chips, for eyes
Brown or black icing to dot on mouths
8 pieces candy corn for nose (or use icing)
For the Santa Rice Krispies:
1 batch Rice Krispie treats made in a 9x13 glass pan or baking dish, cut into 12 circles
Red icing, to make hat
White icing, to make hair and beard
12 sets candy eyes for eyes (or use white icing)
12 red hots for nose (or use red icing)
Instructions
Make the reindeer brownies. Bake the brownies in a 9x9 pan according to the package directions and let cool completely. Cut into 8 triangle shapes but cutting a line horizontally across the pan and then using diagonal cuts to make the triangle shapes.
Place the triangles with the bottom point tip facing you. Add broken half pieces of the pretzels at each side of the top wide part of the triangle to make the antlers. Add candy eyes or use icing to dot on two eyes for each reindeer. Add a red hot, or use red icing, to make a nose at the bottom tip of the triangle. Repeat with each brownie.
Make the marshmallow snowmen. Stack three marshmallows together to make the body of the snowman, attaching them together either with icing as glue or with small pieces of pretzel sticks.
Place three mini chocolate chips in a vertical line in the middle snowman to make buttons. Use two mini chocolate chips in the top marshmallow to make the snowman's eyes. Add a piece of candy corn or another colored icing to make the snowman's nose. Dot on some brown or black icing to make the mouth. (You can also use melted chocolate and dot it on using a toothpick. I don't recommend using red icing for the mouth; it ends up looking kinda creepy in my opinion.)
Finally, add the pretzel sticks as arms coming out of the sides of the middle marshmallow and as legs coming out of the bottom of the bottom marshmallow. Repeat to making the remaining marshmallow snowmen. Serve with a mug of hot chocolate!
Make the Santa Claus Rice Krispies. Prepare the Rice Krispies according to package directions and press lightly into a 9x13 dish. (Don't pack them in or they will get tough.) Once cooled, use a 2 or 3-inch round cookie cutter or biscuit cutter to cut out circles to use for your Santa Claus faces. Depending on the size of your cutter, you should be able to get 9-12 circles.
Use red icing to make a hat across the top of each one. Add a little white icing directly underneath the hat to look like white hair poking out. Use white icing again on the bottom of each circle to make Santa's beard. Add candy eyes and a red hot (or red icing) for Santa's nose. Let the icing set up then enjoy!
Notes
Brownies: You can use your favorite store-bought mix or homemade brownie mix. They need to be baked and cooled completely before making the reindeers, so please plan accordingly.
Rice Krispies: The rice krispies also need to be made and allowed to cool and set up before you cut out the circles and decorate your Santa faces.
Decorations: Feel free to use the decorations listed (and I tried to give a couple of options) or get creative with your own icing or sprinkles or decorations for making the eyes, noses, etc. for these cute treats.
Leftovers: Leftovers of each of these treats will keep in a covered container at room temperature for up to a week.
Nutrition Information:
Yield:
28
Serving Size:
1
Amount Per Serving:
Calories:

140
Total Fat:

6g
Saturated Fat:

3g
Trans Fat:

0g
Unsaturated Fat:

3g
Cholesterol:

0mg
Sodium:

76mg
Carbohydrates:

18g
Fiber:

3g
Sugar:

14g
Protein:

2g
The nutrition calculation was calculated for an approximation of all of these treats together, given how the ingredients are all contained here. Please see packages or use an online nutrition calculation for individual treats if needed.