Easy shredded balsamic Brussels sprouts make a great, easy go-to veggie side! You'll love the sweet, tangy flavor and that it's ready in just 10 minutes!
How do you pick a favorite veggie?
I'm a veggie addict so it's impossible for me to name just one… it would be like choosing a favorite child.
But I do seriously love me some Brussels sprouts.
And this balsamic Brussels sprouts side dish is one of my most favorite ways to eat them.
(I also love my roasted Brussels sprouts with bacon and red onion. I mean, bacon, come on! Also check out my wild rice and Brussels sprouts salad for a heartier side dish.)
But I seriously adore them this way. Simple but delicious. And ready in just 10 minutes! 🙌
In fact, if I know my husband is going to be out of town or out to dinner for work, I will always try to go pick up a bag of shredded Brussels sprouts. I'll make this and a baked potato or roasted sweet potatoes and go to town.
It's a fast, easy dinner and I eat the whole thing. Often standing up in the kitchen after I've transferred them straight from the skillet. That's over a half-pound of Brussels sprouts, which I realize might be slightly disturbing to some of you, but I can't lie.
It's simple. It's delicious. Veggies are good that way. 💚
Shredded Brussels sprouts are also a more family friendly way to serve them for kids, in my opinion.
A huge roasted Brussel sprout can be tough for a little kid to eat, but these are smaller, softer and easy for kids to dive into. Or at least nibble on. 😉
Plus the balsamic vinegar brings a sweetness to the Brussels sprouts and that helps these go over well.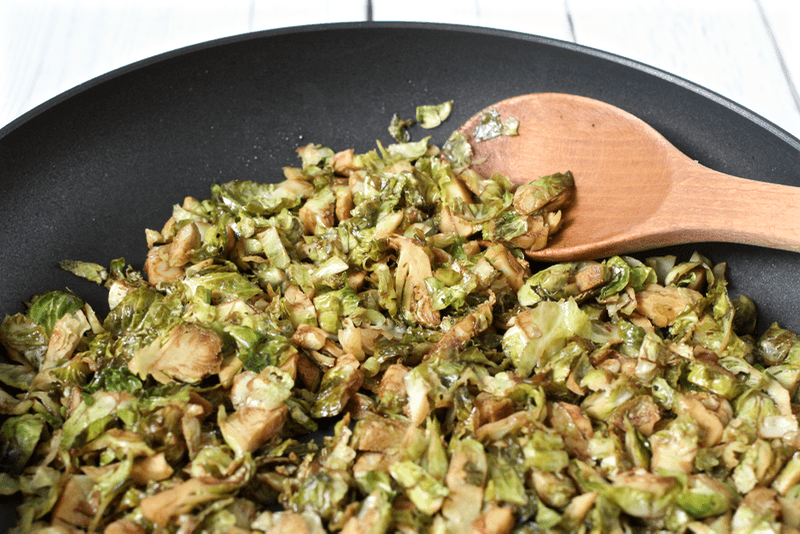 If Brussels sprouts aren't on your normal rotation, give this fast and easy side a try. I bet they'll soon be making a regular appearance at your table.
Enjoy!
XO,
Kathryn
Yield: 4 servings (unless it's me we're talking about)
Balsamic Brussels sprouts
Easy balsamic shredded Brussels sprouts make a great go-to veggie side!
Ingredients
2 teaspoons olive oil
1 10 oz. bag shredded Brussels sprouts (see notes)
¼ teaspoon kosher salt
¼ teaspoon black pepper
¼ cup water
¼ cup balsamic vinegar
Parmesan cheese, for serving (optional)
Instructions
Heat oil in a large pan over medium heat.

Add shredded Brussels sprouts and saute for about 3 minutes, until slightly tender, stirring occasionally. Add salt and pepper and saute for another minute.

Add water and balsamic vinegar and cover the pan. Reduce heat to medium-low and simmer for 3-4 minutes, until tender.

Season, to taste, with extra salt and pepper. Serve with Parmesan cheese, if desired.
Notes
If you can't find pre-shredded bagged Brussels sprouts, you can buy a pound of Brussels sprouts and do it yourself. It's easy, just takes a bit of extra time. Wash the sprouts, cut off the hard end/core and any outer leaves that need to be removed and/or come falling off, then thinly slice each sprout. Repeat, repeat, repeat until they're all thinly sliced and shredded looking. Proceed with the recipe. (You'll have close to the 10 ounces called for, since you discarded all the stems and outer leaves.)
Nutrition Information:
Yield:
4
Serving Size:
1
Amount Per Serving:
Calories:

65
Total Fat:

3g
Saturated Fat:

1g
Trans Fat:

0g
Unsaturated Fat:

2g
Cholesterol:

1mg
Sodium:

174mg
Carbohydrates:

8g
Fiber:

2g
Sugar:

4g
Protein:

2g