Brown rice edamame salad with carrots is great warm, room temp or cold and leftovers are an excellent lunch!
On our first date, my now husband took me to a sushi restaurant. He asked if I liked edamame, to split as an appetizer, and I enthusiastically said "Yes!"
When they brought it to the table, however, I realized I'd never actually eaten it in the pods.
I'd had friends at college who would get it that way sometimes, but I myself had never picked up a pod and I didn't have a clue what to do with it.
I knew you didn't eat the outside, just those delicious beans in the middle, but I wasn't sure how you got at them. Does it split open on the side? Do I use a knife? Do I bite into it? No idea.
So I talked and sipped my drink and folded my napkin and stalled so I could watch as he ate the first few pieces. Then I picked one up and gave it a whirl.
I'm happy to say I didn't make a fool of myself - he didn't know until I told him months later that I was clueless on how to eat it. Whew!
And now it's one of my favorite tasty, salty snacks.
We still love to split edamame at sushi restaurants, but at home, I use the frozen kind that's already out of the shell. So fast, so easy. No experience needed.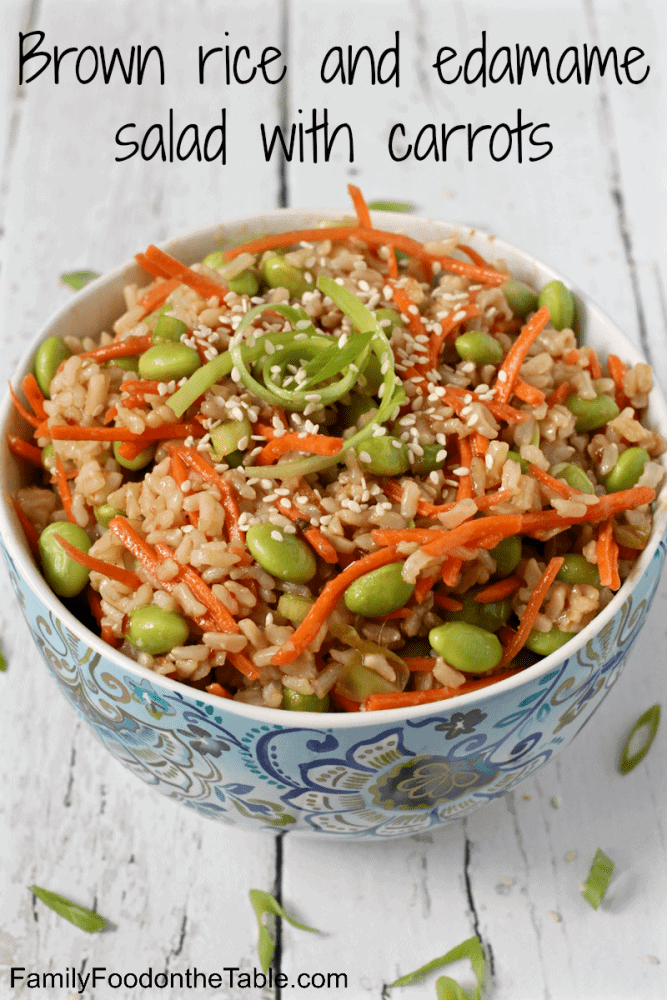 Edamame, brown rice and carrots go into this salad, which is topped with my favorite Asian-style soy ginger dressing. It takes just 5 minutes to shake up and it's so delicious. We put it on everything!
You can serve this salad warm, at room temperature or chilled. It makes a great side to take to a neighborhood party or to a friend, or just to prep ahead and let it hang out until you're ready to eat.
This brown rice edamame salad goes wonderfully with grilled or broiled fish or chicken, and the leftovers make a perfect lunch.
You can even add some chopped peanuts to this and call it a light vegetarian dinner. Or add some leftover rotisserie chicken to the mix and make it a full-on carnivore dinner salad.
So many options but delicious every way. And no pesky pods. 😉
Enjoy!
Yield: 4 servings
Brown rice edamame salad with carrots
Brown rice salad with edamame, carrots and an easy soy ginger dressing!
Ingredients
1 cup brown rice
1 ½ cups frozen edamame, cooked
1 heaping cup matchstick carrots
¼ cup green onions, sliced, light green and green parts only
Soy-ginger dressing (just 5 minutes to make!)
Sesame seeds, for garnish, if desired
Instructions
Meanwhile, cook the edamame. I add mine, still frozen, to boiling water and let cook for 5-6 minutes, then drain. Check your package directions.
Mix up the soy ginger dressing.
Add the edamame to a bowl with the carrots and sliced green onions. Once the rice is ready, add that to the bowl and mix everything together.
Pour the dressing over the salad. I start with about ⅔ of the jar and add more if needed.
Garnish with sesame seeds, if desired. Enjoy warm, at room temperature or cold from the fridge!
Notes
You can add chopped peanuts to make this a vegetarian main dish. Or fold in some leftover or rotisserie chicken and make it a dinner.
Nutrition Information:
Yield:
4
Serving Size:
1
Amount Per Serving:
Calories:

203
Total Fat:

9g
Saturated Fat:

1g
Trans Fat:

0g
Unsaturated Fat:

7g
Cholesterol:

0mg
Sodium:

129mg
Carbohydrates:

23g
Fiber:

6g
Sugar:

3g
Protein:

10g