This quick and easy cheese and herb spread is a combination of creamy cheeses and fresh herbs that's great served on a baguette with radishes slices for a 5-minute appetizer that's sure to impress!
This easy cheese and herb spread makes for such a simple, creamy, delicious appetizer!
I love the mix of the cream cheese and goat cheese, the freshness and brightness from the herbs and the crunch of the sliced radishes served on top of this spread.
My mom recreated this recipe after having something similar in a restaurant. We've both made it countless times since then.
It's a sure-fire crowd pleaser!
Plus, it literally takes just 5 minutes to throw together! Perfect for last-minute snacking when friends or family are on the way.
It's also really pretty, with the pops of green from the fresh herbs and the pretty sliced radishes.
(In fact that green and red combo would make this a pretty holiday appetizer to serve!)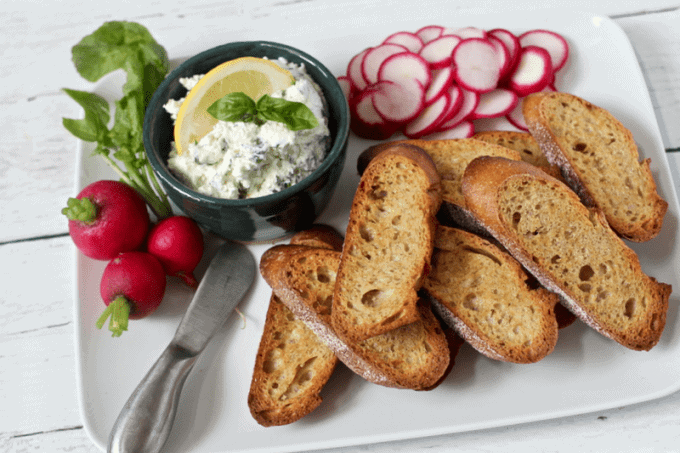 It's also great because you can make the spread ahead of time and store it in the fridge.
I even slice the radishes and keep them in a plastic bag or covered container, so I can pull everything out before guests arrive. Or you can pack it up for a picnic - we've done that, too.
Bottom line: it's an impressive appetizer that looks fantastic but takes next to no work. 🙌
OK, I've got a few quick notes on how to make this cheese and herb spread. Just tryin' to be helpful.
If you want to jump on down to the recipe, simply scroll through the rest of the text. The recipe card is near the bottom of the page, above the comments section.
Notes on making cheese and herb spread:
Cream cheese - The full-fat kind will lend extra richness to this spread, but a ⅓ reduced fat or fat-free cream cheese can be substituted as well.
Goat cheese - A plain log of goat cheese is my go-to for this dip, but you could also experiment with a flavored goat cheese if you'd like.
Herbs - You'll need 3-4 tablespoons of chopped fresh herbs. Parsley, thyme and basil all work well here and you can use all of just one herb or mix them.
Lemon juice - Adjust the amount of lemon juice to your liking. Add a little extra for extra freshness and lemony flavor, or use a little less if you want it more as a background flavor. You could add some lemon zest if you want some serious lemon flavor. 🍋
Also, I included the radishes and baguette in the ingredient list since that's our favorite way to serve this.
However, you could also use it as a dip or spread in others ways if you'd like.
Last thing, what to do with any leftovers.
Store this creamy herb spread in a covered container (or in a bowl covered in plastic wrap) in the refrigerator for up to 5 days.
You can also use the leftovers on a sandwich or wrap for lunch. It'll turn boring a boring turkey sandwich into something pretty spectacular.
Hope you enjoy this fast, tasty appetizer!
XO,
Kathryn
P.S. You may also want to check out these delicious appetizers to round out your party spread:
Yield: about 1 cup
Cheese and herb spread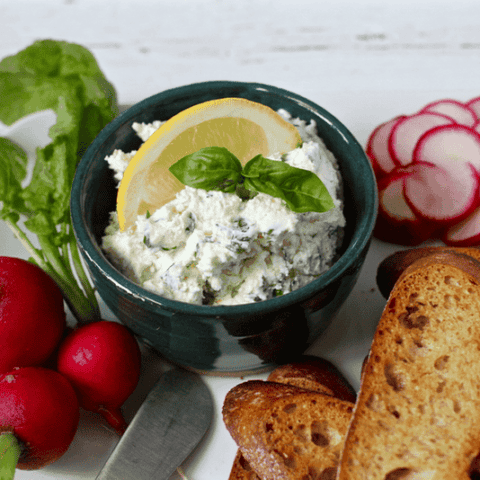 A fast, creamy spread with fresh herbs, topped with radishes!
Ingredients
4 ounces cream cheese
4 ounces goat cheese
3-4 tablespoons fresh herbs, chopped (parsley, thyme, basil or a mix)
lemon juice, to taste
salt and pepper, to taste
6-8 radishes, thinly sliced
1 baguette, sliced and toasted
Instructions
Combine cheese and herbs and stir well to combine. Add lemon juice and salt and pepper, to taste.
To prepare the baguette, slice the loaf diagonally and bake at 400 for 10-15 minutes, until lightly browned. You can also broil it for a couple of minutes but watch it VERY closely to prevent it from burning.
To serve, spread mixture on baguette slices and top with sliced radishes. Enjoy!
Notes
The cheese and herb mixture can be prepared ahead of time and kept, covered, in the refrigerator. It will stay fresh for up to 5 days.
Nutrition Information:
Yield:
8
Serving Size:
1
Amount Per Serving:
Calories:

198
Total Fat:

9g
Saturated Fat:

5g
Trans Fat:

0g
Unsaturated Fat:

3g
Cholesterol:

21mg
Sodium:

392mg
Carbohydrates:

22g
Fiber:

1g
Sugar:

2g
Protein:

8g