Cheesy chicken meatballs are so juicy and full of flavor! They are easy to make with just a few basic ingredients, easy to bake in the oven and can be served as an appetizer or for a family dinner!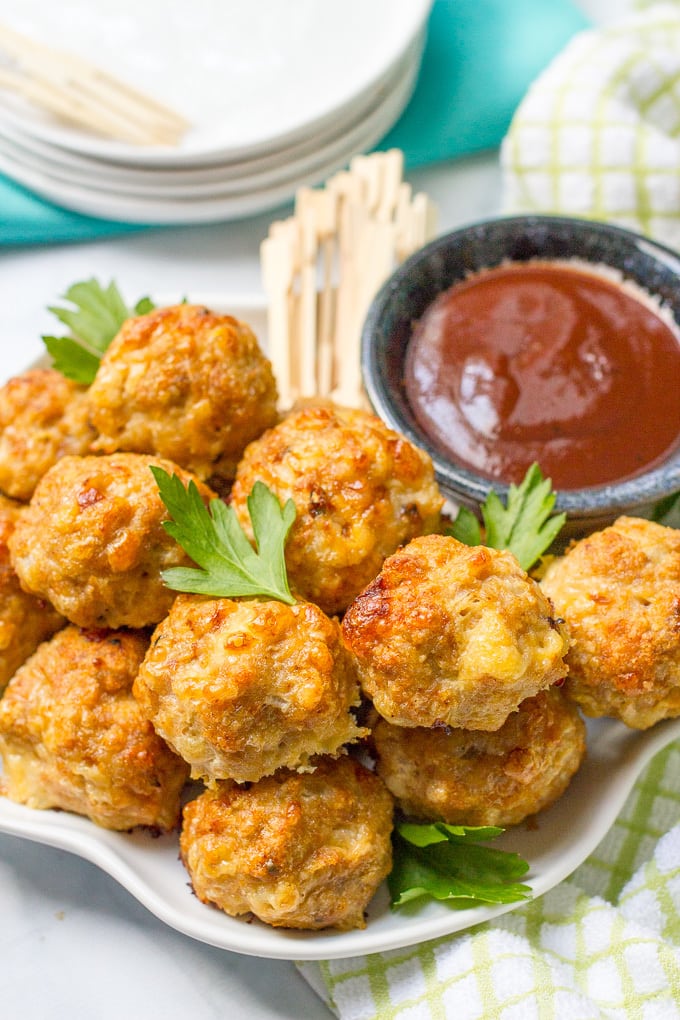 A quick recap of what I did this weekend before my big announcement.
Had the kids on my own while husband was out of town.
Took kids to my parents house to spend the night so I could get a break. 👍
Slept in on Sunday and lounged in bed, working and reading, while my parents had the kids.
Walked the 4 miles to my parents house (and later had them drive us home) cause I wanted to clear my head a bit. Glorious day for a long walk!
It was pretty lovely all in all. And as for the announcement...
My birthday is coming up later this week. I'm turning thirty-five. That's big.
When I was younger, I remember feeling like 35 was a dividing line. You were officially a grown-up. You were into full adulthood. You were halfway to 70 after all.
And now that I'm here? I don't feel all that grown-up. 😜
But really, I kinda like getting older. I'm more comfortable with me and I care a little less if everyone else is.
Sure, I still have LOTS of growing, lots of learning, lots of exploring to do. But that's just it. I'm excited for what the next 35 years have in store and the experiences those will bring.
And I have to say, I may have my mom to thank for this attitude on aging. She's one of those women who have aged with total grace and poise and class. And beauty - that surely helps too 😉 Please let me follow in her footsteps. 🙏
But on to the food. These cheesy chicken meatballs, in particular.
I'm a meatball lover through and through.
Not true when I was a kid. A big ball of meat did not seem appetizing in any way. I also didn't like spaghetti unless my mom made it (which is similar to how I make my spaghetti dinner today).
But now I'm all about the meatballs! I have my basic baked turkey meatballs that I like to have on hand in the freezer at all times for a fast and easy dinner.
I also love trying all kinds of different flavors. Beyond the basics. Beyond Italian. Bring on the craziness in meatball town.
(Check out these Caprese meatballs for a light and flavorful twist; they have a little mini mozzarella ball tucked into each one!)
These cheesy chicken meatballs are only a little crazy, admittedly. I'm trying to slowly lure you in with me. We'll go all wild meatball mania in due time.
Today, though, it's all about the cheddar-chicken combo and a super cheesy, savory, flavorful and delicious meatball. And they are super easy to make using ground chicken from the store. (Which I love having on hand. We also use it to make easy chicken pad Thai. So yummy!)
I prefer them dipped in BBQ sauce. My kids would rather have ketchup. Either way, these are a total hit around here.

Serving ideas for cheesy chicken meatballs:
Make them an appetizer and offer up toothpicks or skewers. Have dipping sauces at the ready. Perfect for game day eats!

Serve them over mashed potatoes or creamy polenta and drizzle with BBQ sauce.
Load up a hoagie or sub sandwich with these healthy chicken meatballs and some sauce. Feast!
Or just have them with your regular spaghetti and marinara sauce.
Definitely make the entire batch, too. (Or possibly double it!) These meatballs freeze beautifully and you'll be happy to have them on hand.
Hope you give them a try and enjoy!
~ Kathryn
Psst... check out my VIDEO to see how easy these are to make!
Yield: about 20 meatballs
Cheesy chicken meatballs
Cheesy baked chicken meatballs are easy to make and great as an appetizer or dinner!
Ingredients
1 lb. ground chicken (I use breast meat)
¼ cup onion, finely diced (or grated)
1 large egg
1 teaspoon Worcestershire sauce
¾ cup shredded cheddar cheese
¼ cup unseasoned breadcrumbs
½ teaspoon paprika
½ teaspoon garlic powder
½ teaspoon kosher salt
¼ teaspoon black pepper
For serving: BBQ sauce or ketchup, warmed, if desired
Instructions
Preheat oven to 400. Line a baking sheet with aluminum foil and spray with cooking spray. Set aside.

Combine all ingredients for the meatballs in a large bowl and mix until just combined. Be careful not to overmix.

Roll the meatballs into small balls - about the size of a golf ball. Place on the prepared baking sheet.

Bake at 400 for 20-24 minutes, until cooked through. (Exact time will depend on the size of your meatballs.)

Serve warm with BBQ sauce or ketchup, for dipping, if desired.
Notes
These meatballs freeze great! Store the extra baked meatballs in a freezer plastic bag for up to 6 months. Defrost in the refrigerator overnight and then warm through in the microwave for a minute. Or wrap in foil and warm in the oven, on low, for 10-15 minutes.
Nutrition Information:
Yield:
20
Serving Size:
1
Amount Per Serving:
Calories:

75
Total Fat:

4g
Saturated Fat:

2g
Trans Fat:

0g
Unsaturated Fat:

2g
Cholesterol:

38mg
Sodium:

139mg
Carbohydrates:

3g
Fiber:

0g
Sugar:

1g
Protein:

7g