Easy chicken pad Thai is a delicious, simple at-home version of the restaurant favorite that's ready in just 30 minutes and uses on-hand ingredients.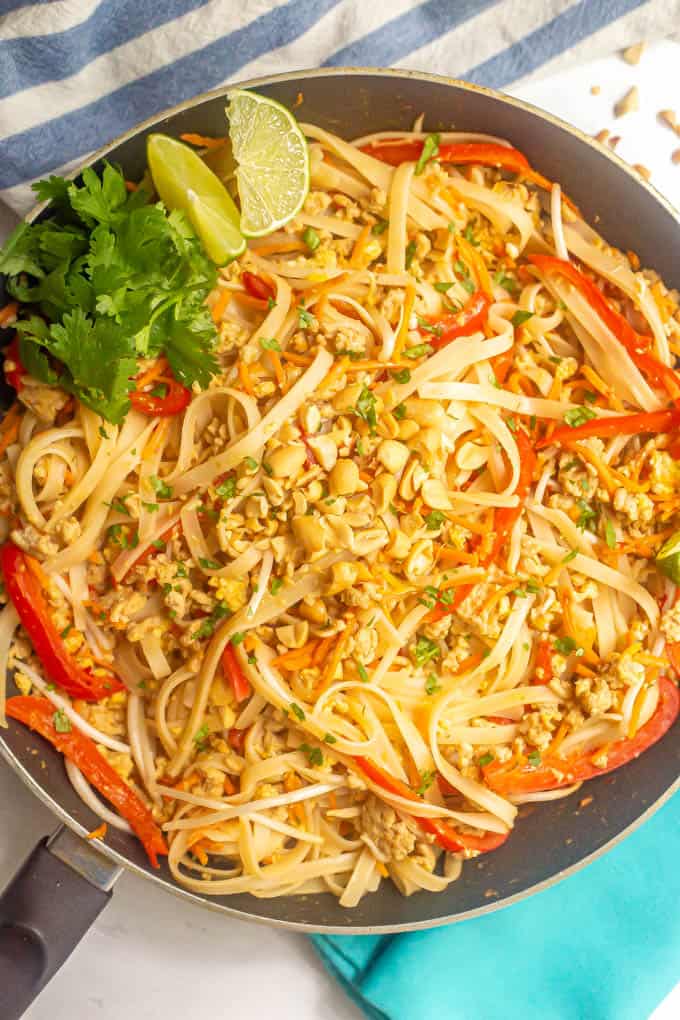 We celebrated my son's 7th birthday yesterday and had such a great day!
It started with a scavenger hunt of clues to find his presents, including a brand new big boy bike – with gears and everything. We took that for a spin around the neighborhood right away.
We didn't feel it was safe to do a party right now, but his friends and classmates drove by late morning to wave for a little parade. My parents came over and shared a pizza lunch and some ice cream cake with us. And we also had a piñata – Minecraft themed, as was the rest of the party.
He spent the afternoon putting together some of his new Lego sets from presents then we had tacos for dinner (his request) and a movie night. It may have been a bit different looking this year, but he had a blast and it made this mama's heart so happy!
But let's move on to the food!
Last week I shared my easy chicken tikka masala, which is a favorite around here for some international flavors.
We also love my quick chicken curry, easy chicken lo mein and 15-minute honey garlic chicken. And this cashew chicken and chicken chow mein, both of which are ready in just 20 minutes. Oh, and so is moo shu chicken.
Seriously easy chicken dinners but with amazing flavor.
We're keeping that going today.
Chicken pad Thai has long been one of my favorite Thai dishes, as I suspect it is for many people.
We have an amazing Thai restaurant in town that I went to growing up and now have visited with friends since moving back to Charlotte as an adult.
I peruse the menu as if I might order something else, but I just never do. Their pad Thai is incredible and it just sorta pulls me in each time. And I don't mind at all.
But I also love recreating restaurant dishes at home, where I can control the ingredients and sometimes make it a bit healthier.
This easy chicken pad Thai delivers ALL the flavor of my favorite restaurant version, but is so quick and easy to make at home.
You will be happily adding pad Thai to your dinner plans all the time!
Pad Thai with those tender, slippery rice noodles, sprinkling of chicken pieces and eggs, bean sprouts and a few other veggies and the crushed peanuts over top, well, it's just about the most yummy combination you can imagine.
And this delicious sweet and sour sauce is the perfect thing to coat all the veggies and noodles and tie this dish together.
The flavor here is spot on and it's just enough to bring a punch to each bite.
Plus, we're using familiar, on-hand ingredients. (I've even got substitution ideas for you below so you can be sure to make this work for you.)
If you've long loved eating pad Thai, you simply must give it a try at home. You'll be amazed at how easy it is to make and you'll be happily going back for forkful after forkful.
Let me be clear though that this is this is not a traditional or authentic pad Thai. This is not how they make it street-side in Thailand and not how most restaurants will make it. We're not using tamarind pulp or garlic chives.
That's kinda the bonus for me though – I don't need to hunt down tamarind pulp or tamarind concentrate to make this dish. I can whip it up anytime with familiar ingredients I keep on hand!
So let's get cooking.
Now, I've got some notes and substitutions coming up on how to make chicken pad Thai. Just tryin' to be helpful.
If you want to jump on down to the recipe, simply scroll right on through the rest of the text. The recipe card is near the bottom of the page, above the comments section.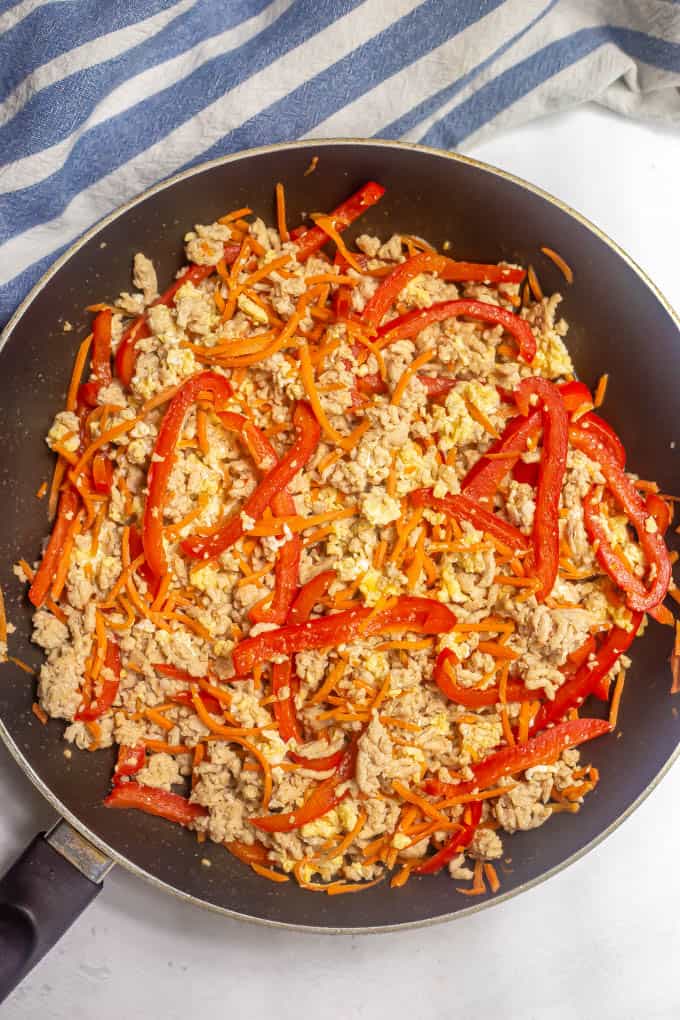 What is pad Thai?
– Pad Thai is a noodle stir fry dish traditionally made up of rice noodles, chicken or shrimp or tofu, eggs, bean sprouts and other vegetables, and a flavorful sweet and sour sauce.
– Pad Thai is a common street food in Thailand and one of the country's national dishes. It's also one of the most popular Thai dishes served in the U.S.
Notes on making easy chicken pad Thai:
The recipe calls for ground chicken, which mixes in really well with the rice noodles and other ingredients. However, you can substitute boneless, skinless chicken breasts. You'll need about 1 pound and you'll want to slice and dice it in small pieces. (That helps it cook more quickly but also makes it easier to eat and stretches the chicken out for the entire dish.)
Peanuts are a traditional ingredient in pad Thai and I'm making life easy by using peanut butter in the sauce (and optional chopped peanuts for topping). You could substitute almond butter if you need this to be peanut-free.
The fish sauce adds an extra dimension of flavor, but I get it, you may not have any or want to buy a whole bottle. In that case, just substitute extra soy sauce.
Spicy Asian chili-garlic sauce is one of my favorite condiments to use in Asian dishes and it's easily found in most grocery stores, in the international aisle. You could also substitute some extra minced garlic and some hot sauce or sriracha or red pepper flakes to approximate these flavors. (As is, the amount used here does not make this a spicy dish.)
I've included a red bell pepper and some matchstick carrots in this recipe. It adds great color and crunch. Plus, I just love adding vegetables. You could omit them, however, if you prefer.
Or, go the complete other way and add MORE veggies.
Want to really healthily this pad Thai recipe? Or are you looking for a low-carb version?
Substitute 2 large or 3 medium spiralized zucchini in place of the rice noodles.
I've made it this way before and it's so delicious!
Just add the zucchini noodles to the pan at the same time you would have added the rice noodles and cook for a few minutes to let them soften. (They will give off some water, which can make the sauce a little more liquid, but it's always been OK for me.)
Also, this is a gluten-free recipe as is, but be sure to check your ingredients and sauces to ensure they are GF if needed.
OK, let's finish this delicious dish off so we can dig in!
As always, you know I feel like toppings are key. Here are a few ideas for you.
Topping ideas for chicken pad Thai:
Chopped dry roasted peanuts
Chopped fresh cilantro
Sliced green onions
Extra soy sauce
Sriracha or hot sauce for some heat
I say the more toppings the better, but you pick your favorites.
Finally, let's talk about any leftovers you may have.
Leftover Pad Thai will keep for 2-3 days in the refrigerator. You can reheat it in the microwave or in a small skillet over medium low heat.
I usually add an extra few splashes of soy sauce to sorta wake up the sauce part. (Most of the sauce will soak in to the other ingredients as it sits in the fridge.)
Add those toppings again and enjoy for lunch or dinner another day. 🙌
Next time you're looking for a takeout fakeout dish, or just want to switch up the flavors at home and get a taste of Thailand, give this easy pad Thai recipe a try.
Enjoy!
XO,
Kathryn
Yield: 4 servings
Easy chicken pad Thai
Easy chicken pad Thai is a delicious, simple at-home version of the restaurant favorite that's ready in just 30 minutes and uses on-hand ingredients.

Prep Time 5 minutes

Cook Time 15 minutes

Additional Time 10 minutes

Total Time 30 minutes
Ingredients
For the pad Thai:
8 oz. rice noodles
2 teaspoons extra-virgin olive oil, divided
1 lb. ground chicken (or chicken breasts, see notes)
1 medium red pepper, sliced thin
1 cup matchstick carrots
2 cloves garlic, minced
1-2 large eggs, lightly beaten
1/2 cup bean sprouts
For the sauce:
2 tablespoons fish sauce (see notes)
2 tablespoons light brown sugar
2 tablespoons creamy peanut butter
1 1/2 tablespoons low-sodium soy sauce
1 1/2 tablespoons rice wine vinegar
1 tablespoon spicy Asian chili-garlic sauce (see notes)
1 tablespoon fresh lime juice
Optional toppings:
Chopped peanuts, chopped fresh cilantro, sliced green onions, extra soy sauce, sriracha or hot sauce, etc.
Instructions
Soak the rice noodles according to the package directions for sauté, then drain. (Mine say 20-25 minutes.)
Meanwhile, heat the olive oil in a large skillet over medium heat. Add the ground chicken and red pepper strips and cook, stirring occasionally and breaking up the ground meat, until chicken is nearly cooked through, about 7-8 minutes.
Add the carrots and garlic and cook another 2-3 minutes, until carrots are softened and chicken is completely cooked.
Clear a small space in the pan and add the eggs. Stir until the eggs are cooked and scrambled then mix the eggs in with the rest of the chicken and vegetables.
While the egg is cooking, combine the sauce ingredients in a small bowl and whisk well.
Add the drained rice noodles, the sauce and the bean sprouts to the pan and stir well. Cook for 3-4 minutes to allow everything to heat through and get well combined and until the rice noodles are al dente.
Serve immediately with desired toppings.
Notes
The recipe calls for ground chicken, which mixes in really well with the rice noodles and other ingredients. However, you can substitute boneless, skinless chicken breasts. You'll need about 1 pound and you'll want to slice and dice it in small pieces. (That helps it cook more quickly but also makes it easier to eat and stretches the chicken out for the entire dish.)

Peanuts are a traditional ingredient in pad Thai and I'm making life easy by using peanut butter in the sauce (and optional chopped peanuts for topping). You could substitute almond butter if you need these to be peanut-free.

The fish sauce adds an extra dimension of flavor, but I get it, you may not have any or want to buy a whole bottle. In that case, just substitute extra soy sauce.

Spicy Asian chili-garlic sauce is one of my favorite condiments to use in Asian dishes and it's easily found in most grocery stores, in the international aisle. You could also substitute some extra minced garlic and some hot sauce or sriracha or red pepper flakes to approximate these flavors. (As is, the amount used here does not make this a spicy dish.)

Vegetables: I've included a red bell pepper and some matchstick carrots in this recipe. It adds great color and crunch. Plus, I just love adding vegetables. You could omit them, however, if you prefer.

You can also add extra veggies by using spiralized zucchini (2 large or 3 medium) in place of the rice noodles.

Leftover Pad Thai will keep for 2-3 days in the refrigerator. You can reheat it in the microwave or in a small skillet over medium low heat. (It helps to add some extra soy sauce to liven up the flavor again.)
Nutrition Information:
Yield:
4
Serving Size:
1
Amount Per Serving: Calories: 444Total Fat: 21gSaturated Fat: 5gTrans Fat: 0gUnsaturated Fat: 14gCholesterol: 214mgSodium: 1457mgCarbohydrates: 30gFiber: 3gSugar: 10gProtein: 35g