Quick chicken curry is an easy, one-pan recipe that's ready in just 15 minutes. Beautiful and bursting with flavor, it's perfect for a busy weeknight dinner!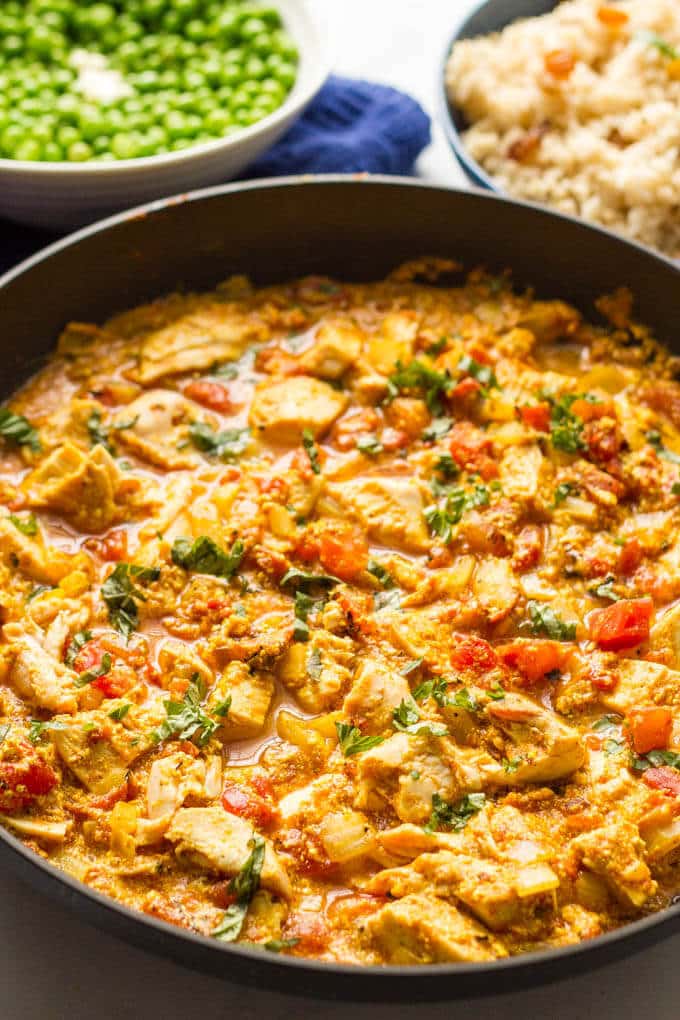 This past weekend went by way too fast and this week is shaping up to be crazy busy.
I'm thankful to have my monthly girls group dinner on Wednesday at least. It'll be a needed break from the work-work-work grind I'm looking at for all the other hours of the days.
So let's keep it short today and get right to the good stuff – the food!
You want to know my only note when I wrote this quick chicken curry recipe down last year so I would remember to post it on this here blog sometime?
"Freaking delicious."
That, followed by the ingredients and instructions. So there you go, folks. That's all you need to know about this recipe. It's freaking delicious. 😂
And my husband agrees. We had this again last week and he looked up to me at the table and says, "This is my favorite recipe of yours."
I was a bit surprised, honestly.
"Wow, really?!" I asked.
"I just love the flavors. Anything Indian you make, really."
Turns out anything Indian is the way to my husband's heart. Or stomach. Is that the same thing? 😜
Can't say I blame him. It's one of my favorite cuisines too.
(I'm a tad bit obsessed with my curried brown rice salad and may or may not make it on repeat and devour it all for myself.)
But you know me, it's gotta be easy. And fast. And this quick chicken curry absolutely is. I mean, it's ready in 15 minutes, friends.
But let me just say – this is not exactly traditional and maybe not super authentic.
But you know what? I'm OK with a few shortcuts that get dinner on the table and still have ALL the great flavor! 🙌
Serving ideas for quick chicken curry:
I usually serve this with my steamed brown rice mixed with 1/2 cup golden raisins, 1/2 teaspoon salt and 1/4 teaspoon black pepper (for 4 servings). It all just works really well together. 👌
White rice or basmati rice would work well, too.
I even think curry goes great with potatoes. You could add some roasted potatoes on the side or serve this over a fluffy baked potatoes. (I'm a serious cheater and I always make microwaved baked potatoes.)
The fresh chopped parsley or cilantro on top of the curry chicken is key, too. Gives a hit of freshness and brightness.
I also like sprinkling on some chopped peanuts when serving this up. They give it a good crunch and add some richness too.
For a veggie side, I typically just warm up some frozen peas, stir in a pat of butter and season them with salt and pepper. Deliciousness all around!
Steamed broccoli or a side salad would work, too.
If you're going low-carb, or just want more veggies, you could also serve this over some cauliflower rice.
I hope you'll give this quick chicken curry a try the next time you're craving Indian for dinner but are short on time.
(And if you are looking for a vegetarian version, I've got you covered. My quick and easy vegetarian curry is light but filling and ready in 15 minutes too! Or check out my 20-minute coconut chicken curry. Yum!)
Happy cooking!
XO,
Kathryn
Yield: 4 people
Quick chicken curry
Quick chicken curry is an easy, one-pan recipe that's ready in just 15 minutes!

Prep Time 5 minutes

Cook Time 10 minutes

Total Time 15 minutes
Ingredients
2 teaspoons extra-virgin olive oil
1 small yellow onion, chopped
2 cloves garlic, minced
2 teaspoons curry powder
1 14.5 oz. can diced fire-roasted tomatoes, drained
3/4 cup plain Greek yogurt, I use non-fat
1/2 cup milk, I use 2% but whole or skim would be fine too
1/2 teaspoon salt
1/4 teaspoon black pepper
1/8 teaspoon cayenne pepper, optional
1 1/2 cups cooked chicken, chopped (from a rotisserie or leftover)
For serving:
chopped fresh parsley or cilantro, chopped peanuts
Instructions
Heat olive oil in a large skillet over medium heat.
Add onion and sauté for 4-5 minutes, until softened. Add garlic and sauté another 30 seconds.
Stir in curry powder, diced tomatoes, Greek yogurt and milk (see notes about how to prevent curdling). Season with salt, pepper and cayenne, if using.
Bring to a low simmer and cook for 2-3 minutes, until slightly thickened.
Stir in chicken until warmed through, 1-2 minutes.
Serve hot with fresh chopped parsley or cilantro and chopped peanuts.
Notes
Some readers have had an issue with curdling. Milk and yogurt can curdle if it heats too quickly, or if it comes to a boil. You may want to lower your heat or briefly remove the pan from the stove when you add these ingredients to help prevent curdling.
Recommended Products
As an Amazon Associate and member of other affiliate programs, I earn from qualifying purchases.
Nutrition Information:
Yield:
4
Serving Size:
1
Amount Per Serving: Calories: 225Total Fat: 10gSaturated Fat: 3gTrans Fat: 0gUnsaturated Fat: 7gCholesterol: 53mgSodium: 487mgCarbohydrates: 13gFiber: 3gSugar: 8gProtein: 21g