Chicken breasts Lombardy is a delicious Italian chicken dinner with tender, flavorful chicken breasts topped with melty cheese, mushrooms and a Marsala wine sauce that brings it all together.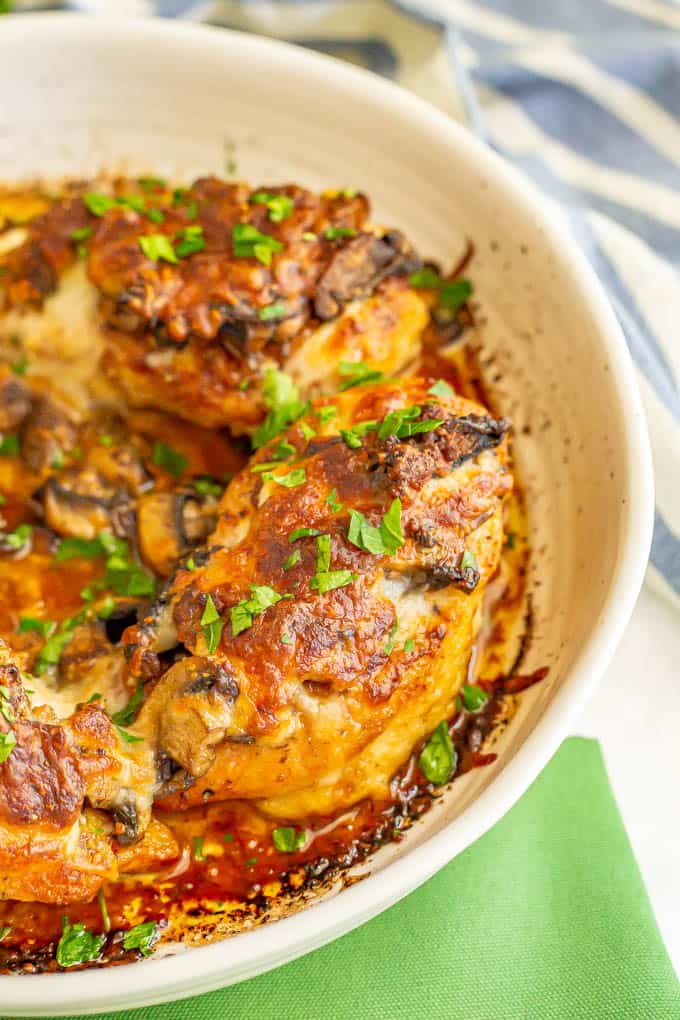 I love getting all nerdy about food and cooking. 🤓
Most days I just bust through the kitchen to get everything made and fixed and eaten, but now and then it's nice to slow down and learn more about our food.
I love Alton Brown for this reason. He's a total food geek. He takes it to a science place, which I find fascinating. I love learning about all the underpinnings of what we do in the kitchen.
I also love tracking the ingredients in food, so I'm a happy camper with the farm-to-table movement that's swept the country.
And maybe most of all, I love the history of food.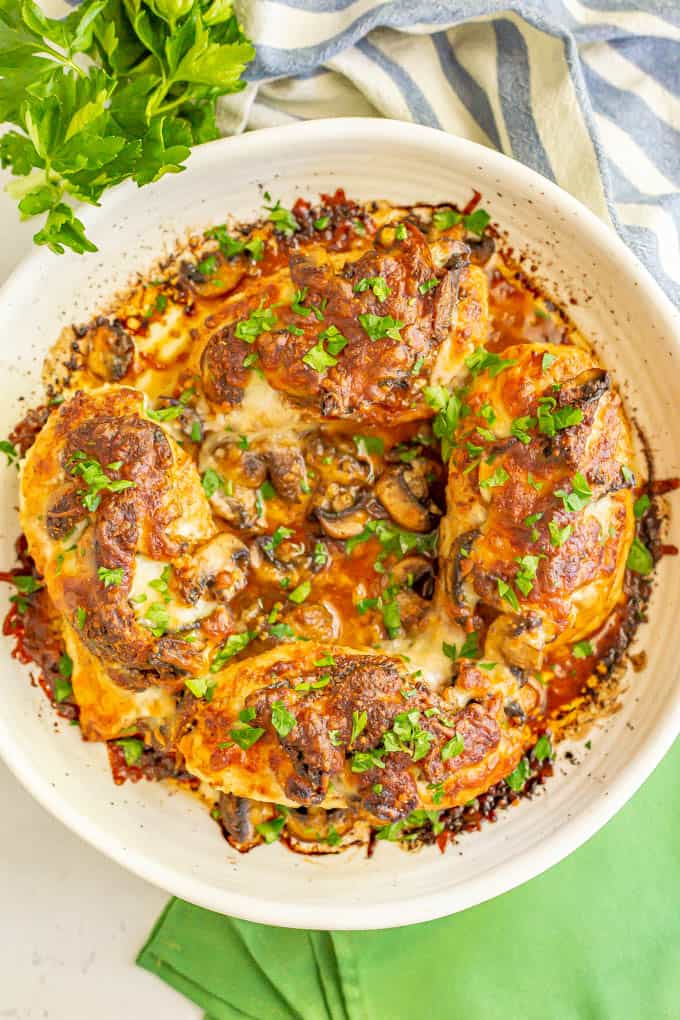 I love learning about where various foods originated, how certain dishes came about, why we named things a certain way, which cultures shared which traditions. It's fascinating to me.
I have so many books I haven't yet read that trace the history of various foods or the foods of various regions. The Southern Foodways Alliance is a cool group that works a lot in this area.
I just need to find a few more hours in each day so I can get to the reading I want to do! 📚
So this dish.
Chicken Lombardy is incredibly flavorful and one of our favorite comfort food dinners, but I had no idea where the dish came from. And after a good bit of research, I still don't know much. 😂
Let me explain...
Lombardy is a region in northwest Italy and Milan is the capital.
Lombardy is also supposedly the origin of paninis (to feed hungry but busy Milanese businessmen), so yeah, I kinda love them and the way they do food.
But there's not much to be found online about the origin of this dish.
Some say it really started with a dish served at Olive Garden, which does like to name its things after Italian regions and locales.
A few sources claim it comes from Wisconsin and is named after Vince Lombardi, the football player and coach. What this combination of ingredients might have to do with him, I've no idea.
So maybe it's not a very old recipe.
This particular version comes from my grandmother's local church cookbook, published the year I was born, and wow, was it ever loaded with butter and cheese. So much butter. So much cheese.
I cut back a lot here, but I promise you won't notice.
This is full of richness and comes out amazingly flavorful. After all, it does still have a good bit of butter paired with the lovely Marsala wine sauce to seriously make it sing. 😍
It even smells amazing as it bakes. You'll get wafts of butter and Marsala perfuming the air and everyone will be very curious about when dinner is going to be ready. Gotta love that!
(And if you love these flavors like I do, check out my creamy Italian chicken skillet. A delicious, easy weeknight dinner.)
Now for a few tips and tricks on making and serving this recipe.
Notes on making chicken breasts Lombardy:
You're going to sear the chicken breasts on the stove first, then place them in your dish. They'll finish cooking in the oven. Don't skip this step because it both locks in the flavor for the chicken and adds bits of crusted chicken pieces in the pan for the sauce.
Regular button mushrooms work great for this recipe, but you could also try cremini mushrooms or baby bella mushrooms if you prefer.
To make-ahead: Prepare the chicken and mushrooms as directed through step 8. Cover and refrigerate. When ready to cook, remove the dish from the refrigerator and let come to room temperature for 20 minutes as you preheat the oven. Then proceed with the recipe (sprinkle with cheese and bake until the chicken is cooked through and the sauce is bubbling).
Because it can be prepped ahead and because it tastes so great and comes out looking so fabulous, this is a great recipe for a company dinner or for entertaining. Everyone will be impressed!
Hungry yet? Let's get ready to eat!
Serving tips for chicken breasts Lombardy:
- This dish is great over a thin noodle, like angel hair pasta or a thin spaghetti, to soak up some of those extra juices.
- It would also be delicious over mashed potatoes or creamy polenta. Again, that yummy sauce will go great with te
- We add a simple steamed vegetable - like steamed broccoli or asparagus - to round out the meal. Nothing too heavy since this dish has so much going on already.
And, not surprisingly, this chicken dish goes great with a glass of wine.
Check out this possibly new, possibly old, classic dish soon and you'll be toasting to Italy. Or to Wisconsin. 😬
Enjoy!
XO,
Kathryn
Yield: 4 servings
Chicken Lombardy
Chicken breasts are seared in butter and baked with mushrooms, Marsala wine and cheese for a delicious Italian style dinner!
Total Time
1 hour
15 minutes
Ingredients
4 (6 oz.) boneless, skinless chicken breasts
1 teaspoon kosher salt, divided
½ teaspoon black pepper, divided
½ cup flour (I use white whole wheat, but any kind is fine)
6 tablespoons unsalted butter, divided
8 oz. package white button mushrooms, cleaned and sliced
½ cup Marsala wine
⅓ cup low-sodium chicken broth
⅓ cup grated Parmesan cheese
⅓ cup mozzarella cheese, shredded
Instructions
Preheat oven to 450.
Season the chicken breasts with ½ teaspoon salt and ¼ teaspoon black pepper. Dredge each breast in flour to coat it all around and set aside.
Melt 4 tablespoons of the butter (½ stick) in a large pan over medium heat. Add chicken breasts to the pan and brown on each side for 5 minutes. Transfer to a 9x13 casserole dish (or equivalently sized baking dish).
Add 1 tablespoon of the remaining butter to the pan, then add the sliced mushrooms. Saute for 5-7 minutes, until the mushrooms are golden brown. Scatter the mushrooms on top of the chicken breasts in your baking dish.
Add the marsala wine and chicken broth to the pan, bring to a simmer, then reduce heat to low and cook for about 10 minutes, stirring occasionally.
Stir in the remaining ½ teaspoon salt, ¼ teaspoon black pepper and 1 tablespoon butter until the butter is melted. Pour the wine mixture over the chicken and mushrooms in the baking pan.
Combine the Parmesan and mozzarella cheeses and sprinkle evenly over the chicken breasts.
Bake at 450 for 20 minutes, until browned and chicken is cooked through. Let rest for 5 minutes, then serve.
Notes
To make-ahead: Prepare the chicken and mushrooms and the sauce as directed through step 6. Cover and refrigerate. When ready to finish cooking, remove the dish from the refrigerator and let it come to room temperature for 20 minutes while you preheat the oven. Then proceed with the recipe (sprinkle with cheese and bake). You may need to add 5 minutes to the bake time to ensure the chicken is cooked through and warm. (I recommend using a digital thermometer.)
Nutrition Information:
Yield:
4
Serving Size:
1
Amount Per Serving:
Calories:

502
Total Fat:

26g
Saturated Fat:

15g
Trans Fat:

0g
Unsaturated Fat:

10g
Cholesterol:

163mg
Sodium:

1087mg
Carbohydrates:

18g
Fiber:

2g
Sugar:

2g
Protein:

45g
Note: This post was updated with expanded text and new photographs in May 2020. It was originally published in September 2015.