Healthy lunch wraps includes tons of ideas for classic wraps, peanut butter wraps, hummus wraps and more! Great for easy school lunchbox ideas for the kids or to take to the office.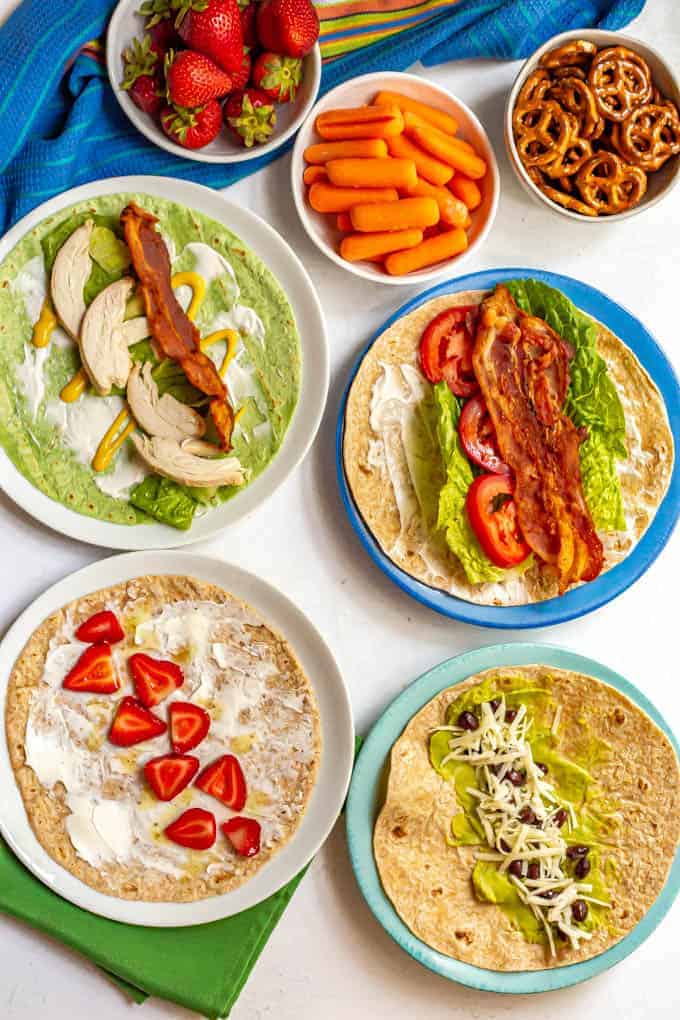 So, school starts for us next week.
EEEK!
I am both very excited and a little freaked. (Which is maybe why we all came down to the beach for a long weekend as a last get-away. 🌊☀️)
Here's the deal…
(Warning: mini life update to follow. Scroll down if you just want the lunch wrap ideas. It won't hurt my feelings.)
My youngest is starting kindergarten so that brings a whole host of emotions. I am a little teary about it but also excited for him.
And it will be glorious to have them both gone for most of the day. Does that sound terrible?!
Previously he was just in a morning preschool program so I had him home most of the day while I'm working. He's such a good kid but it was still sometimes hard to juggle.
We're also starting at a new school this year. Any school would have been new to my son but my daughter will be starting 3rd grade and switching from her previous elementary school.
They'll be going to the school I went to growing up and I'm all kinds of happy about that. 💖
I 100% know in my heart that this is the right move. But of course I'm still a bit nervous to see how it goes these first few weeks and to make sure they adjust OK.
(Full disclosure, my daughter has some anxiety issues so I'm mostly concerned about her. My son is pretty happy-go-lucky so I think he'll adjust just fine.)
Anyway, bringing it back, the point being that I am in full back-to-school mode. Shopping, planning, prepping. All the things.
And back-to-school usually means a mini panic about packing school lunches.
Somehow, it always seems overwhelming at the beginning of the school year.
Partly it's getting back into the routine, partly it's adjusting to what they each do and do not like currently, and partly it's wanting to start them off strong and pack something healthy and delicious that they'll just love every day.
Is that too much to ask?!
I'm sure I'll be over that sometime shortly after Labor Day, but while I'm feeling the motivation, I wanted to share a HUGE round-up of ideas for healthy lunch wraps.
These roll-up lunches are inspired by school lunch boxes everywhere, but they'd also work for office lunches or anytime you need to pack up some food for on the go.
Everyone can enjoy these!
Now, I've got some notes and tips coming up for these ideas. Just tryin' to be helpful.
If you want to jump on down to the list, scroll right on through the rest of the text. You'll see the categories in bolded capital letters a little farther down.
Notes on making healthy lunch wraps:
I almost always use whole wheat wraps, but regular white wraps work too. You can also do spinach wraps or another flavored wrap if you prefer.
They make gluten-free wraps that are readily available too, so you can use those if needed.
You could even try making your own homemade tortilla wraps if you're feeling particularly ambitious.
Be careful not to use any ingredients that are too wet or they can make your wrap soggy. Ie., make sure your lettuce is washed but then dried very well, go easy on any drizzles of honey, and be careful with toppings like salsa.
Wraps can be stored in the compartment of a lunch box or placed in a ziptop plastic bag or small plastic container. Whatever you've got!
Be sure to use a cooler pack for any wraps that have ingredients that should be kept cold.
Most of these wraps can be made a day ahead. (So you could put them together at night and have them ready to pack in the morning.) Again, just be careful with any wet ingredients.
Also, it's best not to make wraps with avocado or banana ahead of time so that they don't brown too much.
Finally, I like to be organized — or at least pretend that I am — and so I broke these up into six categories for easy browsing.
We've got peanut butter wraps to start, my kids favorite. Sub almond butter if you're at a peanut-free school or use sunflower seed butter if it needs to be completely nut-free.
Next up is some more traditional and classic wrap combinations with meats (things you're likely to see at a deli or sub shop).
Other categories include hummus wraps, avocado/guac wraps, bean-based wraps and cream cheese wraps.
I mostly kept these simple since I've got kids in mind. But feel free to jazz them up, especially for the adults or any adventurous eaters!
Fun and fancy lunch wrap add-ins:
- Add extra vegetables (shredded carrots, chopped tomatoes, cucumber slices, spinach or other lettuce, bell pepper slices, etc.)
- Use pesto or another fun spread instead of the regular mayo or mustard
- Use flavored hummus or cream cheese to change up the flavors
- Add in a specialty cheese, such as brie, fontina or blue cheese
- Use some prosciutto or another Italian meat
- Finish your wrap with some fun toppings like pickled red onions, sprouts or chopped nuts
You can also add a delicious dip to go along with your wraps. Something like Ranch, honey mustard or salsa can be a great thing to serve on the side with your lunch wraps.
Wraps all year long!
I also created a FREE printable for you with the whole list of ideas here! Nothing fancy, just a little printout you can keep in the kitchen so you have plenty of ideas to turn to. 👍
Enjoy!
XO,
Kathryn
P.S. Do you prefer sandwiches over wraps? No problem!
Be sure to check out my post on healthy school lunch ideas with 20+ sandwich spreads you can try.
Peanut butter or almond butter wrap ideas:

Peanut butter and jelly
Peanut butter and banana
Peanut butter and sliced strawberries
Peanut butter and sliced apple
Peanut butter, cinnamon and raisins
Peanut butter and Nutella
Classic wrap ideas:

BLT wrap (add avocado for a BLAT)
Chicken salad wrap
Egg salad wrap
Tuna salad wrap (be mindful of the possible smell)
Chicken, bacon and Ranch wraps
Roast beef with mayo or mustard (or horseradish mayo)
Ham and cheese, turkey and cheese, rotisserie chicken and cheese
Pulled pork with BBQ sauce and pickles
Steak and cheese wrap
Pizza wrap with marinara, shredded mozzarella and pepperoni
Hummus wrap ideas:

Hummus with cheese (shredded or sliced)
Hummus with veggies (such as chopped peppers, cucumber, carrots and/or tomatoes)
Hummus with turkey or chicken
Use regular hummus or mix it up with a flavored hummus
Smashed avocado or guacamole wraps:

Avocado or guac with black beans and cheese
Avocado or guac with tomatoes or salsa
Avocado or guac with Greek yogurt
Avocado or guac with turkey or chicken
Avocado or guac with sliced hard-boiled eggs
Or use guac as a spread on any other wrap instead of mayo
Bean-based healthy wraps:
Black beans with chicken, cheese, lettuce and/or salsa
Refried beans with chicken, cheese, lettuce and/or salsa
Refried beans mixed with salsa and served in a wrap with chicken or turkey, cheese, bell pepper strips or zucchini strips
Cannellini beans mashed and served with goat cheese and/or veggies
Cream cheese wraps:

Cream cheese with jelly (any flavor)
Cream cheese with fresh fruit (such as sliced strawberries or peaches)
Cream cheese with honey and chia seeds (or mini chocolate chips!)
Cream cheese with turkey or chicken, lettuce and tomato
*******************************************************************************************
And one more time, here's the link for the FREE printable with all of these healthy roll up lunch wraps. (I also included a straight list format below with just the ideas in case that's easier to read.)
Easy healthy lunch wraps
These healthy lunch wraps are great for easy school lunchbox ideas for the kids or to take to the office or anytime you need something on-the-go!
Peanut butter wraps:
Peanut butter and jelly
Peanut butter and banana
Peanut butter and sliced strawberries
Peanut butter and sliced apple
Peanut butter, cinnamon and raisins
Peanut butter and Nutella
(Sub almond butter or sunflower seed butter if needed)
Classic wraps:
BLT wrap (add avocado for a BLAT)
Chicken salad wrap
Egg salad wrap
Tuna salad wrap (be mindful of the possible smell)
Chicken, bacon and Ranch wraps
Roast beef with mayo or mustard (or horseradish mayo)
Ham and cheese, turkey and cheese, rotisserie chicken and cheese
Pulled pork with BBQ sauce and pickles
Steak and cheese wrap
Pizza wrap with marinara, shredded mozzarella and pepperoni
Hummus wraps:
Hummus with cheese (shredded or sliced)
Hummus with veggies (such as chopped peppers, cucumber, carrots and/or tomatoes)
Hummus with turkey or chicken
(Use regular hummus or mix it up with a flavored hummus)
Avocado/guac wraps:
Avocado or guac with black beans and cheese
Avocado or guac with tomatoes or salsa
Avocado or guac with Greek yogurt
Avocado or guac with turkey or chicken
Avocado or guac with sliced hard-boiled eggs
Bean-based wraps:
Black beans with chicken, cheese, lettuce and/or salsa
Refried beans with chicken, cheese, lettuce and/or salsa
Refried beans mixed with salsa and served in a wrap with chicken or turkey, cheese, bell pepper strips or zucchini strips
Cannellini beans mashed and served with goat cheese and/or veggies
Cream cheese wraps:
Cream cheese with jelly (any flavor)
Cream cheese with fresh fruit (such as sliced strawberries or peaches)
Cream cheese with honey and chia seeds (or mini chocolate chips!)
Cream cheese with turkey or chicken, lettuce and tomato