This easy recipe makes delicious honey-Dijon chicken strips!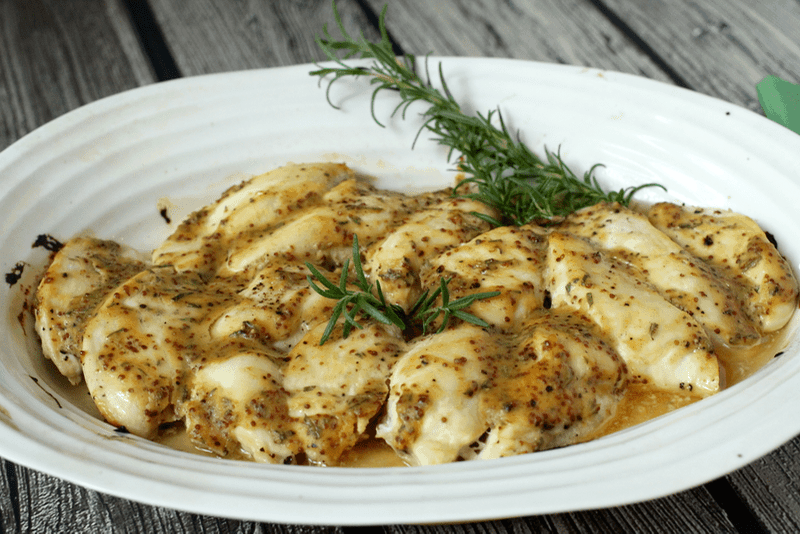 I love honey mustard things. One of my favorite dinners out at restaurants as a teenager was chicken fingers with honey-mustard sauce. I knew the places that did it well and the places that I was better off ordering something else. I was a chicken finger connoisseur.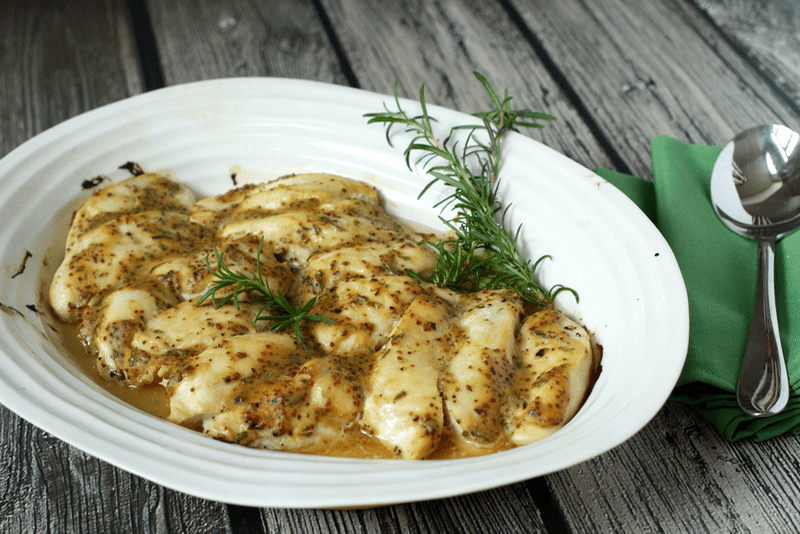 Not so much these days. I don't do many fried foods and I certainly know now that chickens don't have fingers.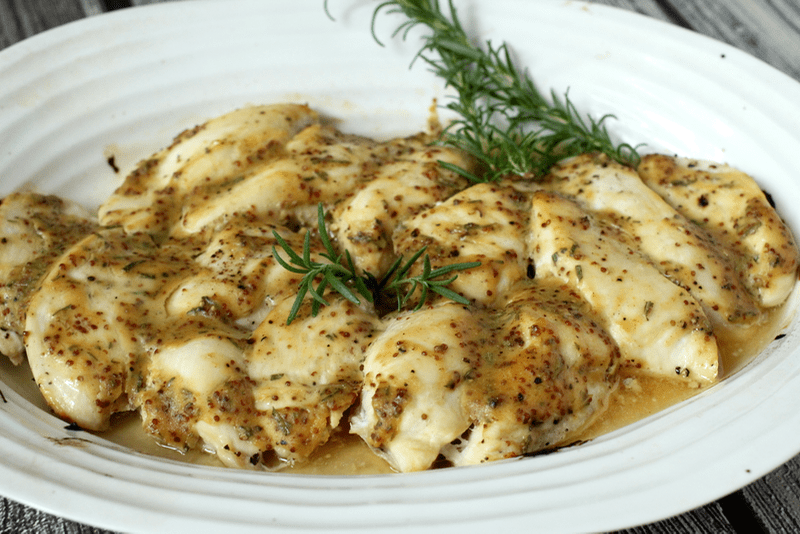 In fact, I caught Alton Brown's act here in Charlotte a couple of years ago when he told the story of making chicken "fingers" for his daughter's birthday and serving up chicken feet. You could practically hear the little girl screams as he recounted his big reveal.
Yikes.
I'm not trying to traumatize anyone, so I just cut my chicken breasts into strips, smother them with this yummy honey-dijon sauce and bake it off. Very easy, very hands off.
The rosemary adds a really nice depth to the honey-mustard mixture. You could also sprinkle some breadcrumbs or Panko over the top of this to get a little crispy goodness going on.
We love this with baked potatoes, but it's also great over brown rice, along with the extra pan juices. Steam some broccoli or toss together a salad or some sauteed veggies while this is in the oven and you've got a fabulous, well-rounded dinner.
I hope this delicious chicken makes it into the regular rotation at your house. Enjoy!
Yield: 4 servings
Easy honey-dijon baked chicken
This easy recipe makes delicious honey-Dijon chicken strips!
Ingredients
2 tablespoons Dijon mustard
1/2 tablespoon coarse ground mustard
1 - 1 1/2 tablespoons honey
1/2 tablespoon olive oil
2 teaspoons fresh rosemary, minced
2 pounds boneless skinless chicken breasts, cut into strips
kosher salt and freshly ground black pepper
Instructions
Preheat oven to 400.

Coat an large baking dish (a 9x13 glass baking dish will work, too) with cooking spray.

Combine first five ingredients and mix well. Add a pinch of salt and pepper.

Season chicken strips generously with salt and pepper. Place chicken strips in prepared baking dish.

Spoon honey mustard sauce over chicken strips and spread out evenly.

Bake at 400 for 25 minutes, or until cooked through.
Nutrition Information:
Yield:
4
Serving Size:
1
Amount Per Serving:
Calories:

422
Total Fat:

10g
Saturated Fat:

3g
Trans Fat:

0g
Unsaturated Fat:

6g
Cholesterol:

193mg
Sodium:

445mg
Carbohydrates:

7g
Fiber:

0g
Sugar:

7g
Protein:

71g
** What was your favorite restaurant menu item when you were younger? Has it changed?