This healthy pea dip is a quick and easy recipe that makes for a pretty appetizer at parties. This creamy dip features ricotta and Parmesan cheese and goes great with baguette slices, water crackers or fresh veggies.
This post first appeared on Real Housemoms, where I am a contributor.
How's your week going? Do you have any fun St. Patrick's Day plans for the weekend?
We've been busy with soccer and swimming and appointments this week. And I also got to have a fun night out with my dad to go to dinner and see the play/musical Waitress. It was really good (though I love the movie more) and so nice to get out and do something different mid-week!
I've also gotten all organized for some spring cleaning around the house and some backyard projects I've wanted to tackle. Haven't started any of them, but having a to-do list is something, right? 😂
Maybe this weekend I'll make some progress... Maybe. Moving on...
Today I'm bringing you another easy, healthy appetizer recipe that's FULL of bright green color!
This healthy pea dip is easy to whip up in no time and great for snacking or serving at parties.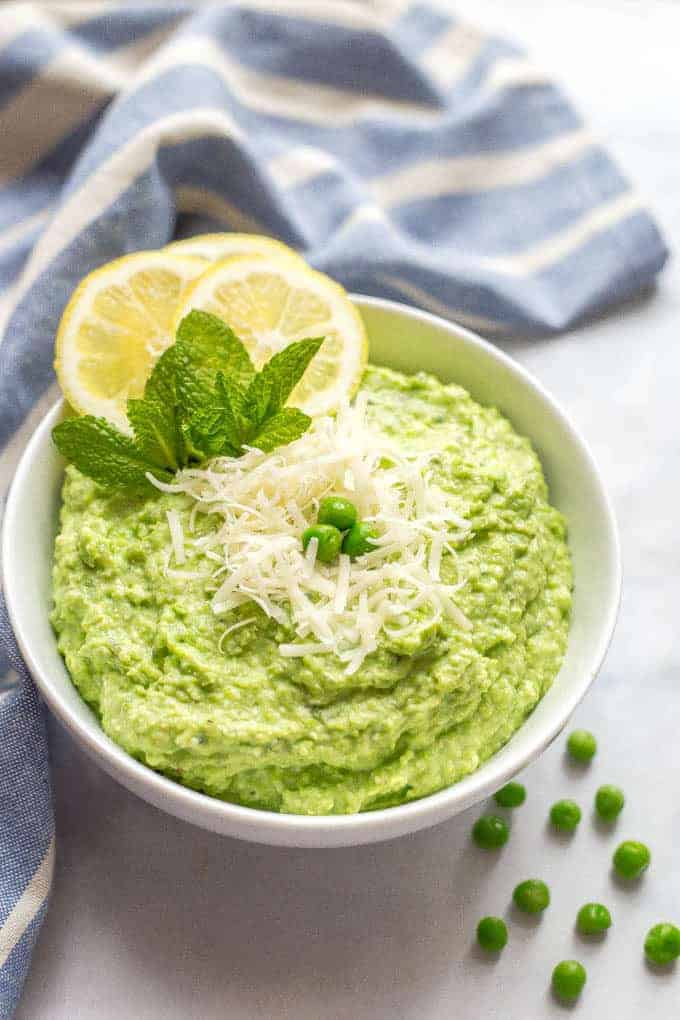 It's also perfect for springtime and would be great for St. Patrick's Day this weekend! (We're going to a party with some friends Saturday afternoon and I think this is what I'm going to bring!) 🍀💚
Plus, you know I love adding some veggies to my dishes! (See my easy vegetable squares - a fun snack we always made at the holidays growing up that I still adore!)
And this creamy pea spread is the perfect dish to bring or serve at any spring time gathering!
It's full of beautiful sweet peas, rich ricotta and Parmesan cheeses and bright, fresh mint. All the fresh feels, all the delicious bites! 💚🌿
Plus it's only 6 ingredients and takes about 10 minutes to make!
(Check out my spicy edamame dip if you need some other green food appetizers!)
Ways to serve healthy pea dip:
I love serving this with toasted baguette slices and some variety of toppings: extra Parmesan cheese, cracked black pepper, slivers of fresh mint.
You can also serve this with water crackers.
Or you can use this dip with veggie sticks, such as bell peppers or cucumbers, or lettuce leaves, like endive.
At the holidays, I like to top toasted baguette slices with some of this creamy pea spread then top it with thinly sliced radishes for a festive little bite.

💚❤️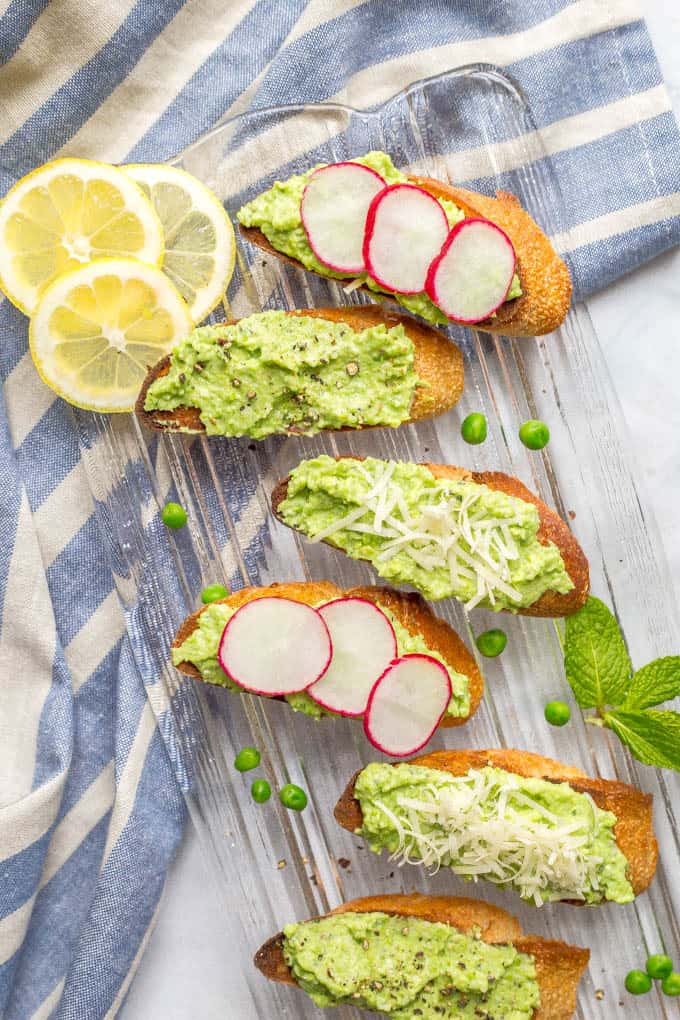 So many options!
And while you can make it ahead, this spread doesn't keep well beyond about two days in the fridge, so don't make it too far in advance.
I hope you enjoy this healthy pea and ricotta dip and have a great St. Patrick's Day weekend my friends!
XO,
Kathryn
P.S. Here are some other easy, healthy appetizers:
Yield: 3 ½ cups
Healthy pea dip
This healthy pea dip is a quick and easy recipe that makes for a pretty appetizer at parties.
Ingredients
2 cups frozen peas
1 cup fresh ricotta cheese
½ cup grated Parmesan cheese
2 tablespoons fresh mint
1 garlic clove, roughly chopped
zest of 1 lemon
½ teaspoon kosher salt
¼ teaspoon black pepper
1-3 teaspoons extra-virgin olive oil
For serving
Toasted baguette slices with sliced radishes, extra mint, extra Parmesan cheese or cracked black pepper
Instructions
Bring a large pot of water to a boil. Add a small handful of salt. Add frozen peas to boiling water and cook for 30 seconds.
Transfer the peas immediately to an ice bath to stop the cooking. (Just fill a bowl with water and ice and spoon the cooked peas into it.)
Add cooled, drained peas and remaining ingredients to a food processor, starting with just 1 teaspoon of the olive oil. Process until smooth, adding extra olive oil as needed to reach your desired consistency.
Season to taste and serve.
Notes
I love using this creamy pea spread to top toasted baguette slices and then add some thinly sliced radishes. Or, you can top the baguette slices with some extra Parmesan cheese or cracked black pepper or some slivered fresh mint leaves. Or serve this spread with crackers and veggies.
This dip is best enjoyed in the first two days after it's made.
Recommended Products
As an Amazon Associate and member of other affiliate programs, I earn from qualifying purchases.
Nutrition Information:
Yield:
14
Serving Size:
¼ cup
Amount Per Serving:
Calories:

77
Total Fat:

4g
Saturated Fat:

2g
Trans Fat:

0g
Unsaturated Fat:

2g
Cholesterol:

9mg
Sodium:

195mg
Carbohydrates:

7g
Fiber:

1g
Sugar:

1g
Protein:

5g