Instant Pot brown rice is easy to make and comes out perfectly fluffy and tender, with no draining needed. It's great as an easy dinner side dish or to have on hand for fried rice, stir fry, rice bowls, tacos, burritos and more.
Brown rice is the absolute go-to rice staple in our house.
My husband and I switched to only whole grains about 15 years ago and haven't ever looked back. And my kiddos grew up with it so they don't know any different.
Normally, I just make regular stove-top steamed brown rice or cheesy brown rice. (Or brown rice with spinach and Parmesan if I'm looking for a more robust side dish.)
And I promise, it's not nearly as intimidating as people think it is to make really good brown rice. And it only takes a little while longer than white rice. Plus the flavor and health benefits are SO worth it!
However, I've found a new way to cook brown rice and I am totally smitten!
This super easy Instant Pot brown rice comes out absolutely perfect every time.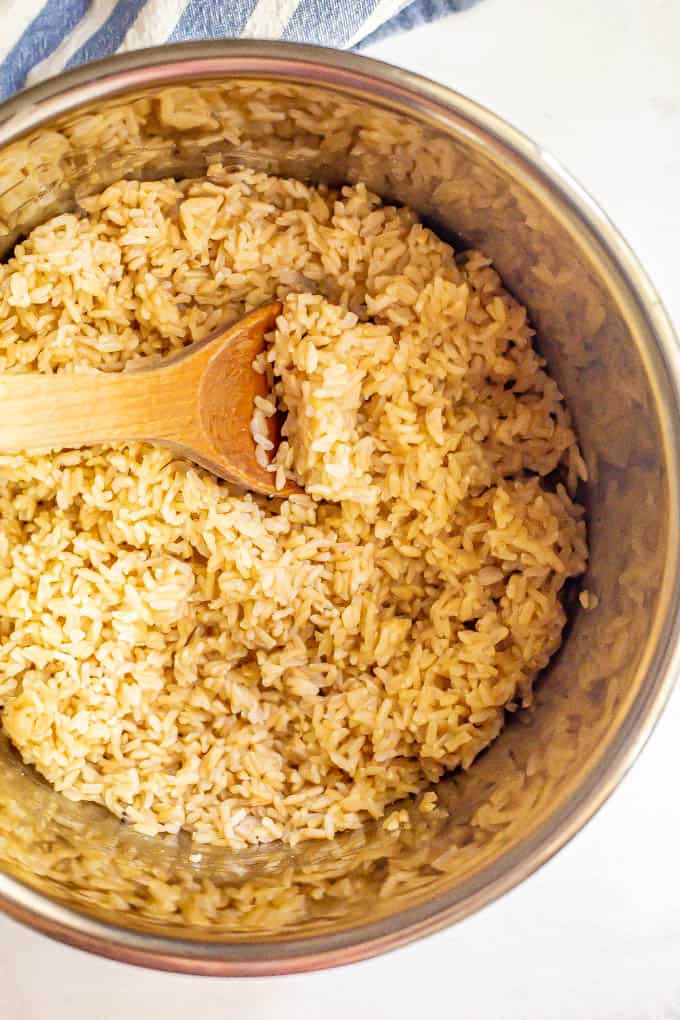 You get tender, fluffy brown rice and you don't even have to drain it – the water all gets absorbed and it's immediately ready to serve.
It's so easy and such a tasty, healthy grain to serve with your meals.
Plus, having some extra cooked rice on hand makes it so easy to pull a meal together. It reheats great and comes in handy so many nights.
Ways to use extra brown rice:
Use for fried rice
Serve with a stir fry
Use as the base of a curry
Make a rice bowl with beans or a protein and veggies
Add to burritos or tacos
Serve with a saucy chicken dish
In case you're feeling inspired, you can check out Mexican fried rice, turkey taco rice skillet, honey garlic chicken and easy cream cheese chicken. They all use or go great with some steamed brown rice.
But OK, let's focus on just the rice for now and get to cooking.
I've got some notes and substitutions coming up on how to make Instant Pot brown rice. Just tryin' to be helpful.
If you want to jump on down to the recipe, simply scroll right on through the rest of the text. The recipe card is near the bottom of the page, above the comments section.
Notes on making Instant Pot brown rice:
You'll want to use only long-grain brown rice here. Other types of rice (like white or basmati) and other forms of brown rice won't have the same water to rice ratio or the same total cook time.
Feel free to substitute vegetable or chicken broth for the water if you want to cook your rice in one of those liquids.
Be sure all of the rice is submerged in the liquid before you seal the pot and cook the rice. You can use the back of a spoon to push down any rice grains that are floating.
And since I know this is your main question, let's go ahead and call it out.
How long do you cook brown rice in an Instant Pot?
– Brown rice should be cooked on high pressure in the Instant Pot for 22 minutes.
– Then do a natural release for 10 minutes, followed by quick release for any remaining pressure.
Voila, perfectly tender, fluffy rice!
Also, a disclaimer: Instant Pot recipes often fail to mention the time it takes for the pot to come to pressure or to release it.
I have found it very misleading when trying to plan, so I wanted to be sure to include it here.
I've listed "additional time" as 25 minutes to account for the amount of time it will take for the pot to come to pressure and then the time for the natural and quick release. The exact amount of time can vary, but that's at least a rough estimate.
In case you're in the market for one, I have and love this 6-quart Instant Pot.
That being said, this method doesn't exactly save you any time. In fact, it takes slightly longer than a regular stovetop steamed brown rice.
Had to point that out.
However, the fact that it comes out so perfect every time makes it super reliable. And it's also nice that it's really hands off and doesn't take up a spot on the stove.
OK, since I've been raving about not only making this for dinner one night, but having extra on hand later, I thought I'd share a few tips on storage and reheating.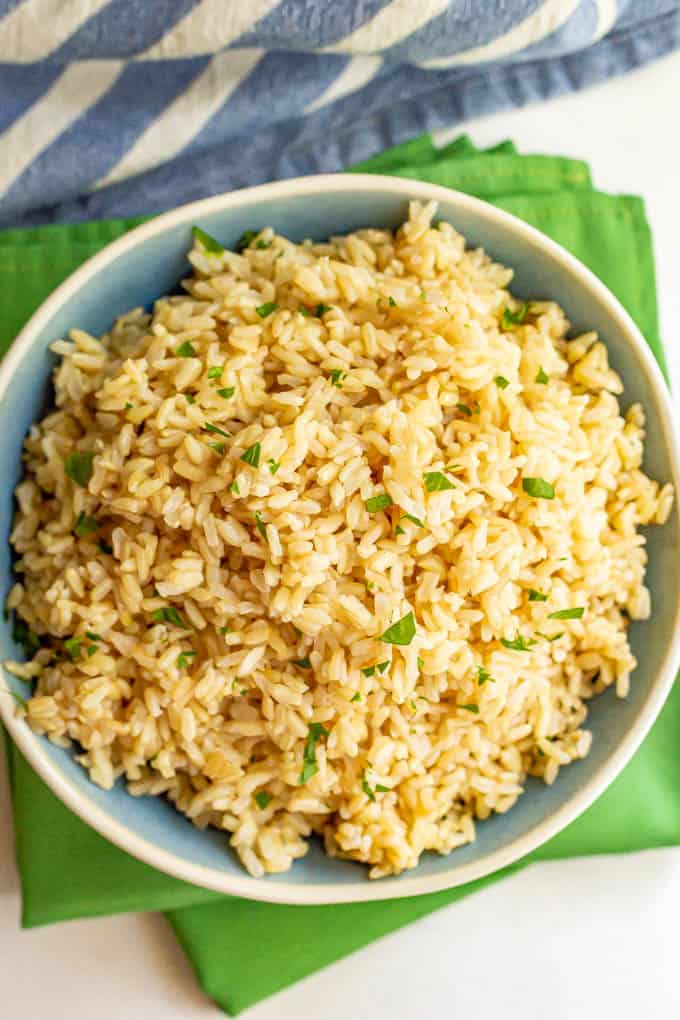 How to store leftover brown rice:
– Brown rice, once cooled, can be stored in a covered container in the refrigerator for up to 5 days.
– Cooked brown rice also can be frozen. Place in a freezer safe container or plastic bag (that's been labelled and dated) and freeze for up to 5 months.
And here's how to get it ready to serve again.
How to reheat leftover brown rice:
– Place the desired quantity of rice in a microwave-safe container, sprinkled with a bit of water and cover with a damp paper towel. This helps prevent the rice from drying out as it reheats.
– Microwave on high for 40 seconds, then stir and add an additional 15 to 30 seconds as needed until heated through. (The total time will depend on how much rice you are reheating at a time.)
Finally, while I love how tasty brown rice is all on its own, you could certainly add some flavor with various toppings.
Here's a few ideas to get you thinking.
Easy topping ideas for brown rice:
Salt and black pepper
A pat of butter
Chopped fresh parsley
Chopped fresh chives
Grated Parmesan cheese
Paprika and fresh herbs
Garlic powder and cheddar cheese (stirred in)
So there you have it!
You can make brown rice easily and perfectly every single time with the convenience of your Instant Pot or pressure cooker.
Healthy whole grains for everyone. That makes me so happy. 😊
Enjoy!
XO,
Kathryn
Yield: 6-8 servings
Instant Pot brown rice
Instant Pot brown rice is easy to make and comes out perfectly fluffy and tender, with no draining needed. It's great as an easy dinner side dish or to have on hand for fried rice, stir fry, tacos, burritos and more.

Prep Time 5 minutes

Cook Time 22 minutes

Additional Time 25 minutes

Total Time 52 minutes
Ingredients
2 cups long grain brown rice
2 1/2 cups water (or low-sodium chicken or vegetable broth)
Instructions
Combine the brown rice and water in the insert of the Instant Pot, stirring well. Make sure the rice is all submerged (push it down with a spoon if it's floating.)
Seal the pot and cook on high pressure for 22 minutes.
Once the cook time is complete, do natural release for 10 minutes then do a quick release to release the remaining pressure.
Once the pot is safe to open, stir the cooked rice, season to taste and serve hot.
Notes
You'll want to use only long-grain brown rice here. Other types of rice and other forms of brown rice won't have the same water to rice ratio or the same cook time.

Feel free to substitute vegetable or chicken broth for the water if you want to cook your rice in one of those liquids.

Be sure all of the rice is submerged in the liquid before you seal the pot and cook the rice. You can use the back of a spoon to push down any rice grains that are floating.

Brown rice, once cooled, can be stored in a covered container in the refrigerator for up to 5 days.

Brown rice also can be frozen. Place in a freezer safe container or plastic bag (that's been labelled and dated) and freeze for up to 5 months.

To reheat, place the desired quantity of rice in a microwave-safe container, sprinkled with a bit of water and cover with a damp paper towel. This helps prevent the rice from drying out as it reheats. Microwave on high for 40 seconds, then stir and add an additional 15 to 30 seconds as needed until heated through. (The total time will depend on how much rice you are reheating at a time.)
Nutrition Information:
Yield:
8
Serving Size:
1
Amount Per Serving: Calories: 55Total Fat: 0gSaturated Fat: 0gTrans Fat: 0gUnsaturated Fat: 0gCholesterol: 0mgSodium: 3mgCarbohydrates: 11gFiber: 1gSugar: 0gProtein: 1g