Leftover turkey recipes features more than 15 recipes for using leftover Thanksgiving turkey, along with additional easy ideas for incorporating turkey at breakfast, lunch and dinner.
Is it just me or do you get as excited about the Thanksgiving leftovers as you do about the meal?
I live for the leftovers.
I seriously adore turkey day leftovers.
It carries the comfort and closeness of the day over into the weekend… kinda keeps the magic going and keeps us all connected. And keeps us from having to do much more cooking!
Usually on the Friday after Thanksgiving, I make my most favorite thing, this Thanksgiving leftovers breakfast hash. It has turkey, stuffing, leftover veggies, gravy and is topped with a fried egg. I eat it every day for breakfast for DAYS.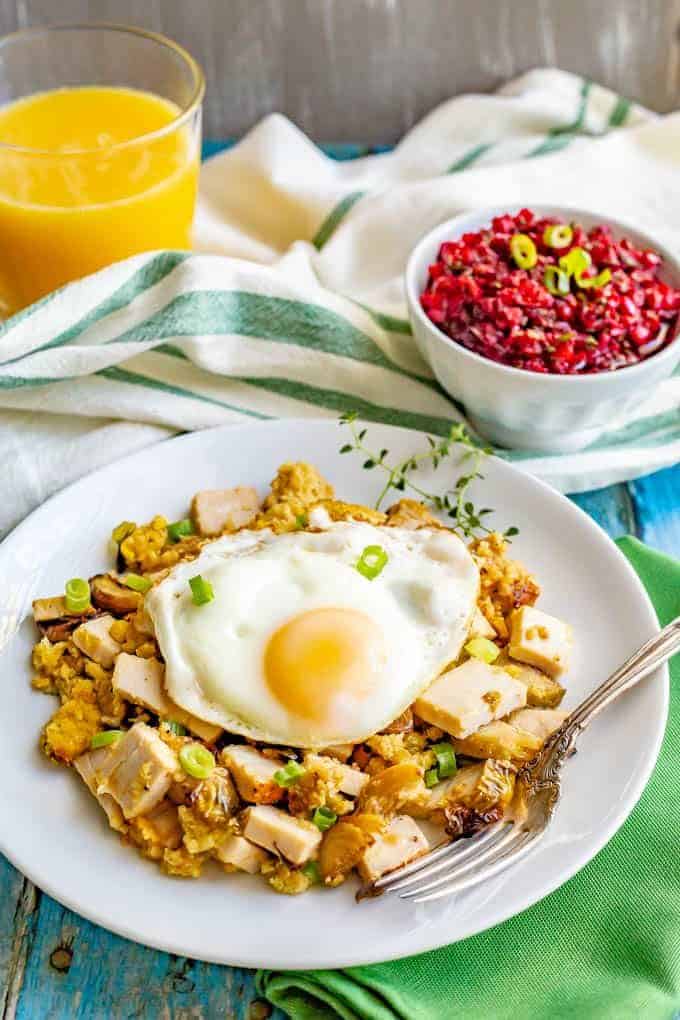 And of course, lunch wouldn't be complete with the ultimate leftover Thanksgiving turkey sandwich. Mine features greens, cream cheese, cranberry sauce and red onion for a mega delicious sandwich.
Friday night, we often rewarm a plate of our dinner to continue to make a dent in the leftovers.
But after that, I like to get a little creative. It's fun for me to think up new ways to make that leftover turkey into a whole new meal. It's like a little challenge.
Is that weird?
Well, maybe. But it's also lucky for you! Cause if you're stuck wondering what to do with leftover turkey, I've got tons of ideas for you!
Below we've got just a straight up list of ideas for ways to use leftover turkey to get your wheels spinning.
But keep reading because I also have 15 recipes that use turkey leftovers if you are feeling uninspired and just want to follow some directions.
(I get it. I have plenty of brain-dead days around the holidays myself.)
So without further ado, let's dive in.
Ideas for using leftover turkey:
Breakfast
Omelets with turkey, cheese and any favorite veggies
Add chopped turkey to egg muffin cups
Make a breakfast scramble with eggs, turkey and veggies
Lunch
Turkey sandwiches or wraps
Turkey paninis or melts
Sliders with turkey, cheese, and cranberry or BBQ sauce
Quesadillas with turkey, beans and cheese
Turkey on top of a salad
Grain bowl with turkey added
Turkey salad (instead of chicken salad)
Dinner
Use turkey for tacos or nachos
Turkey burritos with all your favorite fillings and toppings
Make turkey enchiladas
Turkey stir fry or fried rice
Add turkey to a main dish salad or grain bowl
Turkey soups, stews or chili
Turkey pasta dishes, like turkey tetrazzini
Casseroles with diced turkey
Turkey pot pie
One more tip: You can use chopped turkey in place of rotisserie chicken in tons of recipes. 👍
So many ways to use extra turkey! Truly endless possibilities.
But if you are worn out from the big meal – or maybe from a day of Black Friday shopping – and you just can't think of options and get creative, I understand.
Have no fear, I've got tons of specific recipes you can explore below to see what sounds good to you.
(Many of the recipes below are from my site, but I've also included recipes from others.)
Leftover turkey recipes:
– Thanksgiving leftovers breakfast hash
– Leftover Thanksgiving turkey sandwich
– Open-faced turkey, spinach and mushroom melts
– Turkey and black bean quesadillas
– Thanksgiving leftovers chef salad
– 15-minute easy turkey noodle soup
– One pot turkey and white bean skillet
– Creamy turkey artichoke casserole
Last thing, let's take a quick minute to talk about safely storing leftovers. You can refrigerate or freeze leftover turkey, but here are some details and pointers.
How to store leftover Thanksgiving turkey:
Leftovers should be cooled then stored in the refrigerator. (Don't let it sit out for more than 2 hours.)
You can slice the rest of the turkey off the bone or store it still together. (If you are short on room in the fridge, it helps to slice the turkey and throw away the carcass.)
Place the leftover turkey in a plastic storage bag, a plastic container or a bowl with a lid. Or if you still have the bones, just cover your platter well with aluminum foil or plastic wrap and place it in the fridge.
Leftover turkey will keep in the refrigerator for up to 3-4 days. (That's the recommendation. I often go 4-5 days myself.)
You can also freeze leftover turkey. Place in a freezer-safe plastic bag or container, label and date it, then store in the freezer for up to 5 months.
Defrost in the refrigerator overnight and it's ready to use.
There you have it. Turkey time all the time! At least, for a few days…
So no more boring leftovers or simply reheated turkey for you. No, you've got TONS of ideas for making your leftover turkey into a new meal that will be absolutely delicious!
Oh, and if you have a favorite recipe or way to use leftover turkey, please leave a comment below and share with us! We can all use more ideas!
Wishing you the happiest of holidays, full of love, laughter and plenty of leftovers.
Enjoy!
XO,
Kathryn