Roasted maple mustard pork tenderloin is easy to prepare, just a few ingredients, and comes out incredibly flavorful and tender.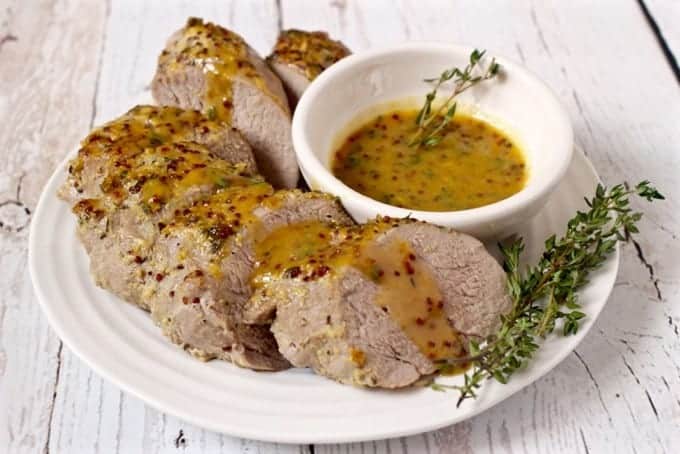 Sometimes I need both my hands for something else at dinnertime.
Tricky, but not impossible. I've made many a dinner while holding a baby (even once while nursing a baby) and of course, like you, I'm adept at balancing a cocktail or wine glass while moving pans and stirring pots. 😉
But there's always days when you really need your dinner to take care of itself. No attention required. Unlike some little ones I might have nipping at my ankles! Plus, who can't use another great, go-to pork recipe?
Pork tenderloin makes such a delicious and healthy entree. I always buy them on sale and end up with 4. (It's buy one, get one and each is a package of two.) I use one right away and save the others in my freezer.
To prep them for the freezer, just trim the fat, get her cleaned up, wrap in plastic wrap and wrap again in aluminum foil. Label and pop in your freezer so it's ready to go another night.
We love Instant Pot pork tenderloin, balsamic pork tenderloin with thyme and also doing it on the grill
Today though is a long time easy favorite. This maple-mustard pork tenderloin is a quick and easy way to prepare pork, and it turns out so very delicious every time!
I've used fresh thyme here but I've also made this with dried thyme before, since I always have it in my pantry. (See notes below.)
You could also substitute rosemary. It's pretty forgiving, which is why I go back to this recipe again and again.
As you can see, I like to serve it with roasted sweet potatoes and roasted veggies. They all cook in the oven at 400 degrees so it works well to just add a few more pans. It's a fix it and forget it type of meal. 👍
Below I've included the game plan if you want to do this whole combo and not just the pork by itself.
And while everything's cooking away for you in the oven, you're left to twiddle your thumbs. Or pour another drink. Or pick up children and toys and tissues of unknown origin...
And then dinner is served. Look ma, no hands!
Here's the game plan for making the maple-mustard pork tenderloin plus sweet potatoes and roasted veggies:
Preheat the oven to 400.
Wash, peel and dice the sweet potatoes. Season with olive oil, salt and pepper and put in the oven once it's to temperature. They will roast for 30-40 minutes total.
After you've started the sweet potatoes in the oven, get the pork ready. Mix the mustard mixture and slather it on the pork in the pan.
Next, chop the remaining veggies (use whatever you have in your fridge - mushrooms, zucchini, squash, peppers, onion, etc.) and get them on another pan. Season with olive oil, salt, pepper and Italian seasoning.
Once the sweet potatoes have been in for about 10-15 minutes, give them a little shake and put the pork and the veggies in the oven. In about 20-25 minutes, dinner is served. Go have a glass of wine while you wait. 😊
Enjoy!
XO,
Kathryn
Yield: 3-4 servings
Maple-mustard pork tenderloin
Roasted maple-mustard pork tenderloin makes for a hands-off, delicious dinner!
Ingredients
1 1-lb. pork tenderloin, trimmed
1 ½ tablespoon Dijon mustard
½ tablespoon coarse mustard (or more Dijon)
2 tablespoon maple syrup
1 tablespoon fresh thyme or rosemary, chopped (or sub 1 teaspoon dried thyme or rosemary)
salt and pepper, to taste
Instructions
Preheat oven to 400.

Line a baking sheet with tin foil for easy cleanup. Spray with cooking spray.

Mix Dijon mustard, coarse mustard, maple syrup and thyme in a small bowl.

Place pork tenderloin on prepared baking sheet and season with salt and pepper.

Rub mustard mixture over pork tenderloin, reserving about a tablespoon of the mustard mixture to drizzle over the pork before serving.

Put pork tenderloin in oven and roast at 400 for 20 minutes, or until done.

Slice the pork, drizzle with reserved sauce and enjoy!
Nutrition Information:
Yield:
4
Serving Size:
1
Amount Per Serving:
Calories:

199
Total Fat:

5g
Saturated Fat:

2g
Trans Fat:

0g
Unsaturated Fat:

3g
Cholesterol:

83mg
Sodium:

313mg
Carbohydrates:

7g
Fiber:

1g
Sugar:

6g
Protein:

30g