Balsamic pork tenderloin with thyme requires just 3 ingredients (plus salt and pepper) but creates a wonderfully rich, delicious dinner!
Thanks for all the sweet birthday wishes you guys have sent me this week! It was yesterday and while we did have a mini celebration, tonight we have a babysitter so the hubs and I can go out. 😀
I'm not huge on dining at restaurants — I really do prefer to cook and eat at home — but we're gonna stop in one of my favorite healthy spots for a light bite and then hit up a movie -- Girl on the Train if I get the book finished! And we'll probably grab a cocktail after before we head home. I'm so excited! 🎉🎉🎉
And on top of all that fun, it's Halloween weekend! We've got a birthday party and a neighbor's party tomorrow, and our entire neighborhood usually does a cul-de-sac fire pit and tailgating for Halloween, so we'll gather with everyone and hang out before the kiddos do their trick-or-treating.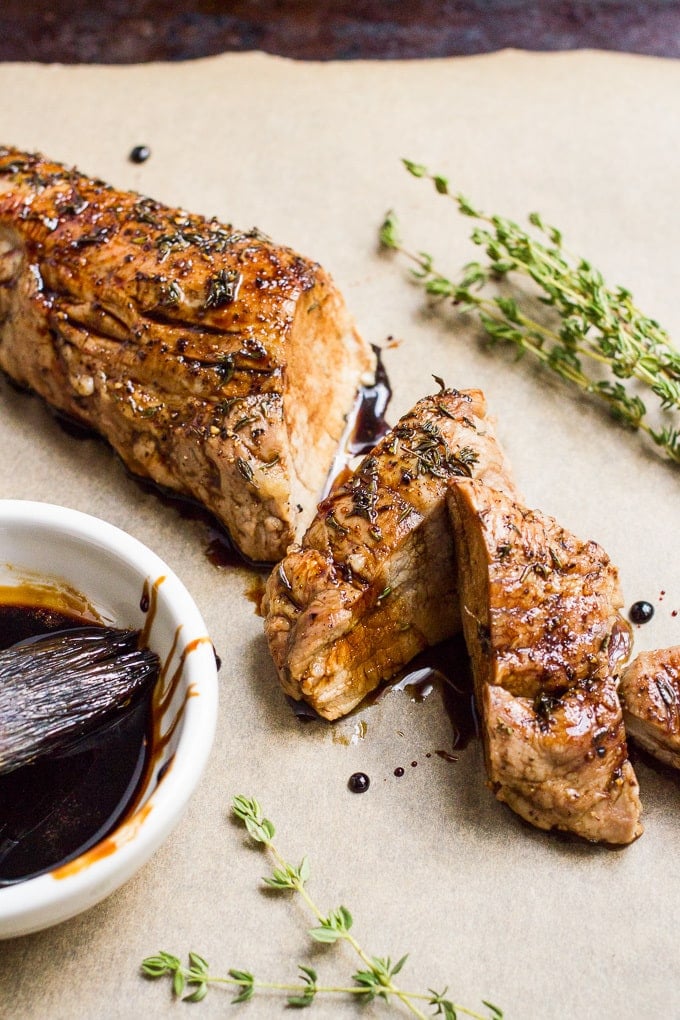 Speaking of, M is going to be Belle from Beauty and the Beast and J is Tigger. He doesn't know the character but he has a little tiger he sleeps with and loves to death so he wanted to be a tiger for Halloween.
And you know I don't buy candy at all, ever (I pass out toys at Halloween) so they are SUPER excited for the haul they're going to bring home. Hello sugar rush!
Today though, we've got this balsamic pork tenderloin with thyme. And guys, this is serious deliciousness in serious simplicity.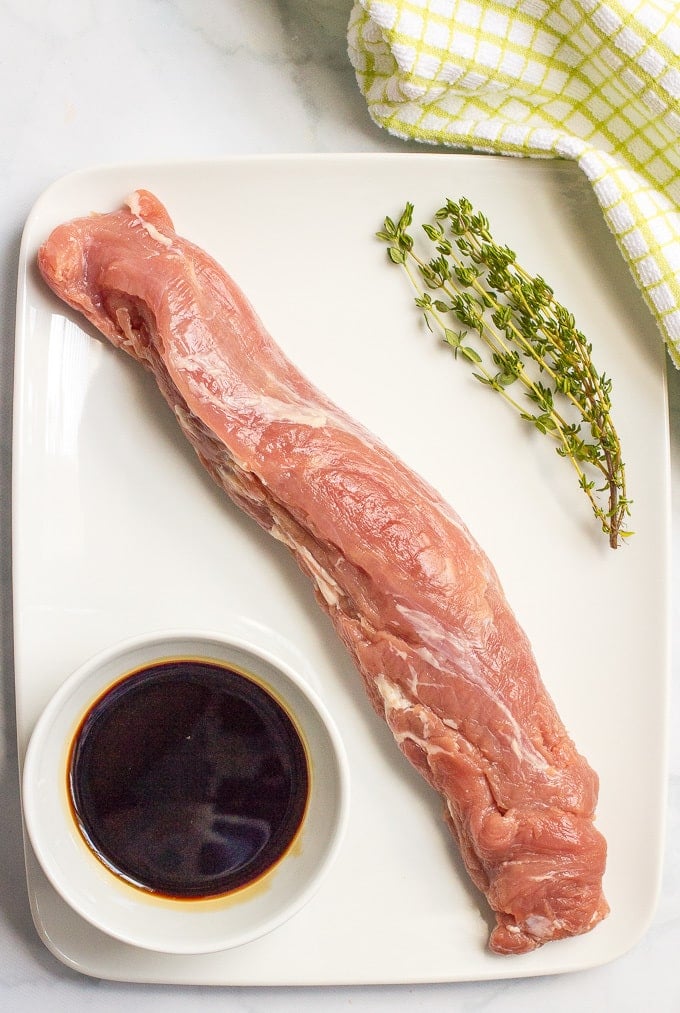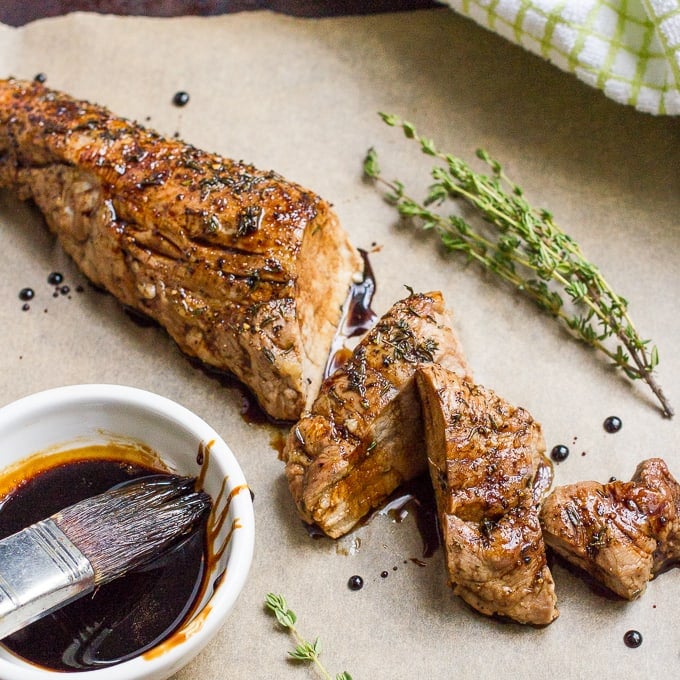 Three ingredients: the pork tenderloin, the balsamic vinegar and the thyme. OK, and some salt and pepper. But that's it!
And yet this has some lovely complex flavors. The earthy thyme helps season the juicy pork and then the balsamic reduction is glazed on and drizzled over — double duty — for a hint of sweetness and a great rich depth of flavor.
It's an easy recipe for a weeknight meal but impressive enough with that glaze to serve for company or a nice Sunday supper.
A few notes on this thyme and balsamic pork tenderloin recipe:
It's important to trim your pork to remove the silver skin. Just slide a paring knife under it and pull up and then cut to each side to get it to detach completely. Here's a Martha Stewart video if you want to see how it's done.
It's also important to let the pork rest for at least 5 minutes when you remove it from the oven. You can use the aluminum foil you roasted it on and cover the pork tenderloin with it on a cutting board to keep it warm.
You can substitute 1 teaspoon dried thyme for the fresh thyme.
Remember to drizzle the pork with the extra sauce after you slice it!
To make dinner easy, you can prep another pan of roasted veggies to cook at the same time. Or do some fast microwave baked potatoes and a steamed veggie while this is in the oven. Those up there 👆 are my sauteed green beans and tomatoes.
Break open a bottle of wine and relax into this delicious pork dinner.
Enjoy!
~ Kathryn
(Yes, this is a new look for my recipe labels! It should be a bit more user-friendly - and reliable. I'd love to hear your thoughts!)
Yield: 4 servings
Balsamic pork tenderloin with thyme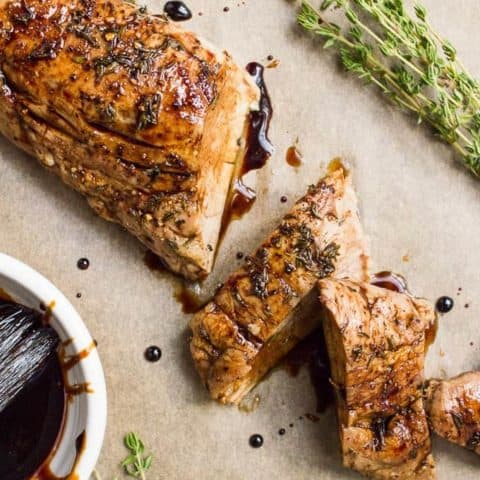 Balsamic pork tenderloin with thyme requires just 3 ingredients (plus salt and pepper) but creates a wonderfully rich, delicious dinner!
Ingredients
1 1 to 1 ¼ lb. pork tenderloin, trimmed
½ teaspoon salt
¼ teaspoon black pepper
1 tablespoon fresh thyme, chopped
⅓ cup balsamic vinegar
Instructions
Preheat oven to 400. Line a baking sheet with aluminum foil (for easy clean-up) and spray with cooking spray.
Season pork tenderloin with salt, pepper and thyme and place on baking sheet.
Roast at 400 for 22-25 minutes. (The exact timing will depend on the size of your tenderloin and how done you like it. Use an internal thermometer.)
Meanwhile, make the balsamic reduction. Place balsamic vinegar in a small sauce pan over high heat. Bring to a boil, reduce heat to low and simmer for about 5 minutes, until the mixture is reduced and thickened.
Brush about half of the balsamic mixture onto the pork in the last minute of cooking. Reserve the rest for serving. (Tip: Keep the mixture on low and stir occasionally or transfer it to a bowl so it doesn't stick and harden on the pan.)
After the pork has rested, slice and serve with remaining balsamic glaze.
Notes
You can substitute 1 teaspoon dried thyme for the fresh thyme.
Nutrition Information:
Yield:
4
Serving Size:
1
Amount Per Serving:
Calories:

228
Total Fat:

6g
Saturated Fat:

2g
Trans Fat:

0g
Unsaturated Fat:

3g
Cholesterol:

103mg
Sodium:

350mg
Carbohydrates:

4g
Fiber:

0g
Sugar:

3g
Protein:

37g