Old fashioned ginger snaps are full of warm spices and a touch of molasses and then rolled in sugar and baked until soft and chewy. These cookies are perfect for the holidays!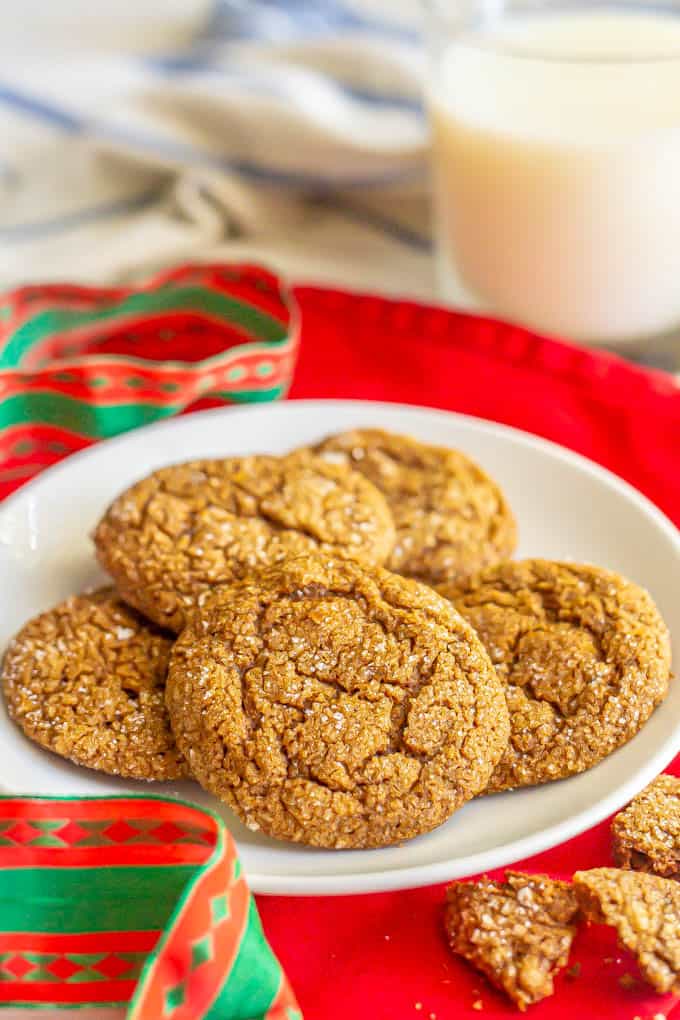 This post is sponsored by Bob's Red Mill. As always, all thoughts and opinions are my own.
Today's recipe for old fashioned ginger snaps is near and dear to my heart.
I remember growing up with these at the holidays and helping my mom roll the cookies. They were part of our regular rotation of "must make" cookies for a number of years and ones we still make today.
These ginger cookies are full of warm spices, like cinnamon, ginger and cloves, which make them so inviting. They also get great color and deep flavor from the molasses.
Plus, they are rolled in sugar before being baked and you just can't go wrong with that. (It's definitely my own daughter's favorite part.)
Oh, and they smell heavenly as they are baking and when they come out of the oven. 😍
That alone will warm your soul and put you in the holiday spirit!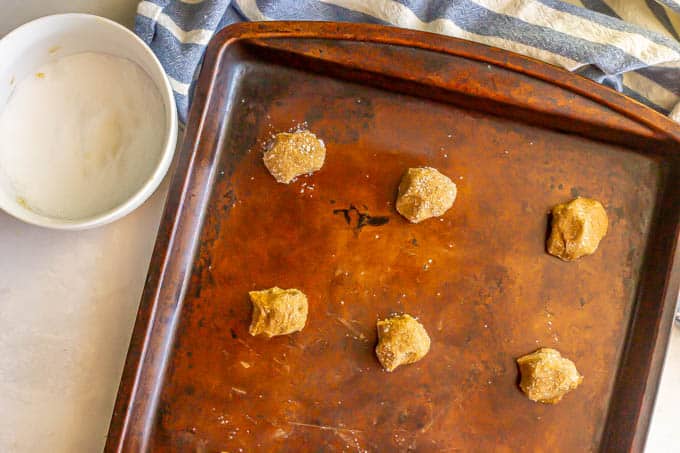 Also, I love that this recipe makes a ton of cookies. The ginger snaps are small but you'll get about 4 dozen cookies total.
This makes it a great cookie to use for cookie exchanges, family gatherings, or gifting to friends, teachers, neighbors, etc.
This year, we'll likely be skipping a lot of those types of celebrations, but it's just as well. My family of 4 can put away the entire batch of these in less than a week flat and then be disappointed that they're gone.
Which just means it's time to make more!
My kids are 7 and 9 now and love to help me in the kitchen, particularly when it involves baking. And I cherish being able to bake cookies and other recipes with them just like my parents did with me growing up.
(My mom and I still have an annual "baking day" every December when we bake up all of our family favorites, chat and laugh and just hang out in the kitchen. It's the best. ❤️)
I'm also so grateful to have the opportunity again this year to partner with Bob's Red Mill, which is a company that's really as wholesome as its products.
They are employee-owned, which I so admire, and they are dedicated to quality ingredients. So many of my favorite products, from oats to flours, to whole grains to snack bars and more, are from Bob's Red Mill.
I also love that they partner with No Kid Hungry and local food pantries, as well as other hunger-related programs, to help children and families in need. ❤️
OK, back to today's recipe. Let's get to baking!
Now, I've got some notes and substitutions coming up on how to make ginger snaps. Just tryin' to be helpful.
If you want to jump on down to the recipe, simply scroll right on through the rest of the text. The recipe card is near the bottom of the page, above the comments section.
Notes on making ginger snaps:
No room temperature butter? Don't worry, I never have any either. Here's my quick trick: microwave the butter in 20-second intervals, turning it over in between, until it's just starting to soften and you can push a finger into it easily. Then it's ready to use.
Rolling these in teaspoon sized balls seems ridiculously small. They spread out as they bake and I promise this is the way to go for these cookies.
You'll get 48-50 cookies from this recipe. Feel free to double it if you really need a ton of cookies.
As for storing, ginger snaps keep great!
Once cooled, transfer the cookies to a covered container and store at room temperature for 7-10 days. If they last that long.
Finally, if you've got some extra molasses on hand after making this recipe, here are some other ways to use it up.
Recipes using molasses:
I wish you lots of delicious holiday goodies and joyous time spent with loved ones this year.
Happy baking!
XO,
Kathryn
Yield: 48-50 cookies
Old fashioned ginger snaps
Old fashioned ginger snaps are full of warm spices and a touch of molasses and then rolled in sugar and baked until soft and chewy. They are perfect for the holidays!

Prep Time 15 minutes

Cook Time 10 minutes

Total Time 25 minutes
Ingredients
3/4 cup unsalted butter, room temperature (see notes)
1 cup granulated sugar
1 large egg
1/4 cup molasses
2 cups Bob's Red Mill all-purpose flour
1 1/2 teaspoon baking soda
1 teaspoon cinnamon
1 teaspoon ground ginger
1/2 teaspoon ground cloves
For rolling:
Instructions
Preheat the oven to 350.
In a medium bowl, cream together the butter and sugar using a hand mixer or stand mixer. Add the egg and molasses and beat until smooth.
In a separate small bowl, combine the flour, baking soda, cinnamon, ground ginger and ground cloves.
Add the dry ingredients to the bowl with the wet ingredients and stir until just combined.
Place the 1/2 cup sugar into a separate small bowl.
Form the dough into teaspoon-size balls (yes, that small!) and roll in sugar. Place on an ungreased baking sheet about 2 inches apart. (You can fit about 12 on a regular sized sheet pan.)
Bake at 350 for 8-10 minutes. Let cool slightly on the pan then transfer the cookies to a cooling rack or a piece of wax paper to cool completely.
Store extras in a covered container at room temperature for up to 7-10 days
Notes
No room temperature butter? Don't worry, I never have any either. Here's my quick trick to soften butter straight from the fridge: Place the butter in a microwave-safe bowl and microwave the butter in 20-second intervals, turning it over in between cycles, until it's just starting to soften and you can push a finger into it easily. Then it's ready to use.

Rolling these cookies in teaspoon sized balls seems ridiculously small. They spread out as they bake though, and I promise this is the way to go for these cookies.

This recipe makes a lot - about 4 dozen - but you can certainly double the recipe if you really need a ton of cookies. (They make great gifts for family, friends, neighbors, teachers, etc.)
Nutrition Information:
Yield:
25
Serving Size:
2 cookies
Amount Per Serving: Calories: 145Total Fat: 6gSaturated Fat: 4gTrans Fat: 0gUnsaturated Fat: 2gCholesterol: 22mgSodium: 81mgCarbohydrates: 22gFiber: 0gSugar: 15gProtein: 1g