A holiday baking day tradition is a treasured day spent making Christmas cookies and other holiday goodies and having some quality family time in the kitchen. Get tips and ideas on making yours a success!
Ever since I was little, my mom and I have had a mother-daughter holiday baking day tradition.
It's one of my favorite things about December and leading up to Christmas time.
Baking day, at its most simple, is really just a day full of baking.
We make cookies and treats and goodies and ALL of our Christmas favorites.
It's a fun day of together time, spent measuring and mixing and making delicious food and precious memories.
We chat and laugh, and now that I'm older, often sip mimosas or wine, depending on the time of day. (We like to drink when we're cooking. Thanksgiving day is all about the bloody Mary's for us! 😊)
Here we are a few years back. I think this was technically us making Christmas dinner, not baking day, but it's my mom's same kitchen!
And honestly, this was not something I ever thought to post about.
But my aunt, the last time I saw her at the holidays, caught wind of this tradition and thought it was so sweet - and something she wished she had done with her daughters.
So today I thought I'd share all the ins and outs so you can make your very own baking day tradition with your loved ones!
Here are a few of my favorite bonus parts about having a baking day.
Baking day benefits:
You make a mess of the kitchen, but just the once.
You've already got all the basic ingredients out - sugar, flour, butter, eggs - so you might as well just keep using them.
The oven is already on. Make the most of it.
You can rinse and re-use bowls as you go.
Having more than two hands helping means everything goes faster.
It's great for bonding and having fun!
Oh, and a caveat.
I'm referring to this a mother-daughter baking day tradition because that's what it has been for our family.
You of course can include dads and sons in the fun. Men can bake, too. My 8-year-old son loves to help me in the kitchen and get in on the fun. Here he is a few years ago decorating a gingerbread cookie. 🥰
Or maybe you having a baking day with a sister, roommate, best friend or your partner.
Everyone is welcome!
OK, let's get our bake on.
Now, I've got some notes and tips coming up on how to make your baking day a success - and as stress-free as possible. (This is supposed to be pure fun!)
And below that, I've got some of our favorite recipes to make every year if you need some inspiration.
Notes for baking day success:
Make sure to select all of your recipes in advance. It helps to have printed out copies to refer to because the kitchen may get messy!
Also, it helps to plan which recipes you'll make first to maximize oven space and time. If you have something that requires refrigeration time or a recipe that is made stove-top, make a note of those things, too.
Plan to have all of the groceries on hand. Check supplies of any ingredients that may need to be replaced. (In other words, if your sugar is running low, be sure you have extra for a back-up!)
Check that you have plenty of storage containers to hold all of the baked goods you're making.
Estimate how much time you'll need to get everything done, so everyone can plan around it.
On that last point, baking day was often a full half-day event for us.
When my babies were babies, however, I just didn't have that kind of spare time. So we did a power hour or two at night instead.
My mom would get everything prepped and ready to go so we could just dive right in and be super efficient.
Now that my kids are older, and I can more easily ditch them, we've gone back to extended baking days. Way more fun!
Oh, and you can definitely get the kids involved! My mom and I sorta cherish this time for just the two of us, but I also do a modified baking day with my kiddos. Both my daughter and son love to be in the kitchen with me. ❤️
So any especially kid-friendly Christmas treats — like sugar cookies, that we can then decorate — get saved for my baking day with them.
Also, aprons are not necessarily but certainly make the day more festive and fun!
My mom and I had a matching set when I was younger. She has since passed that over to me to use with my daughter. See this cute photo of us from a few years back:
You can find some cute matching aprons on Amazon if you really want to get in the spirit.
Music can make it more fun, too. Put on some tunes and dance your way around the kitchen. 🎶
So let's get on to some ides of what to include in your baking day, in terms of recipes and different fun things to make.
Our family has a few MUST HAVES every single year.
It just wouldn't be the holidays without these treats. They are not negotiable for us.
Our go-to Christmas favorites:
Chocolate chip cookies
My grandmother's chocolate chip brownies
And either gingerbread cookies or sugar cookies - sometimes both!
Here's my grandmother, years ago before she passed, enjoying a chocolate chip cookie - her absolute favorite!
We also like to add in a couple of new recipes to try, or other favorites to rotate in. It keeps things interesting year to year cause we love trying new things!
We've done old fashioned ginger snaps, peppermint chocolate chip cookies, truffles, snowball cookies, cranberry orange cookies and more over the years. I've also done chocolate bark with my kiddos and that's fun, too.
Gather your favorite family recipes, browse cookbooks and magazines, check Pinterest and blogs and get a collection of recipes you want to tackle.
OK, let's talk about what happens after baking day.
What should you do with all the yummy results of your baking fun?
Enjoy them and share the love!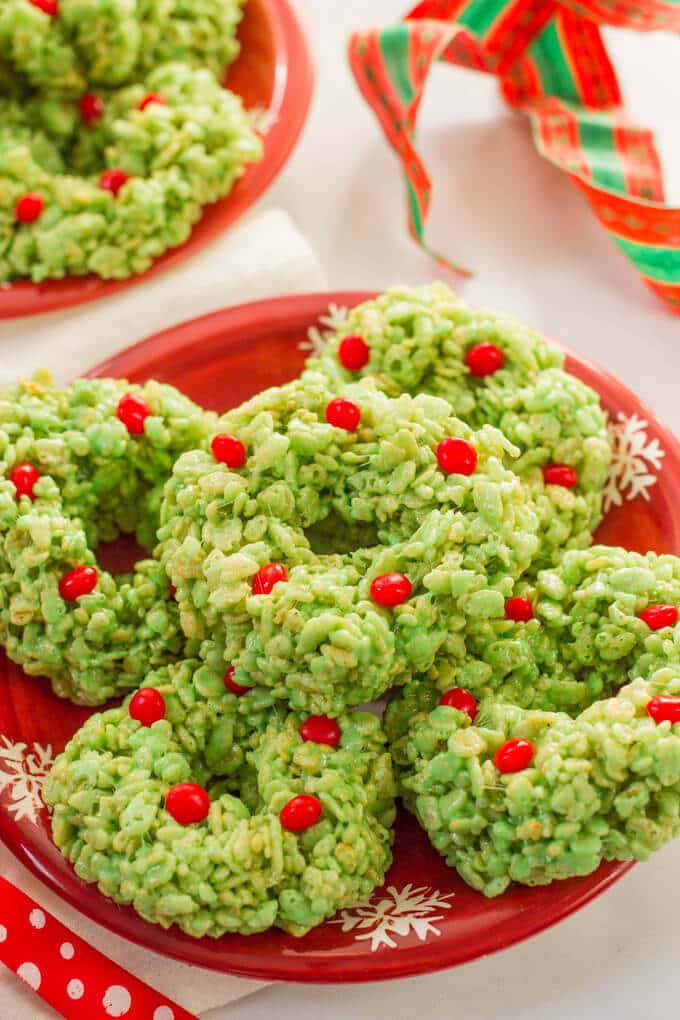 We eat as we go, but the extras are great for gift giving and holiday get togethers.
You can put together a mixed plate of treats for neighbors, teachers, friends and family. You could also take a plate to your local firefighters, post office or favorite small business. (Be sure it's OK for them to accept food gifts. That might be iffy right now for some people.)
It's also so convenient to have a selection of treats on hand for friends and family who come visit at the holidays. You can whip up a little platter to set out after dinner in no time.
For us, I know these treats are an absolute must to have on hand when my brother and his family come up for their December visit.
After all, he grew up with these treats as a regular part of his Christmas, too, and we like to make sure to keep that going. And share the tastes and memories with his kiddos.
Cause that's really what baking day is all about. It's making memories and traditions that you'll carry with you always. And that you can share with the next generation to build family connections.
I hope that helps and I hope it inspires you to start your own baking day tradition, whatever it might look like and whoever it might include.
I bet it will come to be a favorite part of your holiday season, too.
Enjoy and a very happy holiday season to you!
XO,
Kathryn
P.S. If you have a baking day tradition or favorite holiday treats, I'd love for you to share with us in the comments below! We can all use more ideas and recipes!