Chocolate chip brownies have just 4 ingredients (no box mixes) and come out chewy and perfectly sweet - a great, easy dessert!
How has another week gone by?!
Don't get me wrong, I'm thrilled it's Friday. Weekends are always welcome here. 👍 Especially ones like this where we don't have anything we have to do. Just lazy mornings and lots of play time.
Still though, we're chugging full speed ahead into November and I feel like the holiday craziness is going to peek out from behind the next corner and come steam rolling over me. Dramatic much?
I am, however, trying desperately to get ahead of things this year (ha!) and get some things checked off the list so I can relax and enjoy the festivities without so many extras hanging on me. We'll see how that goes... 😉
But on to the FOOD. Today, I'm sharing an old family favorite and guys, it's a serious winner.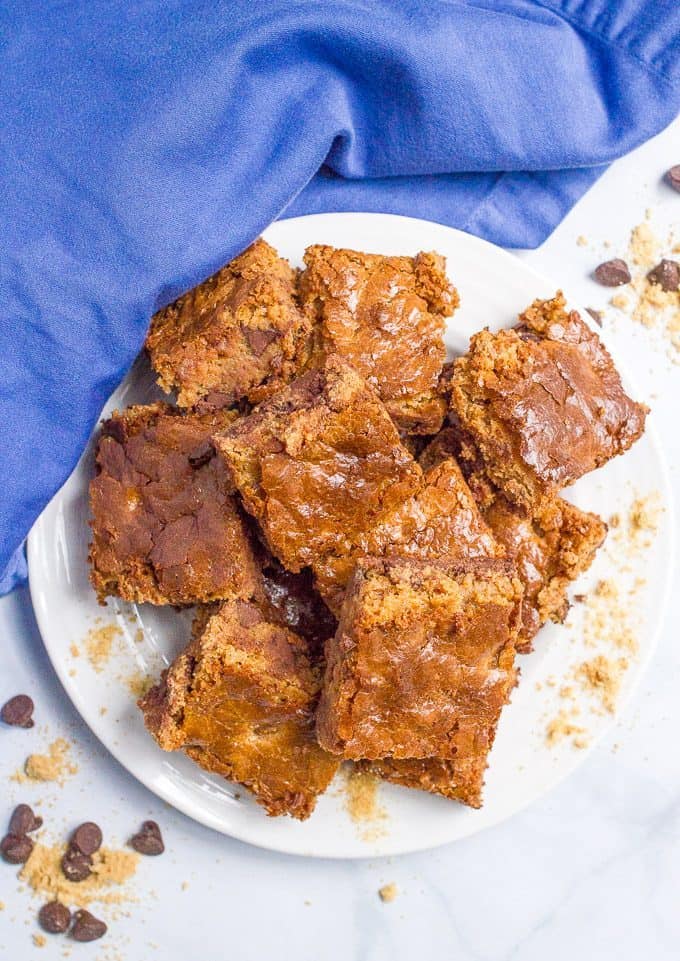 These 4-ingredient chocolate chip brownies are the dessert treat my grandmother used to bring every year at Christmas. I knew them as Jamma's brownies (that's what we called her) and they always came with her in her Christmas tin and sat on the kitchen counter for us to nibble on throughout Christmas week while she visited.
She cut the brownies super small and stacked them up in a double layer in the Christmas tin, with a layer of wax paper in between.
They were tiny and there were so many and that tin made them seem all the more special. ⭐️⭐️⭐️
I didn't know until years and years later what went into these brownies, that are really almost like a blondie. Browndie? Hmm, I'll work on that.
Anyway, it's just graham crackers, sweetened condensed milk, vanilla and chocolate chips. That's all. Mix all that together and you've got your new favorite sweet treat.
Chewy, dense, rich, chocolate sweetness all rolled into a perfect little package.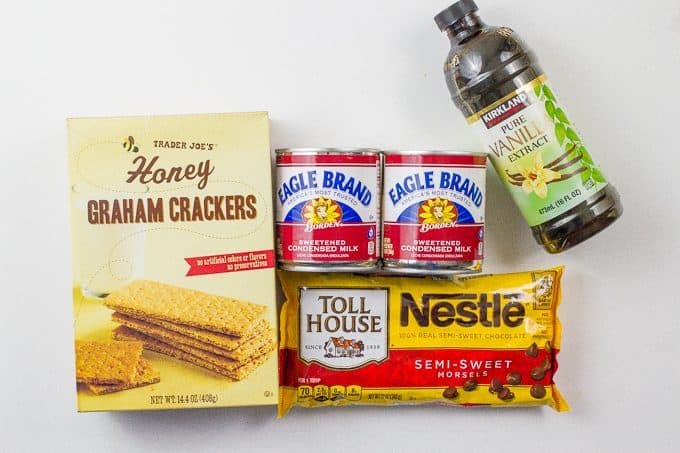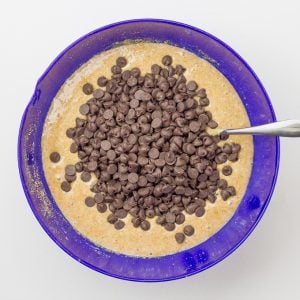 Granted, these simple little chocolate chip brownies aren't the healthiest of my dessert recipes. Not like my chocolate chip zucchini brownies, chocolate pumpkin cake or my healthy double chocolate mini cupcakes.
But some things are sacred. And I'm not messing with Jamma's brownies.
(Plus, I've got a healthy raw date brownies dessert coming up for you later this month, so I'm making up for it. 😉)
But if you love the classics, especially when they are so easy, you should check out these old fashioned 3-ingredient peanut butter cookies! Or if chocolate is a must have, go for these triple chocolate cookies.
Notes on making chocolate chip brownies:
You can make a half batch of these (the recipe is easy enough to divide) and bake it in an 8x8 glass pan.

I use the regular cans of sweetened condensed milk but you could try this with the fat-free version. I would if it didn't mean messing with my grandmother's recipe. 😉
You do need to let these cool in the pan before you can cut them at all neatly. I know, it's hard to wait.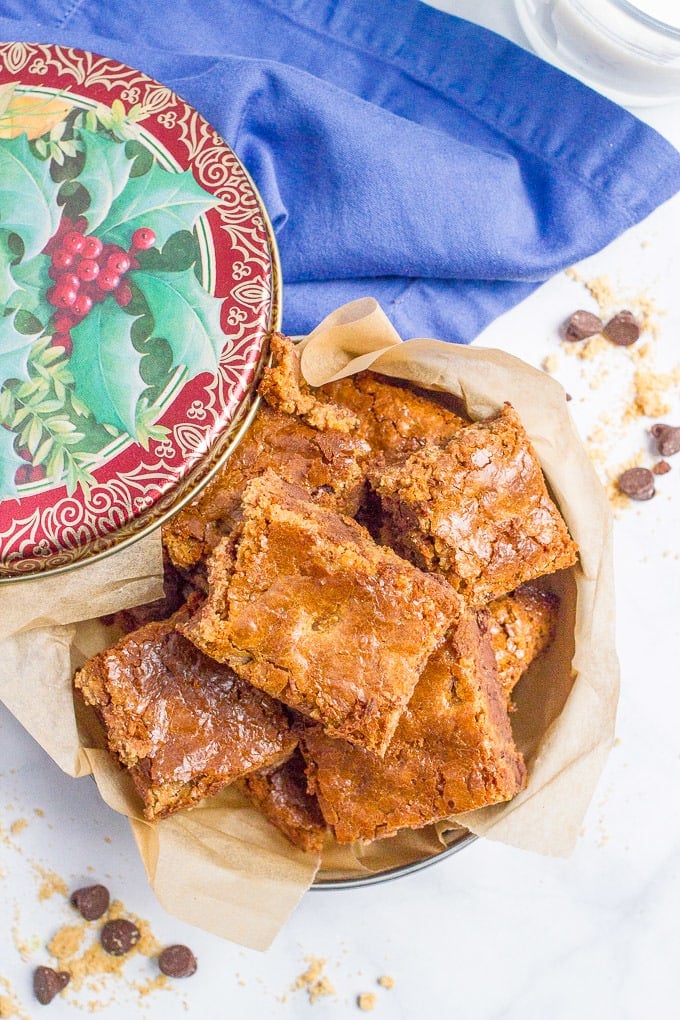 These blondie/brownies make a great addition to Christmas cookie exchanges or as gifts for neighbors or teachers at the holidays. You can wrap a few up in a little bag and tie it off with a pretty ribbon.
They're part of my family's baking day tradition where my mom and I get in the kitchen and make ALL of our favorite holiday treats.
(If you're going for a birthday or other celebration, you might also want to consider this chocolate chip cookie cake. It's a kid favorite!)
Oh, and don't forget to lick the bowl. No raw eggs in this recipe so you can go to town! It's my favorite part of baking 😀
(Do know, though, that the super sweetness from the sweetened condensed milk in the raw batter is mellowed out once the brownies are baked.)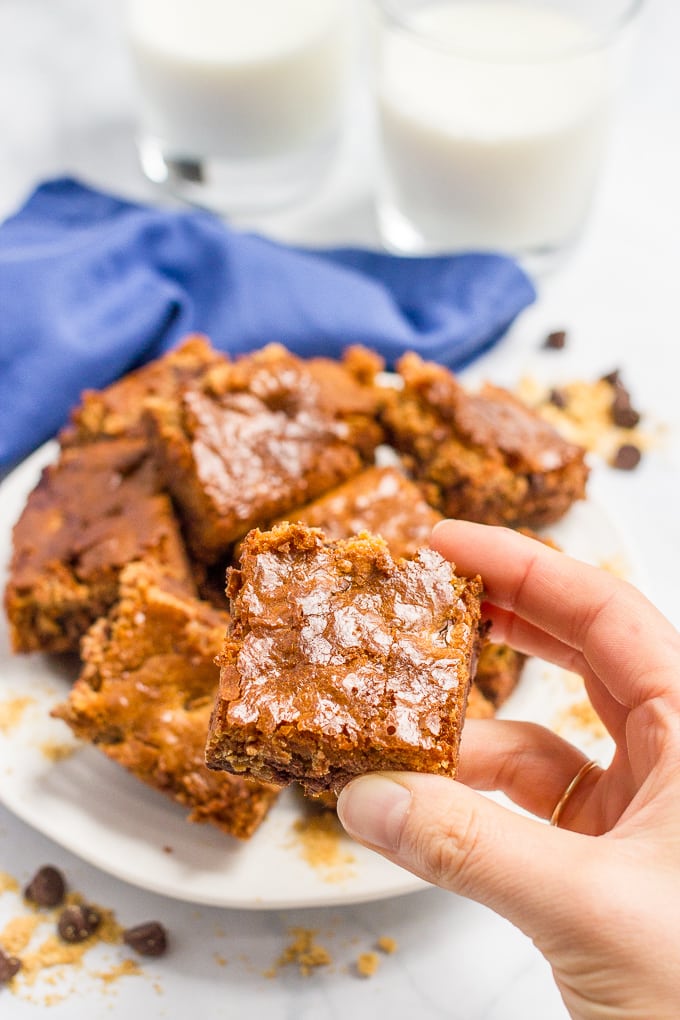 I hope you'll make these part of YOUR holiday traditions.
Enjoy, and happy weekend!
XO,
Kathryn
Yield: 28 small brownies
4-ingredient chocolate chip brownies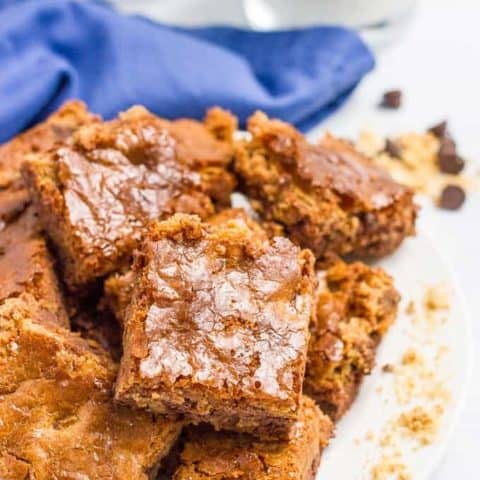 Easy chocolate chip brownies with just 4 ingredients (no box mixes) that come out chewy and perfectly sweet!
Ingredients
16 honey graham crackers (about 2 sleeves worth)
2 (14 oz.) cans sweetened condensed milk
1 teaspoon vanilla extract
1 (12 oz.) bag semi-sweet chocolate chips
Instructions
Preheat oven to 350.
Place graham crackers in a food processor and pulse until they are in crumbs. Transfer to a large bowl.
Add sweetened condensed milk and vanilla and stir to combine.
Stir in chocolate chips. The batter will be very thick.
Pour into a greased 9x13 glass baking pan, use your spoon to smooth them into an even layer, and bake at 350 for 35 minutes.
Let cool completely in the pan then cut into small squares.
Notes
You can easily halve the recipe and make a smaller batch of these brownies in an 8x8 glass pan. Check after 30 minutes, but the cooking time is nearly the same.
Nutrition Information:
Yield:
28
Serving Size:
1 grams
Amount Per Serving:
Calories:

49
Total Fat:

1g
Saturated Fat:

0g
Trans Fat:

0g
Unsaturated Fat:

1g
Cholesterol:

0mg
Sodium:

41mg
Carbohydrates:

8g
Fiber:

0g
Sugar:

4g
Protein:

1g