This light, flavorful quinoa spinach salad with pesto and nuts makes an easy weeknight side dish or lovely vegetarian lunch!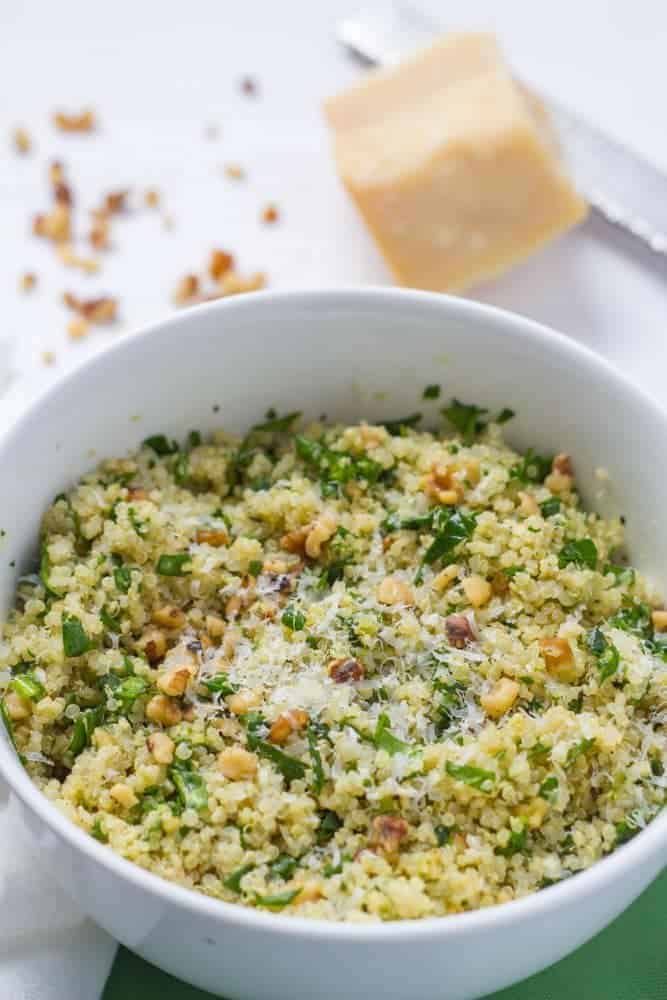 Who else had a super fun weekend?!
Saturday we all went to a park for an Easter festival and Easter egg hunt.
It was set up by age groups so J went first with the other really little kids. He was a bit hesitant at first so I went out with him and he gathered a few eggs. Very proud of himself.
M was up next and she was SO into it. Here she is surveying the field.
They said go and she was a speedy little thing, running all around to get as many eggs as she could. The girl racked up!
And Saturday, hubby and I had the evening to ourselves. A rare treat!
The kids spent the night with my parents so we had a date night out -- with a gift card we'd had for over a year, if that tells you anything -- and it was lovely. A little time away always feels luxurious. As does sleeping in a bit on Sunday morning. ❤️
Sunday the kiddos came home and we baked and took some chocolate chip zucchini bread to our new neighbors down the street to say hello and welcome. All around a good weekend!
Now on to this delicious recipe:
Quinoa spinach salad with pesto
Are you with me that putting pesto on something automatically elevates it to a delicious new level?
Yes? Good. I thought so, too.
Quinoa, spinach and pesto - with a few extras to make it super tasty - are all you need for this divine salad. (And it's fine to use store-bought or homemade basil pesto - whatever you have available.)
Talk about a bowl full of deliciousness!
This quinoa spinach salad makes a fast dinner side dish or a lovely vegetarian and gluten-free lunch.
I prefer it warm, but the leftovers are also good cold. I just help wake up the flavors with a little bit of olive oil, lemon juice or white wine vinegar and a sprinkling of Parmesan cheese. Yum!
Quick tips on cooking quinoa:
– It needs to be very well rinsed. (Sometimes you can buy varieties that are already triple rinsed.)
– It's a 2:1 ratio for cooking: 2 cups of water (or liquid) for 1 cup of raw quinoa.
– Bring your quinoa and water to a boil then reduce the heat, cover the pot and cook the quinoa for 13-15 minutes.
– Quinoa is ready when it has absorbed the liquid and "popped," meaning it's showing what looks like a small tail that's actually the germ of the kernel.
– If your quinoa has gotten cooked onto the bottom of the pan (because it absorbed all the liquid before you checked it), you can add a splash of water and scrape that up.
– Fluff the cooked quinoa with a fork, season to taste and it's ready to serve!
Bright, fresh, healthy and tastylicious - all the things I want come spring. (OK, I also want some sunny days so we can play outside once work is done!)
I hope you give this easy quinoa spinach salad a try and let me know what you think!
Happy cooking!
XO,
Kathryn
P.S. Check out some more delicious quinoa recipes:
- Spiralized beet quinoa salad
- BBQ chicken quinoa salad bowls

Yield: 4 servings
Quinoa spinach salad with pesto
A light, flavorful quinoa and spinach salad with basil pesto, Parmesan and nuts.
Ingredients
¾ cup dry quinoa
¼ teaspoon salt
¼ teaspoon black pepper
3 tablespoons basil pesto
2 tablespoons white wine vinegar
1 cup finely chopped fresh spinach leaves
3 tablespoons Parmesan cheese (fresh grated, preferably)
3 tablespoons chopped walnuts (see notes)
Instructions
Cook the quinoa according to the package directions. Transfer the cooked quinoa to a medium-sized bowl and season with salt and pepper.
In the meantime, make your pesto (or open a jar - no judging!) and prep the remaining ingredients.
Add everything to the bowl and mix well with the quinoa. Taste and adjust seasonings.
Serve warm and enjoy!
Notes
I use walnuts here because that's what I use in my pesto and what I always have on hand. You could substitute pine nuts or even slivered almonds, if you prefer.
Nutrition Information:
Yield:
4
Serving Size:
1
Amount Per Serving:
Calories:

245
Total Fat:

13g
Saturated Fat:

2g
Trans Fat:

0g
Unsaturated Fat:

10g
Cholesterol:

6mg
Sodium:

301mg
Carbohydrates:

24g
Fiber:

4g
Sugar:

0g
Protein:

9g