Pesto is such a versatile ingredient, dip and topping. Indulge your pesto love with these fun and creative ideas for using basil pesto, plus a list of recipes to try!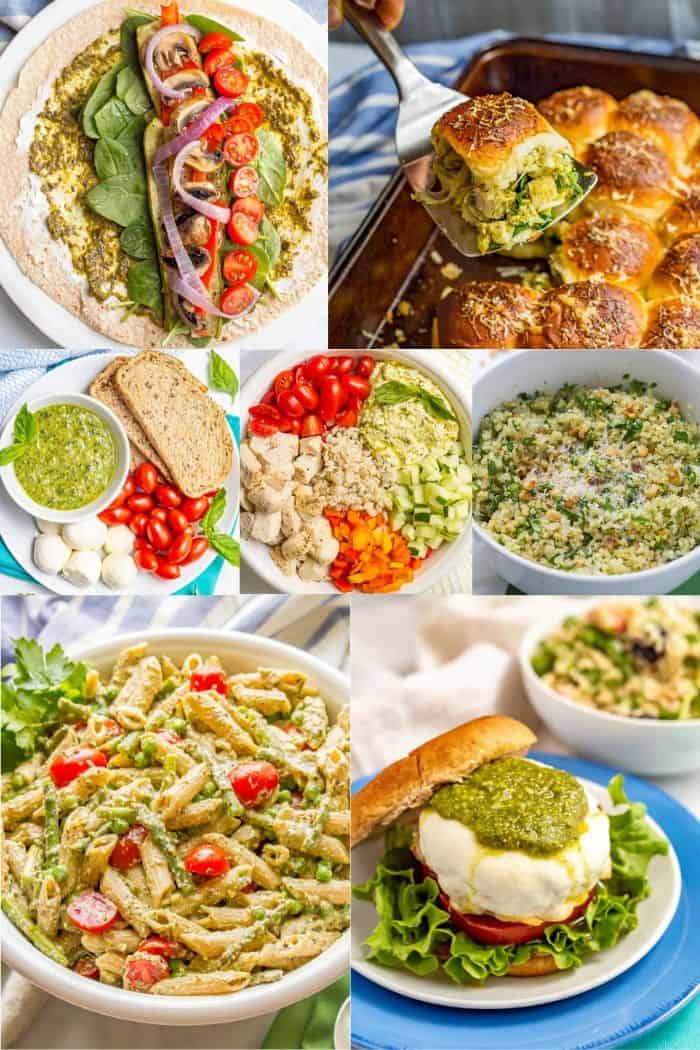 Recently I shared (at long last) how to make homemade basil pesto.
It's so crazy easy - just 5 ingredients and 5 minutes. And the fresh taste is unbeatable!
Still, I usually also have a jar of pesto on hand in the refrigerator or pantry. Cause my love for pesto has no bounds and I'm not always guaranteed to have enough fresh basil to make my own.
So you can definitely use homemade or store-bought pesto for all of these ideas and recipes. Whatever you have on hand.
(In fact, many of these ideas came after I bought a huge jar of pesto at Costco. I wanted to find as many ways to use it as I could so I didn't waste it!)
Basil pesto just has such a great brightness and adds such a huge punch of flavor to a variety of different foods.
It's one of those magical condiments that can instantly elevate your cooking and add to a dish with very little work. 🌿💚
Pesto lovers, let's dive right in!
Ways to use basil pesto:
- Serve as an appetizer with fresh crunchy veggie sticks or as a topping for warmed bread.
- Toss it with warm cooked pasta to make an easy sauce. (Tip: Add a few splashes of the pasta cooking liquid to get everything to adhere and mix together well.)
- Use it on sandwiches and wraps for a flavorful alternative spread to mayo.
- Top off burgers with a drizzle of fresh pesto.
- Add to salads and grain bowls as an easy mix-in sauce.
- Drizzle over fresh mozzarella and tomatoes for a topping to a Caprese salad or bruschetta.
- Toss it with some cooked chicken or shrimp for an easy flavor boost.
- Use as the base of a pizza instead of marinara sauce.
- Add pesto to gnocchi or tortellini along with veggies, beans and/or a protein.
- Mix into scrambled eggs (add some goat cheese too).
- Spread onto crostini or toast with some ricotta or goat cheese.
- Smear pesto onto hot grilled or steamed corn on the cob.
- Toss roasted potatoes or roasted veggies with some basil pesto.
- Swirl some pesto into hummus for a bright kick.
- Add pesto to your favorite creamy dressing, such as Caesar, for a new flavor.
- Use for kabobs and grilled chicken or fish.
- Combine pesto and softened butter for a creamy spread.
- Mix with ricotta or cottage cheese, or Greek yogurt or sour cream, to make a creamy dip or spread.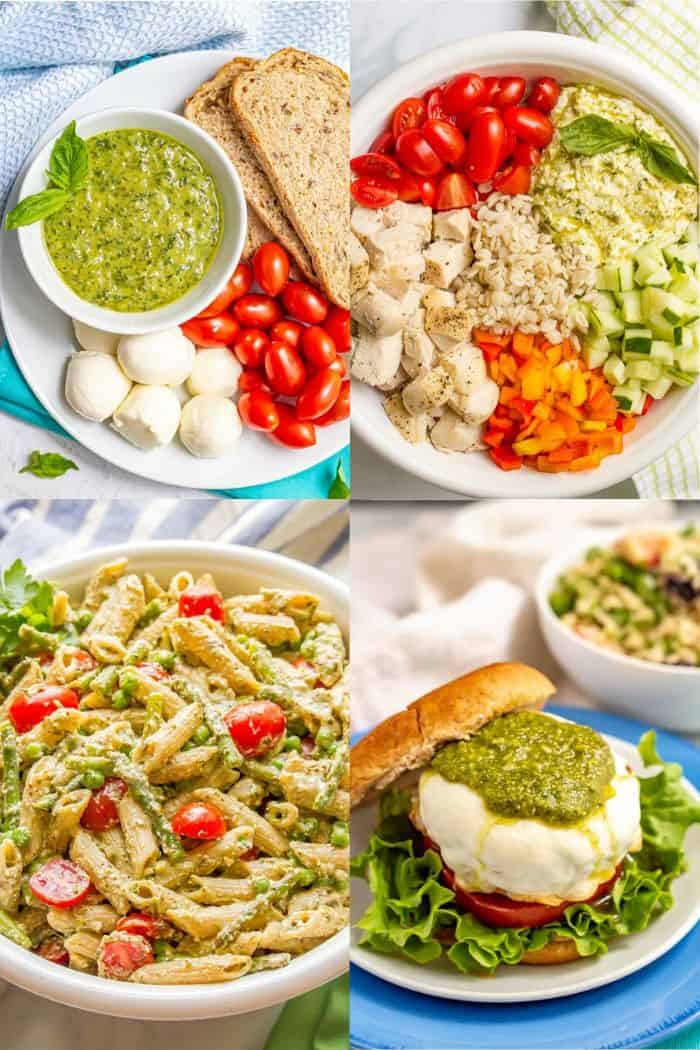 I hope that sparks your imagination and has you thinking of new fun ways to enjoy pesto.
If you would like some specific recipes, I've got a (completely non-exhaustive) list of recipes using pesto just below for you to peruse.
Oh, and in case you have just way too much pesto to use up, here's how you can store the extras.
Storage tips for basil pesto:
Homemade basil pesto will keep in the refrigerator for about a week. Keep it in a small bowl and cover with plastic wrap that is pushed down and touching the surface of the pesto to form a tighter seal and to prevent air from reaching it.
An opened jar of pesto will keep in the refrigerator for 2 to maybe 3 weeks. (Check the label for specifics.) Keep it tightly sealed. It can help to add some olive oil to the top of the jar to minimize air exposure.
You can also freeze extra pesto. Freeze in small ice cube trays. Once frozen, remove the pesto cubes, transfer to a freezer safe bag (that's been labelled and dated) and freeze for up to 6 months.
I hope that is helpful.
And please leave me a comment below if you have other ideas for ways to use basil pesto - I'm always open to trying new things. 😊 (You can also tag me on Instagram with your creations - I love seeing what you are making!)
Enjoy!
XO,
Kathryn
Recipes using basil pesto:
(This includes the recipes for the photos in the collages for this post.)