This post may contain affiliate links. Please read my disclosure policy.
Sautéed spinach and leeks is a quick + easy, healthy side dish with simple ingredients and delicious flavor!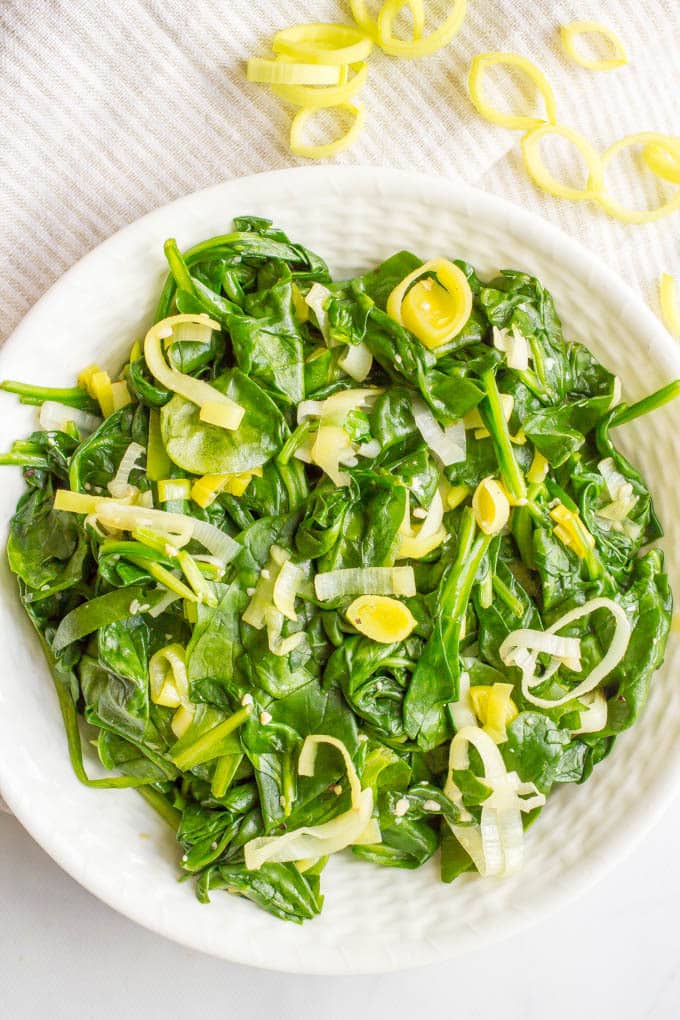 It's been an emotional week here.
The kiddos are wrapping up their school years… J has his last day of 3-year-old preschool today, M's last day of kindergarten is tomorrow, and I'm just amazed by how much they've grown this year. My babies aren't such babies anymore!
And while it's bittersweet to see them move on from those early stages, these are happy days and it's been a fun week of parties. ❤️
On the flipside…
My cousin passed away last weekend and we had her funeral service yesterday.
She was a bit older than me and someone I've looked up to all my life. (Literally, in fact – she was super tall and oh so glamorous!)
In my mind, she was bigger than life. She was so funny, so smart, so stylish, so beautiful. And far, far too young.
Needless to say, I've been moving in and out of tears and sadness at a moment's notice. It's a reminder that life is precious, life is short and life is not guaranteed.
She will be dearly missed. And yet loved and remembered by so, so many. It was a huge crowd at the service and so uplifting to see so much of our family and of her friends come to honor her.
For me, I also hope to honor her by living my life more fully, and as beautifully, honestly, confidently and openly as she always did. A good goal, right?
Now, as always, let's dive into the food. And these gorgeous babies:
It's been a long time since I told myself I'd start eating more leeks. Like, on a weekly basis. (I talk about this in my salmon and leeks recipe post too.)
Cause leeks are really that good for you.
Or, actually, they are that good for the bacteria that live in your gut.
Now, that may sound weird but trust me, it's a thing and it's going to be something you'll hear lots more about in coming years.
See, I'm a health and nutrition editor so I read and hear about new research day in and day out. The gut microbiome — which means all the bacteria, good and bad, that live in your digestive tract — have been found to have ties to all kinds of other aspects of our health. Not just digestive stuff, it's even been linked to mental health.
I took a whole course on the gut microbiome. Not in college, not for my job, just on my own a couple of years ago. Cause I find it fascinating. And cause I'm a nerd like that! 🤓
Anyway, leeks are great fuel for those good bacteria in your gut and I for sure want to keep mine happy.
But you know, life gets in the way and I haven't been eating leeks on the regular like I wanted. So recently I tried to get back in the habit and find some quick + easy ways to incorporate leeks. Hence, this recipe.
Quick + easy sautéed spinach and leeks
This simple side dish is now a go to for us.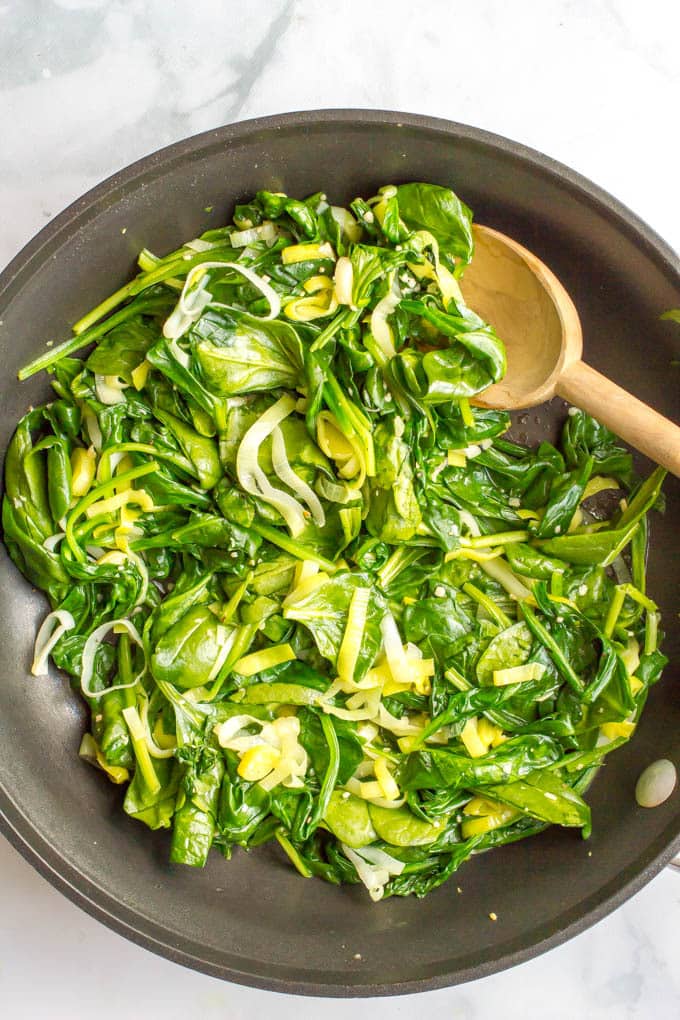 We like sautéed spinach on its own, and it's one of our go-to veggie side dishes, but I thought, what if I could just add in a sliced leek and have that be one easy way to sneak more leeks into our diets.
And sure enough, both my husband and I really liked it! (I haven't tried this on the kids. Yet…)
The leeks get just barely tender and soft and they melt right in with the silky spinach. The garlic adds a little background flavor and the Parmesan, which is completely optional, gives it a nice rich finish. 👌
If you haven't used leeks yet, I hope you'll give this sautéed spinach and leeks recipe a try. And maybe join me in my goal to make leeks a regular staple. Let's keep those good gut bacteria happy and thriving!
(Speaking of, if you have a favorite way to use leeks, please leave me a comment below – I'm always up for new ideas!)
Wishing you lots of love and a wonderful weekend!
XO,
Kathryn
Sautéed spinach and leeks
3-4 people
adjust servings
Sautéed spinach and leeks is a quick + easy, healthy side dish with simple ingredients and delicious flavor!
Ingredients
1

teaspoon extra-virgin olive oil

1

medium leek, cleaned, trimmed and sliced

2

cloves garlic, minced

1 8

oz. bag fresh spinach or baby spinach

Salt and pepper, to taste

Grated Parmesan cheese (optional)
Instructions
Heat olive oil in a large pan over medium-low heat.
Add leeks and sauté for 3-4 minutes, until softened.
Add garlic and sauté an additional 30 seconds.
Add spinach and stir for 2-3 minutes until spinach is mostly wilted.
Season with salt and pepper, to taste. Sprinkle with Parmesan cheese, if using, and serve hot.
Recipe Notes
You can substitute coconut oil or unsalted butter for the olive oil if you prefer.
Here's a reference post and video from Real Simple on how to prepare leeks.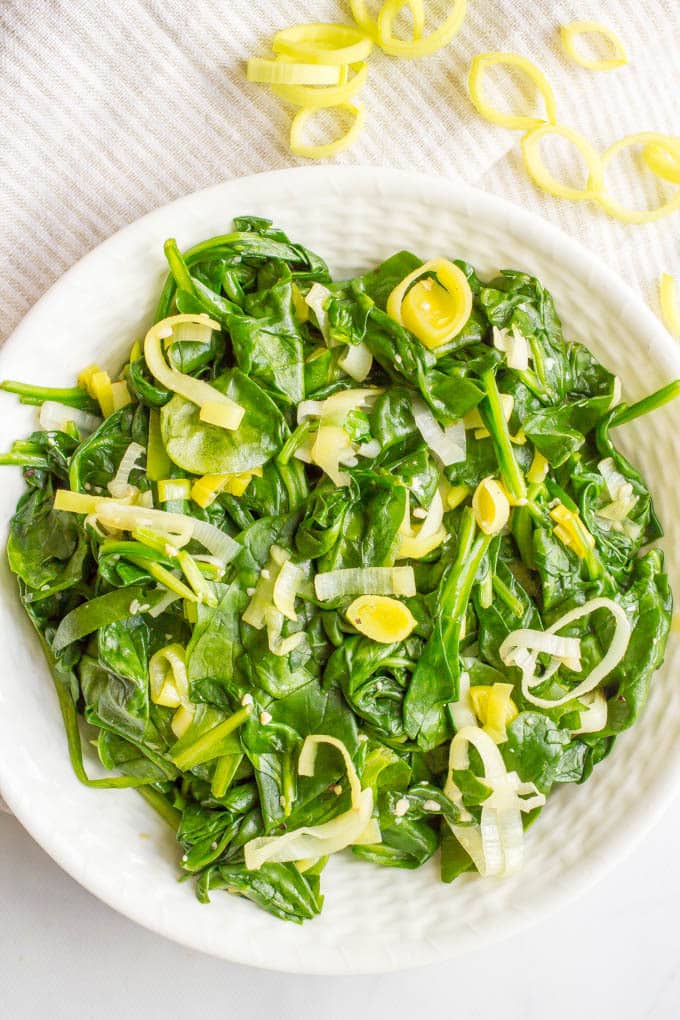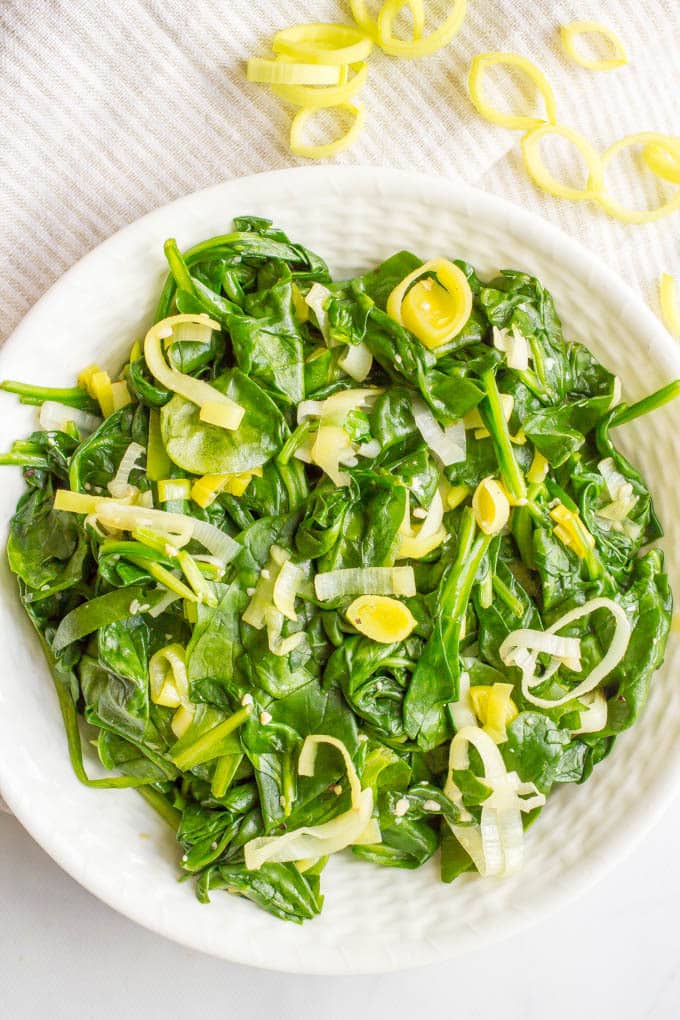 Nutrition Facts
Serving Size
Amount Per Serving
As Served
Calories

52kcal

Calories from fat 17
% Daily Value
Total Fat

2g

3%
Saturated Fat

0g

0%
Sodium

253mg

11%
Carbohydrate

8g

3%
Dietary Fiber

2g

8%
Sugars

1g

Protein

3g
Percent Daily Values are based on a 2,000 calorie diet. Your daily values may be higher or lower depending on your calorie needs:
Calories
2000
Total Fat
Less than
65g
Sat Fat
Less than
25g
Cholesterol
Less than
300mg
Sodium
Less than
2,400mg
Total Carbohydrate
300g
Dietary Fiber
25g