Fresh spinach is an easy, versatile veggie to keep on hand. Check out these ideas and recipes for ways to use it.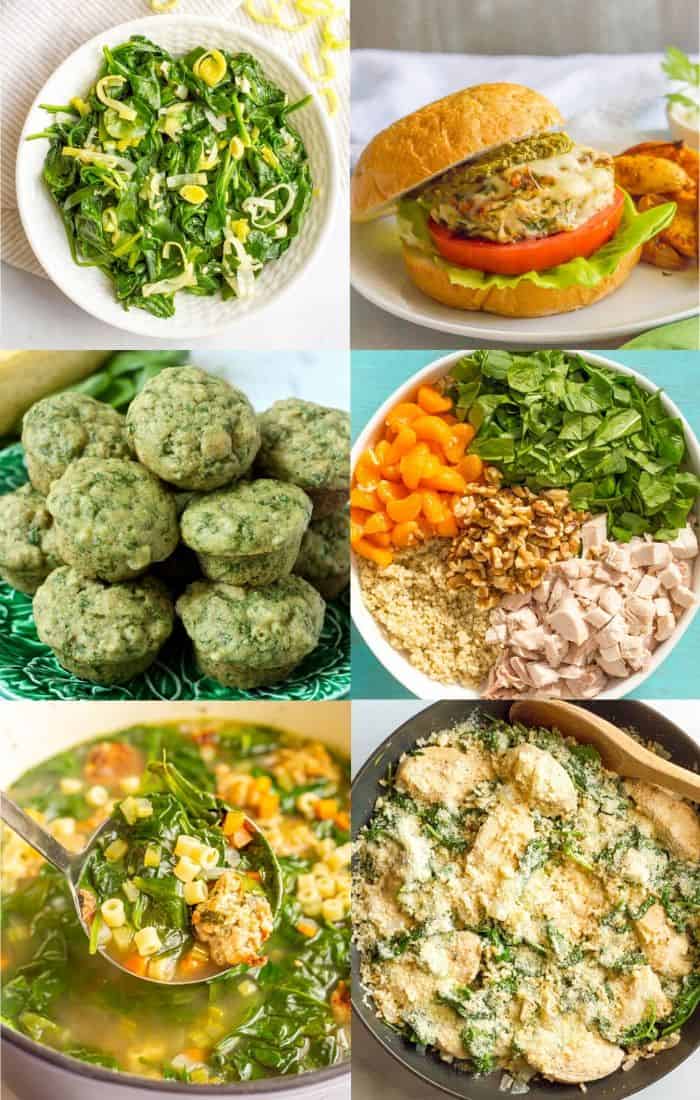 Spinach has been a staple in our house for years and years.
This simple spinach salad was a go-to veggie side for my husband and I every week before we had kids. (And mine are old enough now that I've brought it back!)
But spinach can be used in so much more than just salads!
It's really very versatile. You can add it to so many dishes, and it's really easy to incorporate with very little prep needed. Gotta love that!
See, this is why I always have a bag of spinach in the fridge. Always, always.
So let's delve into some of the many ways you can use spinach in your kitchen. And keep reading for some recipes that incorporate spinach as well.
Ways to use fresh spinach
- Salads and salad bowls
- Rice/grain bowls
- Add a handful to smoothies
- Add to scrambled eggs
- Wilt into oatmeal for a savory oatmeal bowl
- Sauté and add to toast with smashed avocado and a fried egg
- Blend or wilt into marinara or tomato sauces
- Stir into soups before serving
- Use fresh in sandwiches and wraps
- Use as a topping for tacos, burritos, etc.
- Toss some chopped fresh spinach onto pizza as an extra topping
- Mix into steamed brown rice
- Add a few handfuls to pasta dishes
- Add as a mix-in to egg muffins, baked eggs or omelets
- Serve tuna or chicken salad over a bed of spinach
- Make spinach pesto (instead of traditional basil pesto)
- Make spinach artichoke dip
See, so many ways to incorporate spinach into your everyday.
Also, spinach is a nutritional powerhouse. 💚
Nutrition benefits of spinach
Spinach is a great source of vitamins A, c and K as well as potassium and magnesium.
Leafy greens in general, including spinach, have been shown to reduce inflammation, improve cholesterol, help control blood glucose, and reduce cancer and heart disease risks.
That's a lot of goodness in those little leaves!
Also, a little budget-saving tip for you:
* Bags of spinach are less expensive than baby spinach. The leaves are a little bigger and there are some more stems, but the taste is the same. (I just snap off any of the larger stems.) You can use them interchangeably.
So there you go! Do you have other ideas of how you use spinach? Leave me a comment below and share!
And scroll down below for some fresh spinach recipes for more inspiration on how to use this vegetable.
Enjoy!
XO,
Kathryn
P.S. The other veggie I always have on hand is a bag of frozen peas. Check out these ways to use frozen peas.
Ways to use fresh spinach
Fresh spinach is an easy, versatile veggie to keep on hand. Check out these healthy, delicious recipes for ways to use it.