Frozen peas are an easy, delicious and versatile veggie to keep on hand. Check out these ideas and recipes for ways to use them.
Keeping a bag of frozen green peas on hand is one of my secrets to ensure I can always add a vegetable to our family dinners, even if I don't have anything fresh.
They store so well in the freezer and take just a minute or two to defrost under some cold running water in a colander in the sink.
Plus, peas are super versatile and can be added to so many dishes. (So can spinach. Here's my ways to use fresh spinach if that's a go-to veggie for you too.)
So let's check out some of the many ways you can use frozen peas at home.
(You can also scroll all the way to the bottom for some favorite recipes that use green peas!)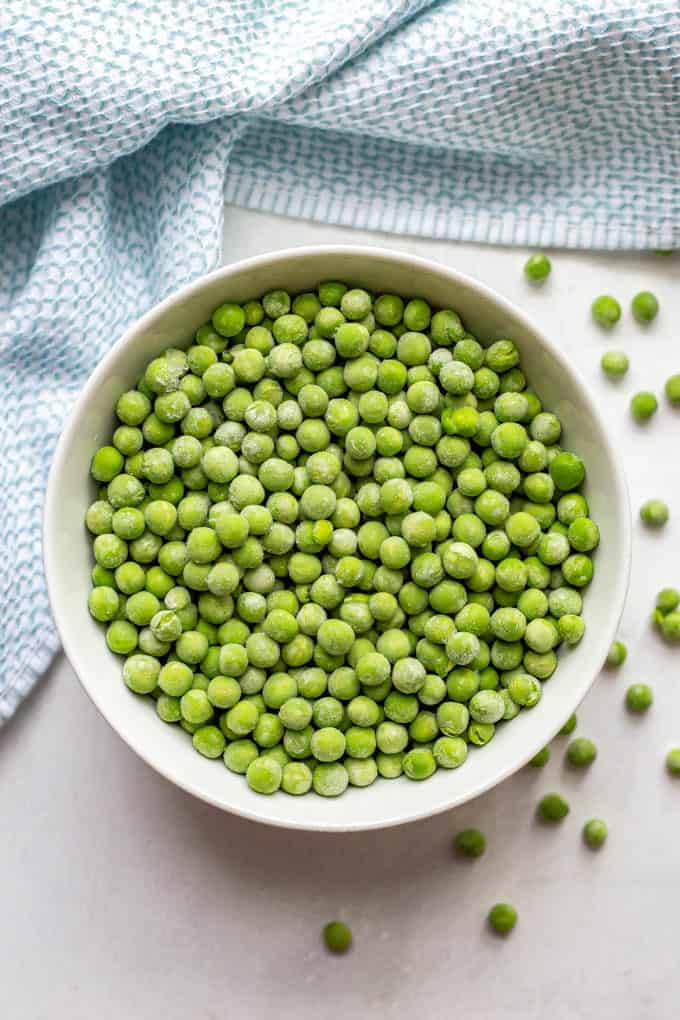 Ways to use frozen peas:
- Add peas to stir fries and curry dishes.
- Toss some peas into soups and stews before serving.
- When cooking pasta, add peas to the pot during the last minute of cooking time and they'll be perfectly bright green and ready to enjoy.
- Add frozen peas to a sheet pan of roasted vegetables as soon as you pull them out of the oven. They'll warm through and toast in no time on the hot pan.
- Add peas to mashed potatoes, mashed cauliflower or mashed butternut squash.
- Use peas to make a pea and mint pesto sauce.
- Steam and smash green peas, season with butter, mint, salt and pepper and use as a spread underneath salmon or another favorite fish. (Or use as a spread for some toasted baguette slices.)
- Sauté the peas in some butter, garlic and shallots on the stove for a few minutes and serve as an easy side dish.
(Or if you have a few more minutes and want to make them even more special, try peas with bacon, shallots and Parmesan cheese. Swoon worthy!)
So many ways to enjoy them!
I have some recipes below but also wanted to share why you should happily eat peas in ALL the different ways!
Health benefits of green peas:
* Peas contain vitamins, minerals and antioxidants, including folate and vitamins B1, C and K.
* They are low calorie and low fat, as well as being naturally gluten-free and vegan.
* They're also high in fiber and a good source of plant-based protein, with ½ cup having about 4 grams of protein.
Pureed peas make an excellent early food for babies. It was in the first 5 foods I fed to both of my kids and was a fast favorite.
My son, when he switched over to finger foods as an older baby and into his toddler years, could take down an entire tray filled with peas.
(I loved that he was getting the nutrition but also loved that he would stay so still and quiet, patiently reaching for pea after pea after pea with his chubby little hands. ❤️)
If it's healthy, might as well start 'em young!
Now you see what frozen peas are such a nutritious and delicious addition to your regular rotation.
And, check out the yummy recipes below that feature or incorporate green peas.
Happy cooking!
XO,
Kathryn
Ways to use frozen peas
Check out this collection of yummy recipes that feature or incorporate green peas. 💚