A super easy, but wholesome, shortcut side for dinner on a busy weeknight!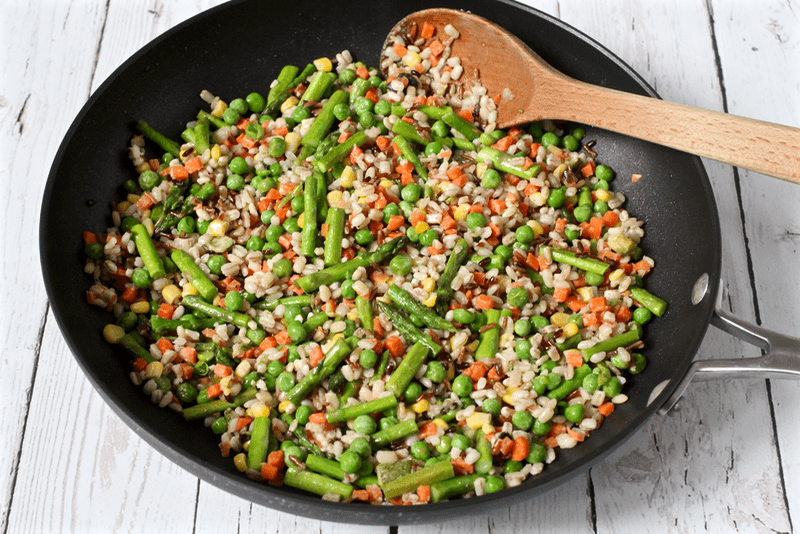 Sometimes we need a little help. A little ace in the hole to make dinner easy and fast.
Sure, I do mostly homemade and I plan ahead my family's meals, but I like a shortcut as much as the next person. It's almost reassuring, isn't it, to have something in your fridge or freezer that makes dinner a breeze?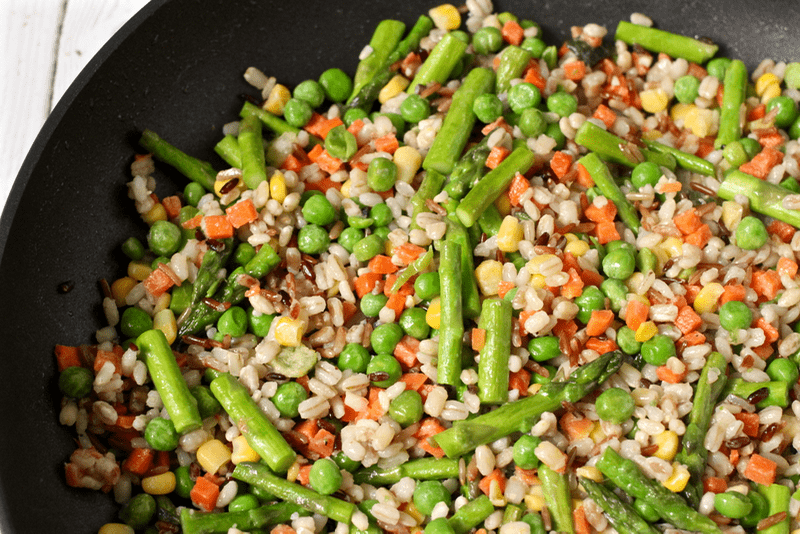 This is one of my favorite healthy go-to shortcuts. The ingredient list is manageable and it covers my starch/grain and my veggies all in one. (And if you're on top of things and have extra rice/barley/quinoa in your freezer like I try to do, then you can make this yourself. Mix the grains and any veggies in a skillet and it's ready to go. I've done that too. But I always have a bag of this on hand to be safe.)
Of course, it's not enough veggies for me, so I like to bulk it up. Here, I added a half bunch of asparagus and some frozen peas. You also could use zucchini, peppers, corn or even small bits of broccoli or cauliflower. It's a clean out the veggie bin sort-of dinner, as well as a shortcut.
It works as a vegetarian entree (only serving 2 probably) but also makes the perfect side to any type of grilled, sauteed or roasted protein - fish, chicken, steak, pork. Or pair it with some rotisserie chicken from the store. Shortcut heaven. But still healthy, wholesome, real foods for your family. Score!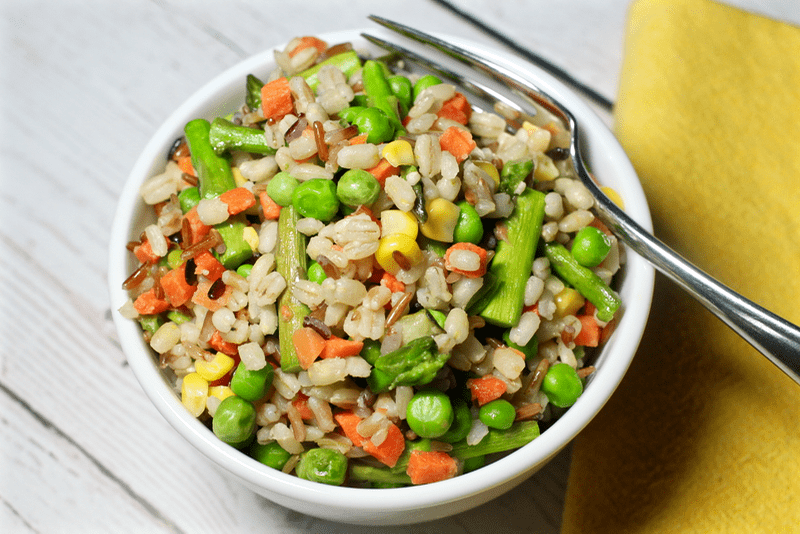 And it makes for a dinner you don't have to think about. Sometimes that just hits the spot. (As do the leftovers for lunch the next day.)
Pull this out the next time you need a quick fix!
Yield: 4 servings as a side, 2 as a vegetarian dinner
Shortcut grains and veggies
A super easy, but wholesome, shortcut side for dinner on a busy weeknight!
Ingredients
1 16 oz. bag Trader Joe's frozen Multigrain Blend with Vegetables
1-2 cups extra veggies (see notes, below)
1 teaspoon olive oil
salt and pepper, to taste
¼ cup shredded Parmesan cheese (optional)
Instructions
Heat a large skillet over medium heat and add olive oil.
Add any fresh, raw veggies you are using and saute for 3-4 minutes.
Once slightly tender, add the frozen Trader Joe's mix and any other frozen veggies you are using.
Stir until heated through, 2 to 3 more minutes.
Season with salt and pepper, to taste. You can also sprinkle with some Parmesan cheese, if desired.
Notes
Pick a combination of fresh or frozen asparagus, peas, zucchini, peppers, corn, broccoli or cauliflower, cut into small pieces so they cook quickly and blend in well with the packaged mix. Use whatever extras you have to stretch out this freezer mix and of course, to add more veggies!
Nutrition Information:
Yield:
4
Serving Size:
1
Amount Per Serving:
Calories:

127
Total Fat:

3g
Saturated Fat:

1g
Trans Fat:

0g
Unsaturated Fat:

2g
Cholesterol:

4mg
Sodium:

220mg
Carbohydrates:

20g
Fiber:

7g
Sugar:

5g
Protein:

6g