Slow cooker apricot chicken is an easy recipe using chicken thighs and dried apricots for a delicious dinner with big, fresh flavor and an intoxicating aroma - your house will smell amazing!
Oh, you guys... potty training with J this weekend was an epic fail.
Little man tried hard and we certainly went potty about a thousand times, including several extended stays. But alas, he didn't take to it. At all.
(Let's just say all 13 pairs of the big boy underwear I bought were used on the first day. 😩)
So, back to diapers we go and we'll try again in a few more months. The weekend was not a total loss, however, as M was captured on video with this amazingness. Absolutely my favorite video! And now, onwards and upwards...
Anyone else get giddy when your house fills up with the aroma of what you're cooking and you can almost taste it as you begin to salivate, like a Pavlov reaction?
The first time I made this slow cooker apricot chicken, I had stayed downstairs for several hours after starting it, working on my deadlines, cleaning up the kitchen, etc.
I finally moved upstairs for a workout and shower and when I walked out of my bedroom, having pretty much forgotten about it cooking away, I was struck with the savory-sweet smell wafting up to me.
Seriously ahhhhmazing! 🧡
And a half-hour later, when I walked back into the house after collecting the little ones from preschool, M said, "Mommy? What's THAT? That smells GOOD!"
The whole house was filled with it and it was practically torture waiting until dinner time.
And so I nearly burned my tongue as soon as I heard the slow cooker beep that it was finished. #nopatienceAnd happily, the taste is as swoon-worthy as the smell.
The depth of flavor from the tangy Dijon mustard, the sweetness of the apricots, a quick hit of acidity from the fresh lemon juice, a shot of earthiness from the thyme and the background of savory from the chicken broth, garlic and onion… it's a flavor fest for sure!
And those onions, they are melt-in-your-mouth tender and full of the chicken and apricot flavors.
The dried apricots get full and juicy and fall-apart tender as they cook. You'll find little bits of apricot clinging to the chicken throughout the dish. Divine!
Even my husband, who is not particularly fond of main dishes that have any sweetness to them, loved this. He didn't eat many of the apricots on their own but really enjoyed the infused flavor.
My main tip: Save ALL of the juices.
I like to serve this over brown rice (couscous or quinoa would also be good) and pile the chicken, onions and apricots on top. Drizzle a little of the juices over the whole plate and then serve the rest of the juices at the table.
My husband added another drizzle or two and I poured, poured, poured.
The chicken and rice soak up the sauce and everything really comes together as one dish. 👌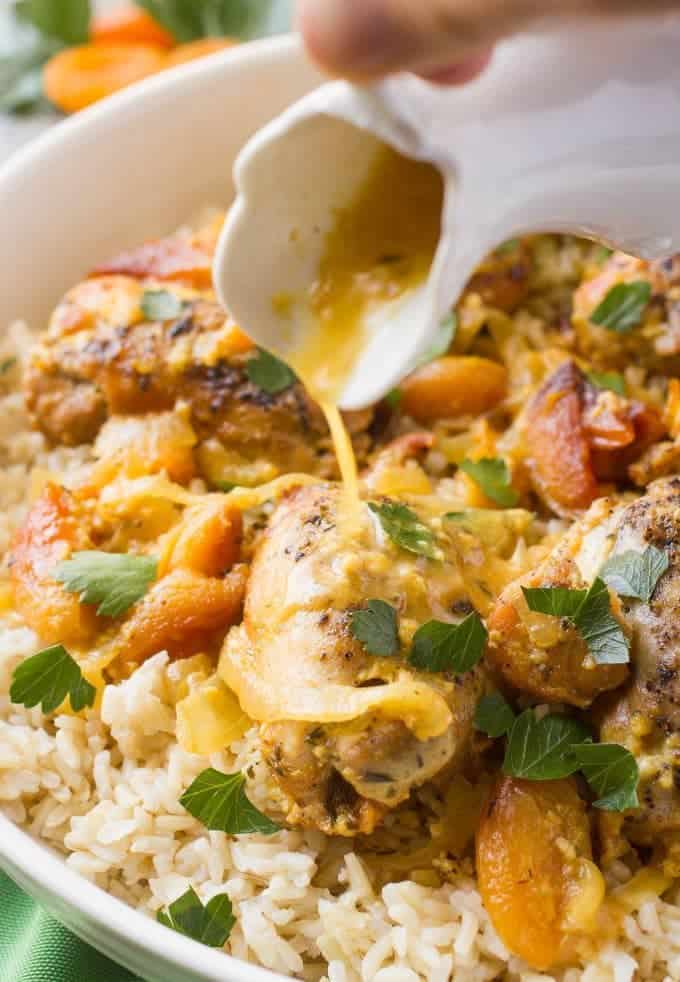 A few notes on this slow cooker apricot chicken:
Please don't skip searing the chicken thighs in the pan first. I know it's an extra step — and you know I like to take shortcuts and keep things simple — but this really helps seal in the flavor.

I also would highly recommend sticking with chicken thighs. Normally, I prefer chicken breasts myself, but the thighs here offer a greater depth of flavor and heartiness that's needed to balance the light, sweet flavors of the dish. They also retain more flavor in the crockpot than breasts do, in my experience.
Any apricots that are sticking out of the cooking liquid in the slow cooker may turn brown/black. They taste fine - not burnt - but you could also simply toss those pieces. There are plenty of apricots here!
I've cooked this on low and on high. Mine took 6 hours on low and 3 hours 45 minutes on high, but slow cookers can vary so check your meat with a thermometer to ensure the chicken is cooked through.
This slow cooker apricot chicken is now on regular rotation in our house. And every time I make it, I get so excited when the smell starts permeating the house.
Hope you give this a try and enjoy!
XO,
Kathryn
P.S. Check out all my slow cooker chicken recipes for more easy dinner inspiration!
And be sure to check out my new VIDEO for this recipe!

Yield: 4-6 servings
Slow cooker apricot chicken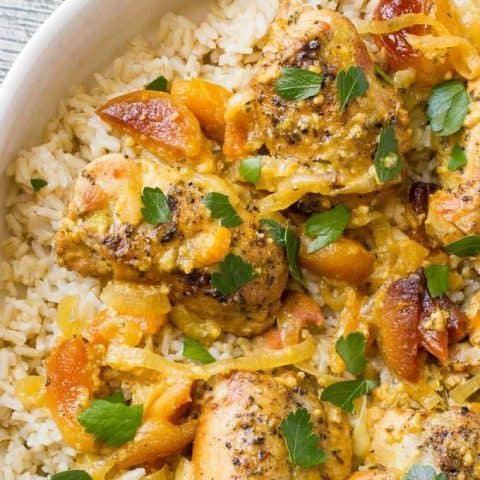 A simple slow cooker apricot chicken that has big fresh flavors and an intoxicating aroma!
Total Time
6 hours
15 minutes
Ingredients
1 teaspoon extra virgin olive oil
2 lbs. boneless, skinless chicken thighs
½ teaspoon salt
¼ teaspoon black pepper
1 cup low-sodium chicken broth
Zest and juice of 1 lemon
3 tablespoons Dijon mustard
4 garlic cloves, minced
1 teaspoon dried thyme
1 cup sliced onion
1 cup dried apricots, halved if desired
Instructions
Heat olive oil over medium-high heat in a large saute pan.
Season chicken thighs with salt and pepper. Add to pan and cook for 5-6 minutes, until browned, turning once.
Combine chicken broth, lemon zest and juice, mustard, garlic and thyme in slow cooker and whisk to combine. (Or you can stir it all together in a small bowl and add to your slow cooker.)
Add onions, apricots and seared chicken thighs to the slow cooker.
Cover and cook on low for 6-8 hours or high for 3-4 hours.
Serve chicken thighs and plenty of sauce over brown rice or whole wheat couscous.
Recommended Products
As an Amazon Associate and member of other affiliate programs, I earn from qualifying purchases.
Nutrition Information:
Amount Per Serving:
Calories:

400
Total Fat:

11g
Saturated Fat:

3g
Carbohydrates:

27g
Fiber:

4g
Sugar:

19g
Protein:

48g