Tender, sweet and spicy - these roasted sweet potato rounds are addictive!
J, at almost 2, can tuck into some sweet potatoes. Boy takes them down. He will literally eat an entire sweet potato (mashed, or better yet, roasted in chunks) and be super upset when it's all gone.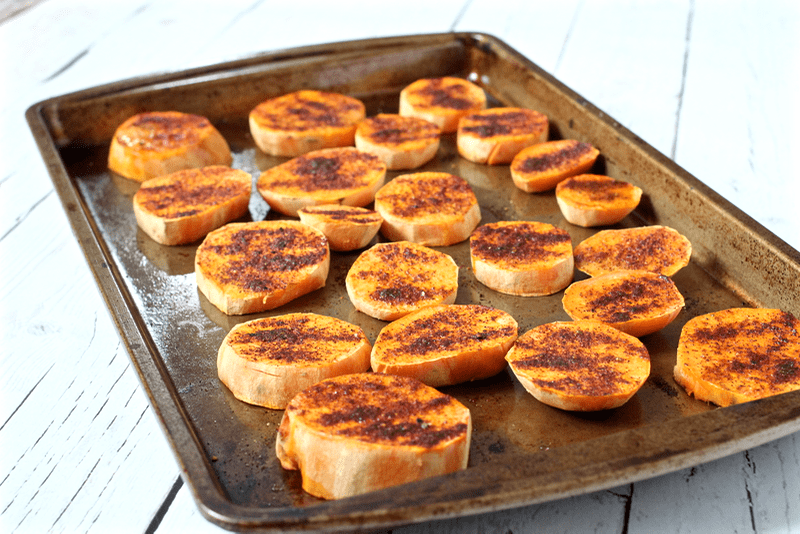 Makes me proud. Mama loves her potatoes, too. Sweet, baked, Yukon, any kind, any way. And I love roasting sweet potatoes. It's such a simple, tasty side and brings out all their natural sweet flavors. Recently, I've started to flavor them up a bit more with various seasonings and I keep it even easier by just slicing the sweet potatoes into rounds instead of dicing them. We're introducing shapes to J right now, so it doubles as a little math lesson. Plus, they are stackable, so that's fun, too.
I wasn't sure J would go for the these spicy sweet potatoes. They aren't gonna burn your tongue, but they do have a good hint of heat. M wasn't interested and grabbed at her tongue dramatically as if it was on fire. She ate spicy foods more when she was younger and now is wary of anything with seasonings on it. Gotta get that girl to buck up!
But J, he took them down like a champ and wanted more, more, more sweet potato rounds. I had to cup him off finally so the rest of us had a chance at getting a couple pieces. Tender, flavorful, with a delicious sweet background, these spicy sweet potatoes are definitely a new favorite. I'll just have to go light on the seasoning on a few for M next time until we get her turned back on to the heat.
Try these on your favorite sweet potato lover soon!
Yield: 4 servings
Spicy sweet potato rounds
Tender, sweet and spicy - these roasted sweet potato rounds are addictive!
Ingredients
3 medium sweet potatoes, peeled and cut in ½ inch think rounds
1 teaspoon chili powder
½ teaspoon paprika
½ teaspoon kosher salt
¼ teaspoon black pepper
⅛ teaspoon cayenne pepper (use more for more heat or skip to reduce the heat)
1 tablespoon olive oil
Instructions
Preheat oven to 400.

Spray a baking sheet with nonstick cooking spray. Place sweet potato rounds on cookie sheet.

Mix chili powder, paprika, salt and both peppers in a small bowl until well combined.

Brush the sweet potato rounds with olive oil and sprinkle with the seasoning mix.

Roast at 400 for 25 minutes or until tender.

Serve hot.
Nutrition Information:
Yield:
4
Serving Size:
1
Amount Per Serving:
Calories:

110
Total Fat:

4g
Saturated Fat:

1g
Trans Fat:

0g
Unsaturated Fat:

3g
Cholesterol:

0mg
Sodium:

315mg
Carbohydrates:

18g
Fiber:

3g
Sugar:

6g
Protein:

2g
** Do your kids like spicy food? Did they always?