How to make sweet potato toast, some troubleshooting tips, and lots of sweet and savory topping ideas! It's perfect for a delicious, healthy breakfast or snack (that's also gluten-free, vegan, paleo and whole30).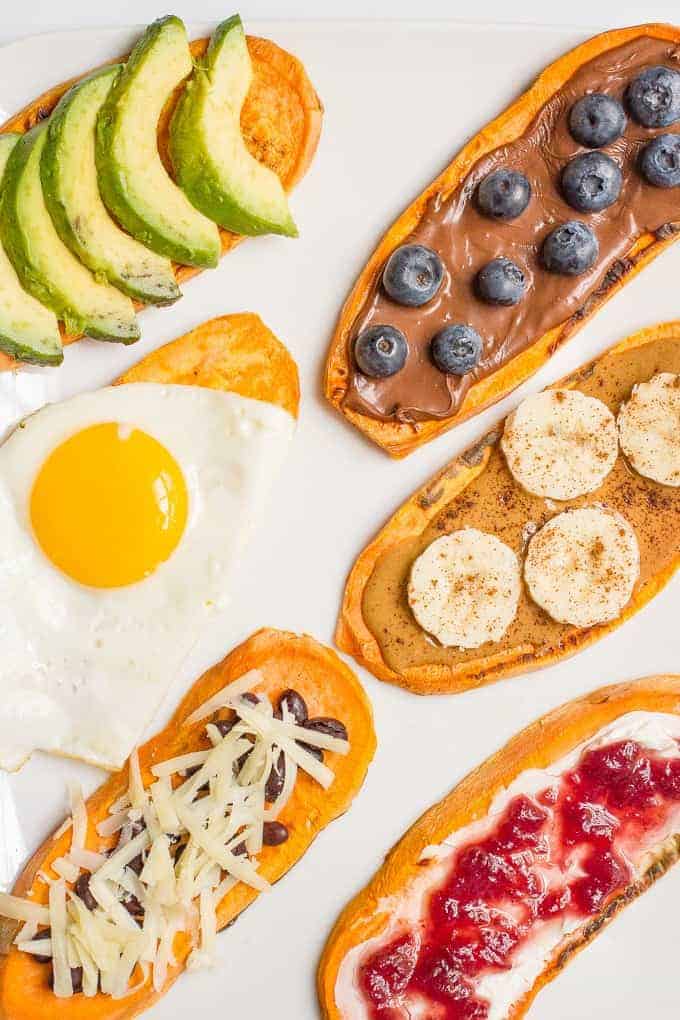 Hi friends! I have a game changing recipe to share with you today.
Sweet potato toast.
No really. This is serious magic. 😉
I didn't believe this whole sweet potato in a toaster thing myself until I tried it. And then ate it for breakfast every single day for a week straight. I can't stop – it's so easy and so good!
It's also gluten-free, paleo, Whole 30 and vegan-friendly. And it's an amazing, healthy way to start the day!
So today I'm sharing with you how to make sweet potato toast, some tips and troubleshooting, and lots of different ideas for toppings, both sweet and savory.
Let's get right to it!

You can also check out my Google web story for this sweet potato toast recipe.
Now, I've got some notes and tips coming up on how to make sweet potato toast. Just tryin' to be helpful.
If you want to jump on down to the recipe, simply scroll right on through the rest of the text. The recipe card is near the bottom of the page, above the comments section.
Tips on how to make sweet potato toast:
Pay attention when you're buying your sweet potato. Nice large round ones work best because you can get good slices out of them. Misshapen or curved ones aren't as good for toast because you'll waste more of the sweet potato.
I prefer mine peeled (I just use a regular potato peeler) but you don't have to.
Slice your sweet potato into 1/4 inch long vertical slices. Thicker ones won't get cooked all the way through in the toaster. Be sure to use a really nice sharp knife to make the cutting easier.
Whoops, you sliced it too thick? You can pierce the slice with a fork a few times and microwave it for 20-30 seconds before you toast it. This helps to cook it a little so it won't be raw in the center while still giving you the toasted marks.
Turn your toaster all the way up to HIGH. Yes, all the way, as high as it goes. Trust me.
Toast your slices at least TWICE. If your sweet potato toast doesn't seem cooked all the way through or hasn't browned, you can run it through a third time. Won't hurt it one bit. In fact, I usually toast mine three times.
Long pieces may stick out a bit from the toaster. That's OK. I just flip them over in between toasting, so everything gets cooked.
A few other sweet potato toast tips…
– I slice the entire sweet potato and keep the extra slices in a plastic bag in the refrigerator. They keep for over a week and are ready to toast straight from the fridge.
And that way, you only have to deal with slicing the sweet potato once. 👍
– You can also save any misshapen pieces or the small ends for a hash or breakfast scramble. (I hate wasting food!)
– No, the sweet potato doesn't steam or get soggy or lose moisture in the toaster. It just cooks through and browns slightly in some areas. 👌
– No, it doesn't taste raw or tough at all in the middle. Just soft and sweet and tender and delicious!
Psst… If you love sweet potatoes like I do, check out my quick and easy maple cinnamon sweet potatoes, my bourbon sweet potato casserole and my friend Rebecca's melting sweet potatoes.
Or if you love tasty breakfasts like me, check out my oatmeal raisin breakfast cookies and my banana bread baked oatmeal. I also want to try these gluten-free pull-apart cinnamon rolls!
Now for the toppings on your sweet potato toast. Cause it's all about the toppings!
Sweet sweet potato toast ideas:
Peanut butter, banana and cinnamon (or almond butter)

Peanut butter and raisins

Honey butter and cinnamon

Nutella; you can also a

dd some fresh blueberries or strawberries or banana

Cream cheese and a fruit jam

Drizzle of maple syrup or honey; can also a

dd cinnamon or a sprinkle of chia seeds
Savory sweet potato toast ideas:
Top with a fried egg, salt and pepper; can also a

dd chili powder or hot sauce for a little kick

Sliced or smashed avocado; can also add sliced tomatoes or a fried egg
Black beans and cheese:

Run under the broiler to melt the cheese if you prefer; can also a

dd a fried egg and/or some salsa and sliced green onions

Tuna or chicken salad – great for a light lunch
Grated Parmesan cheese and fresh basil
I really hope you'll give this sweet potato toast recipe a try soon! I'd love to hear what you think and what your favorite toppings are.
Enjoy!
XO,
Kathryn
Check out my UPDATED VIDEO!
Yield: 4-5 pieces of toast
Sweet potato toast
Sweet or savory, sweet potato toast makes for an easy, fun breakfast!
Ingredients
1 large sweet potato, peeled if desired
Favorite toppings, such as peanut butter and banana, nutella and berries, avocado, a fried egg, etc.
Instructions
Slice sweet potato into 1/4-inch long vertical slices.
Turn the toaster all the way up to high and toast sweet potato slices twice. If yours isn't fully cooked or slightly browned after two times, toast it a third time.
Top with your favorite sweet or savory toppings and enjoy!
Notes
Extra uncooked sweet potato slices can be stored in the refrigerator, in a plastic bag or container, for up to 10 days.
See the post above for lots of additional tips, troubleshooting advice and topping ideas.
Lots of people are doing it now, but I think the idea originally came from Little Bits Of.
Recommended Products
As an Amazon Associate and member of other affiliate programs, I earn from qualifying purchases.
Nutrition Information:
Amount Per Serving:
Calories:

35
Total Fat:

0g
Saturated Fat:

0g
Cholesterol:

0mg
Sodium:

22mg
Fiber:

1g
Sugar:

2g
Protein:

1g