A simple spinach salad with an easy homemade balsamic vinaigrette makes for a delicious and healthy side dish! This recipe takes just minutes to prepare and is perfect with dinner on a busy night.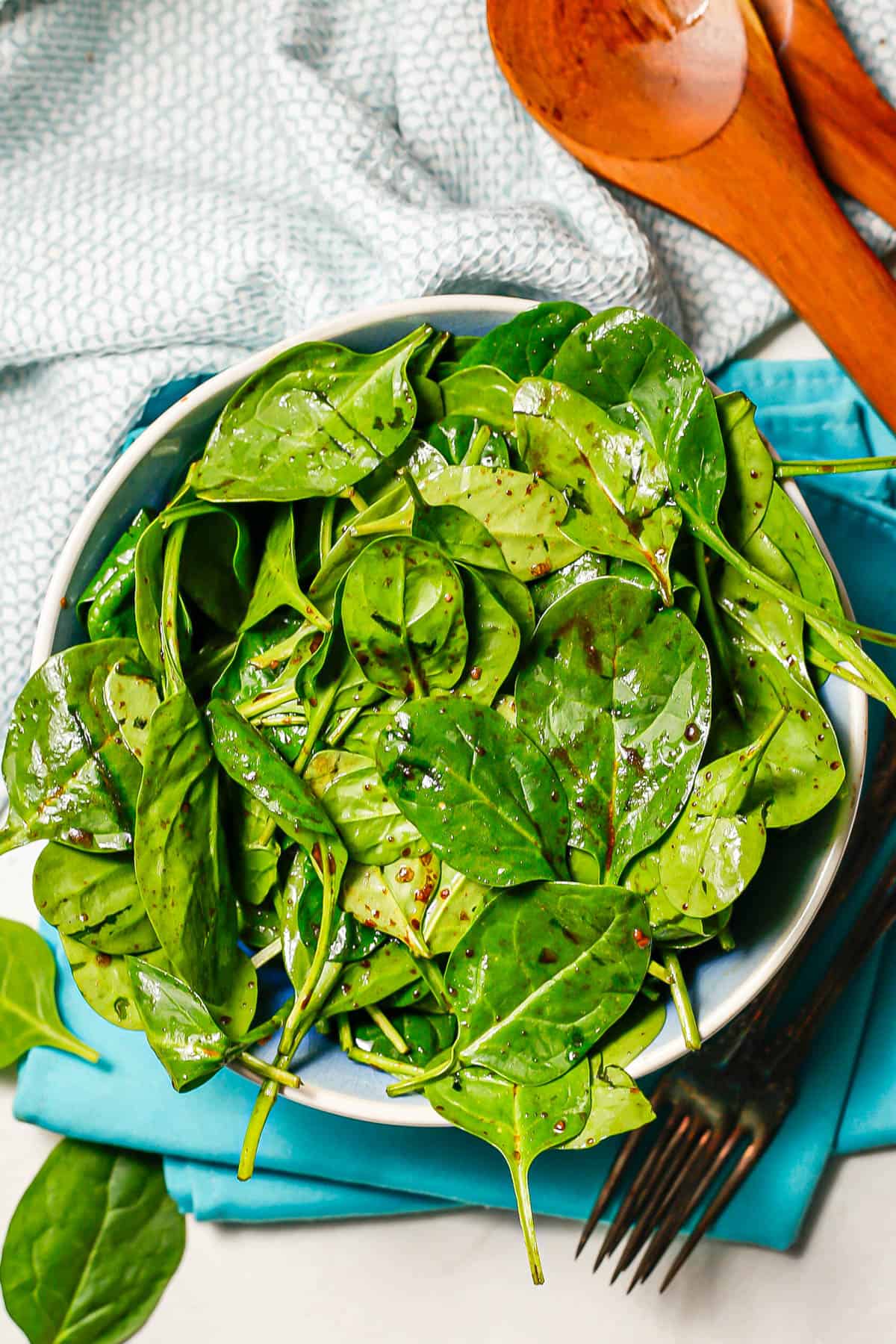 You guys know I love my salads, right?
I'm ALL about the veggies and I'm usually finding new ways to load up with more, more, more veggies in my life. 💚
I adore my farro, kale and strawberry salad with goat cheese, cannot get enough of my healthy broccoli apple salad and my mixed greens salad with fruit is a summertime and brunch favorite.
But sometimes, you just need a salad to serve with dinner. Like, right now. With whatever you've got in the fridge.
It needs to be easy, quick and delicious.
Enter this super simple spinach salad that's just baby spinach and homemade balsamic vinaigrette. Voila!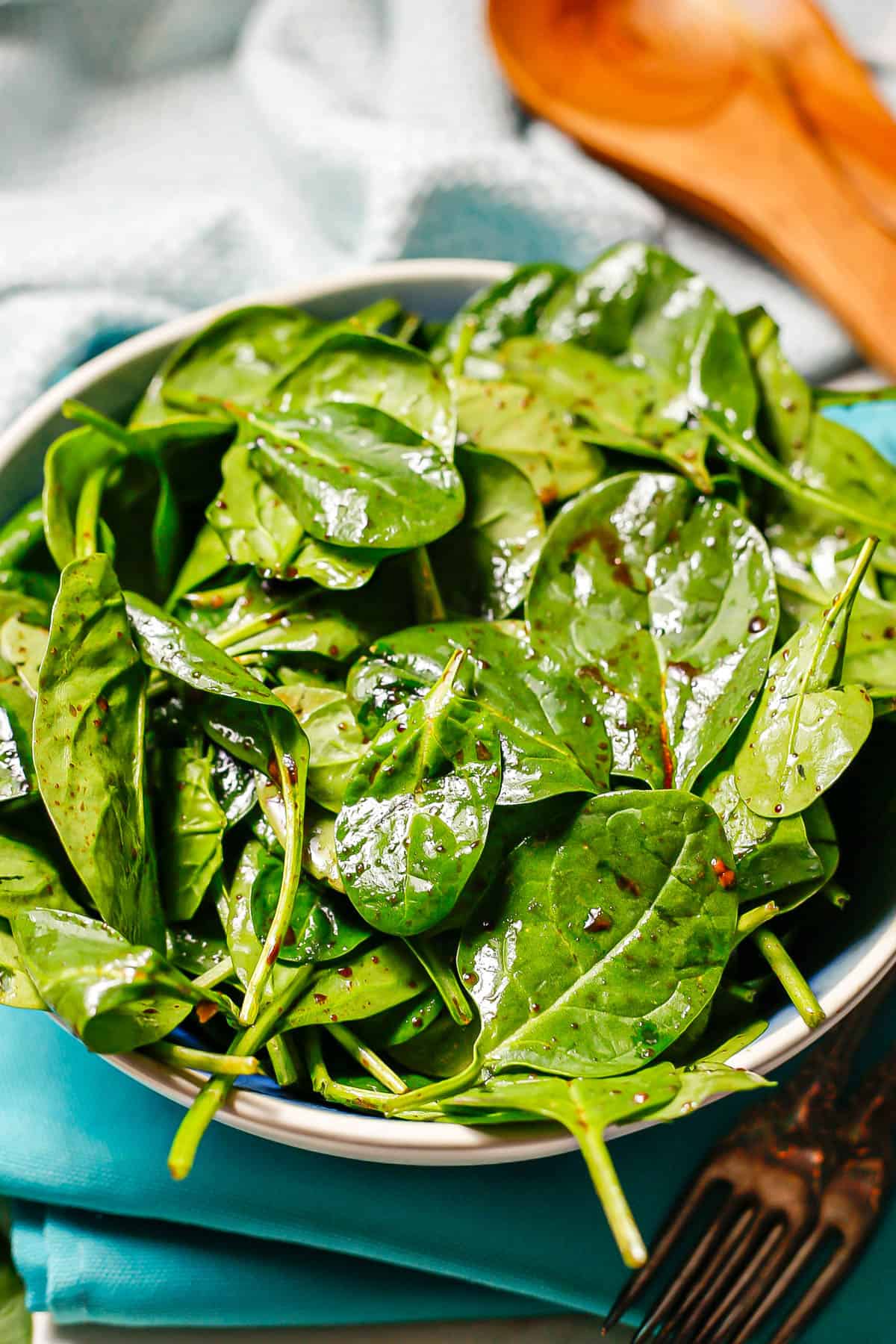 So, I love baby spinach salad recipes all kinds of ways, but in this case, it's the dressing that does it, really.
The balsamic vinaigrette is so tasty. Homemade really is miles above and beyond anything you can get in the store, so it makes this salad a joy to eat.
And it couldn't be easier.
You just add garlic, balsamic vinegar, salt and pepper and olive oil to a small jar or container.
Then shake it, shake it, shake it and you are set! (Or whisk it in a bowl if you'd rather.)
Seriously, homemade salad dressings should not be intimidating. They can be oh so fast and easy and you'll be blown away by how much more flavorful they are. 👌
(You should also check out my homemade Italian dressing, which is another great staple. And homemade soy ginger dressing is perfect for Asian-style dishes and so addictive!)
OK, let's dive in.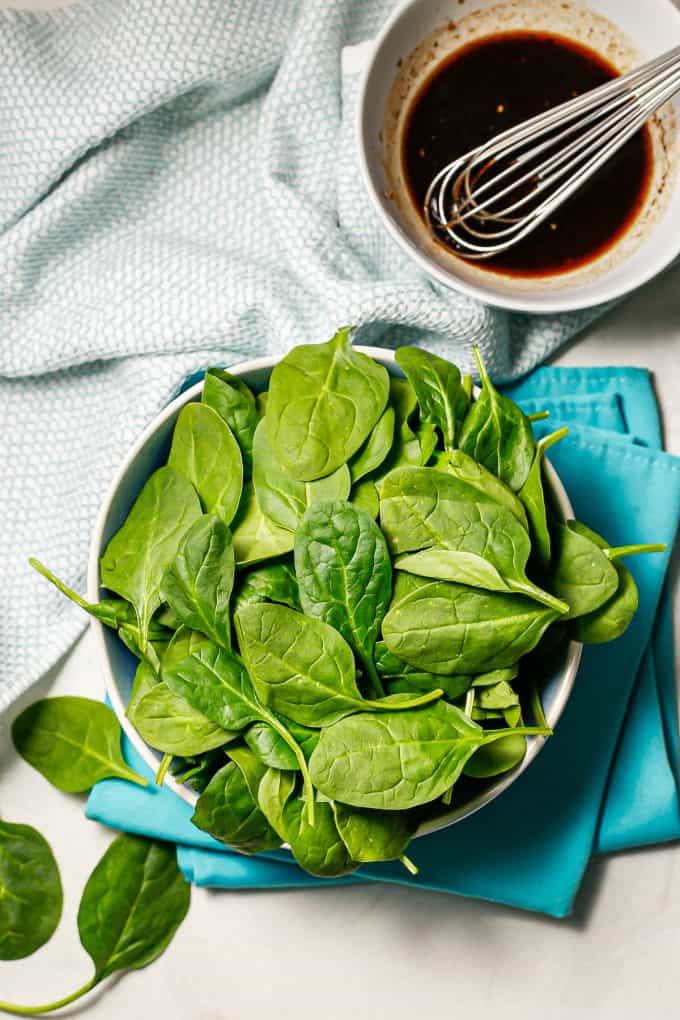 Now, I've got some notes and substitutions coming up for this spinach salad recipe. Just tryin' to be helpful.
If you want to jump on down to the recipe, simply scroll right on through the rest of the text. The recipe card is near the bottom of the page, above the comments section.
Recipe Notes
Oil and vinegar: It helps to have really good balsamic vinegar and olive oil here since those are your big flavors. You don't have to go buy the most expensive, just very good quality and flavor. In fact, I like the Costco brand. Find something you love.
Ratio: I use a ratio closer to 1:1 for my oil:vinegar in this dressing and that suits our tastes. Feel free to add more oil if you want to get closer to the traditional 3:1 oil:vinegar ratio.
Spinach: You also want fresh, bright baby spinach to use in this salad for the best flavor. If it's old and wilting, it won't make for a good salad.
Greens: Or you can swap out your favorite green for this salad if you want to change things up. A spring mix, arugula or butter lettuce would be great here too. Or use a combination!
Assembly: Make sure to wait to add the dressing until right before you are ready to serve. Greens, once tossed with a vinaigrette, have a short shelf life before they begin to wilt.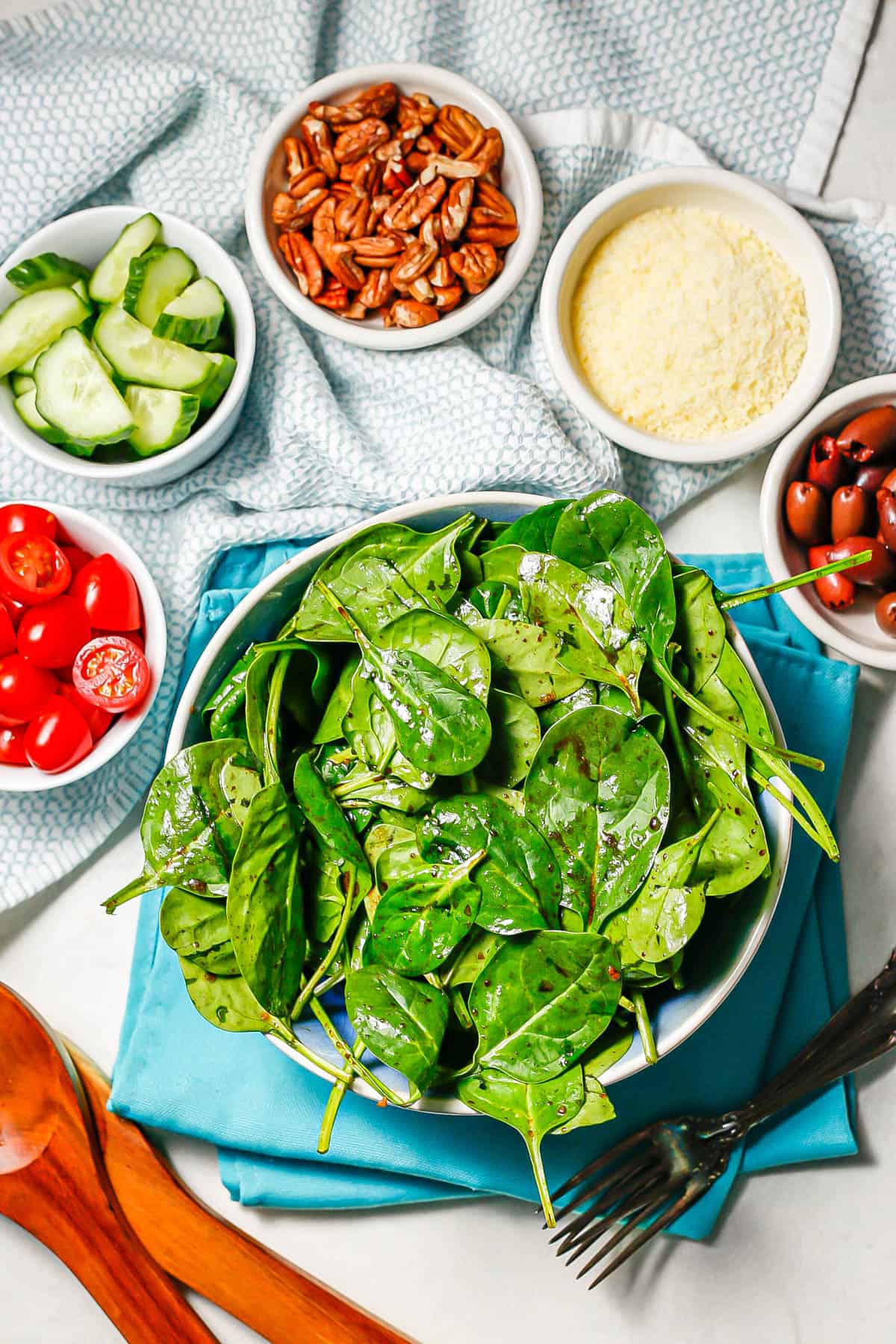 OK, so the whole point of this salad is to keep it really simple. And I adore it all on its own. Have for years.
But you may want to spruce up this salad a bit with some fun toppings on occasion.
You know I love some toppings, so of course I've got you covered!
Salad Toppings:
Cheese - Blue cheese, feta, goat, Parmesan, mozzarella, etc.
Nuts - Walnuts, pecans, pine nuts, pistachios, slivered almonds, etc.
Fruit - Diced strawberries, sliced peaches, blueberries, diced apple, etc.
Dried fruit - Dried cranberries, dried cherries, dried apricots, etc.
Veggies - Tomatoes, cucumbers, carrots, bell pepper, etc.
Crunchies: Croutons, Parmesan crisps, wonton strips, etc.
Cooked, crumbled bacon
Sliced hard boiled eggs
Use any of those that you love or mix and match and make some combos that work for you.
Here's a few of our favorite combinations:
- Feta cheese, olives and cherry tomatoes
- Shaved Parmesan cheese, pecans and diced strawberries
- Dried cranberries, walnuts and goat cheese
- Sliced hard boiled eggs, cooked, crumbled bacon and tomatoes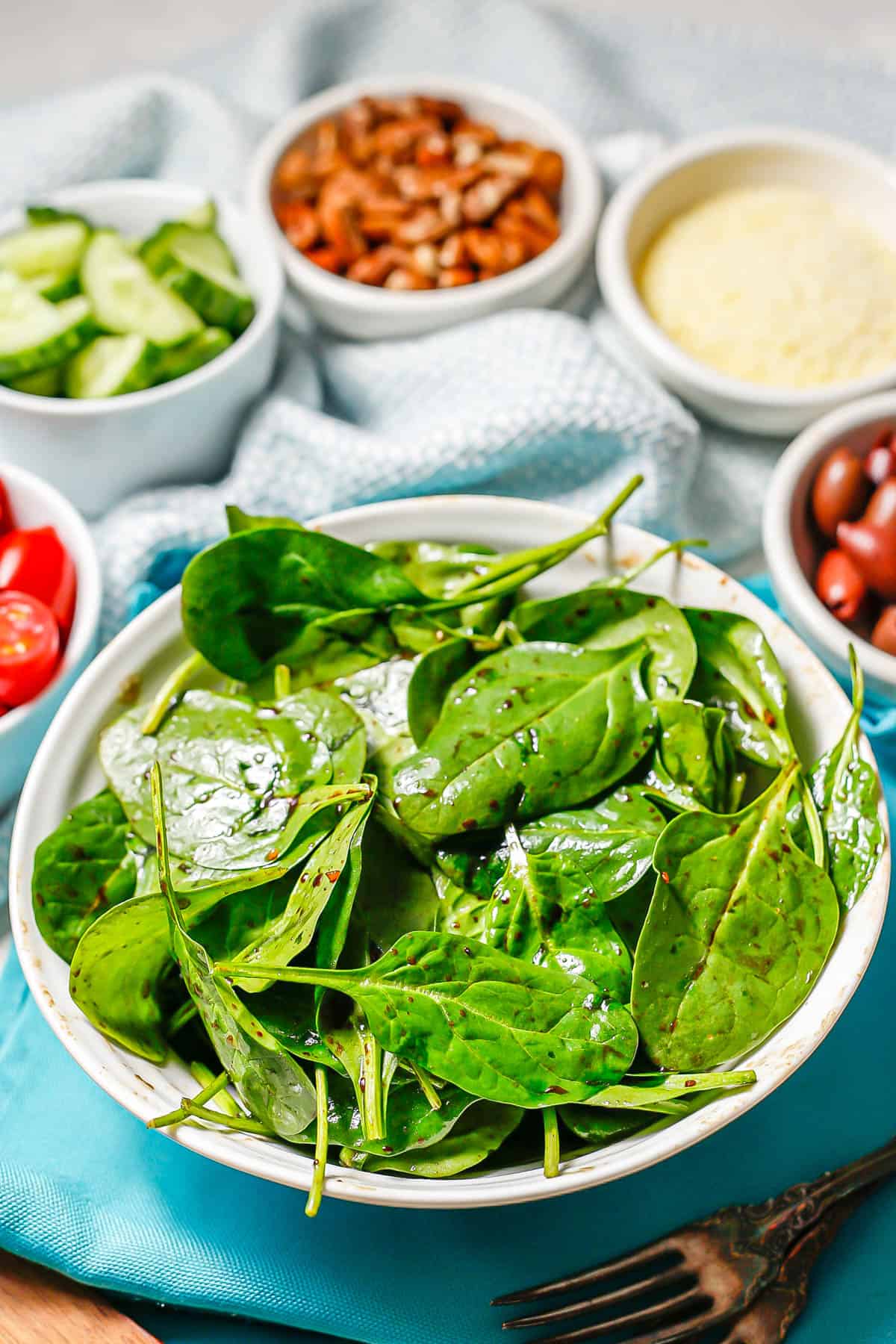 There's really tons of ways to customize this. Mix it up with your favorites!
May you have a family that thinks this easy salad rocks as much as my family does.
And if not, change it up with some of those topping ideas above and you're still covered with a great go-to any night of the week. 👍
Enjoy!
XO,
Kathryn
P.S. Check out all of my other healthy salad recipes for more inspiration!
Yield: 4 servings
Simple Spinach Salad
A simple but divine spinach salad with homemade balsamic vinaigrette!
Ingredients
For the salad:
5 cups fresh baby spinach
For the dressing:
½ clove minced garlic
1 ½ tablespoons balsamic vinegar
2 tablespoons extra-virgin olive oil
Pinch of sea salt and freshly cracked black pepper
Instructions
Put your spinach into a big bowl. If you're using any add-ins, go ahead and add them now. (See notes for ideas.)
Mix all of the dressing ingredients together in a small jar or container with a tight-fitting lid. Shake them up until it's well mixed. (Alternatively, you can whisk them together in a small bowl.)
Pour the dressing over the spinach right before you're ready to serve and toss well to get the salad evenly coated. Enjoy!
Notes
Oil and vinegar: It helps to have really good balsamic vinegar and olive oil here since those are your big flavors. It doesn't need to be the most expensive, just very good quality and flavor.
Ratio note: I use closer to a 1:1 ratio of oil:vinegar, which suits our tastes. You can add up to an additional 2 tablespoons of olive oil if you'd like to have closer to the more traditional 3:1 ratio of oil:vinegar for your dressing.
Topping ideas:
Cheese - Blue cheese, feta, goat, Parmesan, mozzarella, etc.
Nuts - Walnuts, pecans, pine nuts, pistachios, slivered almonds, etc.
Fruit - Diced strawberries, sliced peaches, blueberries, diced apple, etc.
Dried fruit - Dried cranberries, dried cherries, dried apricots, etc.
Veggies - Tomatoes, cucumbers, carrots, bell pepper, etc.
Crunchies: Croutons, Parmesan crisps, wonton strips, etc.
Cooked, crumbled bacon
Sliced hard boiled eggs
Use your favorite or make some fun combinations. Here are a few of my faves:
- Feta cheese, olives and cherry tomatoes
- Shaved Parmesan cheese, pecans and diced strawberries
- Dried cranberries, walnuts and goat cheese
- Sliced hard boiled eggs, cooked, crumbled bacon and tomatoes
Nutrition Information:
Yield:
4
Serving Size:
1
Amount Per Serving:
Calories:

59
Total Fat:

5g
Saturated Fat:

1g
Trans Fat:

0g
Unsaturated Fat:

4g
Cholesterol:

0mg
Sodium:

64mg
Carbohydrates:

3g
Fiber:

1g
Sugar:

1g
Protein:

1g