Whole wheat cinnamon sugar baked donuts have a soft, tender inside and a crunchy, sugary crust!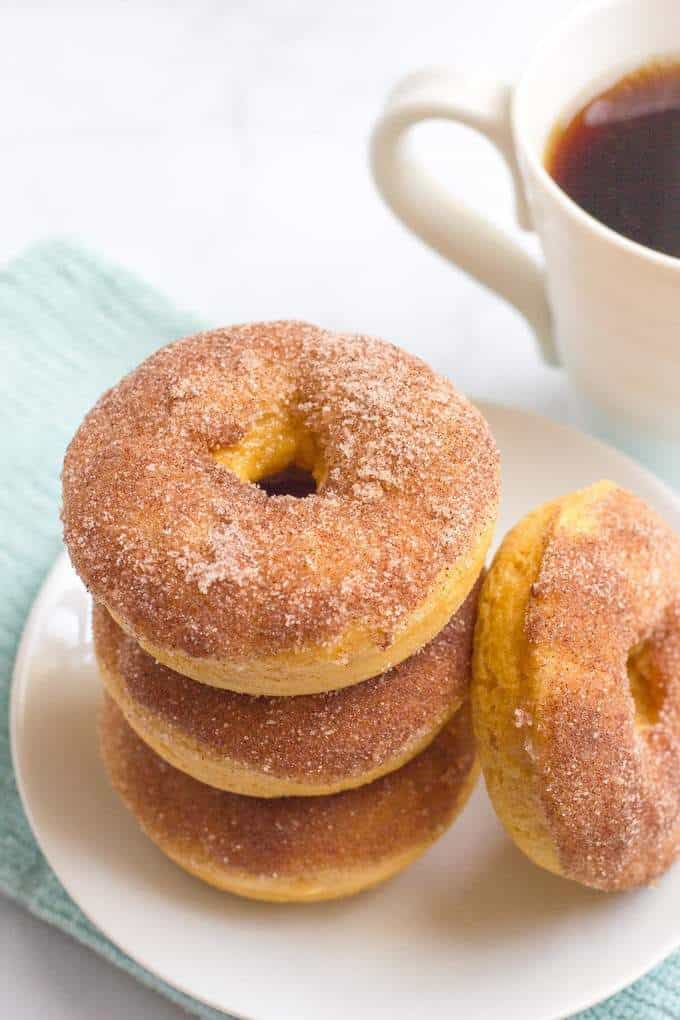 Happy National Donut Day, friends!
And, the nerd and editor in me feels compelled to point out that yes, doughnut is the appropriate spelling. But, looks like we can't be bothered with proper or full spellings these days - oh where did our attention spans go?! - so we've got a nice little nickname all picked out. Going with it.
To celebrate this lovely little holiday, I'm bringing you some whole wheat cinnamon sugar baked donuts!
Cinnamon-sugar toast was one of my favorites growing up. We had a toaster oven that we used for this toast - as well as for those Pillsbury cinnamon roll biscuits with the frosting. You know the ones - where by the time they were cooked, you hardly had any frosting left to put on them. Or was that just me?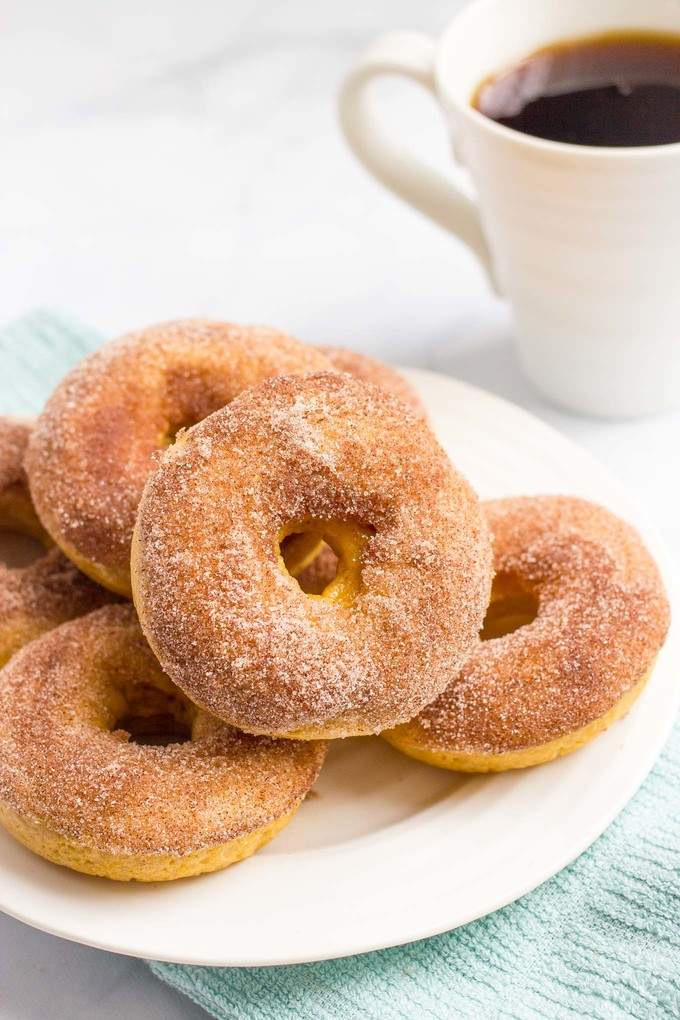 Anyway, I would butter up some toast, add a healthy coating of cinnamon-sugar — we even had a spice jar of it already mixed and ready to go — and chow down. The simple joys, right?
These donuts bring those same flavors back but in an even better package!
I had asked for donut pans for Christmas several years ago - and got two from my lovely sister-in-law. Somehow, amidst J being a baby and our moving houses the following year, they never got used. #serioustragedy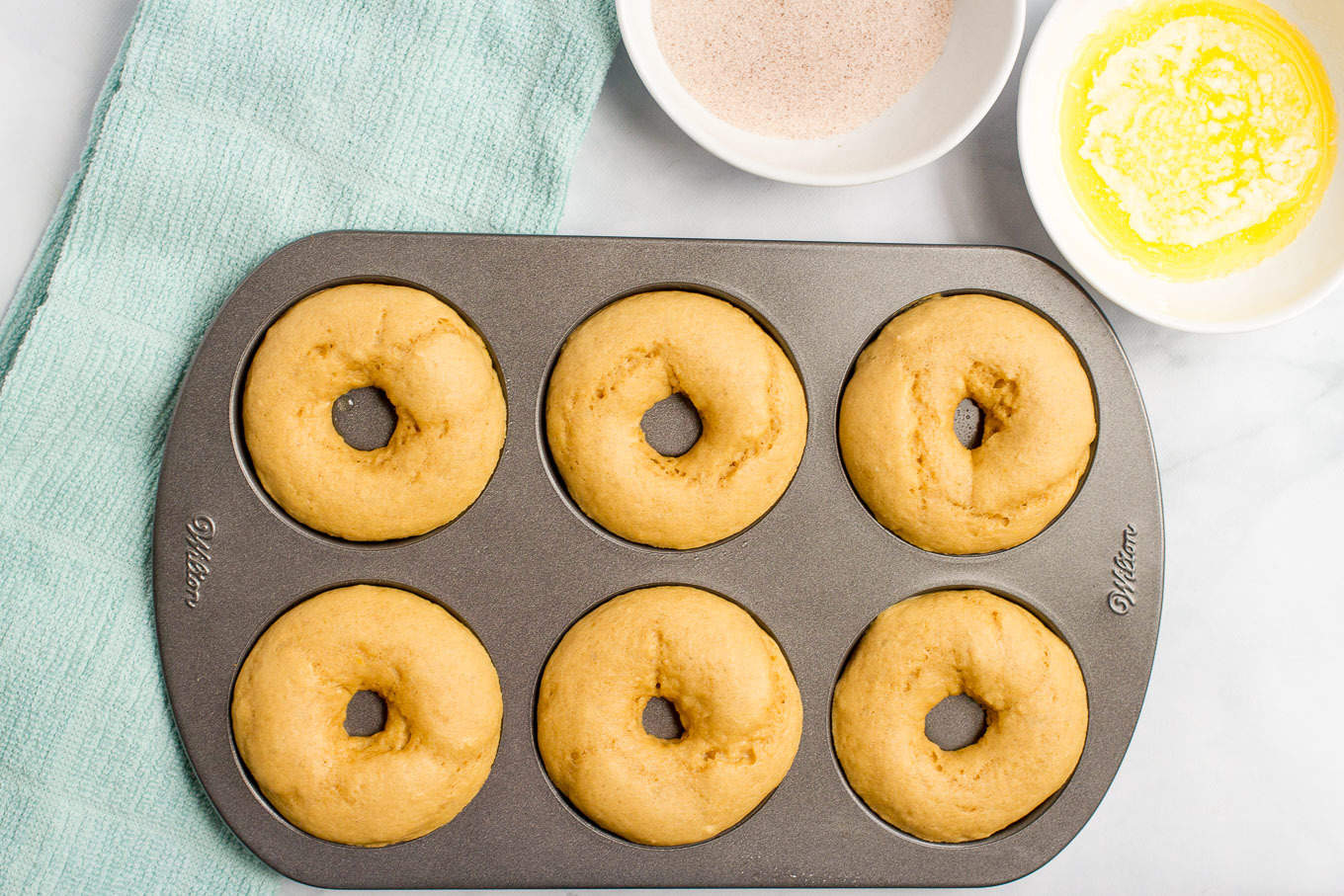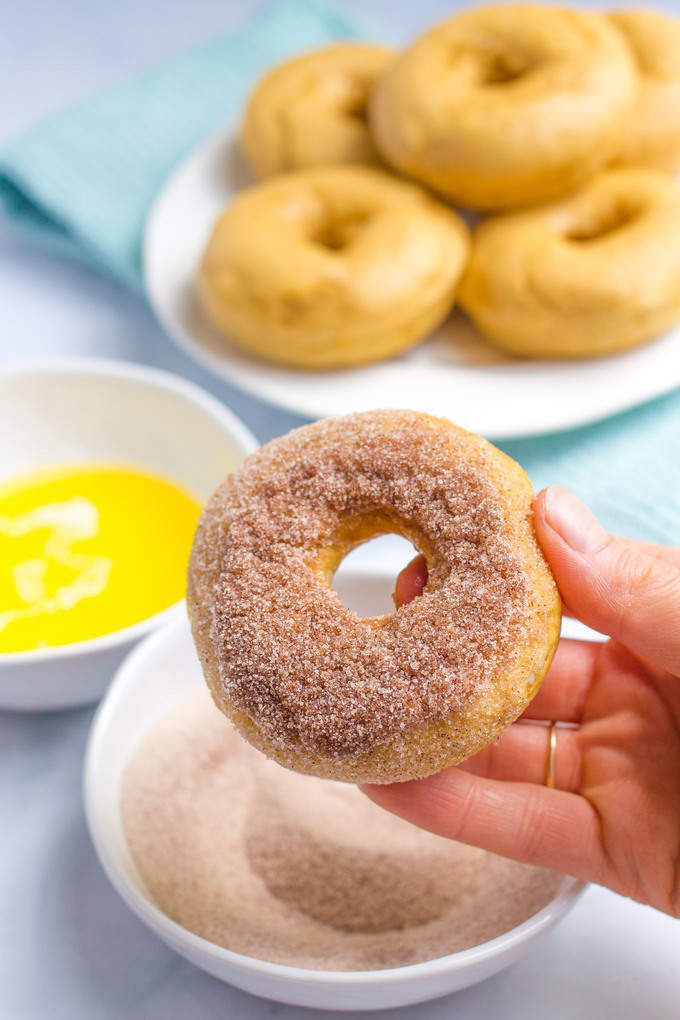 Well, I've been making up for lost time. We've been on a baked donuts kick (as well as our waffle kick and never-ending muffin craze - seriously good breakfast eats here, if you ever want to stop by) and I've been trying out all kinds.
The husband and kiddos are happy for me to experiment. 🙂
These cinnamon-sugar baked donuts are a definite favorite and such a classic combination for me. The sugar coating on top creates a fabulous crust for the donut, which is amazingly tender and soft on the inside. Perfect contrast.
And let me assure you, baked donuts are every bit as delicious as their fried counterparts. I actually prefer them!
A few quick notes for you:
I suggest you buy two donut pans (I have these) so you have enough to make for guests. This recipe yields 6, which is perfect for just our family, but you will want to double up if you are serving people - these will be devoured!
I use a plastic Ziploc bag to pipe these into the donut pans. Just put your batter into a sandwich or small storage bag, use some scissors to snip off one of the bottom corners of the bag and you can squeeze the batter out into your prepared donut pans. You can also just spoon it in, but I think this helps keep them neat and well-shaped.
I always turn out my baked donuts as soon as they are finished. I find this helps to prevent them from getting soggy from the steam. I just use my oven mitt to turn the pan upside down on top of a paper towel or kitchen towel, then use my other hand, also in a mitt, to tap the bottom of the donut pan. They should fall right out. Just turn them every couple of minutes so the donuts cool on both sides (if you leave them sitting down, the bottoms will sit in that extra steam and moisture and get soggy).
Give them just a minute or two to cool down - and to prevent sogginess - and then dip in your melted butter and then in your cinnamon-sugar mixture. Try not to drool.
We have kept extras of these in the refrigerator for up to two days and they didn't get soggy.
So whether it's today, over the weekend, for Father's Day, or just for a fun breakfast this summer, I hope you'll join me on the baked donuts team.
(M is telling me photo shoot is over, snack time is on. I'm with her!)
Enjoy!
Yield: 6 donuts
Whole wheat cinnamon sugar baked donuts
Whole wheat cinnamon sugar baked donuts have a soft, tender inside and a crunchy, sugary crust!
Ingredients
For the donuts:
1 cup white whole wheat flour
⅓ cup packed brown sugar
1 ¼ teaspoons baking powder
¼ teaspoon salt
¼ cup milk (regular, soy or almond is fine)
¼ cup plain Greek yogurt (I use non-fat)
1 large egg
1 teaspoon vanilla
For the topping:
2 tablespoons unsalted butter, melted
¼ cup granulated sugar
1 teaspoon ground cinnamon
Instructions
Preheat the oven to 350. Spray donut pan with nonstick cooking spray.
In a medium bowl, combine the flour, baking powder and salt.
In a small bowl, whisk together the brown sugar and egg until light and fluffy. Add milk, Greek yogurt and vanilla and whisk until smooth. (You want to break up all the yogurt clumps.)
Add the wet ingredients to the dry ingredients and stir to combine, but don't overmix.
You can spoon the mixture into the prepared donut pans, but I prefer to add the batter to a plastic bag, snip a corner and pipe it in.
Bake donuts at 350 for 8-10 minutes, until done.
Meanwhile, melt butter in a small, shallow bowl. Combine sugar and cinnamon in a separate small, shallow bowl.
Remove donuts from oven and turn out onto a kitchen towel or paper towels to prevent them from getting soggy in the pan. Let cool for a minute or two, turning the donuts over once.
Dunk each donut in butter then in cinnamon sugar, pressing down and twisting the donut to get it to adhere all over.
Serve warm and enjoy!
Notes
You can keep extra donuts, even ones that have been buttered and sugared, in the fridge and they don't get soggy. Ours were still great two days later.
Recommended Products
As an Amazon Associate and member of other affiliate programs, I earn from qualifying purchases.
Nutrition Information:
Yield:
6
Serving Size:
1
Amount Per Serving:
Calories:

199
Total Fat:

5g
Saturated Fat:

3g
Trans Fat:

0g
Unsaturated Fat:

2g
Cholesterol:

42mg
Sodium:

214mg
Carbohydrates:

34g
Fiber:

2g
Sugar:

19g
Protein:

5g
Disclaimer: This post contains affiliate links. If you purchase a product through an affiliate link, your cost will be the same but I receive a small commission. Your support is greatly appreciated!