This whole wheat, naturally sweetened pumpkin applesauce bread has a crunchy streusel crust and is perfect for a fun fall breakfast or snack!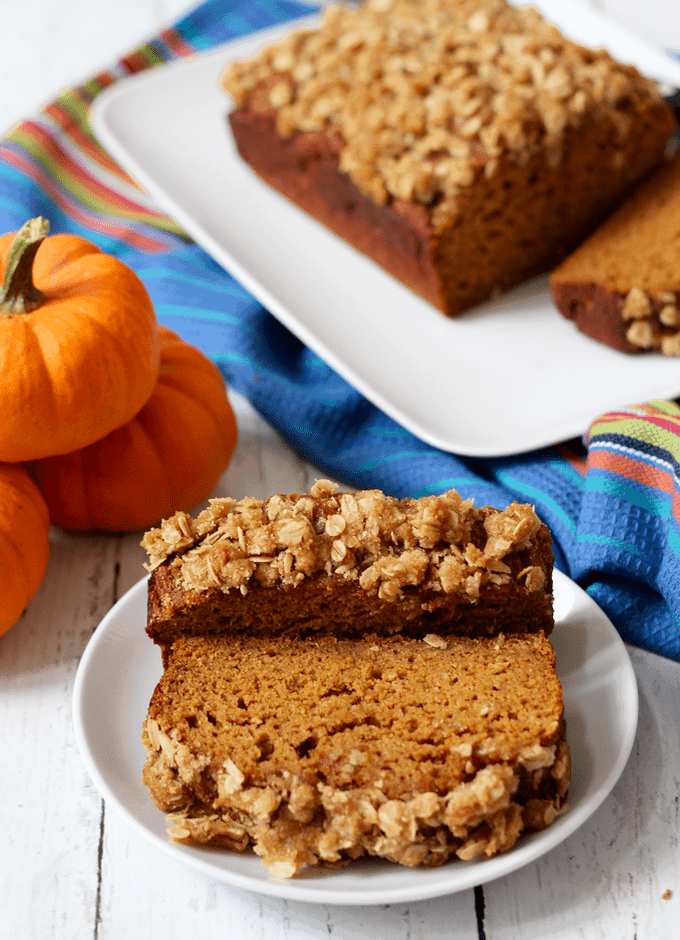 This pumpkin applesauce bread is super light but feels so decadent, thanks to the streusel topping. It's like dressing up a casual outfit with some killer shoes - just sends the whole thing over the top!
I have some killer shoes.
They are gathering dust in my closet.
Some of them are even stuffed under our bed, hidden and ashamed that they aren't hitting the town anytime soon.
I have kids ages 4 and 2. I have a full-time work-at-home job and preschool pick-up at lunchtime. Between work and snacks, we color and curl up and read books and build towers and play tag. Then it's time to clean up and get dinner ready.
I have no need for killer shoes at this point in my life. But I can't possibly get rid of them.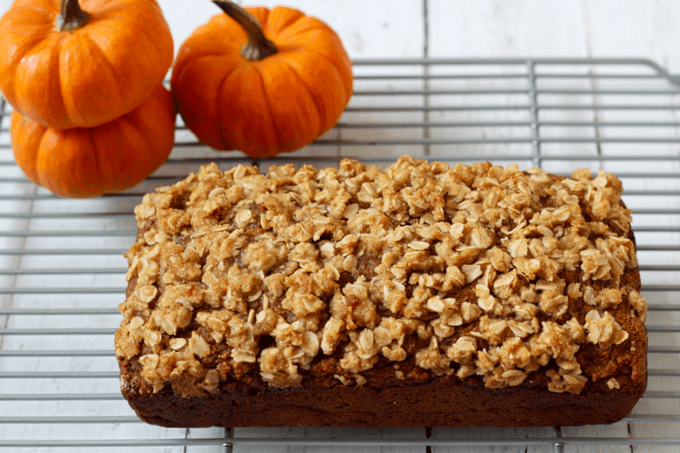 They are my fun shoes, my young shoes, my I-have-to-keep-the-hope-alive-that-I-will-someday-wear-these-again shoes. 👠👠
It could happen. We could have a date night where I actually fix my hair and pick out my outfit, including shoes, instead of grabbing at something in my closet between getting the kids fed and bathed and heading out the door, hoping I look passable.
Every now and then, for a party or a girls night, I'll wear a pair of my fun shoes. And I feel so fancy, so put together.
Sure, my shirt is probably stained with my kids' food or markers or snot, but hey, I'm wearing my big girl shoes and nothing can stop me. 💃💃
Back to this healthy pumpkin applesauce bread though…
It's all good things - whole wheat, naturally sweetened with honey, and no butter or oil.
OK, the streusel topping has butter and sugar, but not much, and it really makes this bread special.
(Another fall favorite you might want to check out is these apple cider muffins! Or my healthy pumpkin bread that is so light and springy.)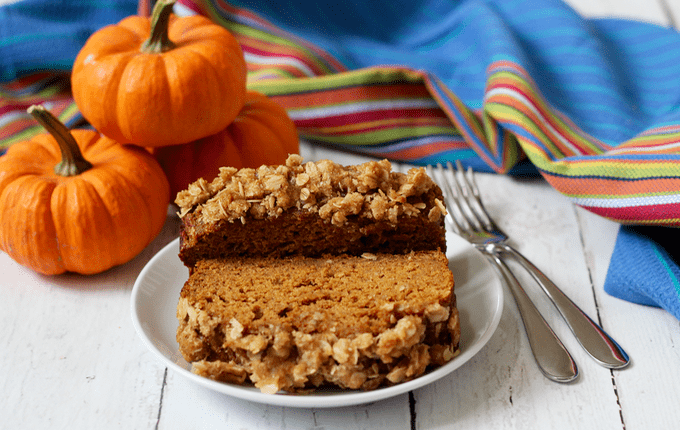 It's great for breakfast, snacking or dessert. All times I'm probably wearing slippers. Sigh… those fun shoes will have a second lease on life at some point.
Right? Maybe? Eh, a girl can dream…
In the meantime, I'll enjoy sharing some of this pumpkin bread with those little munchkins and be happy to have comfy shoes so I can keep up with them. Hope you give it a try, too.
Enjoy!
XO,
Kathryn
P.S. Check out my VIDEO for this recipe!
Also, do you have any shoes or other items of clothing you're saving for "someday"?
Yield: 12 servings
Whole wheat pumpkin applesauce bread
A light and healthy pumpkin applesauce bread with a crunchy streusel topping!
Ingredients
For the bread:
1 ½ cups white whole wheat flour
1 tablespoon pumpkin pie spice
1 teaspoon baking soda
¼ teaspoon baking powder
½ teaspoon salt
2 large eggs
1 heaping cup pumpkin puree
½ cup unsweetened applesauce
½ cup honey
1 teaspoon vanilla extract
For the streusel topping:
¼ cup oats (I use old-fashioned)
¼ cup brown sugar (not packed)
2 tablespoons butter, melted
1 tablespoon flour (I use white whole wheat but any kind is fine)
Instructions
Preheat the oven to 350. Spray a 9x5 bread pan with cooking spray.
For the bread: Mix the dry ingredients (flour through salt) together in a large bowl.
In a separate bowl, mix together the wet ingredients (eggs through vanilla) and combine well.
Add the wet ingredients to the dry ingredients and stir just until combined.
Pour into prepared bread pan and run a spoon over the top to smooth it out.
Make the streusel: Mix all ingredients together in a small bowl and stir until everything is well combined.
Sprinkle the streusel evenly over the top of the bread in the pan.
Bake at 350 for 40-50 minutes, until a toothpick inserted in the center comes out clean.
Recommended Products
As an Amazon Associate and member of other affiliate programs, I earn from qualifying purchases.
Nutrition Information:
Amount Per Serving:
Calories:

162
Total Fat:

3g
Saturated Fat:

2g
Carbohydrates:

31g
Fiber:

3g
Sugar:

16g
Protein:

4g