These savory waffles are completely whole wheat, stuffed with zucchini and super cheese-filled! Great for brunch or a breakfast-for-dinner night!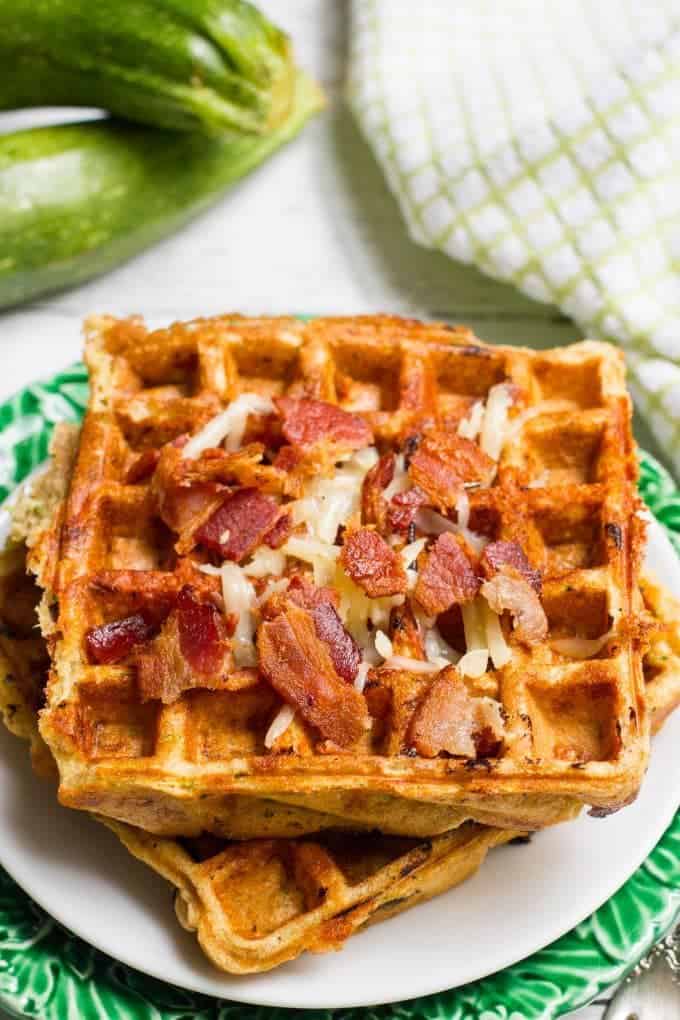 Hello Friday! Friday is always welcome, but especially in the week after a holiday weekend. It's been a short one with the Monday holiday, but sure hasn't felt like it! Was it just me?
Moving on to the food... earlier this year, I shared how I came to finally own a waffle maker (as part of my whole wheat blueberry waffles with orange maple syrup recipe) and I promised you some savory waffles.
Today, I am making good on that promise.
These whole wheat zucchini cheddar waffles were one of the first savory varieties I tried and they have been a serious hit!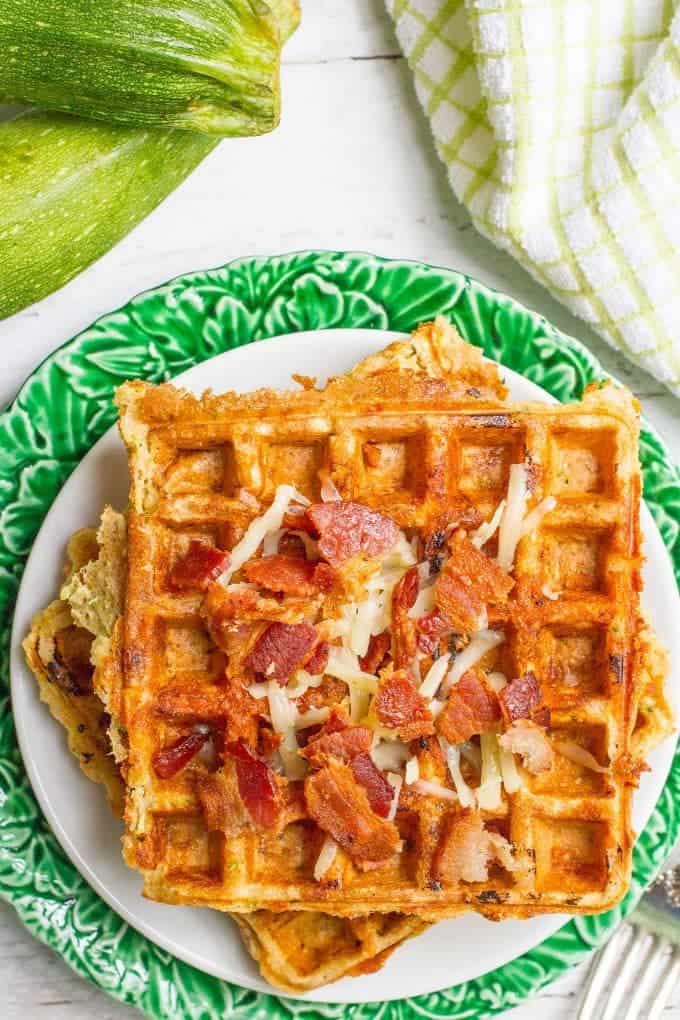 Well, when served correctly.
Originally, I thought this might be a yummy school lunch option to send with the kids to preschool. Not so much… they aren't very good cold as it turns out.
However, we have made them a favorite dinner and a delicious snack! I make them ahead (cause who has time to mess with waffle batter with hungry kids nipping at their heels) and then pop them in the toaster when it's dinner time.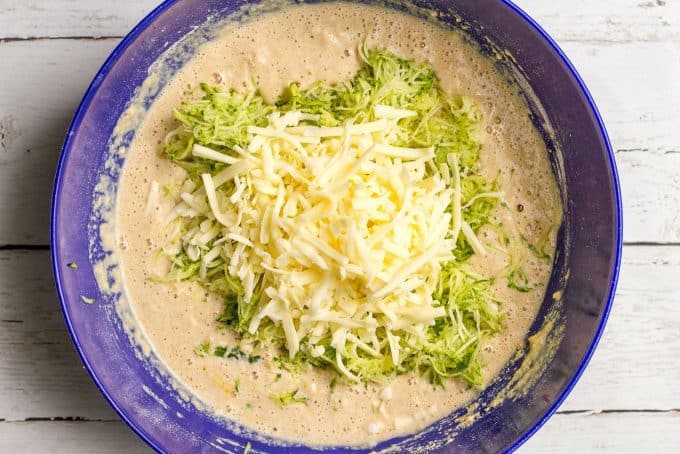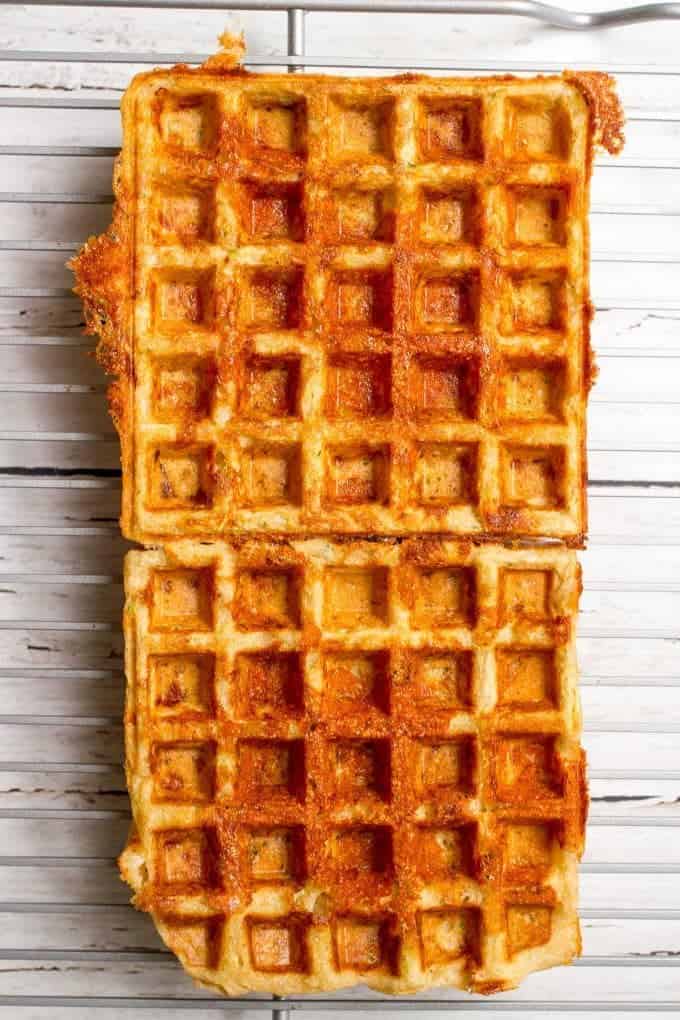 (And if that's appealing to you, you gotta try sweet potato toast - you can add sweet or savory toppings!)
In fact, the first time I served these for dinner, M (then about 4 ½) ate the entire waffle, along with her chicken, and was super duper proud of herself for finishing her entire dinner. Cause that doesn't happen often…
"Mommy, are you so proud of me? I ate ALL my dinner!"
"Yes, honey, that's wonderful! You're going to get so big and strong!"
"I can't wait to tell my teachers tomorrow that I ate ALL my dinner."
She talked about it all night long and first thing the next morning too. It's all about the food. Totally my kid 😉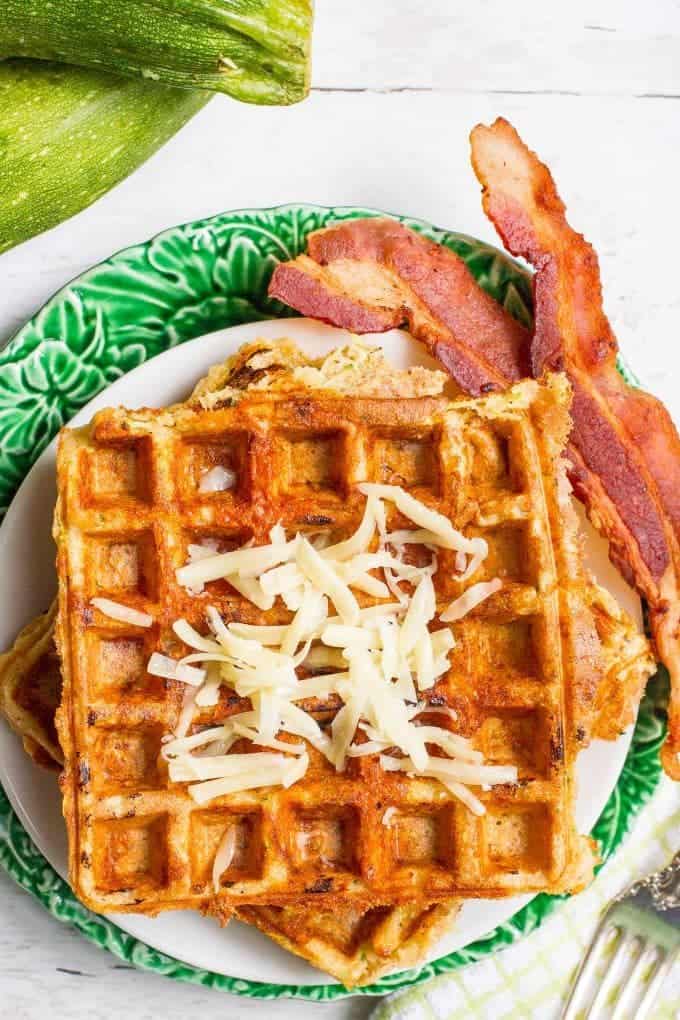 This makes a big batch of waffles and I freeze the extras to have on hand. If you don't pull them out in advance to defrost, just pop them in the microwave for a minute and then toast them to get it nice and crunchy and warm and gooey.
And top with bacon if you so desire. Cause that's always a good plan!
I even took these with us on vacation to the beach earlier this summer to have something quick and easy on hand after a long day of playing in the sun.
And now that school is about to start back up, I know I'll want some healthy foods stashed away to make dinner a breeze.
Speaking of, I've got a great post coming up for you next week on last-minute meal ideas for kids. For those nights when you realize it's time to eat and you haven't prepped a thing.
Cause that's me, many nights, for the kids' dinner.
And they've never eaten take-out or fast food so I have developed all kinds of tricks and tips for pulling healthy meals together!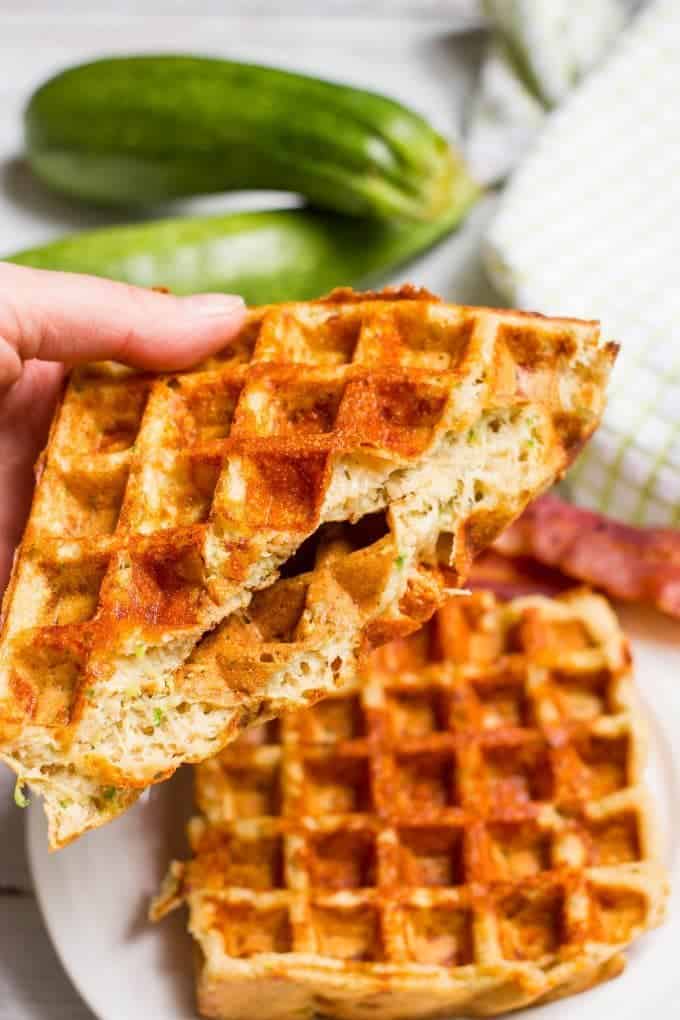 So sign up for my free weekly e-newsletter and never miss a recipe. (You'll also get my free e-cookbook, Easy Weeknight Dinners, when you sign up.) I'd also love to connect on social media – follow me on Facebook, Instagram, Pinterest and Twitter for more recipe goodness!
But in the meantime, enjoy your weekend and enjoy these savory waffles!
Yield: 6 large waffles
Zucchini cheddar whole wheat waffles
Savory whole wheat waffles stuffed with zucchini and cheddar cheese!
Ingredients
1 ½ cups white whole wheat flour
1 tablespoon sugar
2 teaspoons baking powder
½ teaspoon salt
1 large egg
1 ½ cups milk (I use skim but 2%, whole, ski or even almond would be fine)
½ cup plain Greek yogurt (I use non-fat)
2 small zucchini, grated (to yield 1 large cup after squeezing water out)
1 ½ cups shredded cheddar cheese, divided
Instructions
Preheat your waffle iron.

Grate the zucchini and shred the cheddar cheese.

Combine flour, sugar, baking powder and salt in a medium bowl.

Make a well in the center of the dry ingredients and add the egg, milk and Greek yogurt. Stir the wet ingredients together in the middle and then mix them into the dry ingredients until combined. You may have a few lumps, which is fine. Be careful not to over mix.

Fold in the grated zucchini and ¾ cup of the shredded cheddar cheese until combined, but again, don't overmix. The batter will be very thick.

Pour the batter into your waffle iron and sprinkle each waffle with 2 tablespoons of cheddar cheese before closing lid.

Cook according to the directions in your waffle maker. (Mine uses ½ cup of batter for each waffle and cooks it automatically on the "Classic" setting.)
Nutrition Information:
Yield:
6
Serving Size:
1
Amount Per Serving:
Calories:

289
Total Fat:

12g
Saturated Fat:

7g
Trans Fat:

0g
Unsaturated Fat:

4g
Cholesterol:

65mg
Sodium:

576mg
Carbohydrates:

30g
Fiber:

4g
Sugar:

4g
Protein:

16g
P.S. This is the Breville waffle maker I own. Highly recommend. If it's a bit too steep in price for you, this one is similar and gets good reviews and is more economical. And this one is the #1 best seller and also more affordable.
Disclaimer: Those are affiliate links. If you purchase a product through an affiliate link, your cost will be the same but I receive a small commission. Your support is greatly appreciated!