Ideas and recipes for easy, healthy July 4th appetizers and snacks that are red, white and blue and great for kids and adults!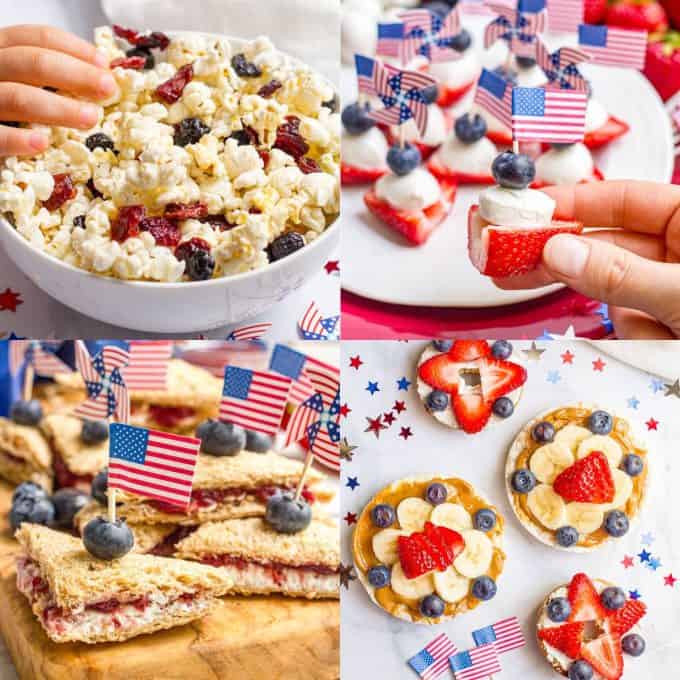 Today I've got some easy, festive and fun July 4th appetizers for you!
It's all about the red, white and blue over here for the upcoming holiday. 🇺🇸
The kiddos love them some American flags. So I wanted to come up with some healthy, delicious red, white and blue foods to help us celebrate independence day.
And we're going with naturally colored festive foods. Meaning, no food coloring or artificial flavors here. (Just like my red, white and blue yogurt parfaits from last week.)
And, let's be honest, nothing that requires too much creativity. Not my strong suit. Nor do I have the patience or time for anything intricate.
Nope, we're just throwing together some cute, fun and tasty snacks at the last minute.
So here are a few super easy July 4th appetizers that are great for kiddos and adults alike. (And some bonus ideas down below!)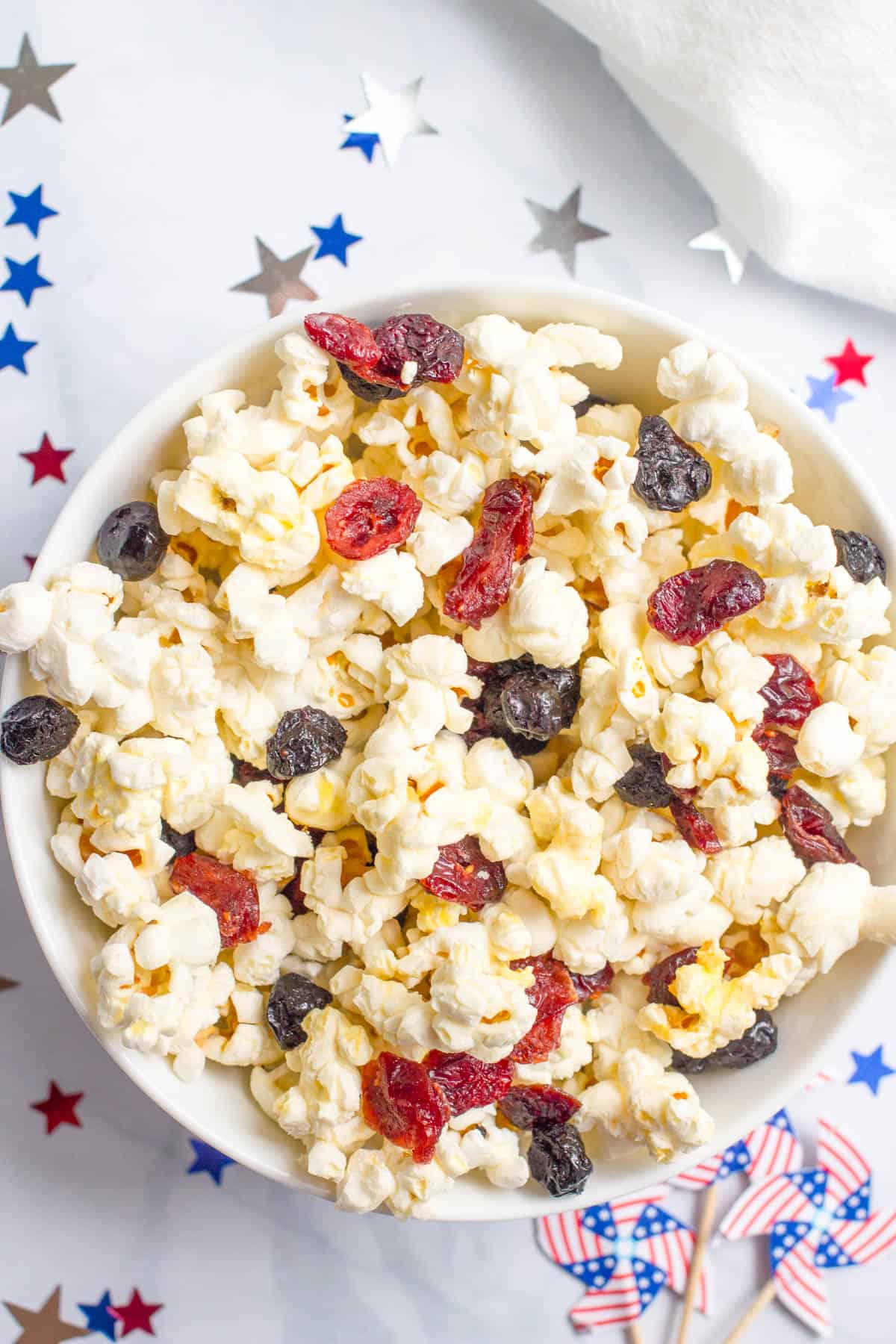 Easy July 4th Appetizers and Snacks:
Fruit and cream cheese mini sandwiches
Popcorn with dried blueberries and cranberries
Fruit and mozzarella ball skewers with balsamic vinaigrette
Rice cakes with peanut butter (or almond butter) and bananas, blueberries and strawberries. Drizzle with honey if desired. (It's also fun sprinkled with chia seeds if you have some.)
Mini bagels with cream cheese and strawberries and blueberries. They are so pretty! (You can drizzle these with honey and sprinkle with chia seeds too.)
All of these little bites are perfect for pool parties, backyard BBQs and picnics all summer long, not just on the Fourth of July.
Because who can resist some pretty hand-held food?!
Oh and you may also want to check out my 4th of July fruit kabobs for another fun, festive appetizer that can totally be a fun dessert as well.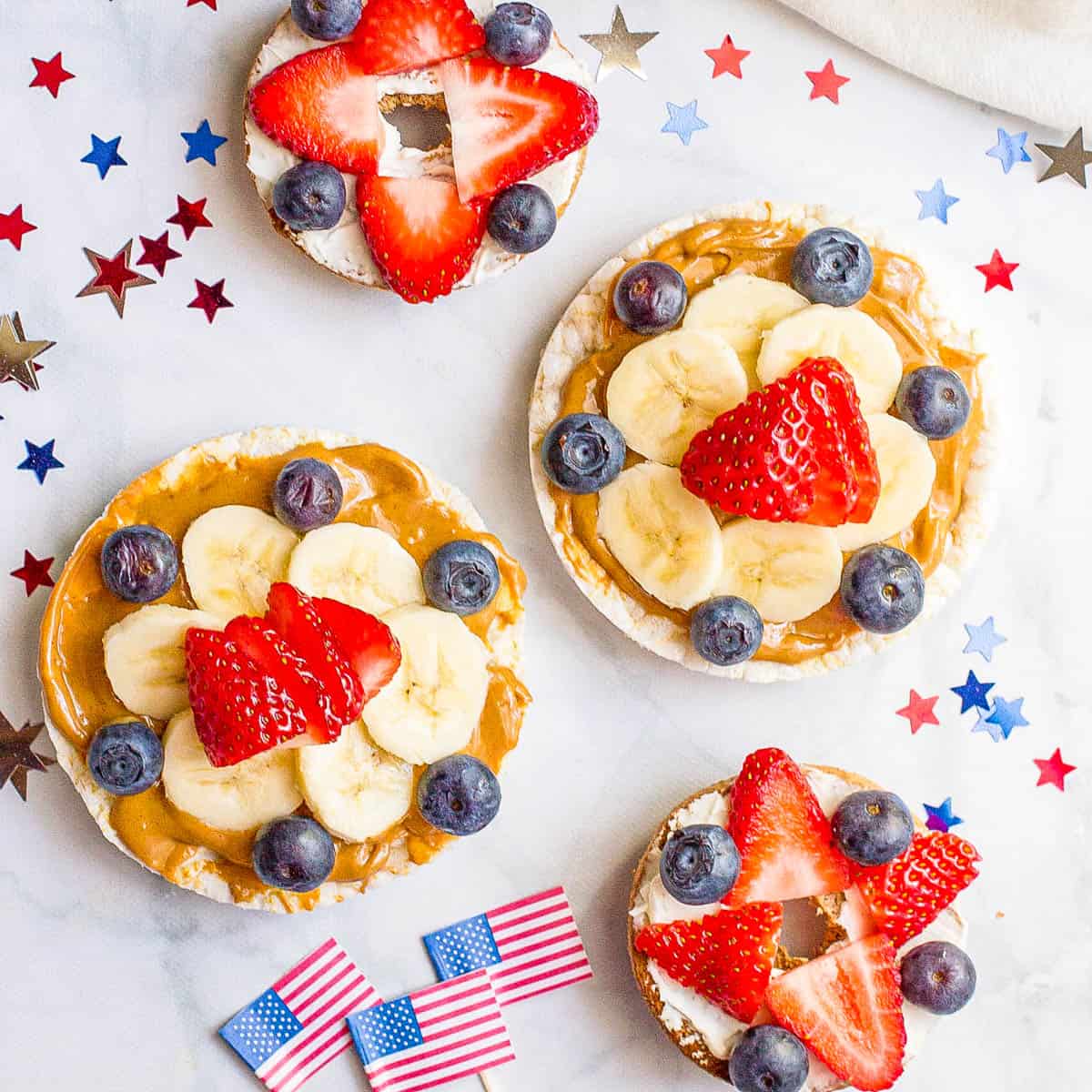 Many of these here today can also work for breakfast. Especially the bagels and rice cakes.
The fruit and cream cheese sandwiches are something I could happily snack on daily for breakfast or a snack. They are dainty, fruity and take just minutes to make up!
And you can change them up a bit by switching out the fruits or using a fruit jam instead of fresh fruit.
For instance, use strawberry jam in the sandwich and top with a blueberry. Or use blueberry or grape jam in the sandwich and top with strawberry slices or a raspberry.
Endless combinations!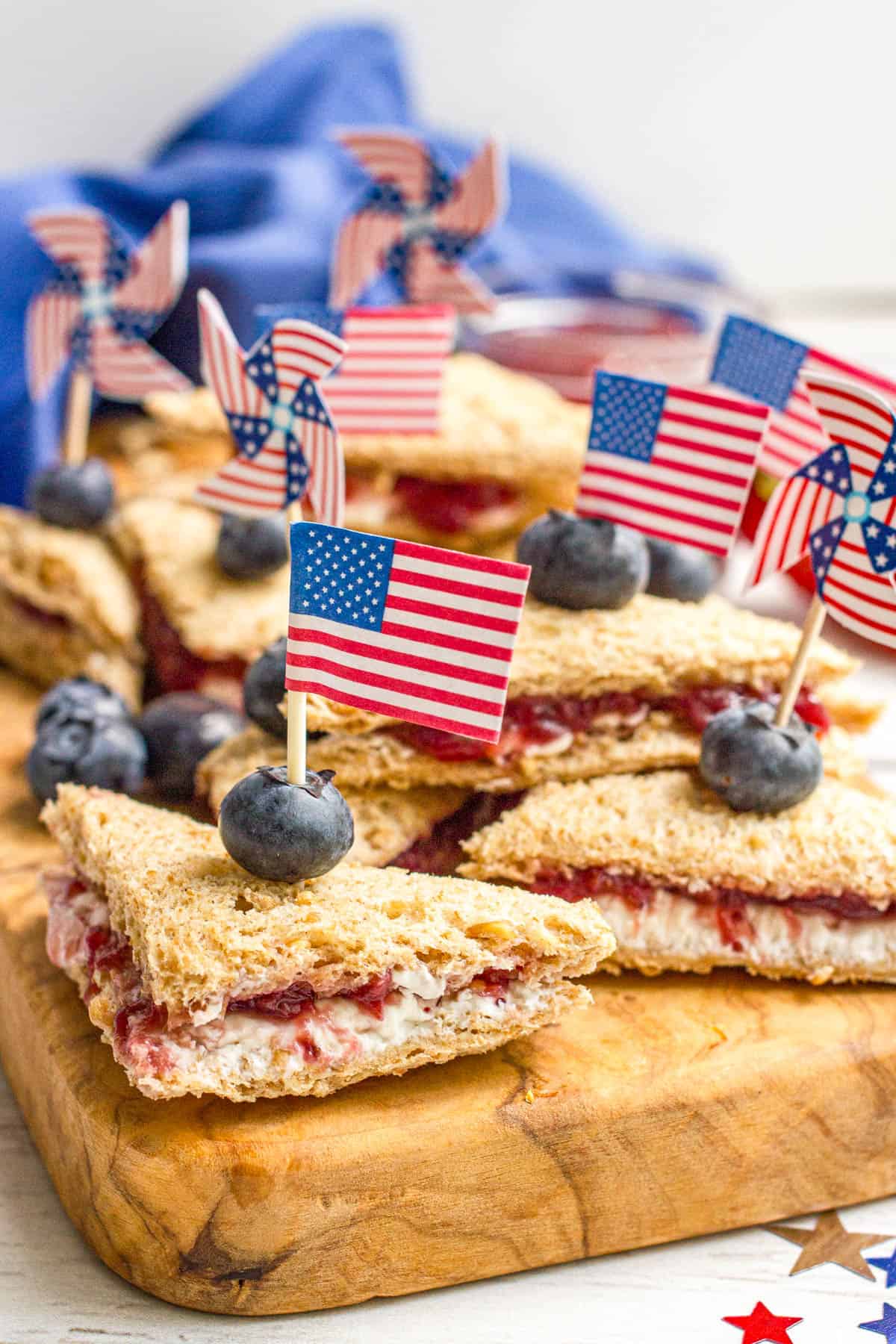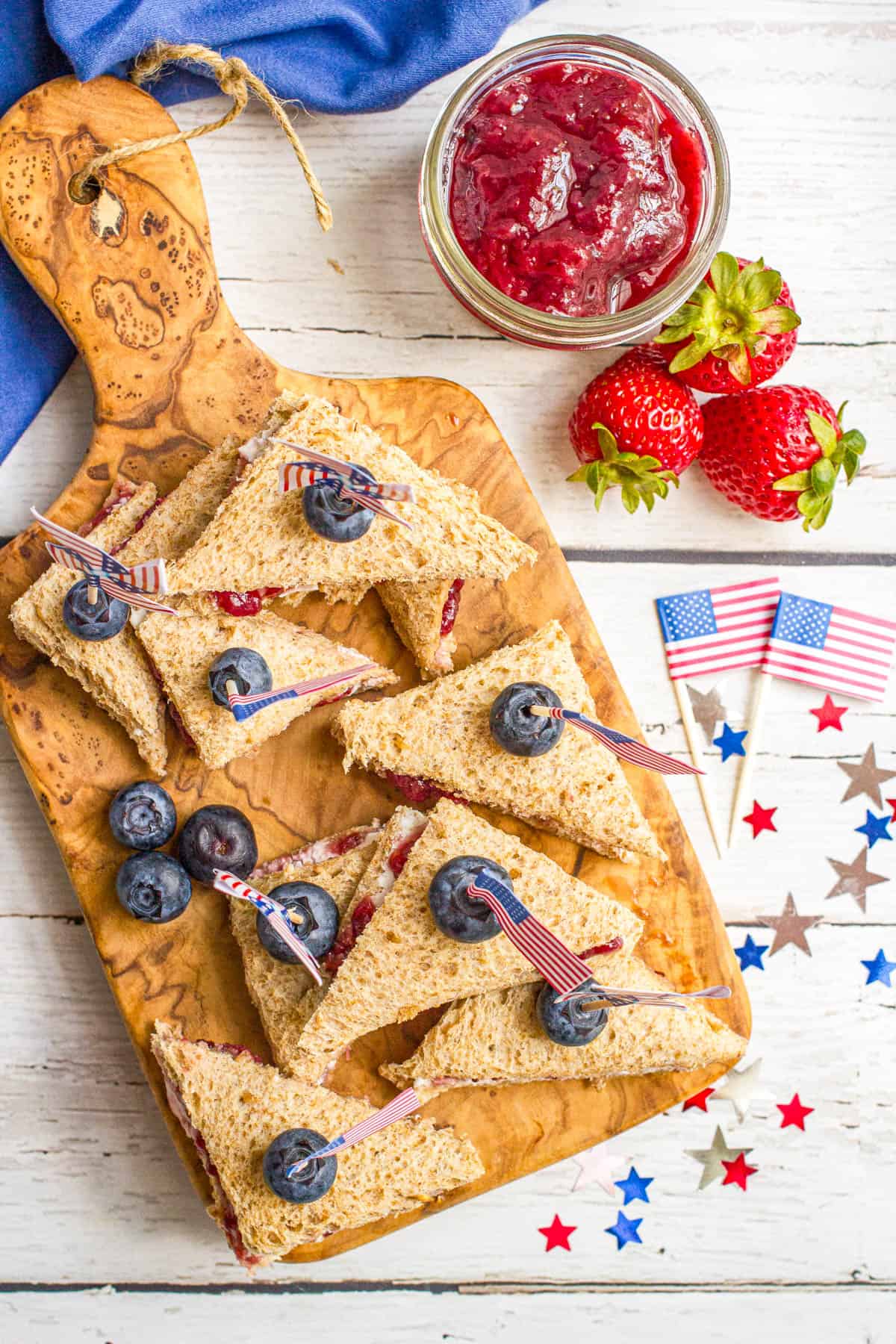 The popcorn with dried blueberries and cranberries was probably my kids' favorite.
They both love my homemade popcorn, which is normally reserved for our very recent (and still very rare) family tradition of movie night. (They're still really young, so that's why it's new.)
So it was a surprise to make them this fun popcorn snack!
It's a great crunchy and chewy combo, with a little salty and a little sweet. All around delectable. And I love that it's a whole grain treat! 🙌
(No worries though if you want to use regular store-bought popcorn in the bag and just doctor it up. That's fine too!)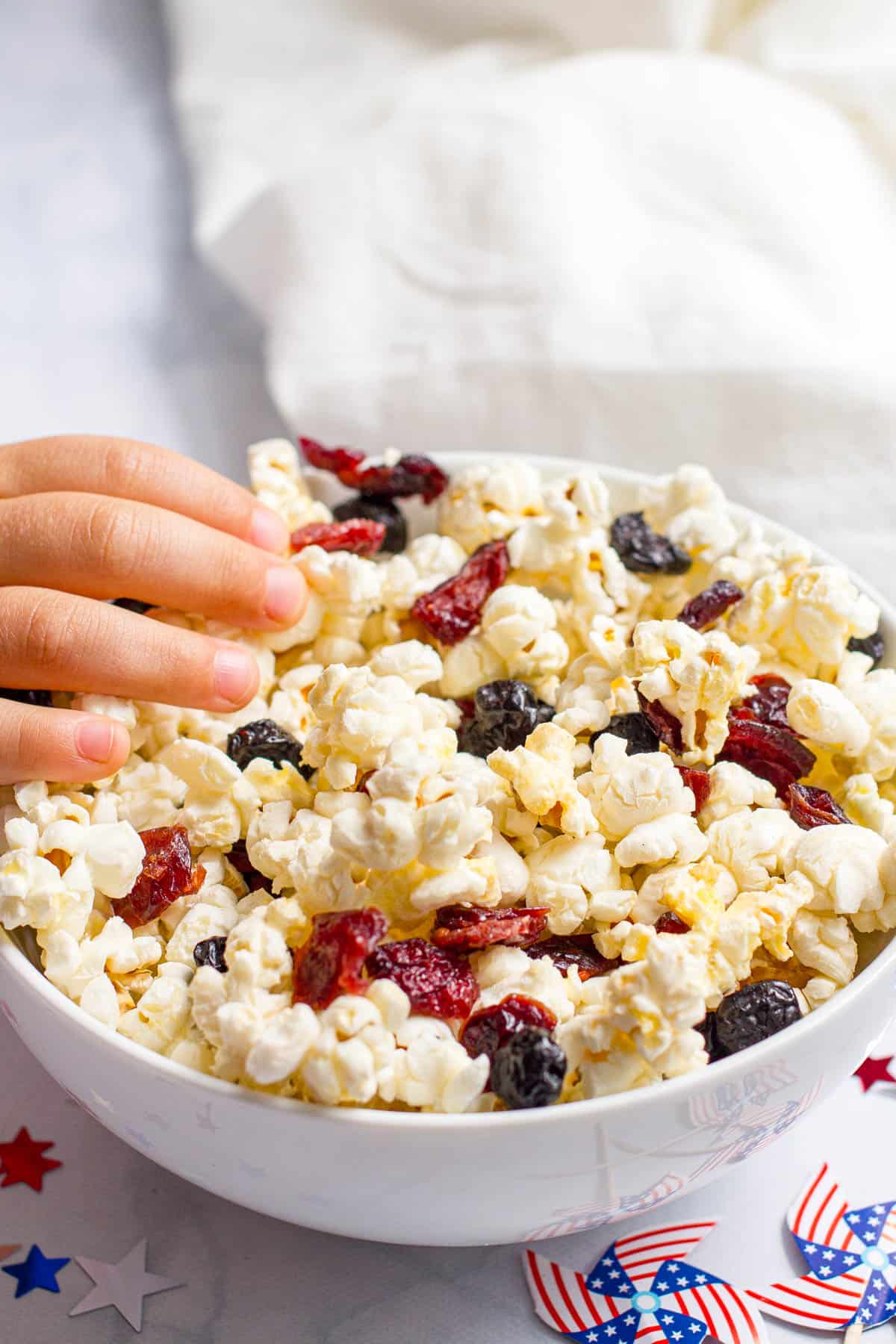 We were all fans of the fruit and cheese skewers. Little bites of handheld goodness.
Notes on making fruit skewers:
I sliced a very thin sliver off the bottom of the strawberries so the little boats would sit up straight.

I halved the mozzarella balls so these would be more bite-size manageable. (This will depend on what kind/size you can find at your store.)
I served ours with balsamic vinegar. I like mine dipped in it, though the kiddos like theirs plain.
Serving extra fruit and mozzarella balls on the side is also a good way to encourage more snacking and browsing.
These fruit boats also pack well and work great to take to a picnic or friend's house for a seemingly fancy but super duper easy appetizer.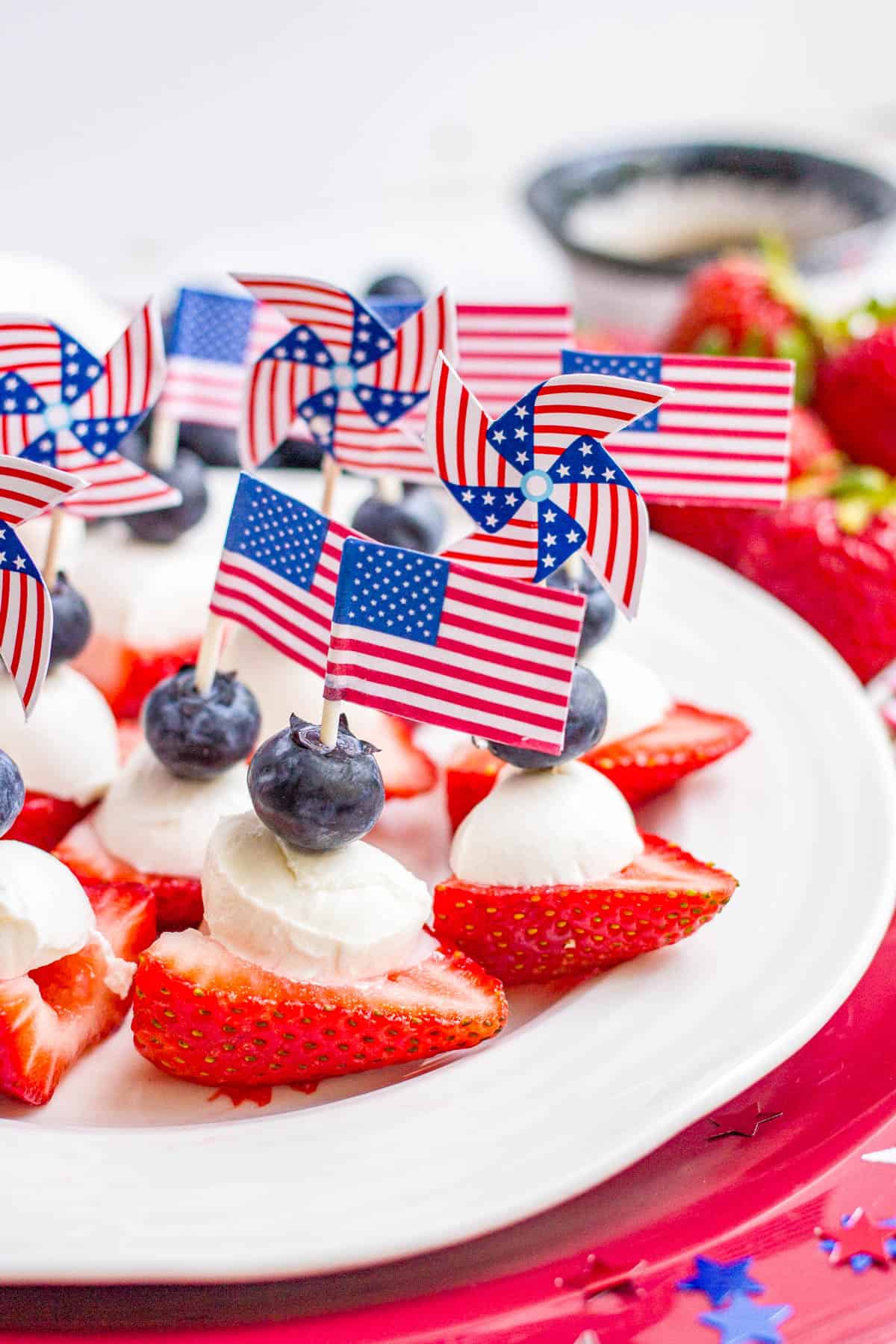 So there you have it, a few easy and fun ideas for your July 4th celebrations to make the holiday a little extra festive!
Hope you have a safe and happy one!
XO,
Kathryn
Yield: 10+ servings
Easy Red, White and Blue July 4th Appetizers
Ideas and recipes for easy, healthy July 4th appetizers and snacks that are red, white and blue and great for kids and adults!
Ingredients
For the mini sandwiches:
4 slices whole wheat bread, crusts removed (see notes)
¼ cup plain cream cheese (reduced fat is fine)
½ cup sliced strawberries (or use strawberry jam)
About ¼ cup fresh blueberries
For the popcorn:
4 cups popcorn (see notes)
3 tablespoons melted unsalted butter
½ teaspoon kosher sal
¼ cup dried cranberries
¼ cup dried blueberries
For the fruit and cheese skewers:
12 strawberries, halved (see notes)
24 fresh blueberries
12 mini mozzarella balls, halved (packed in water, usually found near the deli section in the grocery store)
¼ cup balsamic vinegar (optional)
Instructions
For the sandwiches:
Spread half of the bread slices with cream cheese.
Top with sliced strawberries then top with the other bread halves. Cut sandwiches into triangles.
Top with a blueberry and a toothpick and serve!

For the popcorn:
Make popcorn: Add ¼ cup corn kernels to a large microwave-safe glass or Pyrex bowl. Cover with a tight fitting lid. Microwave on high for about 5 minutes, until popping sounds are 3-4 seconds apart. Remove carefully (use oven mitts - the bowl and lid will be hot!) Remove top immediately to release excess steam. (See this post for more details or how to use a paper bag to microwave popcorn.)
Add butter and salt to popcorn and stir to combine. If you are using a store-bought popcorn bag or prepared popcorn, skip the butter and salt here.
Add dried cranberries and blueberries and stir to combine.
Serve and enjoy!

For the fruit and cheese skewers:
Place strawberry half on a plate. (Slice a thin bit off the bottom, if needed, to get them to stand up straight.) Use a toothpick or skewer to add and secure a mozzarella ball and then a blueberry on top.
Serve on a platter with a bowl of balsamic vinegar for dipping, if desired, and enjoy!
Notes
Crusts: You can also leave the crusts on if you prefer. My son tends to eat all the crusts from the sandwiches, which is great because I hate wasting food. However, you could also use the extras to make homemade breadcrumbs or croutons. Or toast up the crusts in a toaster oven or broil in the oven for crunchy sticks to spread with cream cheese or peanut butter or to dip into hummus or guacamole.
Nutrition Information:
Yield:
20
Serving Size:
1
Amount Per Serving:
Calories:

118
Total Fat:

7g
Saturated Fat:

4g
Trans Fat:

0g
Unsaturated Fat:

3g
Cholesterol:

21mg
Sodium:

158mg
Carbohydrates:

8g
Fiber:

1g
Sugar:

4g
Protein:

5g