Apple and butternut squash muffins are a great, healthy fall treat - delicious for breakfast or packing in school lunches!

Happy Friday, friends! I'm waving to you from Kansas City, where I'm so excited to be at the Chopped conference for food bloggers.
I came last year, had an absolute blast and am back again! So many new and old friendly faces, so many laughs and so much learning! I'm gonna be exhausted all weekend from all this excitement 😀
But of course I still wanted to bring you something tasty: these apple and butternut squash muffins!
I'm also thrilled to share again about a Produce for Kids campaign with Publix that launched last week and runs through Oct. 26. It will raise funds for local Feeding America® food banks and offer Publix shoppers healthy meal solutions, recipes and tips.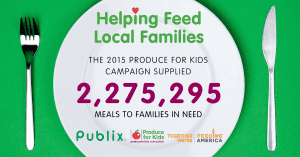 Eight fresh fruit and vegetable suppliers are participating: Avocados from Mexico, Crunch Pak® Sliced Apples, Del Monte Foods® Fruit Naturals® Cups, Eat Smart® Fresh Cut Vegetables, Fresh Express® Packaged Salads, Michigan Apples, Suja® Juice, Marie's® Dressings.
You can support the campaign by shopping at Publix and purchasing some great fresh fruits and vegetables from the supporting sponsors! (And you get fresh produce coupons totaling more than $4 at ProduceForKids.com/Publix.)
And since you know I love all things muffins, I of course wanted to come up with a new healthy muffin recipe for fall! (Other fall baking favorites include our beloved whole wheat pumpkin muffins and almond butter zucchini muffins.)
These apple and winter squash muffins were big winners! They are soft and super moist - that fruit puree really keeps them light and tender.
They have a warm cinnamon flavor and a hint of apple and squash. Both are such mild flavors that they really blend well together. (And are unlikely to be detected if you have a "selective" eater. 😉)
Plus these muffins are whole wheat and naturally sweetened, so that's a win. ✋
I plan on packing these for school lunches, but they'd work for breakfast as well!
A few notes on these apple and butternut squash muffins:
I puree my apple and squash mixture until smooth, but you could leave yours a little chunky if you prefer. M, strangely, will pick out apple chunks from her muffins even though she loves all things apple.

I like using the fresh fall foods here, but you could also substitute 1 cup of unsweetened applesauce and 1 cup of canned or frozen winter squash puree.
These muffins would be great served with a spread of butter, or even peanut or almond butter.
M's reaction when I let her and J split a muffin that afternoon, as a taste test. "Really yummy, Mommy! Really yummy."
J: "I have more?" Haha 😀 I promised I'd pack these for lunch that week.
I hope you give these healthy squash muffins a try. And be sure to shop at Publix and stock up on produce! You can also visit ProduceForKids.com/Publix for more information on how to support the campaign. And you can visit their website and follow them on Twitter and Instagram for more recipe ideas and healthy eating info.
~ Kathryn
Yield: 14 muffins
Apple and butternut squash muffins
Apple -squash muffins are a great, healthy fall treat, perfect for school lunches!
Ingredients
For the apple and squash puree:
1 (32 oz.) container Eat Smart cut butternut squash
2 small Michigan apples (such as Red Delicious or Gala)
Yield 2 cups squash and apple puree
For the muffins:
1 ½ cups white whole wheat flour
1 ½ teaspoons cinnamon
1 teaspoon baking soda
¼ teaspoon baking powder
½ teaspoon salt
2 large eggs
½ cup honey
2 tablespoons unsalted butter, melted (or sub canola oil)
1 teaspoon vanilla
Instructions
Preheat the oven to 350. Line a muffin tin with paper liners. (You'll need two tins, since this recipe makes about 14 muffins.)

To make the apple and squash puree: Steam 2 ½ heaping cups each of butternut squash and apples for about 10 minutes, or until tender.

Transfer to a blender or food processor and puree. (I puree mine until smooth but you could leave it a little more chunky if you prefer.)

Measure out 2 cups of the puree mix to use for this recipe.

To make the muffins: Combine flour, cinnamon, baking soda, baking powder and salt in a large bowl.

Make a well in the middle of the dry ingredients and add eggs, honey, butter, vanilla and the 2 cups of apple-squash puree.

Stir the wet mixture together in the well and then mix to combine with the dry ingredients.

Spoon mixture into prepared muffin tins. (I like to spray my paper liners with cooking spray since there's not much fat in this recipe. It prevents the muffins from sticking to the liners.)

Bake at 350 for 18-22 minutes, until a toothpick inserted in the center comes out clean.

Cool completely. Store on the counter for 2-3 days, in the fridge for a week or in the freezer for up to 5 months.
Notes
You can serve these with a spread of butter, peanut butter or almond butter.

To freeze: wrap each muffin in aluminum foil then place in a freezer bag.
Nutrition Information:
Yield:
14
Serving Size:
1
Amount Per Serving:
Calories:

136
Total Fat:

3g
Saturated Fat:

1g
Trans Fat:

0g
Unsaturated Fat:

1g
Cholesterol:

31mg
Sodium:

186mg
Carbohydrates:

27g
Fiber:

3g
Sugar:

15g
Protein:

3g
I was compensated for participating in this campaign, but the content and opinions here are my own.