Baked taco mac and cheese casserole is an easy, family-friendly dinner with a creamy sauce and big taco flavor. Add your favorite toppings and dig in!
Today is back-to-school day for both of my kids. ❤️😟🤩 (mixed feelings here!)
M is starting 2nd grade and J is going into TK. I don't know how they've gotten this big and this old, but here we are.
I spent the weekend running errands, getting food prepped and pumping them up for their first day. And also trying to have all the fun — movie night, pool days, snuggles and all kinds of family fun!
M was a LOT nervous going to bed last night but I know she's going to have such a great year. I'm already anxious for them to get home so I can hear ALL about it! 💕
In the meantime though, let's focus on some food…
Today's baked taco mac and cheese casserole is pretty much a mash-up of some of my kids' favorites.
J is my mac and cheese man and both kids can chow down on some tacos. Especially M – she will out eat both me and my husband if there's tacos involved.
So I had to combine the two for a family dinner, and I think I loved it as much as they did!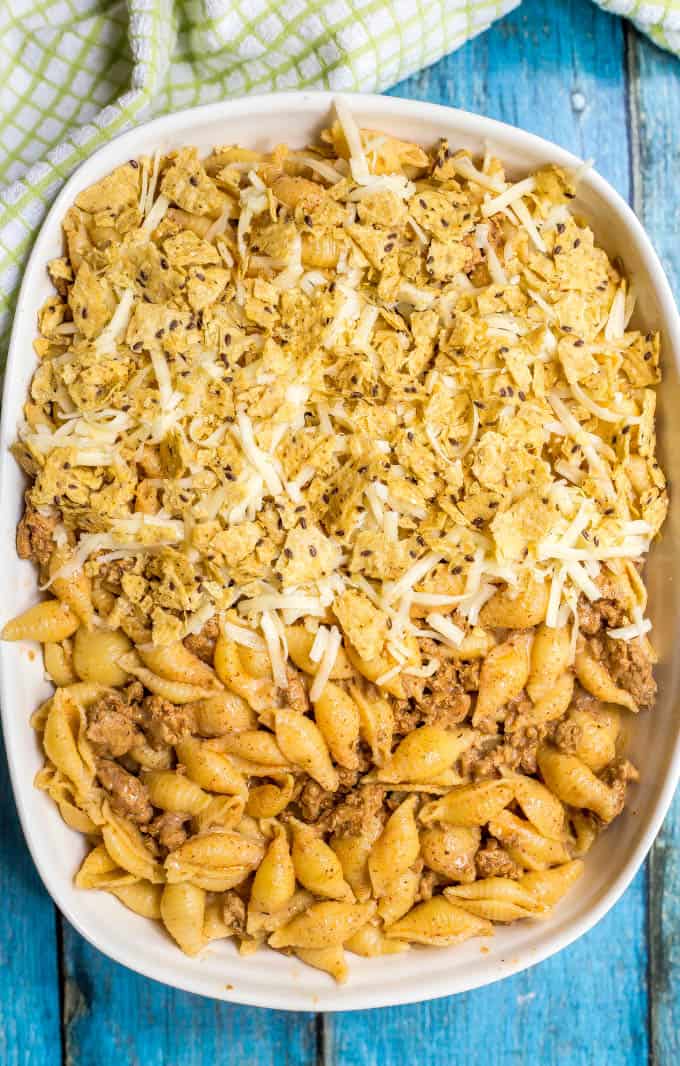 (I think it's also a great way to celebrate their first day of school!)
For other macaroni and cheese deliciousness, see my healthy chicken broccoli mac and cheese and my kale and butternut squash mac and cheese.
Notes on this baked taco mac and cheese casserole:
I use ground turkey (93% lean), but you could substitute ground beef as well. Just be sure to drain any extra grease before mixing it with the pasta and sauce.
I generally use macaroni or medium shells but you can substitute your favorite type of pasta.
I use my homemade taco seasoning, but a store-bought packet will do as well.
Want to make a vegetarian taco mac and cheese? You can substitute 2 cans of black beans (rinsed and drained) for the ground turkey. You'll need just 1-2 tablespoons of taco seasoning to flavor them. Or you could sauté mushrooms to use as the "meaty" element here. You could also use a crumbled meat substitute if you prefer.
I usually leave this as is so that my kids will dig in, but you know I'm itching to add some veggies to this.
Veggies to add to mac & cheese:
– You could add some onion and bell pepper and sauté them with the ground turkey.
– Or add some diced zucchini to sauté with the turkey.
– You could also wilt in some fresh baby spinach once the turkey is mostly cooked, just to get it slightly wilted.
– Or go veggie crazy and add them all. 💚That's what I would do if it was just me eating it!
And you know me. Don't forget the toppings!!
Topping ideas for baked taco mac and cheese:
Chopped fresh cilantro
Diced avocado or a dollop of guacamole
Extra cheese or salsa
Sliced black olives
Sliced jalapeños
Pickled red onions
And if you're not adding veggies to this, we love it served with a side salad or a steamed vegetable. 👍
I hope your family loves this homemade taco mac and cheese dinner as much as mine does!
Enjoy!
XO,
Kathryn
P.S. I made a video to show you how easy this is to put together! Be sure to check it out!
Yield: 6-8 servings
Baked taco mac and cheese casserole
Baked taco mac and cheese casserole is an easy, family-friendly dinner with a creamy sauce and big taco flavor. Add your favorite toppings and dig in!

Prep Time 5 minutes

Cook Time 35 minutes

Total Time 40 minutes
Ingredients
1 (1 lb.) box whole wheat macaroni or medium shells pasta
1 1/4 lb. ground turkey (I use 93% lean)
2 tablespoons unsalted butter
2 tablespoons flour of choice
2 cups skim milk (or milk of choice)
1/4 cup taco seasoning, divided
3 cups shredded cheddar cheese, divided
1 cup crushed tortilla chips
Instructions
Preheat oven to 400. Spray an 8x12 casserole dish with cooking spray and set aside.

Cook pasta according to package directions then drain.

Meanwhile, cook the ground turkey in a large skillet over medium heat, brewing up with a spatula as it cooks. Once the turkey is cooked through, season with 3 tablespoons of the taco seasoning and stir to combine.

Once the pasta is cooked and drained, return the empty pot to the stove over medium heat and melt butter.

Add the flour and whisk for about 1-2 minutes.

Slowly add the milk and whisk until a smooth sauce forms. Stir in remaining 1 tablespoon taco seasoning and 2 cups of the shredded cheese.

Combine the pasta, ground turkey and sauce and mix well.

Transfer the mac and cheese to the prepared casserole dish and smooth the top. Sprinkle with remaining cheese and the crushed tortilla chips.

Bake at 400 for 20 minutes, until the cheese is melted and the casserole is bubbly.

Serve warm and enjoy!
Notes
I use ground turkey, but you could substitute ground beef as well. Just be sure to drain any extra grease before mixing it with the pasta and sauce.

I generally use macaroni or medium shells but you can substitute your favorite type of pasta.

I use my homemade taco seasoning, but a store-bought packet will do as well.

Want to make a vegetarian taco mac and cheese? You can substitute 2 cans of black beans (rinsed and drained) for the ground turkey. You'll need just 1-2 tablespoons of taco seasoning to flavor them. Or sauce mushrooms to use as the "meaty" element here. You could also use a crumbled meat substitute if you prefer.

Topping ideas: Chopped fresh cilantro, diced avocado or a dollop of guacamole, extra cheese or salsa, sliced black olives, sliced jalapeños, pickled red onions
Nutrition Information:

Amount Per Serving: Calories: 680