Healthy blueberry pancakes are light and fluffy and bursting with blueberries! These easy 1-bowl pancakes are the perfect way to start your day!
Recently I finally shared our classic fluffy whole wheat pancakes, which are a weekend staple in our house.
My kids ADORE pancakes. Can't get enough. 🥞🥞🥞
And while the plain homemade pancakes are a great go-to, I like to mix it up from time to time!
We also enjoy healthy chocolate pancakes as a fun twist for a special occasion — or just because. And my whole wheat pumpkin pancakes are a fall favorite.
I even make pancake mini muffins for a fun baked version. Those are great for sending as part of a school lunch too.
Today, it's my healthy blueberry pancakes. 💙
These pancakes are made with white wheat flour (which is 100% whole wheat) and are naturally sweetened with maple syrup. They can easily be made dairy free and can also be made vegan with a couple of swaps.
And they are so light and fluffy and just bursting with blueberries! 💙
Plus, it takes just 1 bowl and about 10 minutes to mix up the batter for these.
(And I've got a tip below to keep you from standing and flipping pancakes for an hour straight. Cause I just can't.)
Now, I've got some notes, tips, substitutions and FAQs coming up below on how to make blueberry pancakes. Just tryin' to be helpful.
(I've had a lot of experience making pancakes and want to share what works. 😊)
If you want to jump on down to the recipe, simply scroll right on through the rest of the text. The recipe card is near the bottom of the page, above the comments section.
Notes on making healthy blueberry pancakes:
I use white whole wheat flour but you could substitute whole wheat flour or use a mix of all-purpose flour and whole wheat flour. (Using all all-purpose flour is fine, too.)
It helps to use a 1/4-cup measuring cup to measure out the batter into the skillet so you get even sized pancakes.
Helps, too, to spray that measuring cup with cooking spray so the batter falls easily out of it.
You can use fresh or frozen blueberries for this recipe. If using frozen blueberries, be sure to thaw them completely then pat them dry to remove any excess moisture before adding them to your batter.
This recipe makes about 14 pancakes and I'd say the serving size is 2 pancakes per person.
Full disclosure though, my kiddos often eat 3, 4 sometimes even 5 or 6 pancakes in a sitting. Maybe it's a growth spurt thing, but I just wanted to put that out there.
Now, for some other tips and substitutions…
Knowing when to flip your pancakes is kind-of the key to keeping them light and fluffy and oh so tasty.
You'll know they are ready when you see little air bubbles forming all over the tops of the pancakes.
Here's a picture of one of my basic pancakes to show you what that looks like:
The other big trick with cooking pancakes is keeping your pan at the right temperature. I heat my pan over a gas burner on exactly medium heat but then lower it ever so slightly as I continue to cook pancakes.
It will depend on your burner, your pans and just the weather. But it won't take long to figure out your perfect temp adjustments.
OK, special diets coming right up.
Dairy-free blueberry pancakes are really easy to make using this recipe.
(My daughter used to have a cow's milk allergy, which she thankfully outgrew, so I've done them this way before. And still do pretty often.)
Just use your dairy-free milk of choice, such as soy milk or almond milk, and you are set.
Want to make vegan blueberry pancakes?
Use a dairy-free milk and use two flax eggs in place of the eggs in this recipe.
And now, my very favorite time-saving hack. This was life-changing guys.
Pro tip: Use two large skillets to cook twice as many pancakes at once. 🙌🙌
If you are standing there flipping pancakes, you might as well do two batches at once and cut your time in half.
This has saved me countless hours over the course of my life and that just makes me so happy.
OK, a few other commonly asked questions…
(But please all take a moment to look at how crazy FLUFFY these are!! 👇)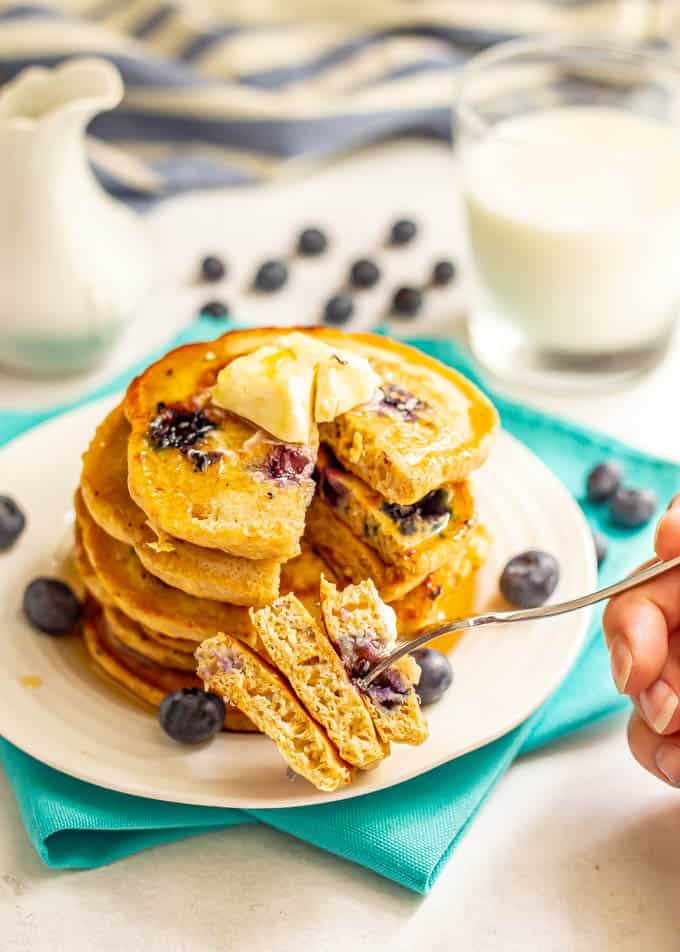 How to keep pancakes warm:
– Don't cover the pancakes on a plate to keep them warm. They'll steam and get soggy.
– Instead, place the cooked pancakes onto a sheet pan in a single layer and put into the oven at 200 degrees until ready to eat.
(Or use my two-skillet method mentioned above to do twice as many pancakes at once and you won't have much of a problem with pancakes cooling off.)
This recipe makes a pretty big batch – about 14 pancakes total depending on how you pour them.
And while my kids and husband sometimes power through ALL of those healthy blueberry pancakes in a single morning, we usually end up with some extras.
(Which is the goal – it makes future breakfasts on busy mornings so easy to have some of these on hand!)
Here's a few tips on how to store any extras you have.
How to store leftover pancakes:
– Leftover pancakes can be stored, covered, in the fridge for up to 5 days. I put them in a plastic bag once they've cooled down and pop them right in the refrigerator.
– Pancakes also freeze great! Let them cool completely, then place in a freezer-safe ziptop plastic bag — that's labelled! — and freeze for up to 6 months. (I'm able to get 4-5 pancakes in a standard quart-size freezer bag.)
– Move the pancakes to the fridge to defrost overnight and warm in the microwave for 15-20 seconds, or until warmed through, flipping if needed.
– Or place a few pancakes in the microwave directly from the freezer and warm for about 30 seconds, then flip and heat for another 30 seconds on the other side. Add extra time if needed to get them warmed through.
We've *always* got extra pancakes in the freezer.
It really comes in handy if I'm out of town and my husband can just pull them out. Or if we need a quick breakfast on a busy morning.
Or if I just don't feel like making another full batch one weekend morning and I can use those instead.
Lastly, it wouldn't be a Family Food on the Table post if I didn't attempt to offer you some topping ideas.
Pancakes are no exception!
Pancake topping ideas:
Maple syrup is our go-to and a classic favorite.
Butter. Duh.
Blueberries in the pancakes, blueberries on top! Or top them with strawberries or raspberries.
Sliced bananas are another great fruit option for topping pancakes.
A spread of Nutella is always a welcome addition. #chocolateforbreakfast
A sprinkling of mini or regular chocolate chips is also a fun chocolate add-on for a special occasion!
And if we're getting decadent, feel free to do a drizzle of chocolate sauce or a swirl of whipped cream on top.
So many delicious options!
Oh, and I have to say, I do recommend real maple syrup over the imitation stuff. It's way tastier and so much healthier too. Just look at the labels.
I hope you give this healthy blueberry pancake recipe a try soon. It's sure to brighten up your morning and start your day off right!
Enjoy!
XO,
Kathryn
Yield: 14 pancakes
Healthy blueberry pancakes
Healthy blueberry pancakes are light and fluffy and bursting with blueberries! These easy 1-bowl pancakes are the perfect way to start your day!

Prep Time 10 minutes

Cook Time 15 minutes

Total Time 25 minutes
Ingredients
2 cups white whole wheat flour
4 1/2 teaspoons baking powder
1/2 teaspoon kosher salt
2 large eggs
2 cups milk of choice
2 teaspoons maple syrup
2 teaspoons pure vanilla extract
1 heaping cup blueberries (fresh or frozen, see notes)
For cooking:
For serving:
Maple syrup and other desired toppings (see notes for ideas)
Instructions
Combine the flour, baking powder and kosher salt in a medium bowl and stir until well combined.
Add the eggs, milk, maple syrup and vanilla to the bowl and stir carefully until everything is well incorporated and there are no streaks of flour left. (It's OK to have some lumps though.) Carefully fold in the blueberries.
Heat a large nonstick skillet (or two skillets if you want to make this go faster) over medium heat. Add butter or cooking spray.
Use a 1/4 cup measure (I spray it with cooking spray) and pour the batter into the skillet. (You can get 3 pancakes per pan in a 12-inch skillet)
Reduce heat to just below medium and cook the pancakes on one side until bubbles begin forming all over the tops of the pancakes.
Flip and cook for another minute on the other side, until set and cooked through.
Remove the pancakes from the pan and repeat with the remaining batter. (You can keep pancakes warm on a sheet pan in a 200 degree oven if needed.)
Notes
I use white whole wheat flour but you could substitute whole wheat flour or use a mix of all-purpose flour and whole wheat flour.

You can use 2%, skim, soy or almond milk, whatever you got.

Make these dairy-free with a milk substitute. You can make them vegan by also substituting two flax eggs for the eggs in the recipe.

Leftover pancakes can be stored, covered, in the fridge for up to 5 days.

Pancakes also freeze great! Let them cool completely, then place in a freezer-safe ziptop plastic bag — that's labelled! — and freeze for up to 6 months.

Topping ideas: Maple syrup, butter, extra blueberries, strawberries or raspberries, sliced bananas, spread of Nutella, sprinkling of mini or regular chocolate chips, drizzle of chocolate sauce, whipped cream
Nutrition Information:
Yield:
7
Serving Size:
2 pancakes
Amount Per Serving: Calories: 217Total Fat: 5gSaturated Fat: 2gTrans Fat: 0gUnsaturated Fat: 2gCholesterol: 63mgSodium: 536mgCarbohydrates: 36gFiber: 4gSugar: 5gProtein: 9g