Whole wheat pumpkin pancakes are light, fluffy and full of warm spices and pumpkin flavor. They are naturally sweetened (and can be made vegan) and are perfect for a delicious fall breakfast!
Hiya friends! Did you have a good weekend? Is it starting to feel like fall where you are?
It's definitely cooling off here in the South, but we're still getting plenty of warm, humid days, so I'm hanging in there for the real fall weather.
Fortunately, I'm headed to Iowa this week for a super fun blogging trip and then we're taking the kids camping in the N.C. mountains this coming weekend, so I think I'll start to get plenty of cooler weather and fall feels! (More to come on both trips, so stay tuned and follow me on Instagram for all the behind-the-scenes fun!)
Today, I'm bringing the PUMPKIN love with these whole wheat pumpkin pancakes!
I've waited and waited and waited and now it's finally October, so pumpkin recipes, here I come! 🎃🎃🎃
(I'm also on a breakfast kick recently with my whole wheat pancake mini muffins, quinoa banana mini muffins and 16 grab-and-go breakfast ideas that I shared a few weeks ago.)
I will say, I have had to fiddle with this pumpkin pancakes recipe a few times over the last year. I wanted them to be nice and fluffy and hold together nicely. I'm not a fan of an overly floppy pancake that's too soft and falls apart on you. 👎
I finally got them just right though! These are nice and light and fluffy and the perfect amount of warm spices and pumpkin flavor.
Perfect for a yummy fall breakfast! 🎃🧡
You can also check out my Google web story for these healthy pumpkin pancakes.
Now, I've got some notes, tips, substitutions and FAQs coming up below on how to make pumpkin pancakes. Just tryin' to be helpful.
(Also, I've had a lot of experience making pancakes and want to share what works. 😊)
If you want to jump on down to the recipe, simply scroll right on through the rest of the text. The recipe card is near the bottom of the page, above the comments section.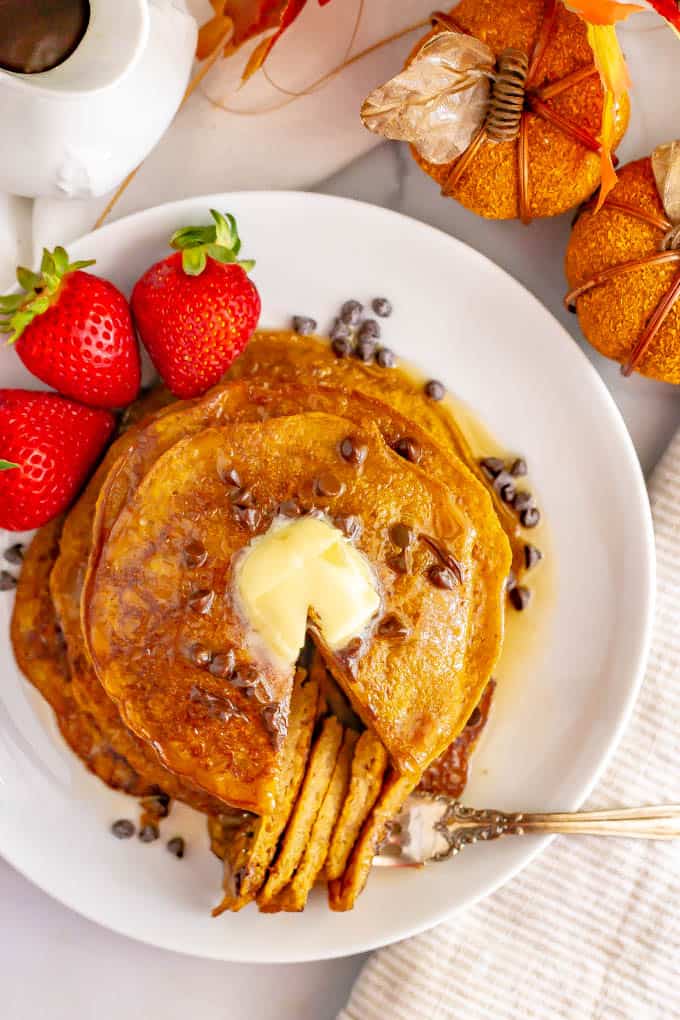 Notes on whole wheat pumpkin pancakes:
I use white whole wheat flour, but you can also use regular whole wheat flour or even all-purpose flour instead.
One trick for cooking pancakes is making sure you don't overmix the batter. It's OK to have a few small lumps.
I typically use skim or soy milk for these, and sometimes 2% milk. Whole milk and almond milk should work fine too.
Be sure you are using pumpkin puree, not pumpkin pie filling.
To make vegan pumpkin pancakes, you can substitute coconut oil for the butter (or applesauce for a lower-fat version) and use a flax egg in place of the egg. Easy, easy.
Some other tips and tricks...
Knowing when to flip your pancakes is kind-of the key to keeping them light and fluffy and oh so tasty.
You'll know they are ready when you see little air bubbles forming all over the tops of the pancakes.
Here's a picture of one of my fluffy whole wheat pancakes to show you what that looks like:
The other big trick with cooking pancakes is keeping your pan at the right temperature.
I heat my pan over a gas burner on medium heat and then lower it a little bit as I continue to cook pancakes. (You can adjust when you flip or between batches.)
It will depend on your burner, your pans and just the weather. But it won't take long to figure out your perfect temp adjustments.
Pro tip: Use two large skillets to cook twice as many pancakes at once.
If you are standing there flipping pancakes, you might as well do two batches at once and cut your time in half.
This has saved me countless hours over the course of my life and that makes me happy.
OK, a few other commonly asked questions…
How to keep pancakes warm:
- Don't cover the pancakes on a plate to keep them warm. They'll steam and get soggy.
- Instead, place the cooked pancakes onto a sheet pan in a single layer and put into the oven at 200 degrees until ready to eat.
- (Or use my two-skillet method mentioned above to do twice as many pancakes at once and you won't have much of a problem with pancakes cooling off.)
This recipe makes a pretty big batch and while my kids and husband sometimes power through ALL of those in a single morning, we usually end up with some extras.
Or else I double the recipe to ensure I have some extras.
(That's the goal - it makes future breakfasts on busy mornings so easy to have some of these on hand!)
Here's a few tips on how to store any extras you have.
How to store leftover pancakes:
- Leftover pancakes can be stored, covered, in the fridge for up to 5 days. I put them in a plastic bag once they've cooled down and pop them right tin.
- Pancakes also freeze great! Let them cool completely, then place in a freezer-safe ziptop plastic bag — that's labelled! — and freeze for up to 6 months. (I'm able to get 4-5 pancakes in a standard quart-size freezer bag.)
- Move the pancakes to the fridge to defrost overnight and warm in the microwave for 15-20 seconds, or until warmed through.
- Or place in the microwave directly from the freezer and warm for 20-30 seconds per side, as needed.
Like I said, we've *always* got extra pancakes of some variety or other in the freezer.
It really comes in handy if I'm out of town and my husband can just pull them out. Or if we need a quick breakfast on a busy morning.
Now, let's top these off and bring them home!
Toppings for pumpkin pancakes:
Maple syrup is our go-to and a classic favorite.
Butter. Duh.
Mini chocolate chips scattered over the top
Sliced bananas
Top with strawberries, blueberries or another favorite berry.
And if we're getting decadent, feel free to do a drizzle of chocolate sauce or a swirl of whipped cream on top.
Want to take these over the top? Make a pumpkin pancake cake!
Use closer to ½ cup of batter for each pancake to make larger ones. (They will take longer to cook so be patient and lower your temp a little.) Place one on a plate and sprinkle it with mini chocolate chips. Keep adding pancakes and chocolate chips. Microwave the whole thing for about 45 seconds to a minute, until the chocolate chips are melting.
Top it with butter, drizzle with maple syrup and then you can slice it up and serve a crowd!
However you serve them up though, I hope these easy whole wheat pumpkin pancakes become a new fall breakfast favorite in your house!
XO,
Kathryn
P.S. Check out some of my other favorite pumpkin breakfast recipes:
Yield: 12 pancakes
Whole wheat pumpkin pancakes
Whole wheat pumpkin pancakes are light, fluffy, and full of warm spices and pumpkin flavor!
Ingredients
1 cup white whole wheat flour (see notes)
2 teaspoons pumpkin pie spice
2 teaspoons baking powder
1 teaspoon ground cinnamon
¼ teaspoon salt
1 cup pumpkin puree
1 ¼ cups milk of choice
¼ cup maple syrup
2 tablespoons unsalted butter, melted
1 large egg
1 teaspoon vanilla extract
Oil or butter or cooking spray for cooking
Instructions
In a large bowl, whisk together the pumpkin puree, milk, maple syrup, butter, egg and vanilla extract.
Add the flour, pumpkin pie spice, baking powder, cinnamon and salt and stir until just combined, being careful not to overmix. It's OK to have some lumps.
Heat a griddle or large sauté pan over medium heat. Add butter or oil or spray well with cooking spray. Add a heaping ¼ cup of the pancake batter for each pancake, leaving room in between the pancakes.
Cook for 3-4 minutes, until bubbles begin to form all over the edges and the top of the pancakes. Flip the pancakes over and cook an additional 2-3 minutes, until set.
Continue until all pancakes are cooked. (You may need to turn the heat down after the first batch if your pan is getting hot. Also, you can keep pancakes warm in a 250 degree oven while you're cooking the rest.)
Notes
I use white whole wheat flour, but you can also use regular whole wheat flour or even all-purpose flour instead.
I often use two big sauté pans so I can cook twice as many pancakes at once. Saves a lot of time@
To make vegan pumpkin pancakes, you can substitute coconut oil for the butter (or applesauce for a lower-fat version) and use a flax egg in place of the egg.
We love these topped with just a little butter and maple syrup, but they also pair great with chocolate chips. Sliced bananas or fresh berries would be great toppings too.
Leftovers freeze great! I let them cool completely then pop them in a freezer-safe ziptop bag and store them for up to 3 months.
Nutrition Information:
Yield:
6
Serving Size:
2 pancakes
Amount Per Serving:
Calories:

233
Total Fat:

11g
Saturated Fat:

5g
Trans Fat:

0g
Unsaturated Fat:

5g
Cholesterol:

50mg
Sodium:

309mg
Carbohydrates:

31g
Fiber:

4g
Sugar:

10g
Protein:

6g