Individual peach blueberry crumble taste like summer in your own little bowl!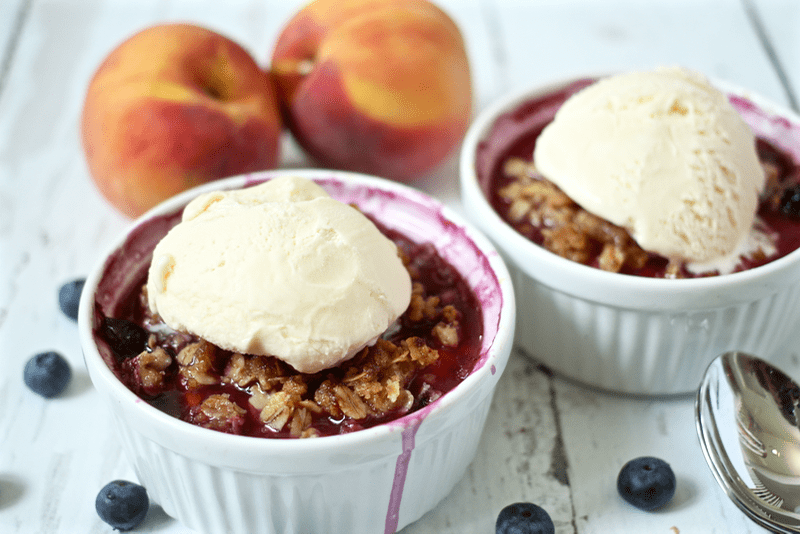 I made you some summer in a dish. And the whole thing is for you!
Am I the only one with portion control problems? I cannot have large quantities of sweets in the house. Can't be trusted. Too tempting. But I have a sweet tooth and so I need a little fix here and there. I get twitchy if there's not something sweet around for me to have.
And a fruit crumble is one of my favorite desserts, particularly in the summertime when the fruit is so fresh and so juicy. I also love how well peaches and blueberries go together. They just get along. BFF forever.
But when I make a whole pie plate or casserole full of a crumble, I end up eating it all day long, every day. I have it for dessert of course, sometimes with ice cream, but it doesn't stop there. I'll dollop some Greek yogurt on it and call it breakfast: fruit, oats and yogurt, right? Totally counts. I'll also have a few spoonfuls for snack in the afternoon, straight from the fridge cause I even love it cold. It sits there whispering my name until it's gone. (Which happens way too fast.)
So my quick-fix is these individual ramekins for peach blueberry crumble. Portion control built in.
I can make just 2 little fruit crumbles (maybe not so little) and poof, they are gone at the end of the night and I can have a normal, proper breakfast in the morning.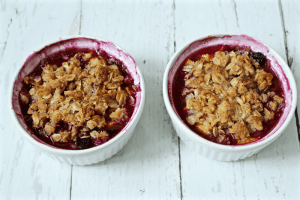 On the other hand, I must confess that I have made these 4 times in the last 8 days. 😳
The first time for fun since I had the peaches and blueberries. The second time because I really needed to have another one. The third and fourth times it was because my husband wanted them again. And again. I certainly wasn't going to say no. They are so tasty!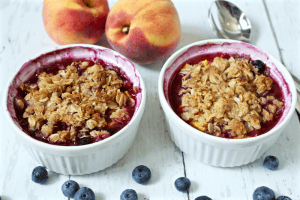 The peaches and blueberries here make a sweet, syrupy base for the buttery oat crumble that covers the top. You get the perfect bite in every spoonful. (Oh, and if you avoid gluten, you can use certified gluten-free oats and sub any alternative flour in this recipe; it's just 1 tablespoon so it doesn't really matter what you use.)
You also can double or triple this recipe to suit your needs. These make a lovely way to serve dessert if you have friends or family over.
An enormous fruit crumble is tasty, but not always very attractive when spooned out and slopped onto a plate or bowl. But you place this cute all-in-one dessert in front of everyone at the table, topped or served with a scoop of ice cream (even easy homemade ice cream at that!), and you've got a little summer beauty on your table. 😍
Pick up some fresh peaches and blueberries and make yourself a little fruit crumble. And if it's really just for you, you can halve the recipe (boo, don't do it) or you can make both of these and save one for breakfast! Just saying…
Enjoy!
XO,
Kathryn
P.S. You may also want to check out my no-bake frozen blueberry pie and this gorgeous summer fruit tart from That Skinny Chick Can Bake.
Yield: 2 servings
Individual peach blueberry crumble
Individual peach blueberry crumbles taste like summer in your own little bowl!
Ingredients
For the fruit mix:
2 peaches, peeled, pitted and diced
½ cup blueberries
1-2 teaspoons sugar (see notes)
1 teaspoon lemon juice
For the crumble topping:
¼ cup oats (I use old-fashioned)
¼ cup granulated sugar
1 tablespoon flour (I use white whole wheat but any kind is fine)
2 tablespoons butter, melted
Instructions
Preheat oven to 375. Coat two ramekins with cooking spray.
In a small bowl, mix the peaches and blueberries with the sugar and lemon juice. Divide evenly between the two ramekins.
In a separate bowl, mix the oats, sugar, flour and melted butter, stirring to ensure everything is well-coated. Top each ramekin with the oat crumble mixture.
Bake at 375 for 25-30 minutes, until golden brown and bubbly. Let cool for 5-10 minutes before eating (cause it will be HOT!)
Top with ice cream, whipped cream or yogurt, if desired, and enjoy!
Notes
I almost always only need 1 teaspoon of sugar here because the fruit is so ripe and so sweet on its own. Taste yours and if you think it needs a little extra help in the sweetness department, go for 1 ½ or 2 teaspoons of sugar in the crumble.
Recommended Products
As an Amazon Associate and member of other affiliate programs, I earn from qualifying purchases.
Nutrition Information:
Yield:
2
Serving Size:
1
Amount Per Serving:
Calories:

357
Total Fat:

13g
Saturated Fat:

7g
Trans Fat:

0g
Unsaturated Fat:

4g
Cholesterol:

31mg
Sodium:

93mg
Carbohydrates:

61g
Fiber:

5g
Sugar:

48g
Protein:

4g